Former Botmaster, 'Darkode' Founder is CTO of Hacked Bitcoin Mining Firm 'NiceHash' – Krebs on Security – Krebs on Security
On Dec. 6, 2017, approximately USD $52 million worth of Bitcoin mysteriously disappeared from the coffers of NiceHash, a Slovenian company that lets users sell their computing power to help others mine virtual currencies. As the investigation into the heist nears the end of its second week, many Nice-Hash users have expressed surprise to learn that the company's chief technology officer recently served several years in prison for operating and reselling a massive botnet, and for creating and running 'Darkode," until recently the world's most bustling English-language cybercrime forum.
In December 2013, NiceHash CTO Matjaž Škorjanc was sentenced to four years, ten months in prison for creating the malware that powered the 'Mariposa' botnet. Spanish for "Butterfly," Mariposa was a potent crime machine first spotted in 2008. Very soon after, Mariposa was estimated to have infected more than 1 million hacked computers — making it one of the largest botnets ever created.
An advertisement for the ButterFly Flooder, a crimeware product based on the ButterFly Bot.
ButterFly Bot, as it was more commonly known to users, was a plug-and-play malware strain that allowed even the most novice of would-be cybercriminals to set up a global operation capable of harvesting data from thousands of infected PCs, and using the enslaved systems for crippling attacks on Web sites. The ButterFly Bot kit sold for prices ranging from $500 to $2,000.
Prior to his initial arrest in Slovenia on cybercrime charges in 2010, Škorjanc was best known to his associates as "Iserdo," the administrator and founder of the exclusive cybercrime forum Darkode.
A message from Iserdo warning Butterfly Bot subscribers not to try to reverse his code.
On Darkode, Iserdo sold his Butterfly Bot to dozens of other members, who used it for a variety of illicit purposes, from stealing passwords and credit card numbers from infected machines to blasting spam emails and hijacking victim search results. Microsoft Windows PCs infected with the bot would then try to spread the disease over MSN Instant Messenger and peer-to-peer file sharing networks.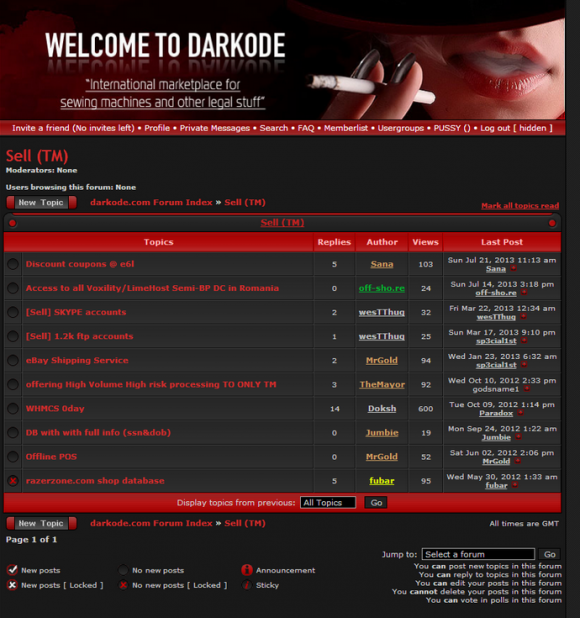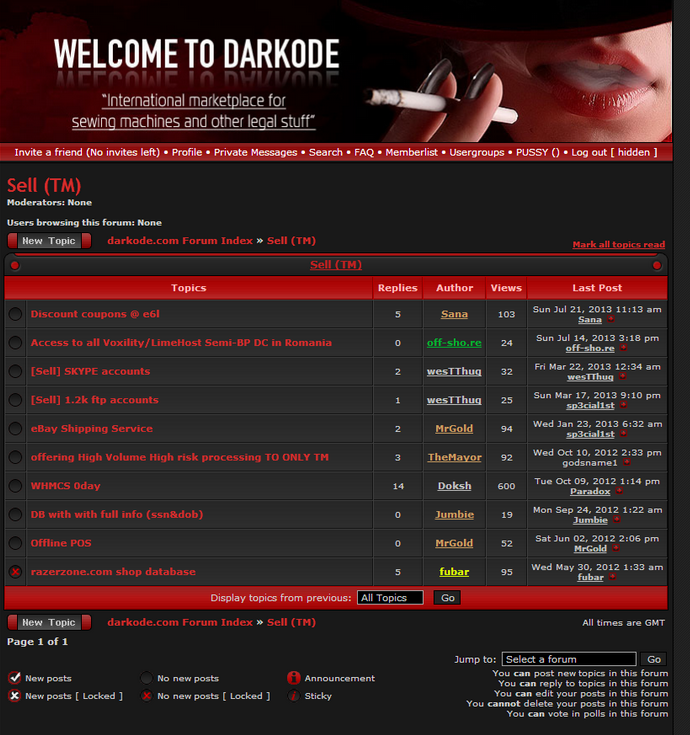 In July 2015, authorities in the United States and elsewhere conducted a global takedown of the Darkode crime forum, arresting several of its top members in the process. The U.S. Justice Department at the time said that out of 800 or so crime forums worldwide, Darkode represented "one of the gravest threats to the integrity of data on computers in the United States and around the world and was the most sophisticated English-speaking forum for criminal computer hackers in the world."
Following Škorjanc's arrest, Slovenian media reported that his mother Zdenka Škorjanc was accused of money laundering; prosecutors found that several thousand euros were sent to her bank account by her son. That case was dismissed in May of this year after prosecutors conceded she probably didn't know how her son had obtained the money.
Matjaž Škorjanc did not respond to requests for comment. But local media reports state that he has vehemently denied any involvement in the disappearance of the NiceHash stash of Bitcoins.
In an interview with Slovenian news outlet Delo.si, the NiceHash CTO described the theft "as if his kid was kidnapped and his extremities would be cut off in front of his eyes." A roughly-translated English version of that interview has been posted to Reddit.
According to media reports, the intruders were able to execute their heist after stealing the credentials of a user with administrator privileges at NiceHash. Less than an hour after breaking into the NiceHash servers, approximately 4,465 Bitcoins were transferred out of the company's accounts.
NiceHash CTO Matjaž Škorjanc, as pictured on the front page of a recent edition of the Slovenian daily Delo.si
A source close to the investigation told KrebsOnSecurity that the NiceHash hackers used a virtual private network (VPN) connection with a Korean Internet address, although the source said Slovenian investigators were reluctant to say whether that meant South Korea or North Korea because they did not want to spook the perpetrators into further covering their tracks.
CNN, Bloomberg and a number of other Western media outlets reported this week that North Korean hackers have recently doubled down on efforts to steal, phish and extort Bitcoins as the price of the currency has surged in recent weeks.
"North Korean hackers targeted four different exchanges that trade bitcoin and other digital currencies in South Korea in July and August, sending malicious emails to employees, according to police," CNN reported.
Bitcoin's blockchain ledger system makes it easy to see when funds are moved, and NiceHash customers who lost money in the theft have been keeping a close eye on the Bitcoin payment address that received the stolen funds ever since. On Dec. 13, someone in control of that account began transferring the stolen bitcoins to other accounts, according to this transaction record.
The NiceHash theft occurred as the price of Bitcoin was skyrocketing to new highs. On January 1, 2017, a single Bitcoin was worth approximately $976. By December 6, the day of the NiceHash hack, the price had ballooned to $11,831 per Bitcoin.
Today, a single Bitcoin can be sold for more than $17,700, meaning whoever is responsible for the NiceHash hack has seen their loot increase in value by roughly $27 million in the nine days since the theft.
In a post on its homepage, NiceHash said it was in the final stages of re-launching the surrogate mining service.
"Your bitcoins were stolen and we are working with international law enforcement agencies to identify the attackers and recover the stolen funds. We understand it may take some time and we are working on a solution for all users that were affected.
"If you have any information about the attack, please email us at [email protected]. We are giving BTC rewards for the best information received. You can also join our community page about the attack on reddit."
However, many followers of NiceHash's Twitter account said they would not be returning to the service unless and until their stolen Bitcoins were returned.
This entry was posted on Friday 15th of December 2017 11:48 AM
Apparently, background checks/HR security is not top priority at Slovenian based companies….
Please do not talk in such a tone if you don't have a clue about Slovenia. Mid-europe country – we have quite high standards, are part of EU.
And about HR security – as far as I understand, his father is co-owner of NiceHash.
yes slovenia,ukraine russia,estonia,poland they all soviet block. soviet criminals
Yeah, and what bad label do you want by association of the worst in your country? maybe just; troll, is good enough.
O Joe, you also don't know much about history, do you? We were part of Yugoslavia, which had no good relations to the Soviet block.
Criminals can be found everywhere, so where are you from?
Us American Rats are no better. We're only worse because we have the "America is best" superiority complex thrown on top of our stupidity.
I don't know any Polish hackers and all the rest are ethnic Russians. While Slovenia is the exception that confirms the rule.
Mate, you are too stupid to breath without instruction. Only incredible moroms can generalise to such extent. Congrats, you one and only…
I've deleted several inflammatory, xenophobic comments here. Keep it clean please, and cool it with the ethnic slurs, or you will find your comments deleted and your addresses blacklisted. Thank you.
Love your work, Krebs! Keep on keepin' on.
It is/was his company – his father had to be listed as the official owner exactly because the son had a criminal past.
Isn't stealing Bitcoin similar to stealing money that has been marked? Similar to when the ransom is paid in paper money that the serial numbers have been recorded by law enforcement. If try, how can these stolen Bitcoins be used?
Stolen bitcoins are mixed with clean ones in tumblers for a fee.
The bitcoins are marked but nobody selling or purchasing can spot the marking. If you steal bitcoins then trade them to someone in exchange for something, that person won't know that the bitcoins are invalid, and frankly they aren't invalid, they're just being tracked by their previous owners.
The previous owners get to look on, helplessly, as they move from person to person to person to person, often times with nobody except the first hop or second hop in the chain actually being part of the crime. After that it's simply someone who sold something that the criminal wanted to purchase.
Until there's a central spot for people to check to see which bitcoins were stolen, its really just a big crapshoot whether the BTC involved in your purchase was obtained legitimately or illegitimately. Even if something was put in place, a central clearinghouse for information about bitcoin theft, it would be a matter of ethics for the people involved in the BTC transaction to check vs. not check. And BTC isn't exactly a hotspot of ethical activity.
On a technical level it doesn't matter though because transactions can't be reversed once they're finished. You have to catch the criminal while he's still in possession of the BTC in order to send them back to their original owners. Not by reversing the transactions but by creating new ones.
That is until people start going missing…
Then the very rich (they had more than one stash of BTC and ate all millionaires) and very annoyed (because they lost a few $million) contacts each of those people, and asks who they sold the thing to, what was the shipping address, etc. With a warrant or with a lead pipe, they get the info, and get closer to finding the thief.
Eventually they find the thief. They then likely torture the thief to take back the Bitcoin.
Just sayin'
That's not quite how it works, but ok
Correction – the news outlet is Delo not Delo.si.. That's just the newspaper's website.
Another newspaper (Dnevnik) reported that he was unrepentant and refused to admit guilt at the last trial.
After he was jailed some Slovenian "intelectuals" promoted a theory that it was all a US witch hunt.
Nice work !
Morning Krebs!
Not sure where to post this. Shipping Warning. The shipping is so awful that it is a security problem .The recycled tracking numbers are sending items and wrong items everywhere. Please warn people to check on their shipped presents. They may show as delivered, are not
This is a defense of Brian's article. I'm in the Midwest. The news here is mostly politics, very little on crime and punishment, or science and electronics. As such, no coverage of the aforementioned incedent. But it affects us all. Gives the reader a clearer picture of what's going on in the world. Remember each news source is controlled by an editor who decides if a story is important enough to spend their resources on. Unfortunately, crime is manpower intensive, it takes a lot of reporters to cover, and sometimes they need a picture so that's two people per article, whereas one person for a political beat where it is scheduled?
No chance that this guy essentially stole the bitcoin from himself I suppose
Found your blog so informative and so in depth. Finally got some quality in hacking news. Thanks!
".The recycled tracking numbers are sending items and wrong items everywhere. "
I've seen this. I printed two Fedex labels to ship 2 packages to different places – on different dates no less, days apart – and when I looked at the photos I took of the packages w/ label after the fact I was shocked to see the exact same tracking number on 2 separately addressed packages. I then confirmed that in the Fedex software, yep, it had somehow re-used the old tracking number.
This took a few days to get settled. "I'm sorry sir that package says it has been delivered when I track it." – oh it was painful.
Finally they found it on a shelf near Atlanta after 10 days.
"Recycled" tracking numbers?! Doesn't that defeat the sole reason for tracking numbers? This sounds like a scam – someone's getting paid twice for the same "number" (local retail shipping store/independent vendors?) or getting to ship their stuff on someone else's nickle through hacking the system.
One thing that bothered me in that interview is his total lack of self criticism or in fact modesty – a very dangerous quality for anyone working in security.
He says NiceHash did nothing wrong, other than not excluding ANY kind of human factor (which I doubt is ever _truly_ possible), yet going from a compromised developer computer to a hacked main production server still reeks of a lack of operational security. And on the question of why the coins were not in cold storage he vaguely mentions some operational difficulties with that – if I were the journalist I would ask him how come they couldn't ever figure out that bit? Was it a lack of caution or just a lack of competence? Or perhaps just the standard startup mentality, let's earn money first and think about details later?
He also says for example that 'It was an outside job because no Slovenian would be capable of this level of hacking' – as a Slovenian professional programmer I'm just a tiny bit insulted at this as I've met some crazily competent Slovenian professionals in my career and while I don't know that any of them are actually malicious hackers, I feel that that statement speaks loads about his ego.
Finally, he laments about 'his human rights being violated' because he wasn't allowed to own the company himself due to his criminal past (his father owns it officially). I don't know the law enough to go into whether he should have that right after serving his due in prison or not, but invoking 'human rights' seems way too theatrical at that point, especially since many people just lost a lot of money through your fault – what about their 'human rights'?
In any case, the guy did not come off as ready to own up to his mistakes or sincerely learning from them. I would keep a healthy distance from him in any matter having to do with security.
Very good points
Does that mean that nicehash is a potential virus/malware that already infected millions of computers all around the world? I'm getting really worried.
HIGHLY unlikely, was most likely a spear phishing campaign that got them access, just an educated guess. The weakest link generally tends to be a human and a single point of entry from an uneducated person with access to the lan in anyway dramatically increases the attack surface and the chances that they'll pivot through the network.
I'm still not seeing a legitimate (not in the legal sense, but in the practical sense) need or use for bitcoin. As this case highlights they seem less secure than our current banking system which at least has some protection for consumers (varies according to where you are I guess).
While it is undoubtedly an innovative and cool piece of tech, its use so far seems to be for speculation (read, gambling) and illicit purchases under the cover of legitimate (in the legal sense) purchasing which would probably be better served using normal currency.
Maybe I'm missing something?
I'm on the fence with you. I find it odd that a future currency doesn't have any safety measures against theft. We have a problem with theft with current physical money. It's just odd that the creators of each currency doesn't have a method to track it's currency.
It's great how it works now, but it needs to safeguard from theft before it really becomes mainstream, even if they decrease the transfer costs.
You are not relying on a third party and can decide exactly how much to send without opening the door to your whole account.
For merchants it also eliminates the risk of charge backs associate with credit card payments.
Centralising data is a massive security risk, nice hash was a centralised service hence why it was able to be hacked.
So the flaw of the decentralised currency is when it has to go through a trusted third party very ironic don't you think!
I think 99% of the use is legitimate albeit for speculation, with the $ still being number 1 for all illicit purchases 😉
Is cash better? Sure, but it's easily stolen from anyone carrying it or their hiding places. And the value of government cash can rapidly decline, as we see in Venezuela and much of the third world.
Or asset forfeiture, simply by traveling through the wrong county with a bunch of cash. (Really, look it up).
Are banks better? Scenario #1: Sure, but they're backed in government currency and governments sometimes collapse. (Don't laugh. Look at Venezuela; they had food until recently).
Scenario #2: Good luck hiring a legal defense when your government confiscates your bank accounts over a tax "misunderstanding." It happens, so don't scoff.
Is gold better? Sure, a thief finds your stash. Or some environmental regulation is deleted and it's cheaper to mine for gold. Or a new source is found in some third world country with cheap labor.
Having crypto-currency in an imaginary wallet is clearly a risky way to handle some of your wealth. But so is having a box of cash in your bedroom, all your money in a bank, or a few gold coins in your freezer.
The only safe thing is to diversify your wealth, spreading it in more than one kind of currency and precious objects. Maybe invest in a few Shekels, Pounds, and a little gold, for now. You never know.
i dont undestood? im using avast and never any virus got in to my computer. my passwords never ever been compromised.and my visrus detector always gives alert to me,so what other computer users do different then me`?
Do you have $50 million worth of Bitcoin on your computer? You might be a bit more of a target in that case.
"In December 2013, NiceHash CTO Matjaž Škorjanc was sentenced to four years, ten months in prison".
I don't math well, but if you carry the one and square the root, my math says that he should've still been in prison at the time of the theft. So prison from January 2014 to October 2018. It's not October 2018 yet.
This bullsh"t about "early release for good behavior" is nonsense.
If you get 4 years and 10 months, YOU SHOULD DO 4 YEARS AND 10 MONTHS.
I would solicit the bitcoin from the Appeals Board of the prison this adidas track suit wearing h4x0r was released from.
Until a system of incarceration is developed in which prisoners can have a personal jailor and receive gold stickers, chocolate ice cream, and fluffy dolls as rewards for good behavior, the best option remains an early release program.
🙂
Ah, so he's still on some kind of parole basically, I missed that – well that makes the 'my human rights were violated, booohoo' part even more pathetic.
>If you get 4 years and 10 months, YOU SHOULD DO 4 YEARS AND 10 MONTHS.
Why? Different countries have different approaches on this, why is yours the best?
There's so much scamming and theft right now in the cryptocurrency space that it's almost comical. I mine crypto currencies with hardware and there's such high demand that we are literally paying for stuff we won't even get for 4-5 months out. So then there's space for new technology which promises to do that same that may or may not ever materialize with minimum orders of 5-10 at $1500-$1800 paid in advance. SO then you've got that scam (or potential for it) and you've got people claiming to have hardware, charging markups ($500-$2000) and they just never ship. I've started ordering single units from the ones that seem legit just to test the water and not take on too much risk. The crypto space is like the wild west on all sides.
@Brooke: Yep, almost ALL are scams except for the manufacturers like Bitmain, Pinidea, etc. There seems to be non-ending amounts of websites plastered on the internet offering mining rigs at really good prices accepting only crypto's and would bet 100% are just scams! Even off places like ebay you have both parties trying to scam each other if paying with or without crypto's. One party tries to pay using a stolen account or if they pay legally they use the miner for a month or two and then say it was defective and try to return for a refund so they get mine for free while the return is best.
Then Nicehash gets hacked with what they initially called a very sophisticated attack. Turns out its most likely an inside job. Brilliant!
BTW: I like baikalminer.com and their new algo's! Lots of scam sites already offering their miner so be sure to only buy direct from the manufacturer.
"So the flaw of the decentralised currency is when it has to go through a trusted third party very ironic don't you think!"
Irony? Nah, that's just called "stalking the watering hole"
Everyone has to bring their money to the market sometime.
Don't invest if you are not decided to buy bitcoin.
Comments are closed.
Mailing List
Search KrebsOnSecurity
Recent Posts
Spam Nation
A New York Times Bestseller!
Thinking of a Cybersecurity Career?
Read this.
All About Skimmers
Click image for my skimmer series.
Story Categories
The Value of a Hacked PC
Badguy uses for your PC
Badguy Uses for Your Email
Your email account may be worth far more than you imagine.
Most Popular Posts
Why So Many Top Hackers Hail from Russia
Category: Web Fraud 2.0
Innovations from the Underground
ID Protection Services Examined
Is Antivirus Dead?
The reasons for its decline
The Growing Tax Fraud Menace
File 'em Before the Bad Guys Can
Inside a Carding Shop
A crash course in carding.
Beware Social Security Fraud
Sign up, or Be Signed Up!
How Was Your Card Stolen?
Finding out is not so easy.
Krebs's 3 Rules…
…For Online Safety.
BLOK, A Diversified Way To Enter The Cryptocurrency Market. – Seeking Alpha
Leonid Sukala/iStock via Getty Images
Editor's note: Seeking Alpha is proud to welcome Diego Prados as a new contributor. It's easy to become a Seeking Alpha contributor and earn money for your best investment ideas. Active contributors also get free access to SA Premium. Click here to find out more »
The growing blockchain ecosystem is a fast-changing environment that involves many different industries due to its high number of applications. This relatively young market has a lot of growth potential as adoption increases and developers continue to build the so-called new internet.
Since the launch of Hashcash, which was originally proposed as a mechanism to throttle systematic abuse of un-metered internet resources such as email and anonymous remailers, in May 1997, an uncountable number of projects have made the crypto space. As of December 2021, more than 16,000 projects were listed on Coinmarketcap averaging a total market capitalization of around 2 trillion.
Additionally, crypto-related stocks have been listed on many exchanges giving investors a different exposure to the crypto market than those who only invest in digital assets. This is where the Amplify Transformational Data Sharing ETF (BLOK) stands out as it helps investors gain exposure to Bitcoin and other cryptocurrencies through a mix of pure and diversified crypto-friendly companies.
On November 17, 2021, Amplify ETFs announced that they have surpassed $5.21 Billion in assets under management combining all the ETFs they offer. The company had also said that this was an increase of 57% in their combined assets under management (AUM) for 2021, way above the US average for the same period. Most of the ETFs managed by the company are thematic and focused on high growth potential industries such as the Lithium & Battery ETF (BATT) or the Digital & Online Trading ETF (BIDS). Thematic ETFs accounted for $2.98 billion which is 57.2% of the total AUM for which BLOK accounts an astonishing 32.6% of the total company AUM with $1.7 Billion in AUM as of the date of the announcement, following an increase of more than $900 million in inflows year-to-date.
The Amplify ETF team is managed by leading professionals in the ETF sector. The CEO and Founder of the company, Christian Magoon has launched over 70 ETFs in his more than 15 years' experience in the financial sector. The President of the company, William Belden, has previously worked closely with Christian in developing the ETF product line for Claymore Securities, a company which was launched on 2006 by the actual CEO of Amplify ETF.
The company also works with numerous firms for their expertise and specialized focus across various market segments including names like Toroso Investments (BLOK's portfolio managers), EQM Indexes or Emerita Capital.
BLOK is an actively managed ETF that focuses on the blockchain ecosystem. The fund will have at least 80% of their holdings dedicated to companies involved in the crypto space independently of the sector they belong to and it is classified as diversified by the company. It invests in different sectors such as Software & Services, Banks, Semiconductors or Diversified Financials. Geographically, de-fund distributes its assets mainly across North America, with a 74% weight but also targets Asia-Pacific and Eastern Europe both with an 18% and 8%, respectively.
BLOK "is designed to invest in the public companies that are further in the blockchain and participating in this transformational change in how data is shared", said Michael Venuto, portfolio manager of the BLOK ETF and co-founder of Toroso Investments.
Bitcoin reached an all-time high on November 10 last year of 69,044.77 US$ according to CoinGecko. This is a 704.736% increase in price since last halving event in May 2020. The following graph shows how Bitcoin has performed over the last 3 halving events, and the standard deviation of the daily returns for that same period of time.
Author
Source: made by the author using matplotlib with daily close data up to 1/12/2022 from investing.com.
On one hand, the data shows that volatility has decreased from 0.1136 between 2012 and 2016 to 0.0425 between 2016 and 2020. On the other hand, returns have been affected dropping from an astonishing 5156.45% in period 1 (from the first halving to the second) to 1216.32% in period 2. As of 11/01/2022, Bitcoin has yielded 385.03% since the reward for bitcoin mining was reduced to 6.25BTC per block mined. This number is far from the gains of past halvings at this point in time (around 600 days after the halving event occurred), but there is still plenty of time until the end of this cycle so in my opinion, I think there still exists a possibility that new all-time highs can take place during 2022.
As the cryptocurrency market rallied this year, with Bitcoin gaining a 45%, BLOK had a 14% increase in price in FY2021 falling from a >75% gain when it had hit a new all-time high in November. Performance for the past two months can be explained by the selling pressure coming from China.
To illustrate this picture, it has to be said that December 2021 was the deadline for exchanges to close their existing users' accounts in Mainland China.
Considering technical indicators, it is relevant to mention that during 2020, the average trading volume for BLOK was 25,153.97$ and last year that number increased to 392,479.43$ a 1460.3% increment YoY. It is also to be said that, over the last 3 months, the average volume goes up to 660,491 which can be interpreted as if the asset volumes hadn't lost momentum despite the fall in price in the past few weeks.
Furthermore, as said before during the introduction, the product's assets under management topped $1,7 billion as of November 2021, current AUM nears $1Billion during the first week of 2022 as the price tanked as much as 40% since all-time highs.
We will start the analysis of the security by comparing different statistical methods to assess the risks involved in the profitability of holding the asset against different alternatives.
Yahoo Finance
We will first take a look at the risk metrics of the asset from top to bottom. First thing to analyze is the Alpha and the Beta coefficient. These parameters come from the Capital Asset Pricing Model which derives from the Markovitz Model. The model tries to explain an asset's return by simply running a linear regression of an asset's daily returns against the market to obtain an expression like:
Asset's return = Alpha + Beta * Market return + Error
So, in this particular case, the returns of the asset explained by the market would be measured by the Beta coefficient, and the Alpha coefficient would represent the returns that cannot be related to market movements. With all that said, we are happy to see a positive and greater than category average number for the alpha coefficient, but market risks are higher than the sector average. This is caused by a greater covariance between the market and the asset. A higher standard deviation for the returns also signals a greater risk in comparison to the sector but when considering the Sharpe's and Traynor's we conclude that the risk weighted returns are much larger than the category average. The Sharpe ratio stands at 1.06 against 0.86 even though BLOK has a standard deviation twice as large as the category. Same thing happens with the Traynor's ratio as the beta of the asset is greater than the average but still beats the market's average.
Metric
Blok
S&P 500
iShares ACWI
BTC-USD
VaR 95%
-0.0352
-0.0192
-0.0177
-0.0603
CVaR 95%
-0.0537
-0.0344
-0.0313
-0.095
Median
0.0014
0.0011
0.0009
0.0007
Source: Produced by the Author with data on daily returns from Yahoo Finance and Investing.com.
To finish with the risk-return analysis we will look at Value at Risk and Expected Shortfall (CVAR) both at a 95% confidence level combined with a return metric which is the median. The table shows us that the highest median daily returns are achieved with BLOK but it also shows that the risk we assume by having exposure to BLOK rather than the S&P 500 or ACWI is a lot higher too. Meanwhile, BTC remains the riskiest asset with the lowest median return of the table, and the reason BTC appears on this chart is to compare the risk of holding BTC with respect to BLOK as we can appreciate the value at risk of the ETF is close to half of what Bitcoin shows.
According to the company, the ETF invests in numerous sectors such as Diversified Financials, Software and Services or Semiconductors. We will now examine the assets with the biggest weights in the fund and compare them with the sector averages to judge on valuation.
Diversified Financials
In the ETF, as of July 31, 2021, 22.2% of the holdings were concentrated in the financial sector. This sector encompasses a broad selection of companies involved in the crypto market both in a direct and direct way. In this sector, the company tries to put together the most representative companies involved in crypto trading and payments. The companies with the biggest weights in this sector are displayed below with their respective valuation ratios.
Holdings as of 1/14/22
Weight (%)
PE Ratio
PEG Ratio
P/CF Ratio
P/S Ratio
SBI Holdings
4.82
7.1746
0.0431
7.6397
1.1885
Coinbase
4.66
17.3051
0.0061
5.0029
5.5023
CME Group
4.36
32.9165
2.531
33.5008
8.5238
PayPal
3.66
42.8972
0.7529
35.3867
17.2674
Weighed Sample Mean
17.5(Total)
17.4455
0.8962
14.0141
5.1120
Sector Median (Financials)
11.80
0.20
9.03
3.44
Source: made by the author using data from seeking alpha.
SBI Holdings is the company with the biggest weight in the portfolio as of 1/14/2022, but also the one with the best valuation ratios among the sample, beating the market with an attractive valuation. Second in the list is Coinbase, the famous cryptocurrency exchange that completed its IPO back in April last year. Coinbase manages to achieve better valuation ratios than the median of the market except for the P/S ratio, but it stays close to it.
To finish with our sample, both CME and PayPal fail to beat the market in terms of valuation. PayPal at least beats the market when it comes to growth beating the market in the PEG Ratio by 16%.
The main characteristic of this sector the growth rate at which the companies increase their cash flows and earnings with an average PEG ratio of 0.8962 comparing to that of the S&P 500 of 1.11 recorded on November 2021.
Software
The main activity developed by companies chosen for the ETF within the sector of Software is cryptocurrency mining. this activity accounts for more than 22.5% of the fund's investments as of 1/14/2022. In the fund's holdings, there are included 9 out of the top 10 crypto mining stocks that control more than 50% of the Bitcoin network.
Bitcoin Mining Stocks
This particular type of stocks are very good to replicate bitcoin prices as the ETF does not invest in bitcoin itself. Moreover, these are cash flow generating companies against bitcoin itself that can be better seen as a commodity.
Bitcoin Fundamentals: Mining Profitability Ratio & BTC Dominance
Historically, halfway between halving events, a huge increase in prices follow, increasing miner's revenue due to higher transaction fees. This pattern is likely to occur in the following months. According to Coinmetrics.com, total miners' revenue has topped $38 Billion since the genesis block. In 2021, total revenue grew an outstanding 80.95% from $21 Billion. Furthermore, the ban on cryptocurrencies coming from China helped the network to decentralize and redistribute miners' rewards.
After performing an analysis of the fund, the conclusion is that the ETF can be a good buy opportunity for the following reasons:
Diversification: Diversification plays a very important role in picking cryptocurrency investments. As the market is so young and volatile as well as unpredictable, it is even more convenient to diversify risks among different kinds of assets and owning BLOK can be a great strategy to achieve diversification.
Active Management: Many people would argue that active management is a good thing to consider when analyzing a fund (as the efficient market theory says most traders won't be able to beat the market). But the thing is that in such a fast-changing environment in my opinion you must rely on professionals who can actively track the markets in order to adapt to the new conditions in the fastest ways possible.
Combination of Direct and Indirect Plays: I personally believe that it's a good thing that many of the companies that appear on their holdings are not directly related to the risky crypto space. This means that those companies will benefit from the cryptocurrency market but will be able to survive if this one is not performing as expected as it is not a main driver of revenue for them.
Long-term growth opportunity: In valuation terms, the companies involved in the ETF, particularly the ones that belong to the financial sector, offer a great opportunity in terms of growth, as the cryptocurrency market can still increase its influence in the way finance is developed nowadays.
Editor's Note: This article discusses one or more securities that do not trade on a major U.S. exchange. Please be aware of the risks associated with these stocks.
This article was written by
Disclosure: I/we have a beneficial long position in the shares of BLOK either through stock ownership, options, or other derivatives. I wrote this article myself, and it expresses my own opinions. I am not receiving compensation for it (other than from Seeking Alpha). I have no business relationship with any company whose stock is mentioned in this article.
Derivatives Data Shows Softening Crypto Enthusiasm – CoinDesk
Boat without sails
Lawrence Lewitinn
Lawrence Lewitinn is CoinDesk's managing editor of global capital markets.
Follow @lvlewitinn on Twitter
Several months ago, investors facing FOMO – the fear of missing out – worried that the ship had sailed when it came to crypto. Now, however, while that ship may have left the harbor, the wind is out of its sails as it floats directionless for the time being. Perhaps it's because of upcoming Fed tightening; enthusiasm seems to have dampened. That sentiment is backed up by some market data showing market activity has fallen and that could take prices with it.
1. Funding rates have gone negative.
Bitcoin Funding Rates vs. Price (via CryptoQuant.com)
Rates from several major exchanges compiled by analytics firm CryptoQuant show that the cost of borrowing to buy crypto on leverage has fallen to the point where it's slightly negative. That implies that demand for money to make leveraged bets has taken a hit. Traders aren't in any rush to add to their positions.
2. Open interest (OI) in bitcoin futures is down slightly since the last week of December.
Bitcoin Futures Open Interest (via Skew.com)
It's currently $16 billion, according to data site Skew.com, down from just shy of $19 billion around Christmastime. During bitcoin's November peak, open interest was roughly $26 billion.
3. Ether futures also have seen declining open interest.
Ether Futures Open Interest (via Skew.com)
Since its own November peak of $13 billion, open interest for the smaller ether futures market is currently around $8 billion.
4. Options open interest on bitcoin and ether are down to where they were in early October.
Bitcoin Options Open Interest (via Skew.com)
OI for bitcoin options is now at $7 billion and $5 billion for ether. Back in December, those figures were around north of $10 billion and $7 billion, respectively.
Ether Options Open Interest (via Skew.com)
Some of the falloff can be attributed to year-end bets taken throughout the course of 2021. While current OIs are still significantly larger for both cryptocurrencies than where they were last year, they are still roughly where things were in October, before the big run-up in prices.
5. Implied volatilities on bitcoin are falling precipitously.
Bitcoin At-The-Money One-Month Implied Vols (via Skew.com)
Implied vols, which are calculated off options premiums and gauge the market's view of future risk, are down to levels not seen since October 2020. To be sure, regular levels in crypto implied volatilities would signal alarm and panic in the equity market, but since the second week of December, crypto's implied vols have drifted down. In the past couple of days, that drop has accelerated. One-month at-the-money implied vols are now at 60%; they had been hovering in the 80% range since the summer. When demand for options falls, implied volatilities fall with it.
6. Ether's implied vols are also down.
ETH At-The-Money 1-Month Implied Vols (via Skew.com)
Now at 69%, implied volatilities on one-month at-the-money options on ETH had been around the 100% level since June. It has been over a year since they were regularly below 70%.
The list goes on and on.
Of course, this doesn't mean muted markets can last forever, but in the coming days or weeks, one shouldn't be surprised if prices drift south.
DISCLOSURE
The leader in news and information on cryptocurrency, digital assets and the future of money, CoinDesk is a media outlet that strives for the highest journalistic standards and abides by a strict set of editorial policies. CoinDesk is an independent operating subsidiary of Digital Currency Group, which invests in cryptocurrencies and blockchain startups.
By signing up, you will receive emails about CoinDesk product updates, events and marketing and you agree to our terms of services and privacy policy.
Layer 2
Business
Policy
Business
The leader in news and information on cryptocurrency, digital assets and the future of money, CoinDesk is a media outlet that strives for the highest journalistic standards and abides by a strict set of editorial policies. CoinDesk is an independent operating subsidiary of Digital Currency Group, which invests in cryptocurrencies and blockchain startups.
@2021 CoinDesk
Scammers Stole $14 Billion in Crypto in 2021. Here's How Investors Can Protect Their Coins – NextAdvisor
Share
Mortgages
Credit Cards
Loans
Insurance
Banking
Financial Goals
Follow Us
Upgrade Bitcoin Rewards Card: 1.5% Back in Bitcoin, but Crypto Rewards Are Volatile
Watch Out for This New Crypto Scam, the FTC Warns. Here's How to Protect Your Investments
We Asked 10 People About Their 2022 New Year's Money Resolutions. Here Are Their Goals, and How You Can Meet Yours
Crypto Was a Popular Gift Last Year. Here's What You Should Know About the Tax Implications
Bitcoin Doubled Its Value in 2021. Here's a Look at Its Price Over the Years
There Are Thousands of Different Altcoins. Here's Why Crypto Investors Should Pass on Most of Them
Bitcoin Will Hit $100,000, According to Experts. Here's What They Predict in 2022
Two Things Crypto Investors Should Know About the Infrastructure Bill President Biden Signed
The Biden Administration Wants New Legislation to Regulate Stablecoins. Here's What That Means for Investors
Ethereum Dropped Back Below $3,300. Here's What That Means for Investors
Contributing Writer
Megan DeMatteo is an editor and poet based in New York. In 2020 she helped launch CNBC…
Share
Cryptocurrency crime had a record-breaking year in 2021, with a new report finding scammers took $14 billion worth of crypto last year.
That's nearly twice the $7.8 billion taken by scammers in 2020, according to blockchain data firm Chainalysis' "2022 Crypto Crime Report," findings from which were released Thursday, Jan. 6. 
With a boom in cryptocurrency interest over the past year, it's no wonder that "Olympic-level scammers" have taken notice of new opportunities for illicit activity, says William E. Quigley, a prominent investor and co-founder of the WAX blockchain. The high-tech nature of crypto will continue to attract sophisticated scammers, Quigley said during a panel discussion hosted by blockchain firm Light Node Media last month. 
Consider a recent "Squid Game" scam in which investors allege a new SQUID cryptocurrency token and related immersive online game were actually just an elaborate scam. Investors claim the developers disappeared after the currency skyrocketed in price and seemingly cashed out with more than $3 million.
Before You Invest In Crypto
Experts say it's smart to keep your crypto investments under 5% of your overall portfolio. Crypto prices fluctuate wildly by the day, and experts also say you'd be smart not to invest more than you'd be OK losing if the market dropped out altogether. Crypto investments should also never get in the way of other financial priorities like saving for emergencies, paying off high-interest debt, and saving for retirement using more conventional investment strategies.
Experts say it's smart to keep your crypto investments under 5% of your overall portfolio. Crypto prices fluctuate wildly by the day, and experts also say you'd be smart not to invest more than you'd be OK losing if the market dropped out altogether. Crypto investments should also never get in the way of other financial priorities like saving for emergencies, paying off high-interest debt, and saving for retirement using more conventional investment strategies.
Like it or not, crypto investors are opening themselves up to this new and evolving risk of fraud and scams. If you've incorporated crypto into your investment portfolio or are interested in investing in Bitcoin or Ethereum in the future, here are some common scams and red flags to look out for.
In the U.S., almost 7,000 people lost upwards of $80 million in crypto scams from October 2020 through March 2021, according to the Federal Trade Commission (FTC), based on scam reports filed in the U.S. That's a huge jump over the 570 cryptocurrency investment scams and $7.5 million in losses during the same months just the year before. With cryptocurrency scams on the rise, here are some patterns to look out for:
If a seemingly credible person or retail establishment claims they cannot accept any form of currency other than Bitcoin, it's likely a scam. Bitcoin and other altcoins are a burgeoning asset class, so experts say credible institutions aren't going to accept crypto and not also accept U.S. dollars through normal means like wire transfers, checks, credit and debit card payments, and cash.
In general, anyone demanding you pay them in Bitcoin might be trying to hoard it and capitalize on its skyrocketing value. And unlike banks, blockchain lacks common know-your-customer (KYC) protocols. That means people can open wallets without having to present valid identification, a Social Security number, or an address and contact information. Though blockchain is public and creates permanent, open-access records, people can transact on blockchain more or less anonymously — making it easy to trick you, take your money, and run.
The lack of KYC protocols on blockchain is a major question mark for its widespread use, says Jonathan Padilla, former PayPal head of blockchain strategy and CEO and co-founder at Snickerdoodle Labs, a California-based blockchain data security company that's looking at using blockchain to give consumers ownership of their cookies and browsing data.
"With a decentralized platform, there's really no safeguards in place to say who is a good actor and who is a bad actor," Padilla explains. "It's really just buyer beware."
On a promising note, blockchain can provide a new form of transparency: Since data cannot be altered or removed on blockchain, all transactions are public record. When Colonial Pipeline paid anonymous hackers 63.7 Bitcoin (valued at almost $2.3 million) back in June, U.S. Justice Department investigators were able to track the transactions on blockchain and seize the ransom money.
"[The hackers] used a hosted wallet to move the Bitcoin around, which means [law enforcement] found them in about five days," Padilla says. "There's transparency built in [to blockchain], and now with the tools [coders are developing], you can use sophisticated software to do an on-chain analysis and track where these things go."
However, it will be a matter of time before law enforcement agencies at every municipal level become familiar enough with new tools to investigate smaller-scale blockchain scams effectively. There's currently still a possibility that crypto tokens, NFTs, and other digital blockchain assets could be used by bad actors to launder money on both small and large scales.
"That's a very real concern," says Padilla. "For example, you could get money from Columbia, go buy an NFT with what was previously cartel money, and it could be washed in an NFT."
Mass-scale money laundering isn't super prevalent, Padilla says, but the tools and the compliance framework needs to catch up fast.
"The tech is just getting where it needs to be … to be able to track where that money is coming from and where it's going," Padilla says. "But it hasn't been there for the last half year," since crypto and NFTs have exploded in popularity.
Sticking with beginner-friendly crypto exchanges like Coinbase and Gemini is one way to avoid risks that come with smaller, niche exchanges, experts say. It's also a good idea for beginner crypto investors to stick with the two most popular cryptocurrencies — Bitcoin and Ethereum — which have a longer record of increasing in value than other new altcoins.
Like we saw with the "Squid Game" scam, sophisticated coders now have the ability to create new games and entire imaginary worlds on blockchain. And to do it as quickly as the next viral Netflix show takes off.
An easy way to scam excited blockchain newbies is to get them to buy a type of newly minted coin or token for a game. If enough people drive the price up through supply and demand, this gives the original scammers an opportunity to sell all their holdings and disappear in a move known as a "rug pull."
Unlike bank accounts for federally regulated currency, there's no such thing as fraud protection or FDIC insurance on the blockchain. When your money gets stolen on blockchain, the only way to get it back is for the recipient to pay you back directly. On a decentralized exchange, that's highly unlikely. And while mainstream crypto exchanges have better fraud security measures than lesser-known exchanges, there's still no guarantee for investors to recoup stolen crypto.
Cryptocurrency Investment Schemes
New forms of crypto are constantly being minted, and when new coins hit the blockchain it's known as an initial coin offering (ICO). But ICOs are also opportunities for scams. A company or individual may say they have a once-in-a-lifetime opportunity to invest in a new form of crypto with guaranteed 1,000% returns. They may then pressure you into depositing a bunch of new coins into a digital wallet that's been compromised somehow, or "pump and dump" by buying up the coin and selling when the price explodes.
Dating apps are rife with crypto scams. According to the FTC, about 20% of the money lost in romance scams from October 2020 through March 2021 was sent in the form of cryptocurrency. Scams like this involve long-distance or digital relationships in which one party pressures and convinces the other to buy or give money for some new crypto that's really just a way to scam people out of their money.
This type of scam is as old as the internet, but with crypto there are some new implications. Just as a "normal" phishing attack would work, bad actors send emails attempting to bait recipients into clicking links and inputting their personal details — including crypto wallet key info. But unlike most passwords and usernames, you only get one private key to your blockchain wallets. This is part of blockchain's decentralized design, ensuring that one entity cannot control your information, but it poses an issue if you ever need to change your key.
Even the most advanced and enthusiastic cryptocurrency experts understand there are many new and evolving risks in the world of crypto right now. Some have weathered scams themselves, such as the blockchain investor and entrepreneur Ian Balina, who said he lost $2.5 million after his private wallet key information was compromised by someone hacking into his Evernote account.
Balina's story highlights the possibility of loss and fraud when dealing with such a new, volatile asset class, even for successful investors.
Financial experts advise most passive investors to keep crypto holdings to under 5% of their portfolios, and never to invest in crypto at the expense of saving for emergencies or paying off high-interest debt. If you feel ready to start investing in crypto, here are some best practices to protect your money:
For starters, watch out for some common red flags that are similar to classic money wiring scams and credit card fraud:
Just like your physical wallet, you need to protect your digital wallets from hackers. Practice good digital security habits akin to how you'd handle large sums of physical cash by putting them in a safe or FDIC-insured savings account.
Experts say small-scale investors with a few hundred dollars worth of crypto are probably OK keeping it on a mainstream exchange like Coinbase. However, if you amass thousands of dollars worth of crypto, it probably makes more sense to incorporate a wallet for additional safekeeping.
There are two types of crypto wallets, typically described as "hot wallets" and "cold wallets."
Hot wallets are hosted, or stored online. They are secure, but more susceptible to hacking than cold storage, which is when you store crypto offline on a piece of hardware. Think of cold storage as kind of like a safe in USB-drive format. It's more secure, but if you forget your password or lose the device, you could lose access to your money forever.
Crypto held in hot wallets is not FDIC-insured like cash in the bank. You'll therefore want to make sure that whatever platform or wallet you store your crypto in has robust security measures, including:
You only get one unique key to access your wallet, says Mac Gardner, a Florida-based certified financial planner and founder of FinLit Tech. Losing your key or having it stolen could mean losing the crypto altogether.
"You need to have a lot of control around getting access to [your wallet key.] It's not a thing where you can forget your username and password if you don't write it down," Gardner says. "Each code has a process and a certain number of characters. It's extremely personalized because of this virtual space. If it wasn't, anybody could go in there and then grab your stuff, right?"
You should report fraud and other suspicious activity involving cryptocurrency to the following bureaus using these links:
Also don't forget to report the fraud to whatever crypto exchange you used to complete the crypto transaction whenever you suspect or have evidence that bad actors are at play.
Learn all about finances in next to no time with our weekly newsletter.
In your inbox every Tuesday
Thanks for signing up!
We'll see you in your inbox soon.
I would like to subscribe to the NextAdvisor newsletter. See privacy policy
Facebook
Twitter
Instagram
LinkedIn
YouTube
Tell us what you think
Did this article answer your questions?
Time is Up!
Let us know what questions you still have about this topic or any others.
Time is Up!
Thanks for your feedback!
Before you go, sign up for our newsletter to get NextAdvisor in your inbox.
Thanks for signing up!
We'll see you in your inbox soon.
I would like to subscribe to the NextAdvisor newsletter. See privacy policy
Card Comparisons
6 min read
Mortgages
4 min read
Investing
7 min read
Card Comparisons
7 min read
At NextAdvisor we're firm believers in transparency and editorial independence. Editorial opinions are ours alone and have not been previously reviewed, approved, or endorsed by our partners. We do not cover every offer on the market. Editorial content from NextAdvisor is separate from TIME editorial content and is created by a different team of writers and editors.
Subscribe to our newsletter
Thanks for signing up!
We'll see you in your inbox soon.
I would like to subscribe to the NextAdvisor newsletter. See privacy policy
Follow us
© 2022 NextAdvisor, LLC A Red Ventures Company All Rights Reserved. Use of this site constitutes acceptance of our Terms of Use, Privacy Policy (Your California Privacy Rights) and California Do Not Sell My Personal Information. NextAdvisor may receive compensation for some links to products and services on this website. Offers may be subject to change without notice.