Nvidia's flagship crypto mining GPU is going for double the price of RTX 3090 – PCGamesN
It's no secret that Nvidia wants to curb crypto mining on its RTX 3000 gaming GPUs, with team green introducing hash rate limiters into the cards earlier this year. However, the company hopes to capitalise on this demand through its own CMP HX range of graphics cards dedicated to mining, and it looks like the flagship CMP 170HX could cost double the price of an RTX 3090.
Spotted by Komachi_Ensaka on Twitter, the unannounced mining GPU is currently listed on Yahoo Auctions for ¥600,000 JPY, which is around $5,279 USD. The specialist card is also available through Vipera, a Dubai-based retailer that's selling the crypto component for $4,560 USD.
Given its specialist nature, the CMP 170HX is on a different level compared to a gaming GPU when it comes to crypto mining. As it's specifically designed to solve cryptocurrency algorithms, it features an unlocked hash rate, but lacks gaming monitor display outputs and uses passive cooling. This leaves miners with two component ranges to choose from, while PC gamers remain limited to using traditional graphics cards.
The fact that the CMP 170HX is selling for double that of Nvidia's flagship GPU means crypto miners could opt for Nvidia's gaming PC graphics cards, rather than the CMP HX flagship, given the value proposition. While an increase in cryptocurrency mining isn't solely to blame for the ongoing graphics card shortages, exuberant pricing probably won't help the situation, especially if RTX stock levels recuperate before crypto mining GPU prices depreciate.
CMP170HX マイニング専用 ビデオボード https://t.co/Umna6BXpkP
— 遠坂小町@Komachi (@KOMACHI_ENSAKA) October 22, 2021
Of course, miners have already circumvented the RTX 3000 series hash rate limiters, restoring performance to near 100%. So, until Nvidia comes up with a plan B, its gaming graphics cards could continue to be a popular component choice for crypto mining rigs.
Get involved in the conversation by heading over to our Facebook and Instagram pages. To stay up to date with the latest PC gaming guides, news, and reviews, follow PCGamesN on Twitter and Steam News Hub, or download our free app for Overwolf.
We sometimes include relevant affiliate links in articles from which we earn a small commission. Any stated prices are correct at the time of publication. For more information, click here.
Phil Hayton Hardware writer
Updated: Oct 25, 2021
Phil is the latest addition to our hardware department, and a retro enthusiast with previous bylines at TechRadar, Den Of Geek, MSPoweruser, Bloody Disgusting, GameByte, Daily Star, and the BBC.
Crypto Podcast: Potential BTC Price Bounce and NFT Theft – Coindesk
Crypto Airdrop: What's an Airdrop and Why Crypto Airdrops Are Issued – Coindesk
Foundry launches a BTC mining rig marketplace with over 40k units – Techstory

The Bitcoin mining industry is booming as the overall network hashrate continues to increase. This has been used as a good opportunity by Foundry to launch a BTC mining rig marketplace. The mining rig marketplace is called the Foundryx and has over 40,000 mining units for resale. They also have their own mining setups, which contribute 16.8% to the total BTC hash rate. This also makes them the largest miner as per hash rate, followed closely by AntPool.
The company has been making money by employing the mining rigs themselves and selling them as well. This makes it really profitable for them. In August 2020, the digital currency group invested $100 million in the company. Foundry was just a year old when this investment was made, and they have been working in the BTC mining industry ever since. Their new marketplace is also a step in the right direction as it offers much-needed rigs in the market,


The company is already the largest individual contributor of the BTC hash rate with 29.83 EH/s. And now, they are planning to use the company's robust shipping and logistic units to reach customers who purchase from their new mining unit marketplace. I think their profits are going off the charts with this new business idea.
One very important thing to note here is that the BTC mining rig marketplace has units for resale. This means it doesn't sell new devices. The mining rigs have been used before and hence will be available for cheaper rates. Additionally, the current supply chain issues and chip shortages have increased the demand for used rigs. Currently, there aren't many used rigs resellers in the market that can be trusted properly, but with Foundryx, the trust factor is there. This is why they are planning to become a properly trusted secondary marketplace of BTC mining rigs. It is also important to note that Foundry has also been launching staking services on 20 different networks, which will be yet another important business for them.
What are your thoughts on Foundry USA launching a used BTC mining rig marketplace? And do you think it will take off due to the current shortage of chips and rigs supply? Let us know in the comments below. Also, if you found our content informative, do like and share it with your friends.
Also Read: Metaverse will be a multitrillion dollar market, says Cathie Wood.
comments
#FoundryxMining
I am a geek trying to make an audience for his awesome content. With laser eyes, I believe that Bitcoin is going to $100k very soon. HODL! Follow me on Twitter for more updates.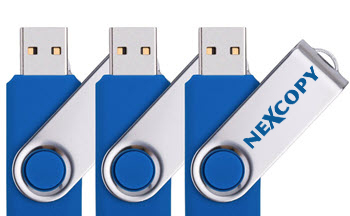 Copy Protect PDF, MP3, MP4 and more, with Nexcopy USB Duplicator Systems .