FIFA 22 review: What's good, bad and new from EA Sports – Sporting News
With the global release of the new FIFA 22 edition on Oct. 1, it's time to dissect the new version of the world's most popular video game.
EA Sports has introduced several new features to the game, including an updated gameplay system, HyperMotion technology and tweaks to different game modes.
Sporting News examines what's new in FIFA 22 and how it will affect you when you play the game.
MORE ON FIFA 22: 
When it boils down to it, the thing we want to do most in a football video game is score goals — but the manner it's accomplished is often up for debate.
In previous FIFA games, pace has reigned supreme in the goal-scoring process, with that attribute arguably the most critical to finding the back of the net. Despite Harry Kane's 88 rating as a striker in FIFA 21, you would find gamers still wanting to use a forward like the 81-rated Inaki Williams because he had the ability to burn past defenders with his pace, when the Tottenham star could not.
Maybe some FIFA fans enjoy that arcade-like aspect in the game, but more often than not, gamers want a realistic experience.
In FIFA 22 gamers can now use a deliberate approach with build-up as a way to breach opposing defenses instead of just using a high-pace attribute to leave a defender in the dust. The change means the game appears slower and more realistic, but it feels more rewarding for football purists to score a goal with some nice build-up play to draw your opposition out before striking the crucial blow.
However, EA has been known to tinker with this aspect in the past, shifting the game engine with download patches to appease both realism and arcade fans. Currently, the gameplay is set toward realism, but it remains to be seen if it will be changed at some point to satisfy fans of the arcade style of play.
The most trumpeted of FIFA 22's new features is the HyperMotion technology that has been added to the gameplay, which allows the most realistic movement and feel from in-game players ever seen in the franchise.
HyperMotion within the game was created by wiring up real-life players to gather data on the actual movements they make when playing football.
This information was then ported into FIFA 22 using an algorithm, which then allows in-game players to react realistically to situations within the game like shooting, passing or collisions. The result is a more realistic feel, where players veer off course and take time to recover when bumped by an opponent, and players have to recover their balance after attempting a power shot from long range.
It certainly is a nifty addition to the gameplay that makes it feel more fluid, but it certainly won't be the feature that defines FIFA 22.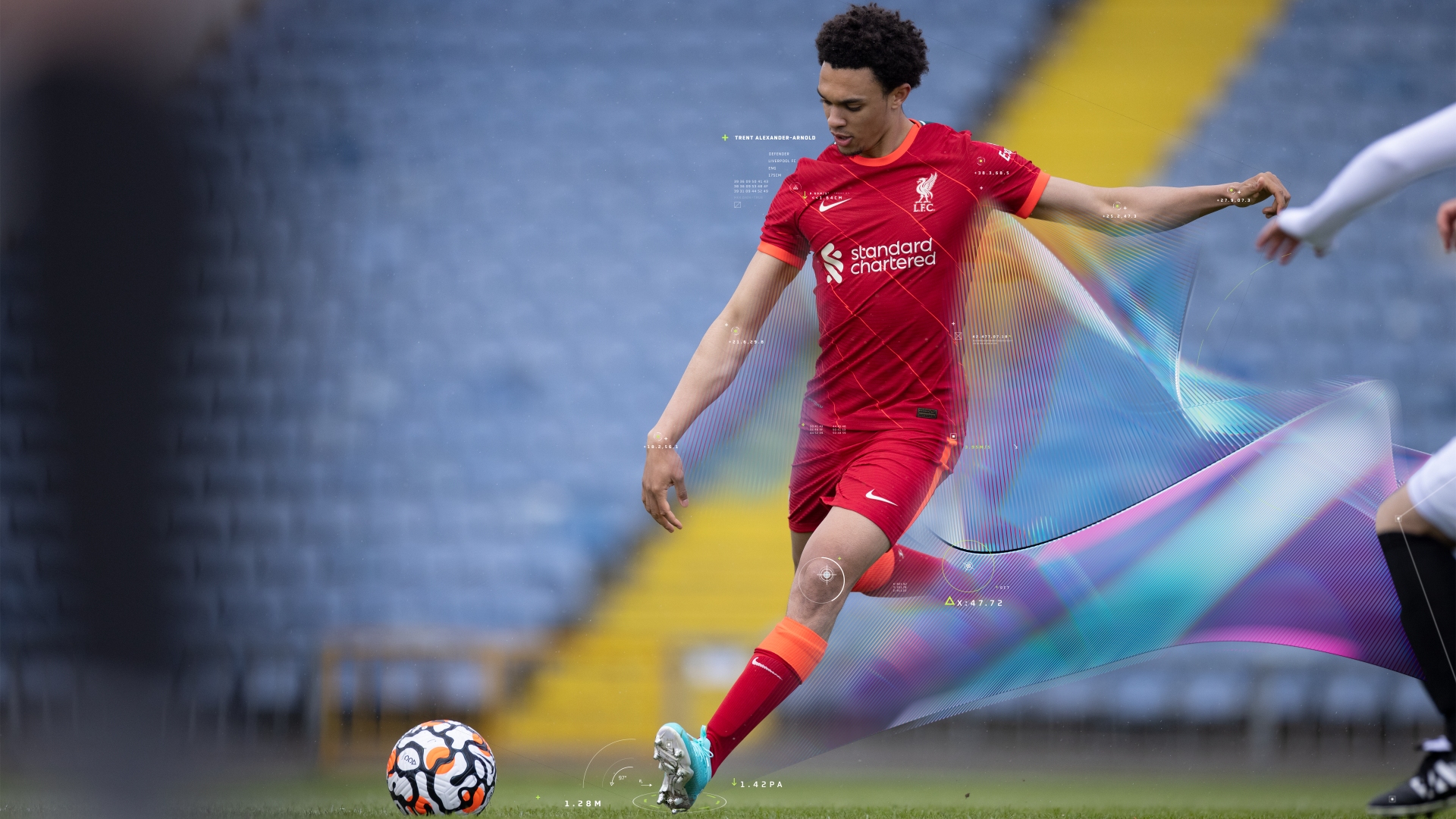 While the ever-popular Career Mode has remained relatively the same as FIFA 21, there are a couple of additions that make the experience more enjoyable.
With the popularity of role-playing games within the gaming community, EA Sports has added objectives that need to be completed, in addition to the actual gameplay on the pitch. Some of the objectives included are the need to impress your manager to earn your position in the starting XI, and your relationship with the gaffer is built through achieving certain tasks within the game.
Another nifty feature is the ability to simulate matches, and you can also jump in to play the actual game on the pitch at any point while you're in simulation mode.
There has also been a decision to eliminate repetitiveness from the mode, by allowing users to simulate sections such as Training Days, once enough data on them has been gathered.
Ultimate Team is FIFA's most popular online mode where gamers build a team with real-life players that are represented as cards. The base ratings of these cards hinge on a player's current ability, but they can grow if the players perform well in real life. This creates an online market where gamers need to generate in-game currency to buy and sell the different cards to help their Ultimate Team grow in strength.
Gaining in-game currency requires you to spend a lot of time playing the game, or alternatively, you can use your hard-earned cash to buy packs of player cards, which you can either add to your team, or sell for in-game currency. The result is, according to GamesIndustryBiz, that EA Sports generates more than a quarter of its net revenue, or around $1.49 billion, from the micro transactions associated with Ultimate Team.
In other changes, EA Sports has made the game mode more enjoyable by reducing the number of games (30 to 20) needed to play in the famous FUT Champions Weekend League, which gives gamers the chance to be among the best FIFA players in the world. However, the qualification process for the FUT Champions Weekend League has also been changed, with players needing to first qualify for a five-game Playoff Champions stage by getting enough points in the Division Rivals mode.
Once you are in the Playoff Champions stage, you play the five games, and if you accrue enough points, you qualify for the FUT Champions Weekend League. Otherwise you will be given rewards, and you can bank the points for your attempt to qualify the following week.
While the gameplay does feel more authentic, and there have been several solid additions to the game modes, FIFA 22 is not a huge departure from its previous version. Like most editions of the game, FIFA 22 is a slight improvement that builds upon its predecessor.
This formula has worked for EA Sports, and the FIFA franchise is firmly established as the best-selling sports game in the world with 320 million copies sold as of June 2021. With the usage of mostly real-life teams and players, it allows gamers the most realistic experience of playing a football game virtually.
There is no doubt FIFA 22 will continue to reign supreme in its genre, but it remains to be seen whether fans will be happy with a game that feels more like an update.
Obsessed with Wordle? Here are 10 similar games to play – USA TODAY
— Recommendations are independently chosen by Reviewed's editors. Purchases you make through our links may earn us a commission.
A few weeks ago, several of my friends started posting strange tweets that featured a grid of randomly colored blocks. Across the top of the tweet, it always said "Wordle" followed by several numbers. Eventually, curiosity got the best of me, and that's how I discovered Wordle—the daily word puzzle that's skyrocketed into popularity over the last few months. 
If you're not familiar with it, the concept is simple: You get six chances to guess the day's five-letter word. After every guess, each letter you input is highlighted in a certain color. Gray means the letter isn't in the puzzle word, yellow means the color is in the word but not in that spot and green means you put the right letter in the right spot. There's a new puzzle available every day, and while the idea is basic, the game is strangely addicting.
The only real downside of Wordle is that you can only play once per day, so if you're craving more brain-busting word puzzles, here are 10 similar word games that will hold you over until tomorrow, including IRL games like Boggle and Bananagrams.
Get deals and shopping advice delivered straight to your phone.Sign up for text message alerts from the experts at Reviewed.
If you thought to yourself, "Hm, Byrdle sounds just like Wordle," that's because it's the exact same game. Yup, this self-proclaimed parody works exactly the same way as the original, giving you six attempts to guess the five-letter word of the day. 
There are several other Wordle knock-offs, as well. For instance, there's also Hello Wordl, which has the same concept but lets you choose how many letters the word has, ranging from four to 11. Additionally, you can play Hello Wordl as much as you want—there's no daily limit.
If you enjoy Scrabble but wish it was a little bit faster, Bananagrams is the perfect alternative. In this award-winning game, each person races to create their own word grid using all their tiles. Once someone uses all their letters, they shout out "Peel!" and everyone is forced to take a new tile. The game continues like this until there are no tiles left, and the person who uses all their letters successfully is the winner. Bananagrams can be played with one to eight players, and it's incredibly entertaining for all ages. 
Get Bananagrams from Amazon for $14.99
As you become an anagram expert, be sure to try your hand Typeshift, a free word puzzle app. The concept is fairly unique: There are several columns of letters that you can shift up and down to create words in the central row. The goal is to use every letter in every column at least once, and there's one puzzle available each day. Plus, the puzzles get progressively harder throughout the week.
Download Typeshift from the App Store
This one is a major throwback from my childhood—my brother and I used to play Boggle at our grandparent's house. It's a classic word search game that you can play alone or with a group. Basically, there are 16 letter cubes inside the base, and after shaking it up, you have 90 seconds to create as many words as you can using face-up letters on the grid. At the end of the round, you tally up your scores, but watch out—if two or more players find the same word, that word doesn't count.
There are a few variations of Boggle available, as well, including Big Boggle and Super Big Boggle, both of which feature more letter cubes.
Get Boggle from Amazon for $11.97
There are plenty of apps that offer word games to play on your phone, and Wordscapes is a popular one. It's essentially a hybrid between a crossword puzzle and an anagram—you get a number of random letters, and you have to create words to fill in the crossword puzzle spaces. Wordscapes is free to play, and there are more than 6,000 puzzles to work through, so it's sure to keep you busy for a while.
Download Wordscapes from the App Store
Play Four is like a mini crossword puzzle that you complete in a four-by-four grid. There are eight different words you have to guess—four horizontal and four vertical—and you're given a clue for each word. You're scored on how many moves and how much time it takes you to finish the puzzle, and there are both regular and expert modes (the former highlights wrong letters on your grid). Similar to Wordle, there's only one Play Four puzzle available per day. 
Play Play Four at Merriam-Webster
Dabble is a fun spelling game that you can play with the whole family—it supports two to four players ages 8 and up. Each player gets 20 tiles, and it's a race to create five words using your letters. However, you have to make one two-letter word, one three-letter word, one four-letter word, one five-letter word and one six-letter word. If no one uses up all their letters in five minutes, players are allowed to swap tiles for new ones, and scoring works similarly to Scrabble, with each letter earning certain points.
Get Dabble from Amazon for $29.95
Kitty Letter, which comes from the creators of the popular card game Exploding Kittens, provides a competitive twist on a classic anagram game. In the free app, you go head to head with another player, trying to create words using your letters. Each word you make unleashes an army of cats to battle your opponent—bigger words give you more cats—and the first person to destroy the opposing player's house wins.
Download Kitty Letter from the App Store
You can keep your family busy on the go with Word Spin, a classic game that's over 25 years old. It comes with eight magnetic wheels, each of which has 10 letters on it, and the goal is to spin, switch and re-arrange your wheels to create words—the longer and more complex, the better! It can be played by one or two people, and it's compact enough to play on a car bus, or plane.
Get Word Spin from Amazon for $17.99
Spelling Bee is another word game that you can play right in your web browser. Each puzzle contains seven letters arranged in a honeycomb shape, and you have to make words using them. It's not that simple, though—each word has to have at least four letters and must include the center letter, which is highlighted in yellow. You can use letters more than once, and you get points for each word you find, earning you a rank somewhere between "beginner" and "genius."
Play Spelling Bee
There's a lot more where this came from. Sign up for our twice-weekly newsletter to get all our reviews, expert advice, deals and more.
The product experts at Reviewed have all your shopping needs covered. Follow Reviewed on Facebook, Twitter, Instagram, TikTok or Flipboard for the latest deals, product reviews and more.
Prices were accurate at the time this article was published but may change over time.
How to turn on AMD's Smart Access Memory for faster gaming performance – PCWorld
AMD's Smart Access Memory allows you to combine a Radeon RX 6000 series GPU with a Ryzen processor to unlock even more gaming performance—dramatically so, in some cases.
Before we show you how to enable Smart Access memory, we'll discuss the hardware requirements. Next, we'll walk you through how to configure your BIOS to activate SAM. And lastly, we'll show you how to confirm it's working. Let's get smart! (And be sure to check out our explainer on how Smart Access Memory and the Nvidia-equivalent Resizable BAR work).
As per the recommended hardware above, best results will come from the RX 6000 series GPUs and Ryzen 5000 series CPUs. AMD did add select 3000 series CPUs to the mix, but you'll still need a 500 series motherboard. If you have an Nvidia GPU or Intel CPU, Nvidia has their own version of Resizable BAR support. We'll update this article to reflect any future guidance on hardware compatibility.
Note: I ran a test on an AMD 5700XT, a previous generation Radeon GPU. Smart Access Memory did show as "enabled" in the Radeon Software settings, but no conclusion as to any performance gain yet. Your mileage may vary.
If you have all the right hardware, flipping on Smart Access Memory only takes a couple of minutes, though it requires delving into your motherboard BIOS. Here's how to do that:
If you follow the simple steps above, Smart Access Memory will be activated. The most important steps are enabling "Above 4G Decoding" and "Re-Size BAR support." You'll also want to make sure CSM is disabled, which is generally the default setting.
By using the latest version of the AMD Radeon Software, we can now confirm that Smart Access Memory is activated. Browse over to the Performance tab and open the Tuning panel. On this page, you'll find "Smart Access Memory." Here you can enable or disable the setting. This will give you confirmation that your trip to the BIOS was indeed successful. Have fun playing around with the extra gaming performance!
Note: When you purchase something after clicking links in our articles, we may earn a small commission. Read our affiliate link policy for more details.
Business
Laptop
Mobile
PC Hardware
Deals
Digital Magazine – Subscribe
Manage Subscription
Gift Subscription
Newsletters
The Best PC Gaming Controller of 2022 – How-To Geek
Join 425,000 subscribers and get a daily digest of news, geek trivia, and our feature articles.
By submitting your email, you agree to the Terms of Use and Privacy Policy.
PC gaming isn't just about using a mouse and keyboard: It's about choice. Some games are just better with a controller in your hands, especially with so many console games launching on PC. But not all controllers are equal.
$54.00

$59.99 Save 10%
$31.49

$44.99 Save 30%
$109.99
$179.99 Save 39%
$89.99

$159.99 Save 44%
$49.99


$201.41
$229.99 Save 12%
$206.99

David McAdam is a freelance writer from Ireland with several years of experience writing on video games, entertainment and tech. He came to writing after a background in tech retail, so he knows a bargain when he sees one. Read more…
Elizabeth Henges is the Commerce Editor for How-To Geek. She has close to a decade's experience reporting on tech, gaming, and gadgets. Elizabeth has had her commerce work featured on XDA Developers, The Inventory, and more. She has also written for publications The Washington Post and The Verge. Read more…
What to Look For in a PC Gaming Controller in 2022
Best PC Controller Overall: Xbox Wireless Controller
Best Budget PC Controller: PowerA Spectra
Best Premium PC Controller: Xbox Elite Series 2
Best Wired PC Controller: Razer Wolverine Ultimate
Best PC Controller for Retro Gaming: 8bitdo SN30 Pro+
Best PC Controller for Flight Simulators: Logitech G Saitek X52 Pro
Best PC Fight Stick: Qanba Obsidian
Using a console-style controller with your PC used to be a complicated ordeal. For the longest time, the PC controller was some kind of alien artifact you bought in your local game store. It might have resembled a Playstation or Xbox controller, but it didn't look or feel right.
Thankfully, PC gaming is much more controller-friendly these days. Now you can plug any modern controller into your computer via USB and it will likely work instantly. With so many options available though, which controller is right for you?
There are a few factors to consider when thinking about buying a PC controller. First and foremost, what are you planning to play? Some games just aren't suited to a mouse and keyboard. While they are perfect for first-person shooters or real-time strategy games, they're less ideal for action-adventure or fighting games. Sometimes the keys just can't give you what an analog stick can, and that's where controllers come in handy.
That said, there are many options to choose from when buying a controller. There are all kinds of price points and a range of features, as well as game-specific controllers such as arcade sticks for fighting games or HOTAS for flight simulators. Whatever genre you're playing, there is a perfect controller for you.
So, if you're a PC player who has yet to invest in a controller, below are some options for various games, styles, and prices!
Pros
Cons
Xbox has been the gold standard of controller design for years now. The Xbox 360 controller was considered the only choice for PC gaming in its day, and that legacy has been passed down through two console generations to its current iteration. The core of the Xbox 360 design is still there, but it has been refined and tweaked into the best controller readily available on the market today.
The modern Xbox Wireless Controller is light, durable, and well-made, being ergonomic and with grips built into the design. The controller can be connected wirelessly via Bluetooth or with a USB wireless adapter, although this isn't required—you can also simply plug it in with a USB-C cable and get to gaming.
Unfortunately, first-party controllers are not the cheapest. The Xbox Wireless Controller is $60—cheaper than the Sony DualSense, but still more expensive than most third-party options on the market. That said, they are high-quality controllers and good value for the cost.
A modern classic, the Xbox controller is practical, easy to use and reliable, making it perfect for most PC gamers.
$54.00

$59.99 Save 10%
Pros
Cons
Is the PowerA Spectra an Xbox controller in all ways but the name? Pretty much. It's not completely identical to Xbox's offering, it's certainly a cheaper version of it.
If you've ever used an Xbox-styled, third-party controller you'll know they never feel quite right. Just not quite the same as the official controller, even though PowerA's controller works pretty well. Is that a huge deal? That depends on what you're looking for.
Typically, value is associated with use. The reason we recommend the more expensive Xbox controller as the best overall is that for extended use, it's great value for money. If you don't see yourself using a controller much for your PC gaming, but want to have one for those rare times you need one, it's worth considering the Spectra instead. The controller is wired, so there's no extra fuss about finding a spare wire or setting up a wireless connection.
Basically, the PowerA Spectra is cheap and convenient. It's a great option for someone who just needs a controller handy for occasional use, or as a backup controller.
The PowerA Spectra is a great option on a cheaper budget that does the job and does it well.
$31.49

$44.99 Save 30%
Pros
Cons
The Xbox Elite Series 2 is the gold standard of controllers. But like gold, it doesn't come cheap.
The build quality is superb, it has sleek and satisfying back paddles, the analog sticks and directional pad are swappable, and the buttons are easily remapped both on Xbox and PC. All of this is for less than what many of the third-party alternatives would ask for something similar, as well.
But when we say premium, we mean premium. These controllers are nearly $200, a big step up in price from the $60 you pay for the normal Xbox controller. An Elite S2 is a big financial commitment, and a hard one to justify.
The original Elite controller was also great, apart from an issue where the grips started to peel off after extended use. Thankfully, this revised version has the grips integrated into the body so that peeling should no longer be a problem.
The Elite Series 2 of the controller is a refinement of an excellent formula, as near perfection as is available today. If you're looking to splash out and you want the best controller for your money, this is the best choice for you.
As well-designed and feature-rich as a controller gets, the Elite Series 2 is the pinnacle of gaming with a controller.
$109.99
$179.99 Save 39%
Pros
Cons
There are plenty of reasons to prefer to keep your controllers wired. Even though wireless has become the standard with consoles, running a wireless controller on a PC can be a hassle.
Luckily, there is a high-quality option that not only includes those who prefer a wired controller, it caters to them specifically. We are talking about the Razer Wolverine series of controllers, or more specifically the Razer Wolverine Ultimate.
Razer is no stranger to the controller market. Few of their releases are as popular as the Wolverine though, an Xbox controller of Razer's own design. While being unusually designed for wired use only, it boasts many of the features found on the Xbox Elite controllers. It has extra buttons, remappable controls, swappable sticks, and a d-pad. In fact, the Wolverine has two more buttons than the Elite, with two extra shoulder buttons.
The face buttons have a distinct clicky feel and sound, not unlike the clicking of a mouse. Further similarities to other Razer products include the absolutely extra RGB light strip across the top of the controller. It's not a proper Razer product unless it lights up!
In many ways, the Wolverine is the Xbox Elite controller for the PC die-hard. Although this controller is also compatible with the Xbox, this is a PC peripheral through and through.
At a cheaper price than the Elite Series 2, this controller is a top contender. Its layout and design are different than the Series 2, though, so it would be worth looking into should you be tempted to grab this more affordable alternative.
The PC player's controller, The Wolverine Ultimate is a Razer product through and through. It rivals the Elite Series 2 in function, with a style of its own.
$89.99

$159.99 Save 44%
Pros
Cons
These days, PC gaming is pretty much all-encompassing. There are few things you can't do on the platform, and many people play all kinds of classic retro games that were meant for PC. In fact, It is likely that the vast majority of people playing retro games these days do so using a PC or a Raspberry Pi.
The SN30 Pro+ from 8bitdo is the PC retro gamer's dream controller. This was designed to bring modern features and sensibilities to a classic design. Based on the Super Nintendo controller, the SN30 Pro+ takes that familiar shape and adds modern features (like analog sticks and ergonomic grips) to make it useable with whatever game you'd like to play.
8bitdo knows how to make a controller with all the functionality you would want, and ground it in nostalgia. This controller is an absolute must-buy for retro fans.
The SN30+ Pro controller is an absolute must-buy for retro fans, being an affordable, nostalgia driven controller.
$49.99

Pros
Cons
With the popularity of the new Microsoft Flight Simulator came a wave of interest in flight controllers, better known as HOTAS (Hands-On Throttle and Stick). These are the aircraft simulator equivalent of a driving wheel.
There are quite a few options in this space, with a pretty huge range in price. For our choice, we tried to balance price with quality, and we landed on the Logitech G Saitek X52 Pro.
The X52 Pro comes as two separated units—since the stick and the throttle are not attached, so placing them on your desk should be a lot easier than the competition. The X52 Pro is also well suited for VR, as unlike the newer X56 this model has all of its buttons on the controls themselves. Knowing where your buttons are and what they do is vital for VR, so if that's your aim, this is the flight stick to get.
Outside of VR, one of the useful features of this HOTAS is the LCD display on the throttle. This handy little screen can display things like date and time, it can also show your current profile so you know what your button set up is.
If at any time you are unsure what a button does, holding the small button on the back of the throttle and pressing any other button will have the LCD screen display what that button does.
The control stick has plenty of useful features too. It does all of the expected things like roll and yaw, it can even rotate for pitch if you want it to. The X52 Pro has several buttons on it for plenty of functions, including a dual trigger and a pinky trigger with adjustable height to accommodate different hand sizes.
Best of all, it has a button front and center on the stick with a little flap covering it. There is nothing better than a bit of stylish flair.
A sturdy and classic design, this well-featured HOTAS is ideal for new flight sim fans and returning enthusiasts.
$201.41
$229.99 Save 12%
Pros
Cons
The days where you felt like you needed a fight stick to play fighting games have come and gone, but that doesn't mean we have to give them up. These days, fight sticks are more of a personal preference than something you need to be taken seriously. If an arcade stick feels like the right input method for you, our recommendation is the Qanba Obsidian.
Fight sticks are premium controllers and often come at a premium price. The Obsidian is not cheap, usually coming in around $200. In the realm of fight sticks, though, that's about a mid-range price that makes sure the fight stick is still quality. You wouldn't want to spend under a hundred dollars if you want a decent stick, so let's talk about why this one is worth the extra cost.
First, the build quality is fantastic. The Obsidian has genuine metal parts, where many fight sticks have plastic with metallic paint jobs. The main faceplate and both side sections of the stick are metal. The knob of the joystick itself is also brushed metal, giving the whole package a premium feel.
This also gives the unit a good weight, giving it that crucial stability you want in an arcade stick. The Obsidian isn't going to move much at all in your lap. As great as it is out of the box, It's also a fantastic option for those who like to modify their sticks. If you find yourself wanting to change out the Sanwa OBSF-30 buttons that come with the Obsidian, it's very easy to do.
If you are a fighting game fan looking to invest in your hobby and maybe step up your game, a decent fight stick is what you want. To get a top-quality stick for a reasonable price with the potential for future modifications, check out the Qanba Obsidian.
The Qanba Obsidian is a superbly designed fight stick with excellent hardware and a sleek design.
$206.99
JOIN GEEK TALK ON FACEBOOK
Facebook
Instagram
Twitter
LinkedIn
RSS Feed
The Best Free Tech Newsletter Anywhere
By submitting your email, you agree to the Terms of Use and Privacy Policy.