New PS5 model now on sale — here's what's changed – Tom's Guide
Tom's Guide is supported by its audience. When you purchase through links on our site, we may earn an affiliate commission. Learn more
By Rory Mellon
Sadly, it's not the PS5 Pro. Nor will it make finding a PS5 restock any easier
Sony has reportedly put a new PS5 on sale. But before you rush to our PS5 restock page, bear in mind that the new model has the smallest of changes and won't make Sony's flagship console any easier to find.
Spotted in the wild by Press-Start, the new PS5 model went on on sale in Australia last week, not that you'd be able to easily tell. The new PS5 can only be clearly identified by its model number (CFI-1102A), as aside from that its packaging is pretty much identical to that the console launched with nearly a year ago.
The new PS5 model is slightly lighter than the original iteration, shaving around 300g off the console's weight. The most noticeable change comes to the screw that attaches the base stand to the console; this can now be adjusted by hand rather than requiring a screwdriver.
Update (8/29): A tear-down of the new PS5 has revealed that the weight loss is due to a much smaller heat sink, which results in higher operating temperatures.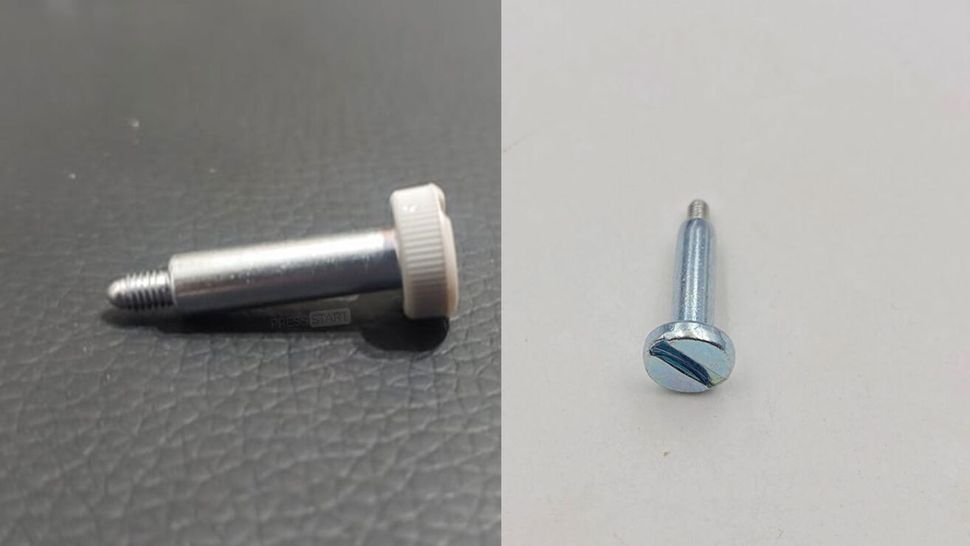 It's not uncommon for console manufacturers to regularly update their flagship machines. Sony released several different iterations of the PS4 under a range of model numbers, alongside more significant upgrades in the form of the PS4 Slim and PS4 Pro which both launched in 2016, three years after the release of the base console.
Unfortunately, this new PS5 model is unlikely to fix the restock issues that have plagued the console since it was first announced. Even nine months on from its November 2020 launch, buying a PS5 remains an extremely frustrating experience that typically involves multiple failed attempts and lots of refreshing retailer listings.
Because of the ongoing global chip shortage, Sony has been unable to fulfill the high level of PS5 demand. News on when the chip shortage will end is rather confusing, some sources predict it could last through 2023, but other analysts are claiming it may be on the verge of winding down already.
This new PS5 model doesn't alter the console's internal components so it will still be constrained by the same shortages that have been affecting production for months. Unless of course, it was the base stand screw that was actually delaying manufacturing, but we very much doubt that.
A substantially redesigned PS5 is reportedly set to arrive in 2022. This version of the console could sport a new "semi-customized" CPU from AMD. This iteration of the hardware could not only be easier for Sony to manufacture in large quantities but could also give the console a boost in overall performance. It could be so significant that it even earns the Pro moniker.
For now, the existence of that model should very much be categorized as a rumor but it does stand to reason that Sony would be actively looking at ways to ease the console's production issues. Although, even with these constraints the PS5 is still the fastest-selling console in history.
If you can't wait for the stock situation to improve to play some of the best PS5 games like Returnal and Ratchet & Clank: Rift Apart, make sure to bookmark our PS5 restock hub. This guide is updated daily with the latest stock information and updates. We can't guarantee it'll get you a console, but it'll certainly make the task much easier.
Rory is a staff writer at Tom's Guide based in the UK. He covers a wide range of topics including tech news, deals, gaming, streaming and more. When he's not writing hot takes on the latest gaming hardware and streaming shows, he can be found watching a borderline unhealthy amount of movies and being thoroughly disappointed by his terrible football team.
Get instant access to breaking news, the hottest reviews, great deals and helpful tips.
Thank you for signing up to Tom's Guide. You will receive a verification email shortly.
There was a problem. Please refresh the page and try again.
Tom's Guide is part of Future US Inc, an international media group and leading digital publisher. Visit our corporate site.
© Future US, Inc. 11 West 42nd Street, 15th Floor, New York, NY 10036.

Ubisoft Claims Third-Party Software Causes PC Stuttering In Its Games, Does Not Mention Denuvo – Game Rant
Many gamers are already aware that DRM software such as Denuvo can impede a game's performance, but Ubisoft feels the problem is other programs.
UPDATE: Ubisoft has provided Game Rant with a statement about specific third party applications.
"Our customer support teams released an article more than three years ago detailing some recommended steps for players to try as a starting point for troubleshooting – it has been removed to prevent confusion. It is not our recommendation that players discontinue use of any specific PC applications unless they are experiencing an issue."
There is nothing more frustrating for gamers than when a new release runs suboptimally, even if it's being played on a brand-new PC. While later patches often rectify such issues, by optimizing game performance, there are some things which hang around that many blame for things like poor frame rate. The DRM software is often the source of issues for many gamers, with some studios now removing it entirely. Despite this, Ubisoft thinks that performance issues in video games does not come from its DRM, but from other software running in the background.
According to a report, which references a tweet from Ubisoft posted a few days ago, when players notice that the company's games are running less than optimal, it's most likely due to third-party software that's open as well. The tweet then links to a help page on the company website, which tells people how to disable background applications, and/or how to perform a "clean boot" on a system.
RELATED: Resident Evil Village PC Stuttering Fixed by Circumventing DRM
The report goes on to list what Ubisoft thinks are the main causes of any stuttering issues within its own games. Chief among them are some popular programs that many utilize on a daily basis, like gaming chat client Discord, as well as Skype. It's also possible, according to the studio, that torrent software, such as BitTorrent or uTorrent could be the cause of such issues, or even streaming applications like OBS. It even says that things like f.lux, an application that dims the screen to make viewing at nighttime less of a strain on the eyes, could also impact game performance.
What's interesting about this is that nowhere does Ubisoft say that the likes of Denuvo could be part of the problem, despite the DRM anti-tamper software being known to affect frame rate during play. In fact, when Shadow of the Tomb Raider had Denuvo removed recently, a benchmark test showed that the game was running much smoother. There was also the incident of a Resident Evil Village fan removing the DRM technology, which resulted in similar improvements to the game's performance.
Given the notable problems with Assassin's Creed: Valhalla upon release, many are not convinced that the programs Ubisoft lists are the cause of any performance issues during play. Some have hit back, replying to the tweet that it sounds like the company just wants gamers to use its own brand of software, such as the Ubisoft Connect launcher. The company has something of a reputation for releasing games that are buggy and perform poorly on launch day, so many people commenting feel the studio is simply trying to pull the wool over their eyes.
MORE: Denuvo Anti-Cheat Software Controversy Explained
Source: DSO Gaming
Twitch reverses its fifth ban against popular streamer Amouranth, allowing her back on the streaming platform after just three days.
I will freelance write the living heck out of video game articles. See that I don't. Goal in life: Find a horror game that makes me soil myself.
Best Cyber Monday pre-built gaming PC deals 2021: RTX 3080, 3070 & more – Windows Central
Shop Cyber Monday deals at:Amazon | Walmart | Best Buy | Microsoft | Dell
We may earn a commission for purchases using our links. Learn more.

Source: Daniel Rubino / Windows Central
The best Cyber Monday pre-built gaming PC deals are underway at many major online retailers. This is a great opportunity to step into PC gaming, especially during a time when individual PC parts are so hard to source. In the same vein, if you're hoping to get your hands on one of the best graphics cards this year, a pre-built is likely your best bet due to stock shortages and scalpers. We've put together this collection of pre-built gaming PCs with varying levels of performance to be sure you get a deal on what you want.
If you're more interested in building your own gaming PC, be sure to check out our collection of the best Cyber Monday PC parts deals to see what components are available to buy on their own. And for anyone who wants a pre-built gaming PC but doesn't want to be shackled to a desk, there is our roundup of the best Cyber Monday gaming laptop deals.
NVIDIA's GeForce RTX 3080 is the flagship GPU for 2021, and there are plenty of pre-built gaming PCs that include it in their build. If you're interested in high-end AAA gaming performance at 1440p or even 4K, this is the GPU you want. For just a bit more performance, there's also the RTX 3080 Ti. We've seen deals pairing this GPU up with Intel and AMD processors, giving you the opportunity to choose Team Blue or Team Red.
HP's Omen 30L is one of our top picks for a pre-built gaming PC, and right now you can save a flat $100 off models with an RTX 3080 or RTX 3090 GPU. Add up to an Intel Core i9-10900K CPU with liquid cooling, 64GB of RAM, and 6TB of storage space.
Want to skip right to the top end of PC gaming? This ABS Gladiator model has an 11th Gen Intel Core i9-11900KF octa-core CPU, NVIDIA RTX 3080 GPU, 16GB of dual-channel G.Skill TridentZ RGB RAM, and 1TB M.2 PCIe NVMe SSD. It's built on an ASUS ROG Strix Z590-E motherboard and it's powered by an 850W 80 Plus Gold PSU. The Rosewill Spectra D100 case has plenty of RGB fans included, and there's a 240mm RGB AiO cooler for the CPU.
This behemoth isn't particularly cheap even with the major discount, but it's the right choice for those who want utmost performance. The ASUS GT501 case holds inside an Intel Core i7-11700KF CPU, 16GB of G.SKILL TridentZ RGB DDR4 RAM, 1TB M.2 PCIe 4.0 NVMe SSD, and NVIDIA RTX 3080 GPU. It's built on an ASUS TUF Z590 motherboard, it has a 360mm AiO cooler, and an 750W 80 Plus Gold PSU.
The NVIDIA GeForce RTX 3070 is a step down from the mighty RTX 3080, but that doesn't mean it's not capable of delivering an awesome 1440p gaming experience in all modern games. If you don't want to spend RTX 3080 prices, this is the way to go. There's also the RTX 3070 Ti, which is a step up from the RTX 3070 for anyone who needs just a bit more power.
Pre-built gaming PCs with the NVIDIA RTX 3070 have been rare this Black Friday and Cyber Monday, but Newegg comes through with the ABS Gladiator. This model has an 11th Gen Intel Core i7-11700KF CPU, 16GB of dual-channel G.Skill TridentZ RGB RAM, and 1TB M.2 PCIe NVMe SSD.
Maingear builds quality custom PCs with high-end hardware and non-proprietary parts. This model has an AMD Ryzen 5 5600X CPU, NVIDIA RTX 3070 GPU, 16GB of Kingston Fury RGB DDR4 RAM, and a 512GB M.2 PCIe SSD coupled with a 1TB Seagate HDD. It's built on an MSI B550M Pro motherboard, it uses a Cooler Master Hyper 212 RGB CPU cooler, and it's powered by a 500W EVGA PSU. This also includes an extra year of warranty for free, a $99 value.
Need a ton of gaming power without spending a ton of money? The NVIDIA GeForce RTX 3060 will handle 1440p gaming and will absolutely crush 1080p. Considering how affordable it is, you're likely going to find some pre-built systems available for an even better price thanks to Cyber Monday savings.
This pre-built from CyberPowerPC has a white case and RGB lighting inside for an overall snazzy look. It's no sleeper, with a Ryzen 7 5800X CPU, 16GB of DDR4 RAM, 1TB M.2 PCIe SSD, and NVIDIA RTX 3060 Ti GPU. Models come with a keyboard and mouse.
This Maingear Vybe model is $100 off, plus you get a free extra year of warranty ($99 value). It has inside an AMD Ryzen 5 5600X CPU, NVIDIA RTX 3060 Ti GPU, 16GB of Kingston Fury DDR4 RAM, and a 512GB M.2 PCIe SSD coupled with a 1TB Seagate HDD. It's built onto an MSI B550M Pro motherboard, and it's powered by a 500W EVGA power supply.
Newegg's ABS brand has some excellent pre-builts using mostly non-proprietary parts for easier future upgrades. This model has an Intel Core i5-11400F CPU, 8GB of RAM, 1TB M.2 PCIe NVMe SSD, and NVIDIA RTX 3060 Ti GPU with 8GB of VRAM.
Love AMD and don't want to bother searching out individual PC parts? The Aurora R10 Ryzen Edition has an AMD Ryzen 7 5800 CPU, NVIDIA RTX 3060 GPU, 512GB M.2 PCIe NVMe SSD, and 16GB of DDR4-3200MHz RAM.
This hugely discounted Aurora R12 has an 11th Gen Intel Core i7-11700F CPU, NVIDIA RTX 3060 Ti GPU, 512GB M.2 PCIe SSD, and 16GB of dual-channel DDR4-3200MHz RAM. If you're looking to crush modern gaming, this PC will handle everything with ease.
Our price comparison chart below is automatically searching for some of the best prices on some of our favorite gaming PCs, many of them with some excellent specs inside including the finest cards from NVIDIA and AMD.
Pick the configuration that works for you. Upgrade the RAM, storage, or even the graphics card, which includes several RTX 30xx cards at a great price. Use the code HOLIDAY10 to save an extra 10% if you spend over $1,000.
This high-end Gladiator pre-built from Newegg's ABS brand has inside an AMD Ryzen 7 5800X CPU, 32GB of G.Skill TridentZ RGB RAM, 1TB M.2 PCIe 4.0 SSD, and Radeon RX 6800 GPU. It's built onto an ASUS TUF Gaming X570 motherboard and it's powered by a 750W 80 Plus Gold PSU. The case is the ASUS GT501, and it has a 280mm EVGA RGB AiO water cooler for the CPU.
HP has a pair of entry-level gaming PCs that are both extremely affordable but still perfectly capable for some top-notch 1080p gaming. One pairs a Ryzen 3 processor with an AMD Radeon 4GB RX 5500 GPU while the other pairs an Intel Core i5 with an NVIDIA GTX 1650 4GB.
There are plenty of pre-built gaming PCs available online, and you'll have the best luck searching out the major retailers that are already advertising Cyber Monday pricing. We've had luck at Newegg, Amazon, Best Buy, and Walmart when it comes to gaming PCs, but there will no doubt be other retailers with big sales.
Be sure to check out our collection of the best Cyber Monday gaming laptop deals if you'd like to stick with something a lot more mobile.
We may earn a commission for purchases using our links. Learn more.
$500M blockchain gaming proposal Game7 to come online with backing from industry veterans – Cointelegraph