Playoff roundup – EA Sports Today – East Alabama Sports Today
Piedmont blanks Lauderdale County; Alexandria, Jacksonville, Ohatchee, Oxford all fall, leaving county with 2 remaining in playoffs
FRIDAY'S COUNTY SCORES
CLASS 3A
Saks 36, Oakman 22
Piedmont 31, Lauderdale County 0
Winfield 56, Ohatchee 27
CLASS 4A
American Christian 49, Jacksonville 35
CLASS 5A
Parker 41, Alexandria 34
CLASS 6A
Pinson Valley 20, Oxford 0
By East Alabama Sports Today

PIEDMONT – Shutouts are hard to come by any time during the season, but they're especially rare in the playoffs.
Piedmont scored its third shutout of the season, but just the sixth in the playoffs under coach Steve Smith when it blanked Lauderdale County 31-0 Friday night in the second round of the Class 3A playoffs.
The Bulldogs (10-2) now host undefeated Winfield (12-0) Friday in Round 3.
"I was not even aware of that until you said it," Smith said of the playoff shutout. "It's always good to get a shutout, though. It's very difficult to be able to pull that off in the playoffs with the caliber of teams you're going to see this time of year."
It was the Bulldogs' first playoff shutout since the opening round of 2019 (35-0 over J.B. Pennington). Each of the last three years the Bulldogs posted a shutout in the playoffs they went on to play in the state championship game (2019, 2018, 2015).
Omarion Foster had two interceptions to help the cause, giving him eight for the season. Landon Smart had 16 tackles, including five behind the line of scrimmage. Luke Reinhardt recovered a fumble. The Tigers' deepest penetration into Piedmont territory was the 25 and Foster ended that with one of his picks.
The Bulldogs jumped on top with a time-consuming 10-play, 75-yard opening drive capped by Jack Hayes' 3-yard run.
Hayes also had three touchdown passes in the game – two to Austin Estes and one to Gatlyn Gardner. Sloan Smith accounted for Piedmont's other points with four extra points and 23-yard field goal that gave it a 17-0 halftime lead.
Hayes completed 10 of 20 passes for 165 yards and rushed for 76 yards on 14 carries. Estes had five catches for 112 yards.
Hayes, a junior, now ranks fourth on the AHSAA all-time list for career touchdown passes (109) and fifth on the all-time list for career touchdowns accounted for (146).
P – Jack Hayes 3 run (Sloan Smith kick), 5:35 1Q
P – Austin Estes 57 pass from Jack Hayes (Sloan Smith kick), 0:00 1Q
P – Sloan Smith 23 FG, 5:42 2Q
P – Gatlyn Gardner 18 pass from Jack Hayes (Sloan Smith kick), 4:43 3Q
P – Austin Estes 36 pass from Jack Hayes (Sloan Smith kick), 5:51 4Q
Khalifa Keith wears No. 1 for Parker and he was the No. 1 threat for Alexandria Friday night. The junior running back amassed 371 yards of offense and scored six touchdowns as the Thundering Herd handed the Valley Cubs their first loss of the season in the second round of the playoffs.
Keith rushed for 285 yards and five touchdowns and caught two passes for 86 yards and a score. He had seven runs or catches of 25 yards or more, four runs or catches of 50-plus.
The Valley Cubs (11-1) led 14-0 early in the second quarter and 17-12 at halftime. The lead changed hands five times in the second half until Keith gave the Thundering Herd (11-1) the lead for good with 6:40 to play.
Antonio Ross was Alexandria's leading rusher with 138 yards and two touchdowns. Javais McGhee also scored two touchdowns for the Valley Cubs.
A – Javais McGhee 14 run (Cleat Forrest kick), 3:01
A – Antonio Ross 1 run (Cleat Forrest kick), 9:56 2Q
P – Khalifa Keith 1 run (kick blocked), 8:01 2Q
A – Cleat Forrest 28 FG, 4:34 2Q
P – Khalifa Keith 59 run (PAT failed), 2:47 2Q
P – Khalifa Keith 72 run (Juwarren Minnifield conversion), 10:43 3Q
A – Antonio Ross 6 run (Cleat Forrest kick), 9:22 3Q
P – Khalifa Keith 35 pass from William Shelton (Treamel Almacen kick), 4:23 3Q
A – Javais McGhee 1 run (Cleat Forrest kick), 7:47 4Q
P – Khalifa Keith 3 run (Treamel Almacen kick), 6:40 4Q
P – Khalifa Keith 27 run (Treamel Almacen kick), 4:31 4Q
A – Cleat Forrest 26 FG, 1:26 4Q
TUSCALOOSA – ACA matched each of Jacksonville's three touchdowns in the first half, then scored three touchdowns in the first seven minutes of the third quarter to take control.
The Patriots (11-1) took the lead for the first time on Sawyer Deerman's 5-yard run, then they added two scores nine seconds apart to take a three-score lead.
Jacksonville got as close as 42-35 with 10 minutes left in the game on a Taj Morris run, but the Patriots matched it to keep the Golden Eagles (7-4) at bay.
Deerman threw three touchdown passes and ran for two more scores.
Jacksonville quarterback Jim Ogle completed 18 of 29 passes for 166 yards and two touchdowns. Morris was the Golden Eagles' leading rusher with 217 yards and three touchdowns.
J – Kydric Fisher 24 pass from Jim Ogle (Mason Terrell kick), 9:17 1Q
A – Sawyer Deerman 58 run (Gabriel Henson kick), 8:59 1Q
J – Taj Morris 17 run (Mason Terrell kick), 6:28 1Q
A – Davis Dare 32 pass from Sawyer Deerman (Gabriel Henson kick), 11:25 2Q
J – Taj Morris 10 run (Mason Terrell kick), 2:04 2Q
A – Chance Henderson 36 pass from Sawyer Deerman (Gabriel Henson kick), 1:09 2Q
A – Sawyer Deerman 5 run (Gabriel Henson kick), 10:22 3Q
4:28 3Q
A – Fumble return (Gabriel Henson kick), 4:19 2Q
J – Q Long 29 pass from Jim Ogle (Mason Terrell kick), 2:47 3Q
J – Taj Morris 5 run (Mason Terrell kick), 10:08 4Q
A – Christian Davis 27 run (Gabriel Henson kick), 6:54 4Q
WINFIELD – Ohatchee scored more points against the Pirates than any opponent this season and more than its previous six opponents combined, but every time the Indians scored the undefeated Pirates had an answer and then some.
Ohatchee returned the opening kickoff for a touchdown, but Winfield responded with two straight scores. The Indians tied the game at 14, then the Pirates scored on three straight possessions to take a 35-14 halftime lead.
The teams traded scored to make it 42-27, then Winfield scored and then blocked a punt and recovered it in the end zone for the final margin.
The loss snapped Ohatchee's six-game winning streak following head coach Scott Martin's placement on administrative leave for a still unsettled situation, a streak that a should earn acting coach Chris Findley some consideration for local coach of the year and a shot at the permanent position
PINSON VALLEY – The Indians returned the opening kickoff for a touchdown and Oxford couldn't find any offense to match it. It's the first time the Yellow Jackets have been shutout in the playoffs since 1985 (Gardendale 36-0) and only the second time ever. Pinson beat them last year in the third round 34-2.
CENTRE – Sophomore running back Jacori Barnes ran for 107 yards on 13 carries and scored two touchdowns, and senior quarterback Anthony Mix ran for a score and threw for another in Vigor's victory.
It was the Wolves' second straight playoff shutout. They defeated West Blocton 40-0 in the first round last week.
"Defense wins championships," Vigor coach John McKenzie said. "If they don't score, they don't win. Our defense is pretty good. They've got talent, and we've got talent all over the field.
"Coaching is easy with these guys. It isn't anything I do. They want it. They work extremely hard. There's nothing given to these kids. They work every single day to accomplish their goals, and their goal is to win state Dec. 3. They perform."
Mix ran for 79 yards on seven carries. He also completed 4-of-10 passes for 47 yards. Senior running back Jermaine Coleman collected a game-high 140 yards on 12 carries for Vigor.
The Wolves drove 337 miles to play the game. That was 10 miles more than their total round-trip travel for the season to that point.
Cherokee County (7-4) was limited to 158 total yards (80 passing, 78 rushing). It was the first time the Warriors were shut out since their season opener at Piedmont, 27-0.
Junior quarterback Cade Hopper led the Warriors by completing 9-of-23 pass attempts for 80 yards. He also ran for 29 yards on nine carries. Senior running back Damien Ramsey finished with 17 yards on 11 carries. – Shannon Fagan, WEIS Sports Director
You must be logged in to post a comment Login
You must be logged in to post a comment.
EASportsToday.com was developed to provide unmatched coverage of local sports in the East Alabama area. Thank you for choosing EASportsToday.com "Your Ultimate News Source for Local Sports"
Stellaris 2 Release Date: PS4, PS5, Xbox, PC, Switch – Game Revolution
Grand strategy games are in relatively short supply, which is why Stellaris is such an important title. Even better, Paradox's 4X game is one of very few available on modern home consoles. Will the same be true of Stellaris 2? Is a sequel actually in development, and will it release for Switch in addition to Xbox and PlayStation?


Paradox Development Studio has yet to confirm Stellaris 2, so there is no release date set. In fact, there's no confirmation that Stellaris will get a numbered sequel at all. Assuming it does happen, we can expect to learn more about a launch date after the game is announced.
For now, it seems the team at Paradox is still focused on the original game. After all, it took almost three years for Stellaris to move from PC to home consoles, hitting PS4 and Xbox One early in 2019. The Series X/S version only arrived in March of last year.
That time hasn't been spent solely on porting, either. The team has released several DLC packs and expansions, including the Nemesis expansion which released last year. Development is ongoing, and fans can check out the latest details over on the official Stellaris forums.
Given that Stellaris eventually landed on consoles, a PlayStation 4, PS5, or Xbox Series X/S release would make sense. Of course, it could be a matter of timing, since it took so to release console ports before.
Admittedly, a Nintendo Switch release for Stellaris 2 is very unlikely. Stellaris isn't on the Switch, and it's doubtful that Nintendo's handheld could run it properly. And, again, Stellaris 2 hasn't been confirmed, so who knows if we'll even be playing the Switch by the time it might release.
Stellaris 2 doesn't have a release date or any known platforms, as the game itself hasn't been announced. Until we hear otherwise, the crew at Paradox Development Studio will continue its ongoing work on the Stellaris that does exist, which is available on PC, PS4, Xbox One, and the Series X/S.
Nvidia: Quantitatively Speaking Still Overvalued – Seeking Alpha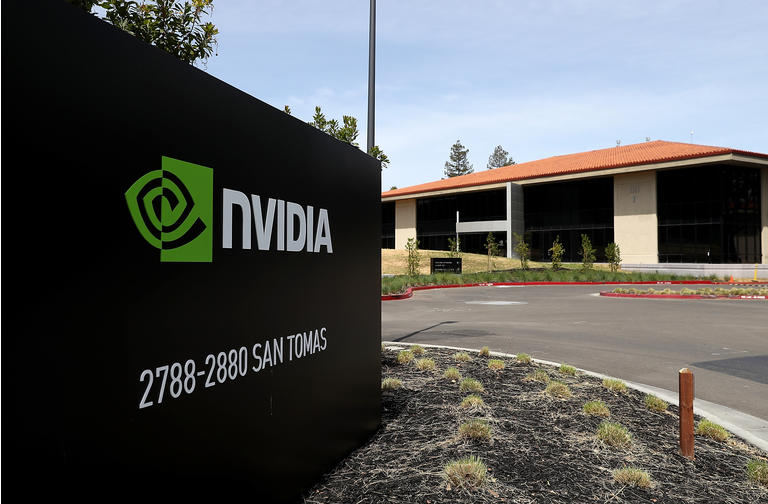 Justin Sullivan/Getty Images News
This is my first article about NVIDIA (NASDAQ:NVDA). I readily admit that I do not fully understand the specifics of the company and what investors see hidden in it. Therefore, at this stage, I offer a comprehensive, quantitative analysis of the company's fundamental value.
The easiest way to get a first idea of the adequacy of the company's current price is to look at the dynamics of its capitalization in the context of the dynamics of key results. As a rule, this allows you to identify persistent regressions.
Based on the long-term relationship between the revenue TTM absolute size and the company's capitalization, NVIDIA's current price is somewhat overvalued: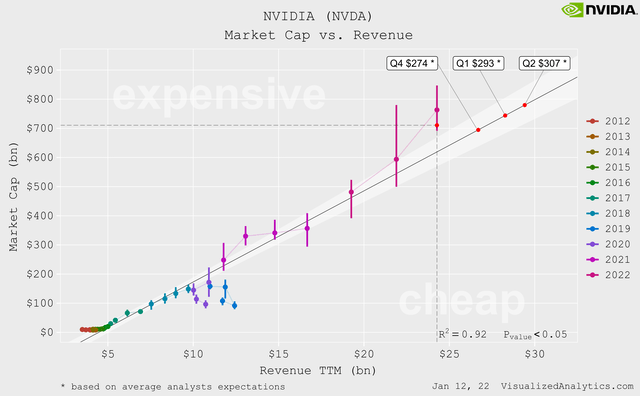 VisualizedAnalytics
The same is true for the relationship based on the EPS TTM absolute size: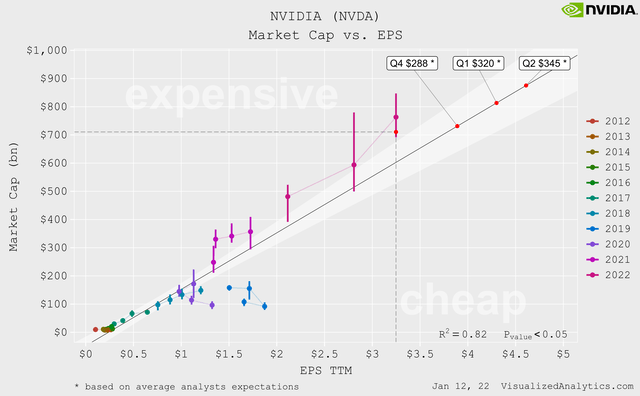 VisualizedAnalytics
On the other side, over the past seven years, NVIDIA has shown a direct relationship between the rate of revenue growth and its P/S multiple. It should be noted that there is no similar qualitative relationship between EPS and earnings growth rate. In my opinion, this means that the rate of revenue growth is now a key driver of capitalization.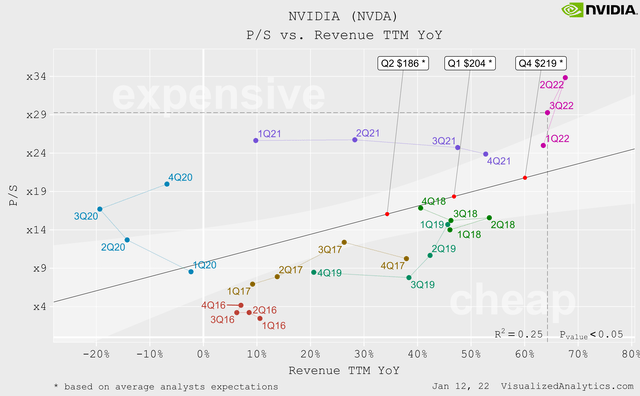 VisualizedAnalytics
In the context of the last model, the company is now also overvalued. But more importantly, the expectation of a decrease in the revenue growth rate indicates a potential decrease in the P/S multiple in the coming quarters.
So, having determined that revenue is a key driver of company capitalization, we can build a general model that determines the company's balanced price: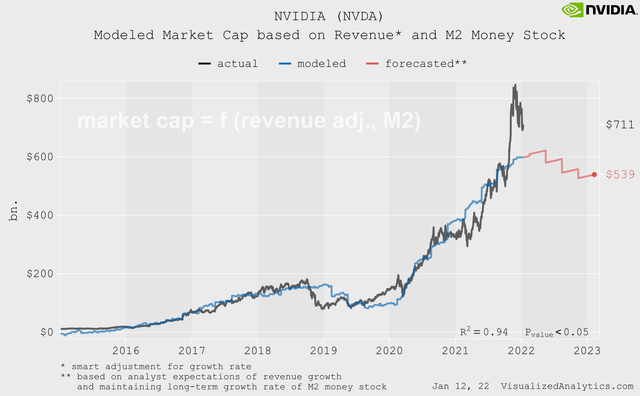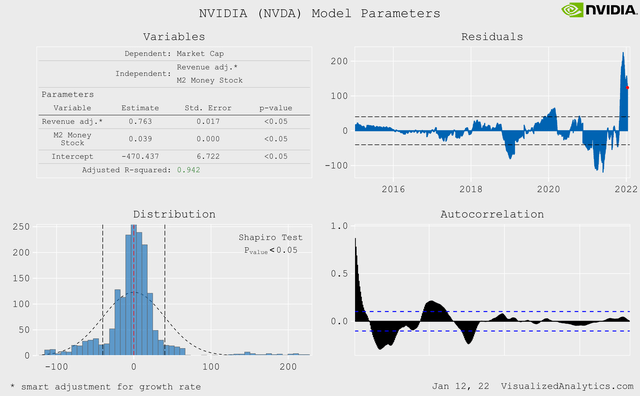 VisualizedAnalytics
VisualizedAnalytics
Under this approach, NVIDIA's modeled capitalization is lower than the actual one within about two standard deviations. And the nearest forecast also does not justify the current price of the company.
Using elements of machine learning, I analyzed many options for comparative assessment of NVIDIA through multiples. As a result, I found only three models that allow a more or less reasonable judgment of the relative value of the company. To my surprise, all of these models are based on growth-adjusted multiples. This suggests that growth is a determining factor in the level of NVIDIA multiples.
A comparative valuation of NVIDIA through the forward P/E (next FY) to growth multiple indicates that the company is undervalued by 18%. But the quality of this model is not high enough: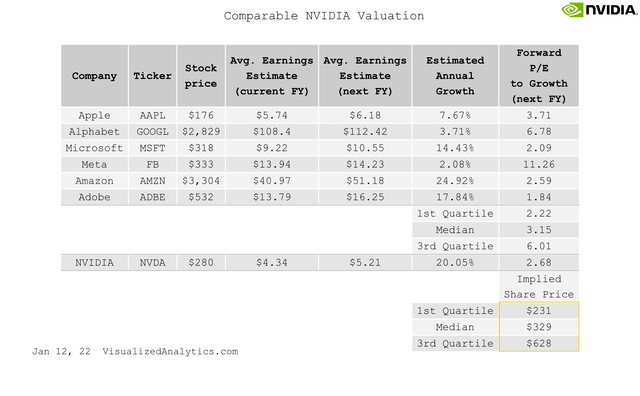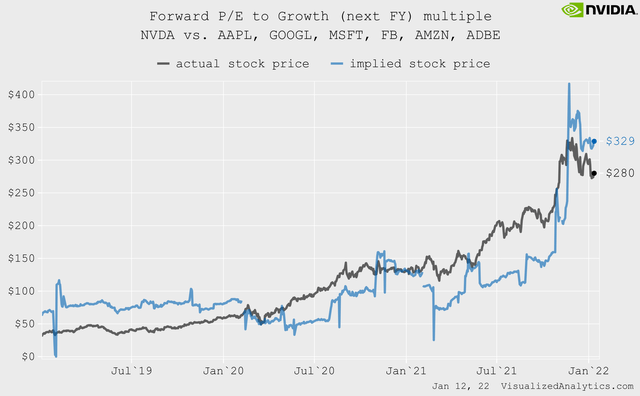 VisualizedAnalytics
VisualizedAnalytics
Considering the EV/Revenue to growth multiple, NVIDIA seems expensive: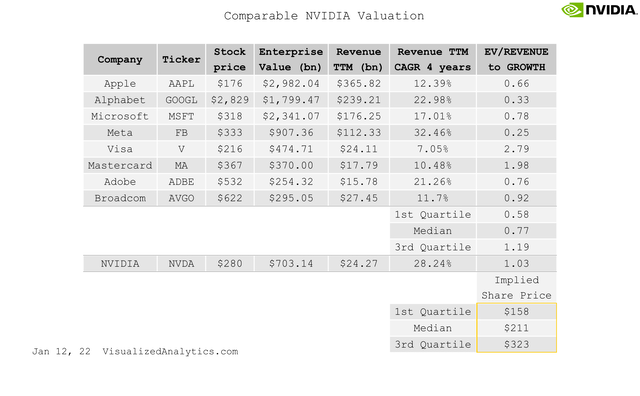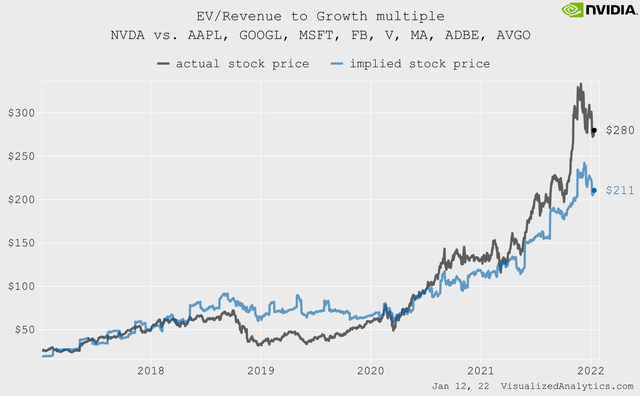 VisualizedAnalytics
VisualizedAnalytics
The same is true for the EV/EBITDA multiple: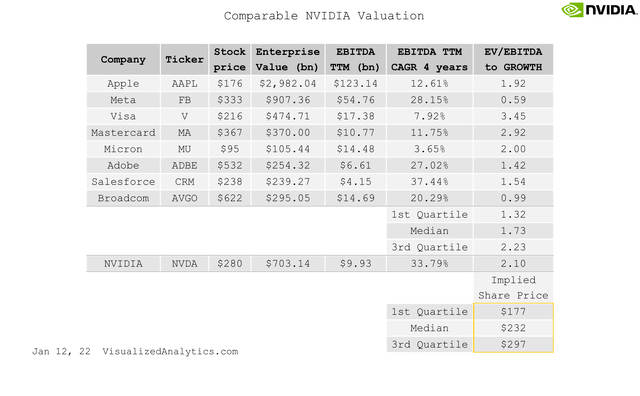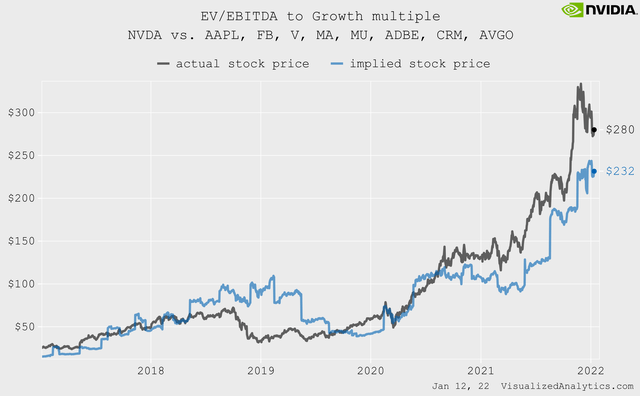 VisualizedAnalytics
VisualizedAnalytics
Judging by the proposed multiples, I cannot make an unambiguous conclusion. The only thing that can be stated is that the company's growth rate is a determining factor in the level of NVIDIA multiples. The slowdown should significantly reduce the level of its multiples.
When predicting NVIDIA's revenue for the next ten years, I proceeded from the average expectations of analysts. According to consensus forecasts, in the next decade, the company's annual revenue will exceed $160 billion.
NVIDIA's operating margin has reached 35% in the last quarter. This is close to the historical maximum of the company. But the model is based on the assumption that the operating margin over the next 10 years will gradually decline to 30% in the terminal year. This is a standard approach based on the likely increase in competition.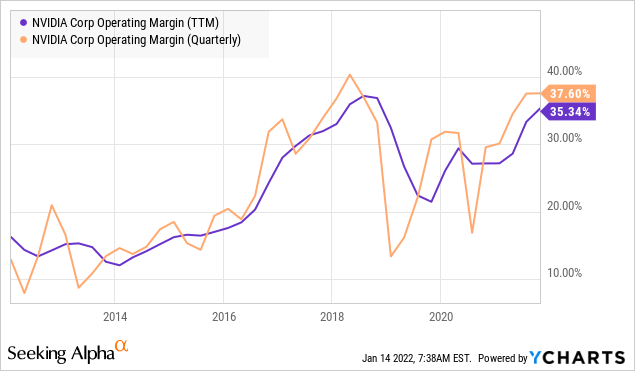 Here is the calculation of the Weighted Average Cost of Capital: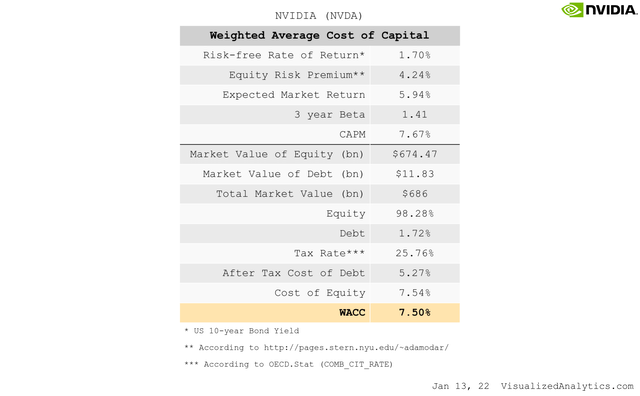 VisualizedAnalytics
Some explanations:
Here's the model itself: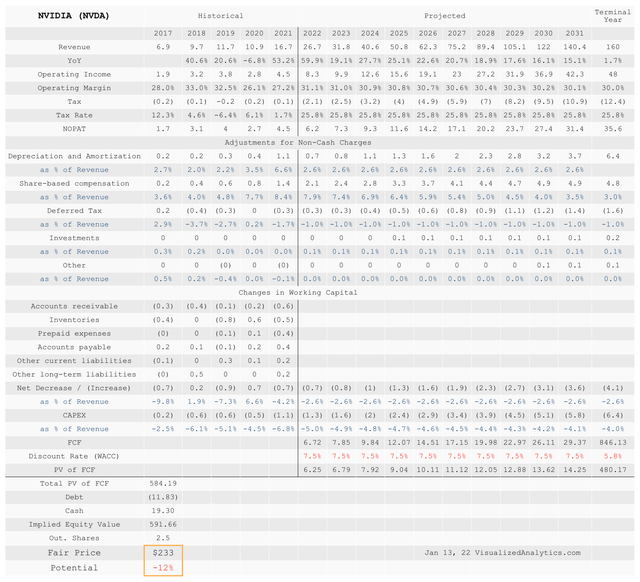 VisualizedAnalytics
(in high resolution)
The DCF-based target price of NVIDIA's shares is $233, offering 12% downside. At the same time, in my opinion, I considered a relatively positive scenario for the future development of the company.
Looking at NVIDIA in the context of free cash flow, I want to draw your attention to one important indicator – the free cash flow yield. It shows how much the company generates free cash flow per dollar of its market price.
Free Cash Flow Yield = Free Cash Flow TTM / Market Capitalization
I compared this figure of NVIDIA with other technology companies and closest competitors. Alas, the company's figure is the lowest: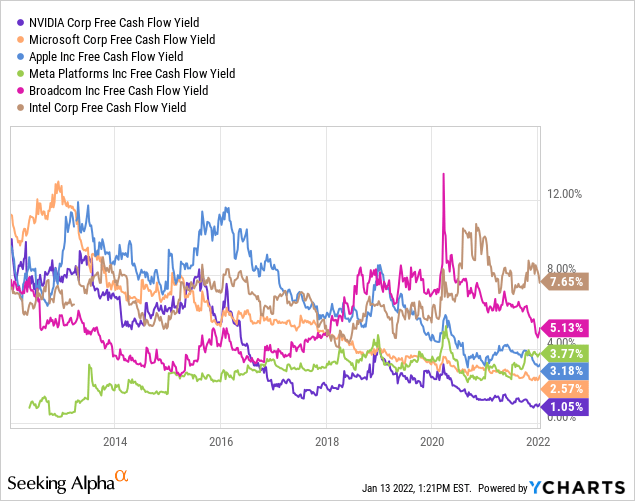 The free cash flow that NVIDIA generates for every dollar of its capitalization is about 1%. This is lower than the US 10-year treasury yield. I don't even compare with inflation. In general, this is a wake-up call for an investor.
From October to November last year, NVIDIA's share price rose nearly 80%. During this period, two gaps were recorded. These gaps have defined strong support levels. And the first of these levels seems to have already been broken. In my opinion, before the level of the second support is reached, it is premature to talk about the completion of the correction.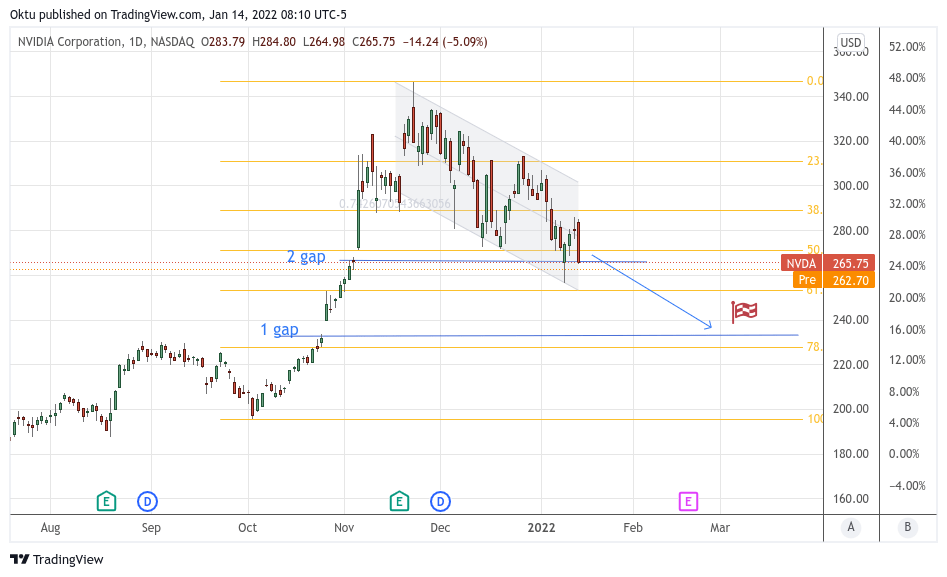 TradingView
I do not share the optimism of those who believe that NVIDIA is an extremely attractive investment at its current price. I won't jump to conclusions about the company's long-term potential just yet, but it's highly likely that the decline will continue in the short term.
This article was written by
Disclosure: I/we have no stock, option or similar derivative position in any of the companies mentioned, and no plans to initiate any such positions within the next 72 hours. I wrote this article myself, and it expresses my own opinions. I am not receiving compensation for it (other than from Seeking Alpha). I have no business relationship with any company whose stock is mentioned in this article.
Sony's PlayStation Direct initiative will let lucky users buy 'limited' PS5 stock – TechRadar