Diabetes Risk Higher for Transwomen vs Cisgender Females – MedPage Today
by Kristen Monaco, Staff Writer, MedPage Today November 30, 2021
Transwomen may face a higher risk for developing type 2 diabetes than cisgender women, a new study suggested.
In a review of new data from the Study of Transition Outcomes and Gender (STRONG) cohort, transwomen had a 30% higher odds of prevalent type 2 diabetes compared with the cisgender female population in an adjusted model (OR 1.3, 95% CI 1.1-1.5), reported Noreen Islam, MD, MPH, of Emory University School of Medicine in Atlanta, and colleagues.
Among those already diagnosed with type 2 diabetes at baseline, a total of 32% of transwomen were on gender-affirming hormone therapy, the group reported in the Journal of Clinical Endocrinology & Metabolism.
Transwomen also saw a 40% higher risk of developing incident type 2 diabetes during the average 3.1 years of follow-up compared with cisgender females (HR 1.4, 95% CI 1.1-1.8).
However, transwomen didn't have any excess risk for developing diabetes when compared with cisgender men (HR 1.2, 95% CI 0.9-1.5), which the researchers said "likely reflects the known gender disparity in [type 2 diabetes] risk in the general population."
And in an analysis restricted only to transgender and gender-diverse people receiving gender-affirming hormone therapy, transwomen didn't see a significantly higher prevalence of type 2 diabetes (OR 1.0, 95% 0.7-1.3) nor risk for incident diabetes (HR 1.4, 95% CI 0.8-2.4) versus cisgender females. This suggests that the excess diabetes risk for this population wasn't driven by hormonal therapy, the researchers said.
For these transwomen individuals diagnosed with incident diabetes after baseline, only 18% were diagnosed after initiation gender-affirming hormone therapy. Overall, there was a 9.3 per 1,000 person-years incident rate of type 2 diabetes among the entire transwoman population, with only a 5.9 per 1,000 person-years rate among those who initialed gender-affirming hormone therapy.
"Our study findings provide some reassurance that gender-affirming therapy does not increase the risk of type 2 diabetes, but our analysis was not designed to evaluate more subtle subclinical changes," Islam pointed out in a statement. "For this reason, health care providers should continue monitoring the metabolic status of individuals receiving gender-affirming therapy."
"Although more research is needed, there is little evidence that type 2 diabetes occurrence in either transgender women or transgender men is attributable to gender-affirming hormone therapy, at least in the short term," she added.
The researchers noted that a few other studies have shown mixed findings on these potential subclinical effects of hormonal therapy. However, Islam and co-authors wrote, "[t]aken together, the published literature indicates that measures of glucose metabolism and insulin resistance do not appear to be adversely influenced by testosterone in transmasculine individuals but may be affected by estradiol therapy among transfeminine individuals."
The team said the actual clinical significance of the reported associations is not entirely clear, and it is also possible that these small changes in laboratory parameters tied to hormonal therapy don't actually translate into a significantly higher risk for a type 2 diabetes diagnosis.
For the current analysis, a total of 2,869 transwomen — i.e., women who were assigned male gender at birth — were matched with 28,300 cisgender women and 28,258 cisgender men based on age, race, ethnicity, year, and location. Then, 2,133 transmen — men who were assigned female gender at birth — were matched with 20,997 cisgender women and 20,964 cisgender men from the STRONG electronic health record (EHR) system of patients at three Kaiser Permanente health systems in Northern California, Southern California, and Georgia.
Prior to the index date, 32% of transwomen and 24% of transmen were on gender-affirming hormone therapy.
Study limitations, Islam and co-authors said, included that (1) unlike clinic-based cohorts, the EHR data in STRONG were not collected at specified intervals and the number and frequency of clinical encounters differed across participants; (2) the algorithm did not explicitly distinguish between type 1 and type 2 diabetes; and (3) there was a lack of data on other type 2 diabetes risk factors, including family history, socioeconomic status, and adverse childhood experiences and gender minority stress.
Kristen Monaco is a staff writer, focusing on endocrinology, psychiatry, and nephrology news. Based out of the New York City office, she's worked at the company since 2015.
Disclosures
The study was funded by the Patient Centered Outcomes Research Institute and the Eunice Kennedy Shriver National Institute of Child Health and Human Development.
Islam and co-authors reported no conflicts of interest.
Primary Source
The Journal of Clinical Endocrinology & Metabolism
Source Reference: Islam N, et al "Is there a link between hormone use and diabetes incidence in transgender people? Data from the STRONG cohort" J Clin Endocrinol Metab 2021; DOI: 10.1210/clinem/dgab832.
The material on this site is for informational purposes only, and is not a substitute for medical advice, diagnosis or treatment provided by a qualified health care provider.
© 2021 MedPage Today, LLC. All rights reserved.
Medpage Today is among the federally registered trademarks of MedPage Today, LLC and may not be used by third parties without explicit permission.
Nature's Bounty probiotic vs. Florastor probiotic – FOX31 Denver
FOX31 Denver
by: Michael Rodgers, BestReviews Staff
Probiotics used in Nature's Bounty and Florastor supplements also occur naturally in fermented foods, such as yogurt, kombucha, sour pickles and more.
Probiotics are just bacteria and yeast that help keep your digestive and immune system healthy. Nature's Bounty and Florastor are two different brands that slightly differ in the way they make probiotics. Florastor probiotics contain a single good bacteria strain called Saccharomyces boulardii known to help with IBS and Crohn's disease.
On the other hand, Nature's Bounty probiotics contain as many as 10 strains of good bacteria, such as Lactobacillus plantarum, Lactobacillus acidophilus, Bifidobacterium lactis and more. What will work for you depends on your health needs.
Nature's Bounty claims that its probiotics contain up to 10 unique strains or species of friendly bacteria. It says that its nutritional supplements have been thoroughly researched and are among the best probiotics on the market.
Nature's Bounty offers a wide variety of probiotics, so you can easily find the product that can satisfy your dietary needs. You can choose Nature's Bounty probiotics with 2 billion, 4 billion, 10 billion, 20 billion or 25 billion live cultures per capsule or serving. A higher number of live cultures per serving is better and stronger than a lower number.
In addition, it offers bottles with a different number of capsules or gummies, making it easier for you to get a bottle that you can afford. It also uses natural flavors in its probiotics, but there are also flavorless options.
Its probiotics may help with conditions such as irritable bowel syndrome, ulcerative colitis and more.
While its probiotics have up to 10 strains or species of bacteria, studies show that multi-strain probiotics are not more effective than single-strain probiotics. Some experts even indicate that having too many strains means that they will aggressively compete with each other, making them less effective.
Consumers may also be confused with terms such as "live cultures per serving" if it is their first time buying probiotics. If you see terms like 10 billion cultures per serving, it means that there are 10 billion bacteria per serving or capsule.
You can get bottles containing 120 tablets for $5 and about $15 for a bottle containing 120 chewables. Bottles with more than 120 tablets or chewables come at a higher cost. The probiotic with more than 10 billion live cultures per serving costs about $13 for 30 capsules, $32 for a bottle of 70 capsules, and $65 for a bottle of 140 capsules.
In general, stronger Nature's Bounty probiotics cost between $13-$100.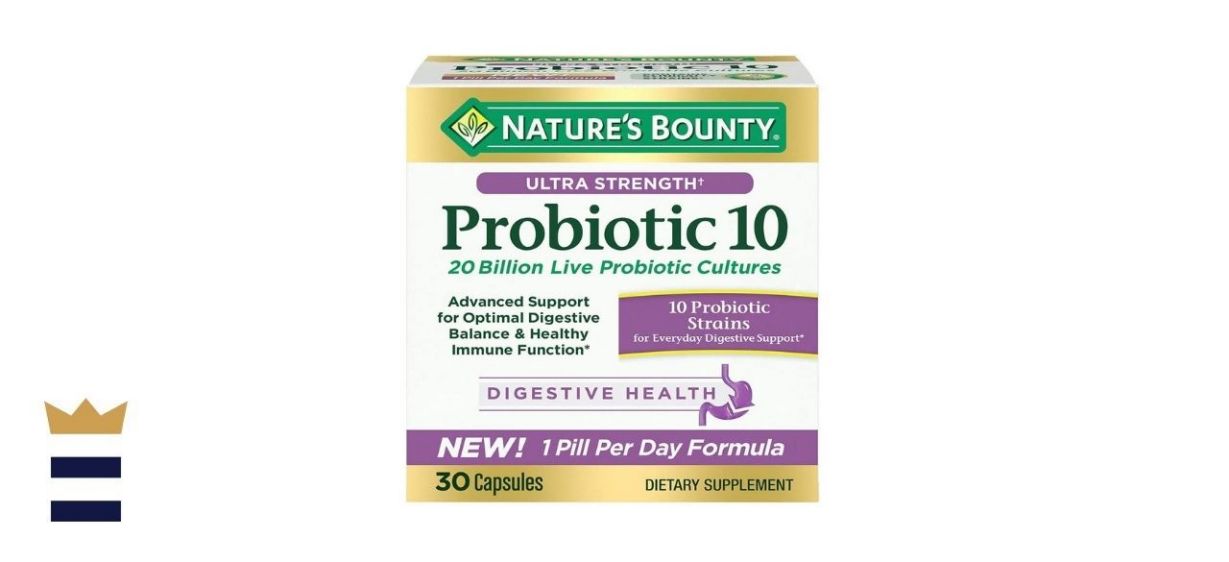 Nature's Bounty Ultra-Strength Probiotics
You only need to take one capsule a day because it is a powerful probiotic. This vegetarian option has about 20 billion live probiotic cultures from 10 different species of friendly bacteria. It was designed to help improve upper respiratory, digestive and immune health.
Sold by Amazon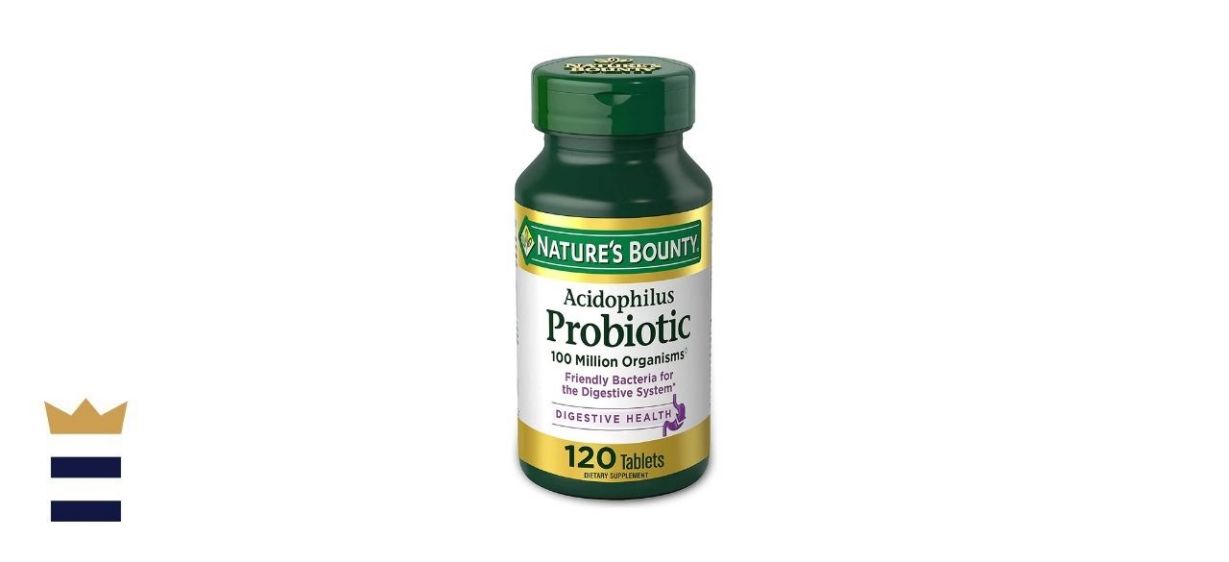 Nature's Bounty Acidophilus probiotic: iHerb
Experts claim that the acidophilus strain of bacteria not only improves your gut health, but may also enhance weight loss and help reduce cholesterol. The acidophilus probiotic has 100 million live cultures and has no added flavors or colors.
Sold by Amazon and iHerb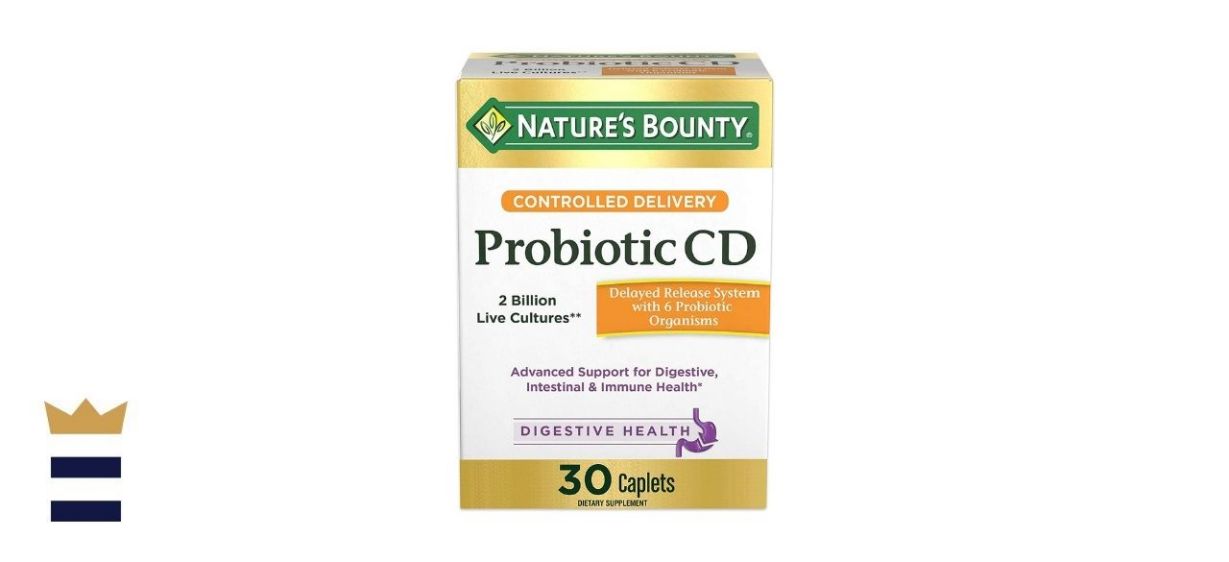 Nature's Bounty Controlled Delivery Probiotic
With over 2 billion live cultures of six strains of friendly bacteria, Nature's Bounty CD is one of the most powerful probiotics on the market. The probiotics are enrobed in a special gel that protects them from gastric acids and delivers organisms to targeted areas in your digestive system.
Sold by Amazon
Unlike Nature's Bounty, Florastor probiotics contain a single strain or species of bacteria. Florastor claims that its probiotics maintain a healthy balance of intestinal bacteria, help your body absorb nutrients and stimulate your immune system.
They are not only vegetarian friendly, but also non-GMO, titanium dioxide-free and gluten-free. It also offers probiotic brands that have fiber in addition to good bacteria to help prevent constipation. They also offer probiotics for children and babies.
The fact that it contains lactose and soy means that it may cause stomach pain, bloating, nausea or vomiting if taken by people who are lactose-intolerant or allergic to soy. Another issue is that, unlike Nature's Bounty, the available count sizes for Florastor probiotics are only 30, 50 and 100. In addition, Florastor probiotics are slightly more expensive than even some of the most popular brands in existence.
Their count sizes determine the price of these probiotics. So, for 30 to 50 capsules, you pay between $22-$35 per bottle. For Florastor probiotics with added vitamins, a pack with 30 capsules starts at $24. If a bottle has 50 or more capsules, you pay between $50-$64.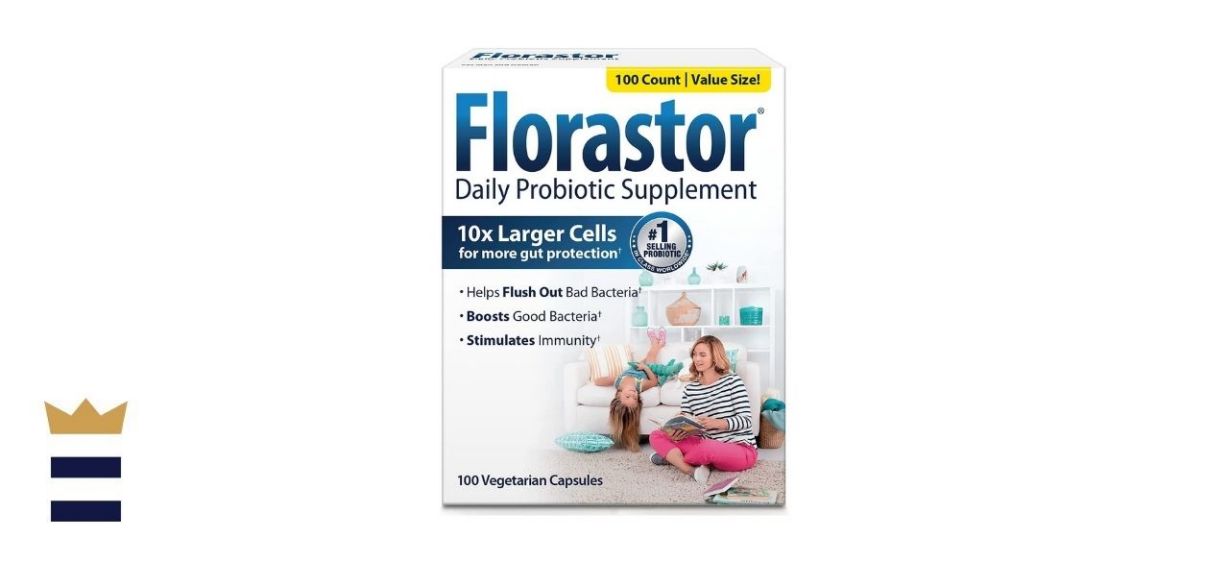 Florastor Daily Probiotics supplement
Florastor claims it's one of the top-selling probiotics on the market. Each of its vegetarian capsules contains 250 mg of its unique probiotic organism, which it says is larger and stronger than other probiotics. Some benefits you may experience include weight loss, a healthy digestive system, reduced acne and more.
Sold by Amazon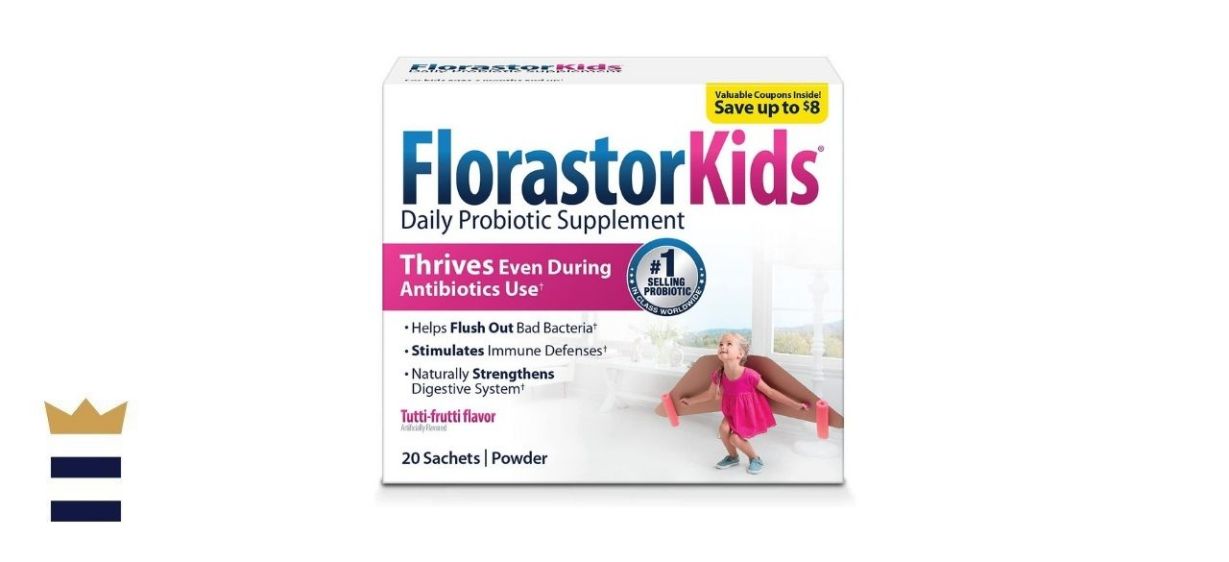 Florastor Daily Probiotic Supplements Kids
Instead of pills or capsules, this probiotic comes in the form of powder-filled sachets and is targeted at kids ages 2 months and up. The powder is lightly sweetened with tutti frutti flavoring and can be mixed into your child's food or beverage.
Sold by Amazon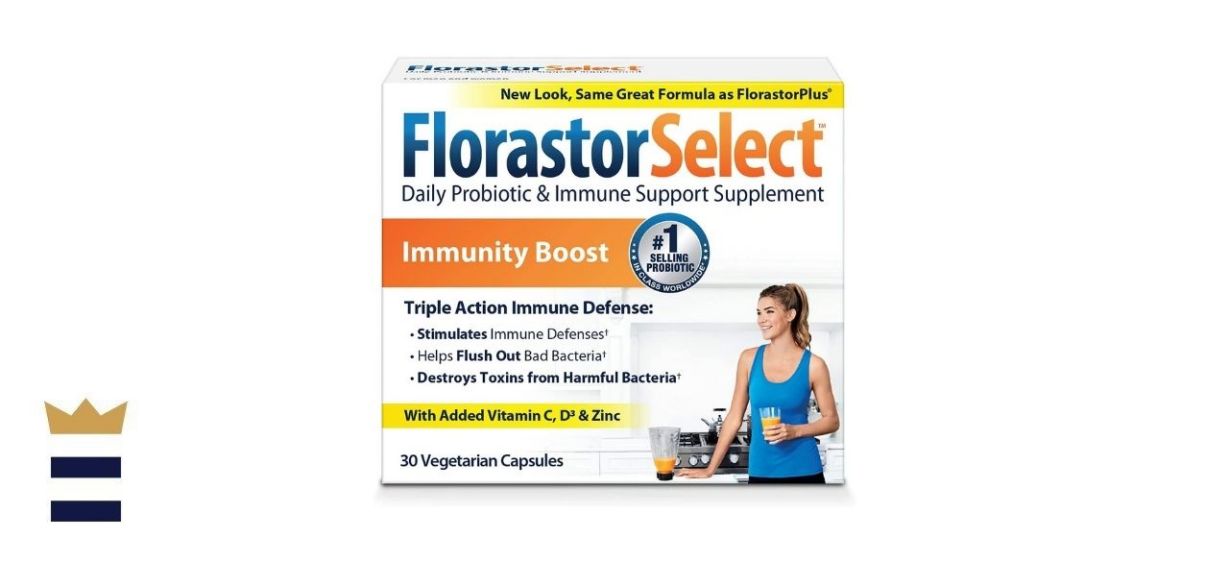 Florastor Daily Probiotic Supplement Immunity boost
It is similar to the normal Florastor Daily Probiotic Supplement, but also contains a blend of vitamins, such as vitamin D3, vitamin C and zinc. All its ingredients are non-GMO, gluten-free and do not require refrigeration. This probiotic is ideal for both men and women.
Sold by Amazon
Nature's Bounty offers variety with its probiotics, making them accessible to more people. Its probiotics also come in more affordable bottles and packs. On the other hand, Florastor offers probiotics in less confusing packaging, so that people new to taking probiotics know what they are getting. Both are quality brands and have good reputations, which means that you may have to try all of them to get one that works best for you.
 
Sign up here to receive the BestReviews weekly newsletter for useful advice on new products and noteworthy deals.
Michael Rodgers writes for BestReviews. BestReviews has helped millions of consumers simplify their purchasing decisions, saving them time and money.
Copyright 2022 BestReviews, a Nexstar company. All rights reserved.

BEIRUT (AP) — Human Rights Watch said Wednesday that one of its senior staff members was targeted last year with spyware designed by the Israeli hacker-for hire company NSO Group.
The New York-based rights group said the software was used against Lama Fakih, the director of its Beirut office who also oversees its crisis response in several countries, including Syria, Myanmar, Israel and the Palestinian territories, Ethiopia, Afghanistan, and the United States.
WASHINGTON (AP) — COVID-19 antibody drugs from Regeneron and Eli Lilly should no longer be used because they don't work against the omicron variant that now accounts for nearly all U.S. infections, U.S. health regulators said Monday.
The Food and Drug Administration said it was revoking emergency authorization for both drugs, which were purchased by the federal government and have been administered to millions of Americans with COVID-19. If the drugs prove effective against future variants, the FDA said it could reauthorize their use.
DENVER (KDVR) — District attorneys warned Gov. Jared Polis that he created "a troubling precedent" in commuting Rogel Aguilera-Mederos' prison sentence while the case was still pending, saying the act weakened public trust in the law.
In a letter to Polis, District Attorneys Michael Dougherty and Daniel Rubenstein — a Democrat and a Republican, respectively — agreed that the 110-year sentence in the deadly interstate crash "was too severe." But they stressed that by commuting the sentence to 10 years before a judge could weigh in, he sidestepped the system.
Workout easier with this simple-to-adjust dumbbell set, now $40 off – New York Post
Thanks for contacting us. We've received your submission.
There are a lot of instances where less is more, and sometimes an exercise routine is one of them. You don't have to complicate matters with fancy at-home gym equipment that takes up precious space, or sign on to do some confusing trendy workout routine. You can do full-body exercise anywhere, anytime with a versatile set of dumbbells like the Ativafit® 12.5Lbs Adjustable Dumbbell Set. This flexible tool is available now for $40 off, making it $99.99 (reg. $139) for a limited time.
Don't give up your 2022 resolutions too quickly due to being overwhelmed! Getting in shape doesn't have to be difficult. The Ativafit® 12.5Lbs Adjustable Dumbbell Set proves that, letting you use just one piece of easily storable equipment to meet your fitness goals. Start out easy with this set, which goes from 2.5 pounds to 12.5 pounds and increases in 2.5 pound increments, combining 17 sets of weights into one on a gratis plastic tray for easy space-saving storage.
Adding or subtracting weight couldn't be easier with these dumbbells; you can rapidly switch to the weight you want in just three seconds. And though they may be small, they certainly are fierce! You can exercise every area of the body by using them as you knock out some lunges, curls, and raises. The comfortable chrome-plated knurled handle is perfect for any user's hands, while also looking sleek and elegant, thanks to the black polished, wear-resistant paint.
With 4.5 stars on Amazon, customers are loving how easy it is to implement these dumbbells in their daily routine. Robert raved, "These are my fourth adjustable dumbbells I have owned, and these are by far the best. They are comfortable to use because the handle is well cushioned and wide enough for a man's hands. My wife likes the feel too, so these are perfect for everyone. The weight adjustment is simple, effective and fast."
Make working out less complicated with the Ativafit® 12.5Lbs Adjustable Dumbbell Set. Get a set now for $99.99.
Prices subject to change.
Share Selection
The Best Breakfast Combinations To Jumpstart Your Weight Loss For 2022 – SheFinds