Heaven and Hell with Sally Bramall – East Anglian Daily Times
Gina Long
Sally, Lizzie, and Mark – Credit: Sally Bramall
I was fortunate recently to spend time with an extraordinary woman. Sally Bramall is a Suffolk mum who is the driving force behind Lizzie's Fund, set up by her nine-year-old daughter to raise money for The Brain Tumour Charity.   
Lizzie was diagnosed with a rare and inoperable brain tumour called DIPG in early 2018, and died just nine months later, a week before her 10th birthday.  Over the past three years, Sally has continued to fundraise in Lizzie's memory and has now raised nearly £400,000 for research into childhood brain tumours.   
Her current fundraiser is an online art and craft auction, featuring many East Anglian artists. Here she talks to Gina Long.  
Sally Bramall – Credit: The Brain Tumour Charity
What's the impact of COVID-19 and how are you adapting? 
I've loved being able to work from home, sitting at my kitchen table looking out over our garden that backs onto the River Stour in Nayland, feeling the seasons change, yet being able to work incredibly easily with colleagues at Willis Towers Watson all over the world. My husband Mark works for a small engineering firm so he never had the opportunity of working from home, so our cockapoo Ella and I have the space to ourselves.  
What is your connection to East Anglia? 
My parents met and married in Ipswich in the 60s, moved away, but came back to Suffolk when I was 10 and I've never left!  My teenage years were in and around Woodbridge, then closer to Ipswich. Mark and I moved to Nayland four years ago, just a couple of months before Lizzie was diagnosed. The village has completely put its arms around us since – I can never imagine living anywhere else.  
What is your East Anglian heaven? 
The magnificent big skies. Somehow big East Anglian skies just feel different to everywhere else. We also get such amazing rainbows which feel like messages from heaven – and friends often send me photos which they have seen as a sign from Lizzie.   
What is your East Anglian hell? 
Queuing up A12 to get around Copdock Mill roundabout. 
What's your favourite East Anglian landmark? 
Very locally, St Peter's Church in Stoke by Nayland is perched on the top of the 'hill' above Nayland and is like a beacon for miles around. You can see it walking from so many different directions and it seems to catch the light at all times of day.   
What's the best thing that happens in East Anglia every year? 
It's quite hard to choose between lots of great beer festivals… 
What is your favourite restaurant? 
Again, there are so many amazing traditional pubs serving great food and with Adnams on tap, it will always tick the box for us.  We had an absolutely fabulous meal with friends a couple of weeks ago at the Forager's Retreat in Pebmarsh. As the name suggests, their food includes locally-foraged wild food and was simply marvellous. 
What your specialist Mastermind subject? 
Pass!  
What is always in your fridge? 
I am very partial to cheese. 
What's your simple philosophy of life? 
Don't put off until tomorrow what you can do today – you never know what's round the corner.   
What's your favourite film? 
If I'm on my own, I'll probably indulge in something like a Jane Austen adaptation. I actually still have my school A-Level copy of Pride and Prejudice with juvenile pencil marking scrawled across the pages! 
Lizzie loved Mama Mia, so if I feel like a little tipsy sing-song and a bit of a cry, that's a good choice. 
Mark, Lizzie, Sally, and their cockapoo Ella – Credit: Sally Bramall
What was your first job? 
My first Saturday job was at a shop called Party Props in Upper Orwell Street in Ipswich, which was great fun in the run up to Christmas. When I finished my A-Levels, I deferred my university place for a year, got a temporary job at Willis Faber & Dumas, and 30 years later I'm still there, splitting my time between the Ipswich and London offices.   
What is your most treasured possession? 
I've got so many of Lizzie's treasures, I'm incredibly sentimental about them. I have a particularly lovely glass cast of her hand, created by a lovely glass factory in Norfolk from one of our holidays which I adore – the physicality of touching her hand is wonderful. My granny also left me her engagement ring as her eldest granddaughter which I treasure – there's something special about continuity through the generations.   
Who do you admire most? 
Mark and I have so many friends who have been such wonderful support through difficult days, supporting all our mad fundraising ideas, and keeping us moving forward. Amazing people have walked miles, climbed mountains, cycled over hills, sung all night, stitched and baked. They find words even when there are no words.   
What is your biggest indulgence? 
Homemade bread. Lizzie loved to bake, but radiotherapy meant she lost her 'sweet tooth' so she started baking breads and included some in her recipe book 'Keep Baking' that she wrote during her illness. 
What do you like about yourself most? 
I like having green eyes.   
What's your worst character trait? 
Punctuality – it drives many around me mad.   
Where is your favourite holiday destination? 
I absolutely love the Norfolk Coast. I've had lots of family holidays there with my sister and brothers plus their families. The kids always took their bikes and loved racing along the flat sands at Brancaster at low tide and visiting the seals.   
Best day of your life? 
There have been so many! The last four years during Lizzie's illness and since her death have meant I have really focused on all the great days we shared together and holding onto wonderful memories of every stage of her life. So it's suddenly hard to single out one.   
What's your favourite breakfast? 
Scrambled egg, extremely crispy bacon and sourdough toast.   
What's your favourite tipple? 
A lovely dry English sparkling wine (or champagne at a push), but as we head into winter I'll be switch to warming reds. I'm going through a pinot noir phase at the moment.   
What's your hidden talent? 
I always used to sew lots as a teenager to make my clothes allowance go further. When Lizzie became ill, I needed something tactile to do but I could only concentrate on small projects so started sewing little Christmas decorations that we could sell for Lizzie's Fund.
Rediscovering my embroidery skills has led to some super fundraising workshops and during lockdown we set up a Nayland Stitching Group via Zoom.   
What's your earliest memory? 
Waking on Christmas morning to snow when my granny was staying with us in the Cotswolds – I'd have been about three. It's possible I dreamt the snow though.  
Tell us something people don't know about you? 
Our cockapoo Ella is named after Nutella chocolate spread because she's chocolate brown!  
What's the worst thing anyone has ever said to you? 
"Your child has cancer and there's no treatment – go home and make memories." I know that sounds a bit blunt, but that's why we raise money for research into childhood brain tumours, so no parent is told there's no treatment.
Brain tumours are the biggest cancer killer of children and young people under 40, yet in comparison to so many cancers one of the poorest funded, and as a result the survival rates are much worse. Only research will change the prognosis, and that takes money.   
Tell us why you live here and nowhere else? 
It has everything I need – tranquillity, beauty, community, and family. This morning I looked out of my bedroom window at the most beautiful sunrise above the river mist, then walked the dog and chatted to countless lovely people and stopped for delicious food at our village butchers. We live in an amazing place.   
What do you want to tell our readers about most? 
Lizzie's Fund is currently holding an online art and craft auction as our Christmas fundraiser. We've had wonderful donations from lots of talented local artists, friends, family and friends of friends – all of whom have been touched by the need to move the dial to find a cure for brain cancer.
The auction includes lots of stunning paintings, prints, textiles, crochet, quilting, pottery, jewellery – I really hope there is something for everyone or a perfect Christmas gift for a loved one. And every penny goes to Lizzie's Fund. 
To find out more, visit app.galabid.com/lizziesfundart and lizziesfund.co.uk 
This newspaper has been a central part of community life for many years. Our industry faces testing times, which is why we're asking for your support. Every contribution will help us continue to produce local journalism that makes a measurable difference to our community.
Jason Noble Local Democracy Reporter
Johnny Griffith
Christmas
Charlotte Mclaughlin
Johnny Griffith
What's the best investment for a child's future? – MarketWatch
Financial stress ranked No. 1 on the American Psychological Association's annual Stress in America survey this year. It has held this position every year since 2007 when the survey began.
It's natural for parents to want to shield their children from some of this stress by investing money toward their future. However, the best strategies for investing in your child's future might seem unclear. 
Undoubtedly, these questions pose serious concerns for parents looking to help their children overcome financial stress.
Read: This is the most innovative financial literacy program in the U.S.
Before you start
When it comes to investing, the rule is usually that the sooner you invest, the better. But that doesn't necessarily mean you should start investing for your child the day they are born.
Before pursuing investing for kids, you should have emergency savings set aside and confidence in your retirement funds. 
In retirement, you absolutely need to have affordable housing, food and other necessities. If you can't, it will be a burden to you as well as your child. It's similar to how you need to put on your own oxygen mask before you assist someone else.
Help yourself first and then you'll find yourself in a better position to aid others. 
Paying for your child's college or getting them started saving for retirement is ideal, but not as high of a priority. Get yourself to a place where you can "max out" your 401(k), especially if you work for a company that matches part of your contributions.
Financial advisers commonly say once you're able to contribute 15% of your income toward retirement, that's when you should start investing for your child. 
This percentage might vary depending on your investment history. If you've worked toward your retirement since a teenager and have already saved a significant amount, this percentage might be lower. People who got a late start saving for retirement and want to catch up may need a higher percentage. 
Read: 5 investment lessons that can make your working teen wealthy
Invest for your child's education account (529 Plan)
When you start to invest for your child's future, begin with a tax-advantaged savings account. A 529 savings account acts as one of your best options.
These plans can cover expenses related to K-12 tuition if you plan to send your child to a private school, cover college tuition costs and even other vocational education options. 
These accounts accumulate funds on an after-tax basis with gains untaxed if used for qualified higher education expenses.
You don't need to use the money at any one specific college, but can use it at any of the nationwide qualified colleges.
A 529 college savings plan works similarly to a Roth 401(k) or Roth IRA in that you invest your post-tax contributions in mutual funds, target-date funds or other investments. 
Once your child begins college, money from the account can go toward eligible expenses, typically including tuition, computers, books, supplies, and housing (if the student enrolls at least half-time).
Room and board can't exceed the "cost of attendance" figures colleges provide. Distributions can also go toward repaying federal and private student loans, including ones you refinance.
If you withdraw money for nonqualified expenses, the earnings portion becomes subject to ordinary income taxes as well as a 10% tax penalty. You can waive this penalty if the beneficiary attends a U.S. Military Academy, earns a tax-free scholarship, dies, or becomes disabled. The earnings would still be subject to tax, however. 
Suppose your child doesn't attend college. In that situation, you can switch the beneficiary to another qualifying family member, have yourself become the beneficiary and further your own education, use it for K-12 tuition (up to $10,000), or use the money to repay student loans (up to $10,000). 
Funds can also roll over to a 529 ABLE account, which acts as a savings account for people with disabilities. If you have a willingness to pay the penalty and taxes, you can always withdraw your money for any reason.
Plans usually have minimum initial contribution requirements. After that, you can make automatic money deposits, contribute lump sums, or both.
Read: Why you should plan to leave money to your kids
Invest for your child's future retirement
Helping your child start to save for retirement can put them at a significant advantage later in life.
If your teenager has a job like a lifeguard, fast food worker or cashier, you can open a custodial IRA in their name and invest.
A custodial account is a financial account maintained by an adult for another person, such as your child. 
You would manage your teenager's account until they reach the age of majority, which is either 18 or 21, depending on your state. These accounts transfer ownership and you can set them up to manage their own investments.
With the custodial IRA, you can open a traditional or Roth IRA. In either account type, select the best investments and watch the returns compound over time.
Opening and contributing to a child's custodial IRA requires them to earn taxable income. Sadly, allowances don't count and you can't contribute more than what they make each year.
Keep in mind that even if contributions don't seem large, contributing regularly over long enough periods can result in a significant impact to their bottom line. These contributions add up and grow through returns earned over time.
Because your child likely falls in a low tax bracket on their earnings, it usually makes sense to open a custodial Roth IRA to lock in low tax rates now and have their contributions grow tax-free for many decades to come.
Invest for your child's future expenses
You can also save for your child's future expenses without a specific plan for how those funds should be used. Uniform Transfer to Minors Act (UTMA) accounts and Uniform Gifts to Minors Act (UGMA) accounts are two beneficial types of custodial accounts that let teenagers invest.
UTMA and UGMA accounts come controlled by the custodian until the minor reaches the age of majority in their state of residence. 
Unearned investment income in these accounts has the tax advantage of only facing taxes at the child's rate. For example, a child under age 19 wouldn't pay taxes on the first $1,100 and only 10% for the next $1,100. After that, money falls under the guardian's marginal tax rate. 
With these accounts, you don't have to limit your contributions to the amount of money your child makes. No contribution limits exist, though anything over $15,000 each year (or $30,000 for a married couple) requires minding the federal gift tax rules.
Best investment in your child's future
Having money doesn't necessarily mean you have the skills for handling it. Therefore, it remains essential that you help your child develop good money habits and financial literacy so they know how to save and manage money.
This can mean controlling money from an early age to build comfort with money decisions, learning how to manage it with a piggy bank and eventually a bank account and debit card for kids, and eventually how to invest money on their own.
Make sure your child understands topics such as compound interest, investment diversification, and tax-advantaged savings vehicles. You can impart your personal knowledge, buy them financial literacy books, and encourage them to take financial courses in school.
However, nothing comes as useful as giving them some control over their money. They will make mistakes, but that will always represent an important part of learning. Invest in their future by giving teens and young adults the tools they need to succeed.
Riley Adams is a CPA and the author of the Young and the Invested website, which focuses on financial independence and investing.
Power of attorney can help loved ones make big decisions when you can't
Selling photographs as NFTs: a pro travel photographer gives his top tips – Digital Camera World
Digital Camera World is supported by its audience. When you purchase through links on our site, we may earn an affiliate commission. Learn more
By Marco Bottigelli , Jordan Banks published
Marco Bottigelli explains how selling NFTs helped him find scarcity in an overly photographed world
"Photography still occupies a small niche in the NFT market space. In situations such as this, you must decide whether to remain a spectator waiting for the interest to increase, or invest your time and resources on being a pioneer of a movement. Thanks to the excess of free time resulting from the travel restrictions due to the pandemic, I decided to go for the latter.
What are NFTs and can photographers make money from them? How I sell my photographs as NFTs
Overall, as a creator, I strongly believe a skill that should never be lacking is curiosity. Despite a decade of experience as a professional in commercial travel photography, I found pleasure in sitting back and learning something new from scratch.
In the art market one of the main elements for defining the value of a work is scarcity, so the first paradigm I faced was how to make my photographs "more unique". I came up with the idea of going through a brand-new avenue; blending some of my favorite photos from recent years into surreal, evocative and intriguing composites, albeit with elements that are recognizable to an attentive audience.
Part of a travel photographer's job is based on finding the best viewpoint over a landscape or a city based on elements from the real world. In the same way, the freedom of art (or rather cryptoart) has unleashed my imagination in finding new viewpoints over recognizable landscapes, in much the same way I search for a better imaginary viewpoint in the wideness of the Metaverse.
In May of last year my first series 'Wanderlust' was born – three works that project the observer through the subject on an iconic and dreamlike journey. Two of the three works were sold to collectors in the first two weeks of their publication. The third sold in November for 2ETH ($6,571).
Then, at the beginning of July I published my second series 'Gondola Fairytales', a two-piece epic tribute to the explorers, myth and legends from the history of Venice."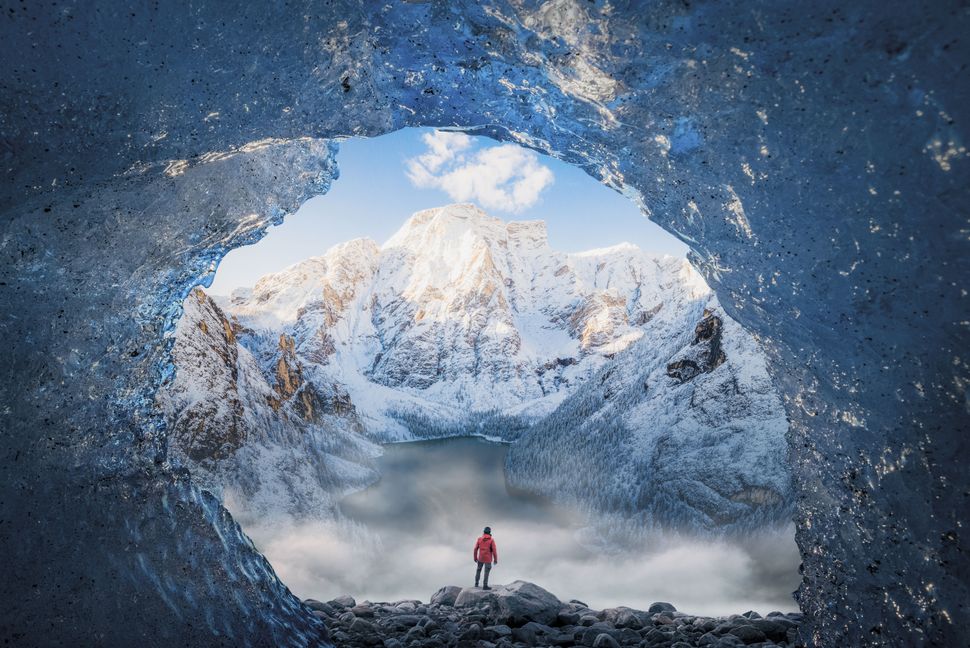 This article first appeared in Digital Photographer magazine
Marco Bottigelli is an acclaimed travel photographer and leader of international photography workshops spending his working life photographing some of the most beautiful locations in the World. With over ten years in the field, he finally turned a part-time job into a full-time travel photographer freelance career in 2015, focusing exclusively on producing high-end commercial travel images and accompanying customers across nearly every continent to experience the beauty and the challenging of the travel and landscape photography. He is the co-owner of clickalps.com, a Premium Travel Photo Agency based in Italy. Since 2021, he has been successfully selling his photographs as NFTs.
Get the best camera deals, reviews, product advice, competitions, unmissable photography news and more!
Thank you for signing up to Digital Camera World. You will receive a verification email shortly.
There was a problem. Please refresh the page and try again.
Digital Camera World is part of Future US Inc, an international media group and leading digital publisher. Visit our corporate site.
© Future US, Inc. 11 West 42nd Street, 15th Floor, New York, NY 10036.

How to avoid buying fake COVID tests online – ftc.gov