How to start a travel website and make money – Travel Daily News International
follow us…
The pandemic grounded us, but the appetite for travel is still there. So why not start a travel blog? Read everything you need to know in our post.
Feeling wonder about the world and exploring it was a popular pastime for billions of people not so long ago. However, life is unpredictable, and reality makes its corrections. We all miss choosing a destination without doing special research as to whether we can go there and nervously double-checking before the flight to see if any regulations have changed since booking.
It's likely that every fan of traveling has thought about creating a travel blog. We all have our life hacks, crazy stories, and favorite places off the beaten track. Why not share that experience? Especially considering it's also possible to make money from it. Choose a site creator like Boxmode travel website builder or WordPress, Squarespace or Duda and start your blog!
Travel website or social media?
Before creating and posting your content, you should have an answer to the crucial question: where? Fortunately, you are spoiled for choice. The two main options to select from will be either making your own travel website or uploading content on social media. Both have their pros and cons; however, the choice is yours. Let's focus on the advantages.
Travel Website
Social Media
Your website — your rules. You can choose and change everything starting from the color theme up to the location of text blocks, number of pages, etc.
You already have everything you need to start posting and can focus on making content. You don't have to worry about the whole system, just about your own page.
Using interlinking, you can connect the pages of your site and lead your reader to the path you would like them to follow.
You may gain more readers among the users of the chosen social media by creating well-received content.
You are the only one to decide where and how to place the ad, as well as which ads to place.
You can become a part of the community by collaborating with other bloggers on the same platform.
Metaphorically speaking, running a blog based on a social network resource is like cooking in your grandmother's kitchen: you've already got all the tools, the area is 100% familiar, and you always have an excellent adviser beside you (like the tips for your Instagram blog, for example). However, you have no freedom to be as creative as you want because you are always limited by the rules of the media you use.
Starting a travel blog as your own website will surely take more time and effort. However, it will also leave you wide room for creativity. One of the most important steps to take is to make up your mind about your niche and target audience.
How to choose your travel website niche. What travel niches are out there?
Undoubtedly, this choice is not as important as the name of the blog, for example. And you will definitely be able to start writing about any other side of traveling any time you feel like it. However, with time, your travel blog will gain more and more popularity, and your readers will have some expectations. Be ready to lose some disappointed followers when changing the blogging niche you're writing in.
No matter what niche you will choose for your travel website, in any case, you will find like-minded followers. The list of approximate topics is below:
A clearly defined niche will help you focus on your content, create an explicit plan, and won't let you scatter your thoughts and ideas. It will also let you gain the devoted audience that will wait for your every post and hang on your every word. Sticking to the outlined out subject will make your blog an in-depth guide, which is exactly what most users look for.
How to create your own travel website for blogging
The easiest way to make a travel website is to delegate this task to a professional. Nevertheless, why should you spend your money on anything but traveling? Thankfully, we are living in the digital century, where any information is a click away. Follow our guide below and become a creator of your own website.
Choose a name
Take this step as seriously as if it was the name of your child. This is the first thing your readers will find out about your blog. And as we all know, there are no second chances to make a first impression. It's better to doubt and to have second thoughts at this point than to regret several steps after.
Do your best to be as laconic as possible. The name should also be easy to remember and shouldn't evoke anything irrelevant or inappropriate. One more tip for naming: try avoiding overused words for this niche, like "nomad," "traveler," "adventurous," etc. Be unique!
Hosting
Most likely, the name of your travel blog will also be its address on the Internet. So make sure it's still available. While choosing hosting for your website, you will first need to decide if you would prefer it to be a free travel website or paid. If you expect your resource to live long, we would recommend starting your blog on paid hosting. This will save you stress and secure your content in the future.
As for the options to choose from, there are dozens of them, so you won't have difficulty finding the one with a suitable price and conditions. Here's a list of some of the more popular choices:
Website builder
This is actually the step where you can employ all your creativity and design skills. However, here you may also run into some problems. The main is choosing the product to facilitate this. This one should contain a wide assortment of options, be easy to navigate, and have a user-friendly design. Remember that this is your helper that should make the process of your blog creation smooth, easy, and fun.
Content creation
Before filling your website with articles and photos make sure to build a travel blog content plan. Text and pictures can't seem to be chaotically written and placed. Check the connection between different articles, interlink various pages to bond them, and don't forget the main topic of your whole resource.
How to make money with your travel website
Running a blog can be not just exciting but also profitable. How to start a travel website and earn money? It can actually be more straightforward than you think.
Affiliate marketing
Reviewing and promoting goods that you use while traveling may become the first step in monetizing your blog. This surely may not happen the next day you start your website since you will have to gain some followers to be noticed by manufacturers. Nevertheless, this is definitely worth it! Besides, these days you may get into affiliating with any company you know, be it clothes for hiking brands, tourist agency, coffee shop, or your favorite chocolate. Just be creative and don't lose patience!
Advertising
Any online web page is an excellent platform for ads. Moreover, by running your own website, you are the only one to decide where to place banners, what size they should be, and how many of them are enough. Unite the content on your blog with the wares you may push. Try out different types of advertising:
Remember, that finding trustworthy partners who would like to place their ad on your website may take some time. Stay confident and develop your blog!
Guest posts
Some companies are ready to pay you for their texts to be published on your blog. What's the point? These articles will include a link to the client's website. In this way, they will promote their resource, and you will get paid for just placing a text. You can surely lay down the conditions, and you should always check these articles for uniqueness otherwise, your whole website may be penalized by search engines.
What's next?
In any case, the main goal of your travel blog should be your own pleasure. Love what you do, share your experience, ideas and moments you would like to memorize. Be honest with your readers as this is the only way to gain online popularity nowadays.
Photo by Andrew Neel on Unsplash
© 1999 – 2016, TravelDailyNews Media Network • Reproduction of the content is allowed ONLY with clear reference to the TravelDailyNews International and a link back. Unless, otherwise mentioned by the undersigned writer.
What's the best investment for a child's future? – MarketWatch
Financial stress ranked No. 1 on the American Psychological Association's annual Stress in America survey this year. It has held this position every year since 2007 when the survey began.
It's natural for parents to want to shield their children from some of this stress by investing money toward their future. However, the best strategies for investing in your child's future might seem unclear. 
Undoubtedly, these questions pose serious concerns for parents looking to help their children overcome financial stress.
Read: This is the most innovative financial literacy program in the U.S.
Before you start
When it comes to investing, the rule is usually that the sooner you invest, the better. But that doesn't necessarily mean you should start investing for your child the day they are born.
Before pursuing investing for kids, you should have emergency savings set aside and confidence in your retirement funds. 
In retirement, you absolutely need to have affordable housing, food and other necessities. If you can't, it will be a burden to you as well as your child. It's similar to how you need to put on your own oxygen mask before you assist someone else.
Help yourself first and then you'll find yourself in a better position to aid others. 
Paying for your child's college or getting them started saving for retirement is ideal, but not as high of a priority. Get yourself to a place where you can "max out" your 401(k), especially if you work for a company that matches part of your contributions.
Financial advisers commonly say once you're able to contribute 15% of your income toward retirement, that's when you should start investing for your child. 
This percentage might vary depending on your investment history. If you've worked toward your retirement since a teenager and have already saved a significant amount, this percentage might be lower. People who got a late start saving for retirement and want to catch up may need a higher percentage. 
Read: 5 investment lessons that can make your working teen wealthy
Invest for your child's education account (529 Plan)
When you start to invest for your child's future, begin with a tax-advantaged savings account. A 529 savings account acts as one of your best options.
These plans can cover expenses related to K-12 tuition if you plan to send your child to a private school, cover college tuition costs and even other vocational education options. 
These accounts accumulate funds on an after-tax basis with gains untaxed if used for qualified higher education expenses.
You don't need to use the money at any one specific college, but can use it at any of the nationwide qualified colleges.
A 529 college savings plan works similarly to a Roth 401(k) or Roth IRA in that you invest your post-tax contributions in mutual funds, target-date funds or other investments. 
Once your child begins college, money from the account can go toward eligible expenses, typically including tuition, computers, books, supplies, and housing (if the student enrolls at least half-time).
Room and board can't exceed the "cost of attendance" figures colleges provide. Distributions can also go toward repaying federal and private student loans, including ones you refinance.
If you withdraw money for nonqualified expenses, the earnings portion becomes subject to ordinary income taxes as well as a 10% tax penalty. You can waive this penalty if the beneficiary attends a U.S. Military Academy, earns a tax-free scholarship, dies, or becomes disabled. The earnings would still be subject to tax, however. 
Suppose your child doesn't attend college. In that situation, you can switch the beneficiary to another qualifying family member, have yourself become the beneficiary and further your own education, use it for K-12 tuition (up to $10,000), or use the money to repay student loans (up to $10,000). 
Funds can also roll over to a 529 ABLE account, which acts as a savings account for people with disabilities. If you have a willingness to pay the penalty and taxes, you can always withdraw your money for any reason.
Plans usually have minimum initial contribution requirements. After that, you can make automatic money deposits, contribute lump sums, or both.
Read: Why you should plan to leave money to your kids
Invest for your child's future retirement
Helping your child start to save for retirement can put them at a significant advantage later in life.
If your teenager has a job like a lifeguard, fast food worker or cashier, you can open a custodial IRA in their name and invest.
A custodial account is a financial account maintained by an adult for another person, such as your child. 
You would manage your teenager's account until they reach the age of majority, which is either 18 or 21, depending on your state. These accounts transfer ownership and you can set them up to manage their own investments.
With the custodial IRA, you can open a traditional or Roth IRA. In either account type, select the best investments and watch the returns compound over time.
Opening and contributing to a child's custodial IRA requires them to earn taxable income. Sadly, allowances don't count and you can't contribute more than what they make each year.
Keep in mind that even if contributions don't seem large, contributing regularly over long enough periods can result in a significant impact to their bottom line. These contributions add up and grow through returns earned over time.
Because your child likely falls in a low tax bracket on their earnings, it usually makes sense to open a custodial Roth IRA to lock in low tax rates now and have their contributions grow tax-free for many decades to come.
Invest for your child's future expenses
You can also save for your child's future expenses without a specific plan for how those funds should be used. Uniform Transfer to Minors Act (UTMA) accounts and Uniform Gifts to Minors Act (UGMA) accounts are two beneficial types of custodial accounts that let teenagers invest.
UTMA and UGMA accounts come controlled by the custodian until the minor reaches the age of majority in their state of residence. 
Unearned investment income in these accounts has the tax advantage of only facing taxes at the child's rate. For example, a child under age 19 wouldn't pay taxes on the first $1,100 and only 10% for the next $1,100. After that, money falls under the guardian's marginal tax rate. 
With these accounts, you don't have to limit your contributions to the amount of money your child makes. No contribution limits exist, though anything over $15,000 each year (or $30,000 for a married couple) requires minding the federal gift tax rules.
Best investment in your child's future
Having money doesn't necessarily mean you have the skills for handling it. Therefore, it remains essential that you help your child develop good money habits and financial literacy so they know how to save and manage money.
This can mean controlling money from an early age to build comfort with money decisions, learning how to manage it with a piggy bank and eventually a bank account and debit card for kids, and eventually how to invest money on their own.
Make sure your child understands topics such as compound interest, investment diversification, and tax-advantaged savings vehicles. You can impart your personal knowledge, buy them financial literacy books, and encourage them to take financial courses in school.
However, nothing comes as useful as giving them some control over their money. They will make mistakes, but that will always represent an important part of learning. Invest in their future by giving teens and young adults the tools they need to succeed.
Riley Adams is a CPA and the author of the Young and the Invested website, which focuses on financial independence and investing.
Power of attorney can help loved ones make big decisions when you can't
Selling photographs as NFTs: a pro travel photographer gives his top tips – Digital Camera World
Digital Camera World is supported by its audience. When you purchase through links on our site, we may earn an affiliate commission. Learn more
By Marco Bottigelli , Jordan Banks published
Marco Bottigelli explains how selling NFTs helped him find scarcity in an overly photographed world
"Photography still occupies a small niche in the NFT market space. In situations such as this, you must decide whether to remain a spectator waiting for the interest to increase, or invest your time and resources on being a pioneer of a movement. Thanks to the excess of free time resulting from the travel restrictions due to the pandemic, I decided to go for the latter.
What are NFTs and can photographers make money from them? How I sell my photographs as NFTs
Overall, as a creator, I strongly believe a skill that should never be lacking is curiosity. Despite a decade of experience as a professional in commercial travel photography, I found pleasure in sitting back and learning something new from scratch.
In the art market one of the main elements for defining the value of a work is scarcity, so the first paradigm I faced was how to make my photographs "more unique". I came up with the idea of going through a brand-new avenue; blending some of my favorite photos from recent years into surreal, evocative and intriguing composites, albeit with elements that are recognizable to an attentive audience.
Part of a travel photographer's job is based on finding the best viewpoint over a landscape or a city based on elements from the real world. In the same way, the freedom of art (or rather cryptoart) has unleashed my imagination in finding new viewpoints over recognizable landscapes, in much the same way I search for a better imaginary viewpoint in the wideness of the Metaverse.
In May of last year my first series 'Wanderlust' was born – three works that project the observer through the subject on an iconic and dreamlike journey. Two of the three works were sold to collectors in the first two weeks of their publication. The third sold in November for 2ETH ($6,571).
Then, at the beginning of July I published my second series 'Gondola Fairytales', a two-piece epic tribute to the explorers, myth and legends from the history of Venice."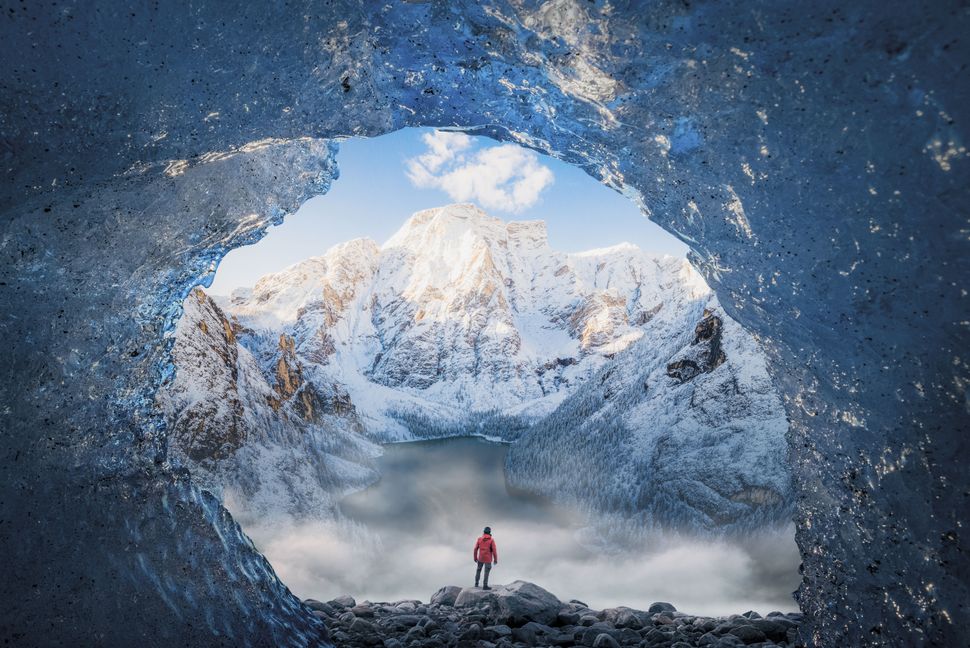 This article first appeared in Digital Photographer magazine
Marco Bottigelli is an acclaimed travel photographer and leader of international photography workshops spending his working life photographing some of the most beautiful locations in the World. With over ten years in the field, he finally turned a part-time job into a full-time travel photographer freelance career in 2015, focusing exclusively on producing high-end commercial travel images and accompanying customers across nearly every continent to experience the beauty and the challenging of the travel and landscape photography. He is the co-owner of clickalps.com, a Premium Travel Photo Agency based in Italy. Since 2021, he has been successfully selling his photographs as NFTs.
Get the best camera deals, reviews, product advice, competitions, unmissable photography news and more!
Thank you for signing up to Digital Camera World. You will receive a verification email shortly.
There was a problem. Please refresh the page and try again.
Digital Camera World is part of Future US Inc, an international media group and leading digital publisher. Visit our corporate site.
© Future US, Inc. 11 West 42nd Street, 15th Floor, New York, NY 10036.

How to avoid buying fake COVID tests online – ftc.gov