'I lost my income and was in survival mode': Malaysian women turn to entrepreneurship during pandemic – Salaam Gateway
You can also sign in using your account in one of the social networks.
Create account for free and enjoy unlimited access to exclusive industry insights and reports
Photo: Nooreen Firdaus took to selling snacks during the pandemic as her apparel business struggled. She is pictured in this photo on the right with a walk-in customer. Photo courtesy Nooreen Firdaus
Share
Share
KUALA LUMPUR – Women in Malaysia are better equipped than their men to capitalise on business opportunities brought about by the pandemic, but for many, the opportunity to get their ventures up and running is thwarted by issues of liquidity and access to finance made worse by miles of government red tape.
These are the views of a number of female entrepreneurs who spoke to Salaam Gateway about how lockdowns and changes forced by the pandemic have been affecting them. This is as Malaysia's latest round of movement restrictions—its fourth since March 14 last year—was recently extended by another two weeks until at least the end of June.
More than anything, a belief in the ability of women to pivot when the chips are down shines through among these women. So too does the frustration that comes from fighting to secure access to the resources they need, despite government incentives, to build businesses to support their families amid an uncertain environment.
Nooreen Firdaus strongly believes in the ability of women to show flexibility and ingenuity, having herself been forced to pivot after the first lockdown last year devastated her boutique selling abayas in Shah Alam, on the outskirts of Kuala Lumpur.
"At that moment, I was in survival mode. I knew that anything at all I could sell and make money from, I would sell it. So I thought, let's start selling kerepek, without thinking too much about it. It was an overnight decision," she recalled of her new business Kerepek Ori JDT.
Kerepek are deep-friend snacks made from nuts, pulses and fruits often sold at roadside stalls.
Nooreen's decision to market kerepek sourced by her cousin, who already had a distribution business in the southern state of Johor, has not only helped her cover rent and salaries for her struggling abaya shop, which has stayed open, it also supports the women in Johor who make the snacks but cannot sell them because of reduced highway traffic for their stalls.
"I was very happy with my business, Anggun Chitra, which I started in 2016. I had a very clear margin and was able to expand the business from online to quite a beautiful, big boutique that I'm proud of," she said.
"But in the first lockdown, I lost my income. Nobody was going out wearing abayas anymore. So kerepek was my saviour and I haven't had to retrench my staff."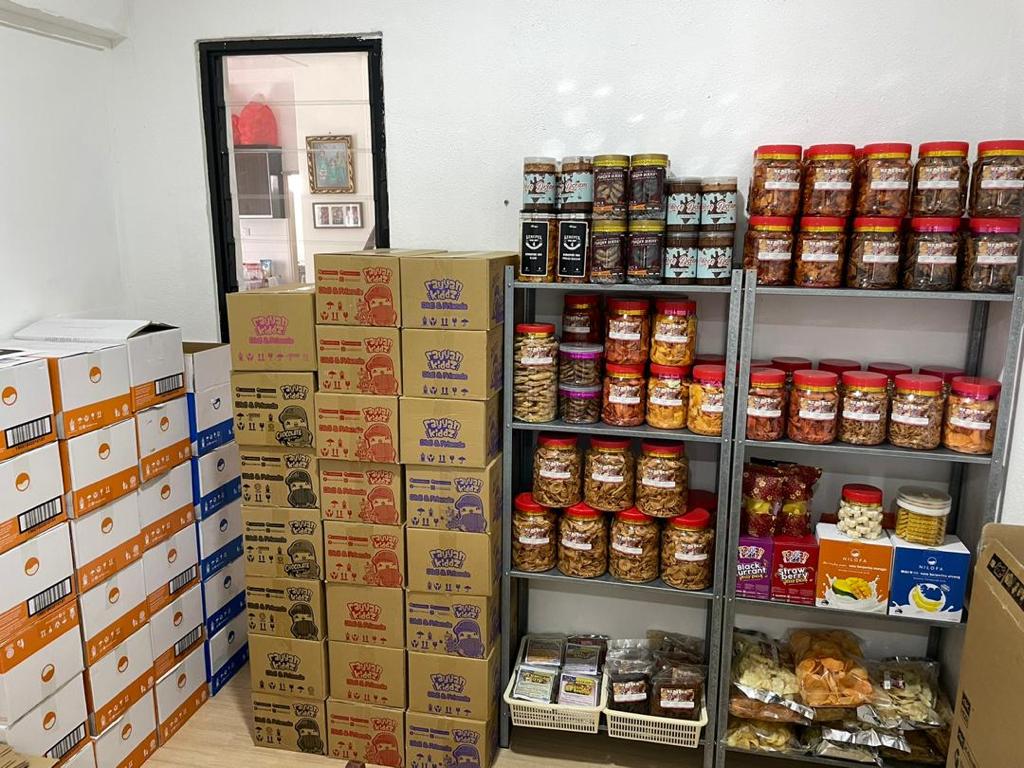 Nooreen Firdaus keeps her stock of kerepek in the spare room at home. Photo courtesy Nooreen Firdaus
'NATURAL MULTITASKERS'
Nooreen is not alone as a woman entrepreneur who found a safe harbour in the food business, having arrived there from a completely unaligned industry. Over the last year, the newspapers have been full of stories of women taking to baking and frying and selling their goods online.
Many responded to calls by the minister for women, Rina Mohd Harun, in the second week of the first lockdown, to "generate the economy on top of playing their roles as housewives by operating online businesses to gain income".
"I urge all women to get themselves involved in entrepreneurship especially when many have lost their jobs during this COVID-19 pandemic," the minister said last March while promising economic support.
"A lot of women go into the food business because we know how to budget for food and cook it for the family. A lot of women have also gone into online tuition because they have been part of their children's education," said Nooreen.
"It's doing what you know best, particularly when these things are the basic necessities. We are all living in a very simple way now and needs aren't as fancy."
Andal Krishnan of the National Association of Women Entrepreneurs of Malaysia (NAWEM) concurs, saying many members have taken this route to running their own businesses.
"Many women have turned to entrepreneurship because they lost their jobs and they don't know what else to do," she said.
"Human beings are survivors and women in particular are very good at adapting. So they immediately think about things they are very good at and apply them to business."
The age-old stereotype of women being natural multitaskers with the ability to juggle the roles of mother, wife and breadwinner has never been in such high demand, according to to Saliza Abdullah, the managing director of BG Capital, a female-owned and managed company in Selangor that supplies security guards across Malaysia.
"What makes the difference is women's ability to look for opportunities, take calculated risks and pivot to do something, even if it is different and they have never done it before," said Saliza.
"You cannot expect anyone to come to you with the solution; you have to be hungry enough to go out there and find solutions."
At the same time, women are also more likely to accept advice and support from others and willing to share their frustrations, she said.
It is also more probable that female entrepreneurs will take a longer-term approach to managing the support and incentives offered by the government over the last year to help small businesses navigate the pandemic.
In this way, Saliza says the economic relief, loan moratorium, salary subsidy scheme and incentives to train newly-hired staff to help the retrenched has kept her company stay afloat during periods when customers have not needed security guards. But many other businesses, she says, have squandered these benefits.
"It's up to SMEs to plan their finances better. Those who are now saying they want more grants, I would say they probably took it too easy earlier on; they got too complacent and were not willing to pivot. Now they are waiting for a time to die out. It's quite unfortunate," she said.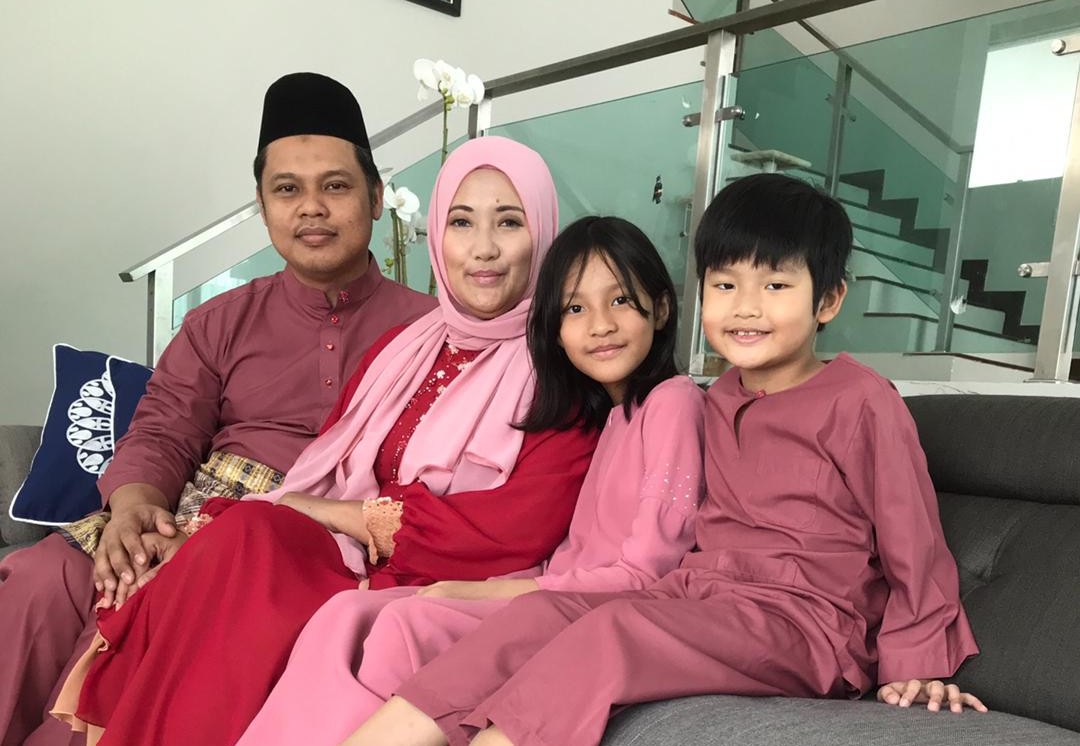 Saliza Abdullah and her husband Roslee Mohd Sabri, and their children Qaireesya and Qaireez, at home. Photo courtesy Saliza Abdullah
MIDDLE INCOME
According to NAWEM, women entrepreneurs fall into three socioeconomic categories, each of which has been affected differently by the pandemic.
At the tip of the pyramid, there are the so-called T20 top earners who have probably not been affected substantially and have enough wealth to weather the situation.
Beneath them is the M40 group of middle income-earners who account for 40% of Malaysia's income. Entrepreneurs in this group often trade products and services for export and many receive government support, especially through the state's furlough policy for paying staff salaries.
Among these, Fadzilah Yusof, founder of Ouch Music Academy in Kuala Lumpur, has tailored her business to suit the environment over the last year.
"As a music school, it has come to a point when it becomes no different for us as each lockdown comes along. After the first, we lost 50% of our students. But over the last year we adjusted to it and have even gained some with online classes," she said.
"But are we growing as a business? No we aren't. Still, we are trying to use whatever support there is and we fall in the creative category so there are various grants for us that help."
NAWEM's Andal said that by and large, this group has been trying to do the right thing by their employees. "Because they are better organised, they have a bit more cushion to manage this situation," she said.
LOWER INCOME
Then there is the B40 group occupying the lower 40% of the economy who have been very badly impacted by the pandemic. Often the (male) main breadwinner of B40 families will have lost their income, forcing their wives to go into business.
Beyond selling baked goods through Facebook or Instagram, it is very difficult for women in this category to expand their businesses, no matter how successful they have become, due to bureaucracy and lack of access to finance.
"How can you expect a housewife to provide three years of audited financial returns? She just cannot do this!" exclaimed Savina Kaharudin, who is also a NAWEM executive. "So these women just ignore applying for grants because there's so much red tape."
Savina, who has a growing halal cosmetics manufacturing business, VNI Scientific, saw this first-hand when she tried to apply for a grant herself.
"I found that out of 15 applicants, I was the only Bumiputra applicant who was successful," she said, referring to the official term for indigenous, mostly Muslim, Malaysians who account for the highest share of the B40 category.
"One of the weaknesses of the B40 is being able to provide good quality documentation for any sort of application. For me, I'm able to do that because of my previous background, which was in a procurement department.
"For the B40s who don't have that experience, they are not aware about how to go for grants, so they miss out on opportunities for incentives given by the government."
STRUGGLING TO GET ACCESS TO FINANCE
Savina has struggled to get finance to expand her start-up. She found it hard to come by, even from SME Bank, a government-backed bank that provides financial assistance for small- and medium-sized businesses.
VNI Scientific started in 2016 and had a particularly good first year of the pandemic, but bank officials were only interested in how the start-up performed in its earlier years, when it was just getting started.
"This is not realistic. We have all these incentives offered by the government but the problem is liquidity and access to finance," said Savina, who speculated that the rejection rate for bank loans over the last year stands at over 80%—a claim backed up by finance officials at a NAWEM webinar.
"The only way for us to get finance is of course to borrow from friends or family or sometimes from loan sharks, who sometimes charge very high interest."
Better training is needed for women to deal with applications for loans and grants, not least so that small businesses are in good shape once the pandemic has run its course, she believes.
"Frankly speaking, I think 70% of the women entrepreneurs I know have been losing hope. I just hope that these women will not go into depression or anxiety or despair," Savina said.
MANAGING WORK AND FAMILY
With her kerepek business taking the fore while her abaya boutique treads water, Nooreen Firdaus is now in a stable economic position, even as she has to juggle her work life around her responsibilities at home with three children, aged from 10 to 14, who have spent much of the last year being schooled from home.
"Sometimes I put my children ahead of my work so there is some lag in orders or answering customer enquiries. Because my children are bigger, they can look after themselves," she said.
Saliza, meanwhile, says she has thrived on the new working conditions of the last year, but it is her husband who has had a harder time adjusting to lockdowns than her. It took some time for the couple to get the balance right with her husband, who is an engineer at another company.
"At first he expected me to do all the work in the house as well as look after the children, so I merajuk with him and told him, you can't expect me to do everything because both of us are working from home now," she said, using the Malay work for sulk.
Only by discussing the situation together can couples set the ground rules to make the best of a new life in the pandemic, she believes.
"Different people experience this pandemic differently. For me, I'm truly blessed and grateful because I feel that the lockdowns have given me the opportunity to bond with my children."
© SalaamGateway.com 2021 All Rights Reserved
tags:
Get Islamic economy and Halal Industry updates in your inbox
By submitting this form you are acknowledging that you have read and agree to our privacy statement
Create your company's profile on Salaam Gateway and reach a global audience of Islamic economy
Share your company's latest updates.
Reach thousands of Islamic economy businesses and professionals.
© 2020 Salaam Gateway
Supported by the vision
However, if you would like to share the information in this article, you may use the headline, summary and link below:
How To Thrive Amid Digital Disruption – Forbes
Business achievement concept with happy businesswoman relaxing in office or hotel room, resting and … [+] raising fists with ambition looking forward to city building urban scene through glass window
Four articles in the January/February 2022 issue of Harvard Business Review (HBR) argued that "many people" are wrong in thinking that "old-economy companies" are "doomed to suffer a slow demise." The articles had a point in that most "old-economy companies" have found ways to survive, "in some shape or form", and have not yet died from digital disruption. But if we look at the bigger picture of what it takes to thrive, not just survive, the challenge for most firms still lies ahead. In part 1 of this article, I summarized the four HBR articles. Here (Part 2) I present a framework to thrive amid digital disruption.
To begin, let's define "digital disruption". Digital disruption is not a disease afflicting "old-economy companies."
"Digital disruption" is nothing less than a symptom of the birth of a new economic age, with a transition akin to that the agricultural age to the industrial era. The new age flows from the combination of exponential new technologies and new management principles, which in turn lead to massive new value creation. "Digital disruption" can be defined as a failure to take advantage of this opportunity: see Figure 1 below.
"Digital technologies" include at least 18 major technologies that together have the potential to reinvent almost everything we do for the better: see Figure 2 below. Anything that is slow, inconvenient, difficult, expensive, unpleasant or impersonal can in principle be transformed by these technologies into something that is cheaper, easier, more convenient, speedier, more agreeable, and more relevant to the user's need,
As a result, firms that have mastered the new technologies and the elated management principles have already transformed parts of our lives, including how we work, how we communicate, how we shop, how we play, how we read, how we entertain ourselves, in short, how we live. In our actions, as consumers we have spoken. Firms have shown that it makes more money. There is no going back. This is the future.
Most firms have only scratched the surface of the potential of the new technologies. That's in part because the technologies are often unfamiliar to executives at all levels, particularly the top, and in part because organizations have not made the transition to the new management principles.
The management principles of the prior era—the industrial era—involved mass production, mass distribution, mass consumption, mass education, mass media, mass recreation, and mass entertainment. These things combined with standardization, centralization, concentration, and synchronization, to produce the management system known as bureaucracy. Bureaucracy created huge benefits for humanity over several centuries, But bureaucracy isn't fast, or agile, enough exploit the new digital technologies. Moreover, by treating human beings as cogs in a machine, bureaucracy dehumanized the workforce.
The management principles for the digital age are shown in Figure 3 below and include the following. Instead of starting from what the firm can produce that might be sold to customers, firms work backwards from customers' needs and then figure out how to meet them in a sustainable way. Instead of leadership located mainly at the top, leadership, and an obsession with profitably creating fresh value for customers, is nurtured throughout the firm. Instead of tight control of individuals reporting to bosses, staff throughout the organization create value by working in teams with short cycles, drawing on their own capacities and imagination. Instead of steep hierarchies of authority, firms need to operate in interactive networks of competence, where ideas can come from anywhere, even from outside the firm. For most firms, these are deep changes.
Firms that have mastered the new management principles and the new technologies can move more quickly, interact more understandingly, operate more efficiently, mobilize more resources, attract more talent and use it more effectively, win over customers more readily, enjoy more elevated market capitalizations, and compete more overwhelmingly than firms being run on industrial-era principles.
Thus it's not just individual firms that are being toppled. This is something more fundamental: the central management tenets of the industrial era are being upended. A new spirit of individual creativity and innovation is being generated.
The transition from industrial-era, to digital-age, management is occurring at different speeds in different sectors. As with any exponential transition, change tends to happen gradually and then suddenly. Stasis can hide imminent shocks.
Conversely, when one or more of these principles is not fully embraced, or is set aside, even an advanced digital-age firm may revert to industrial-era levels of performance. Both technology and management are needed: digitization without different management typically makes little difference.
The most-used label for the new era is "the Digital Age", although the label can mistakenly be taken to imply that the digital era is only about new technology. Figure 4 lists 13 alternative labels.
Each of these alternative labels deals with one facet of the new age. "Digital age" has three key advantages. It correctly suggests that the new age affects everyone. Second, it is already the most commonly used label, and third: most firms want it: they are trying to implement digital transformations.
Yet not everything about the new age is positive. As with any basic change, the new age harms those not willing or able to embrace it or master its implications. Some large firms have abused their market power and committed other missteps.
Society is still groping for a balanced picture of the costs and benefits. A framework is needed to provide a coherent picture for a balanced assessment. While fresh digital-era regulations are obviously needed, along with clear rules for digital commerce, and redress of any missteps already taken, it would be economic and political suicide for regulators to kneecap the digital winners. If the digital winners are smart, they will take steps to regulate themselves.
In an age of rapid innovation, if firms don't embrace the principles and technologies of the digital age, some other firm will do it for them and in due course put them out of business. As a sign of this harsh reality, breakups of the old industrial behemoths are becoming increasingly frequent: GE, J&J, IBM, and Toshiba are just the most recent examples. They are surviving, but not thriving.
For large firms, the transition will require deep change and will take time. It means setting aside entrenched systems, approaches, practices, values and attitudes that served firms well in the industrial-era. It means senior executives understanding, internalizing, and communicating unfamiliar ways of operating. It means adapting the technology and the management to the context of each individual firm. Copy-and-paste directives don't work. Consultants can help, but ultimately the top leadership itself has to live, breathe, and exemplify the new mode of operating.
All firms must acquire the new capabilities if they are to thrive, not just survive. If they understand what is involved, there is no reason why they can't succeed. The pain that they feel in making the transition is not the pain of dying. It is the pain of being born.
And read also, in addition to Part 1 of this article:
How Management Mediocrity Is Celebrated As Success
Why Digital Transformations Are Failing
Figure 1 Defining Digital Disruption
Figure 2: Technologies of the digital age
Figure 3 The promise of the digital age
Figure 4: Digital Age management principles
Inflation isn't going away. Here's how to make money from it – CNN
Stardew Valley: Top Crops to Sell and Make Money – Attack of the Fanboy
Ever wanted to know all the ins and outs of crops within Stardew Valley? Well lucky for you because that's what I've been researching for the past two hours. We're going to look at Stardew's Top Crops for generating revenue.
The Red Cabbage is only available from year two and onwards apart from at The Traveling Cart though they sell them at almost double the usual buying price. you can get them from Pierre's Shop for about 100g. They grow in the season of Summer and take 9 days. The Sell-on price for the Red Cabbage is about 260 – 5220g. So for example:
Making you a profit of 4200g
The sell-on value of the crop will of course depend on the time of year and where you sell it.
Available in just about any shop – though you can buy them the cheapest out of Pierre's shop or the Travelling Cart (Though prices do fluctuate at the Traveling Cart) – these bad boys will cost you about 240g The selling value of the Crop is about 70 – 150g and take 7 days to grow but they will regrow once you harvest them without having to plant new seeds this will happen through the autumn (Fall) Season. So for example:
Making you a profit of 1920g
Another one in the Autumn collection is the Pumpkin. You  can buy the Pumpkin cheapest at Pierre's Shop again and The Night Market (On Winter 17) for about 100g. but it can reign in profits of about 320 – 640g and will take 13 days to grow. This is an Autumn crop So for Example:
Making you a profit of 10,800g
The Sweet Gem Berry can only be bought at the Traveling Cart for 1000g. The berry grows in Autumn and takes 24 days. But the value of the crop can be in the region of 3000 – 6000g. So for example:
Making you a profit of 42000g
The Ancient Fruit is possibly the most valuable crop in Stardew Valley It grows all year round and cost anywhere between 100*1000g at the Traveling Cart. The Ancient Fruit can have a sell-on value of 550 – 1100G. It takes 28 days for the crop to grow but then reproduces every 7 days. I haven't pieced together statistics for this crop as the values fluctuate but this is definitely one of the crops you'll be wanting to invest in for your farm.
Well that's it we hope this helps you out within your Stardew Empire and makes you sweet, sweet cash.
– This article was updated on January 17th, 2022
RELATED TOPICS :
Home / GAME GUIDES / Stardew Valley: Top Crops to Sell and Make Money