Angry Alligator rampages to PS4 and PS5 November 30 – PlayStation.Blog
Grow up from a baby gator and seek revenge on the humans who sullied your swamp.
Welcome to the swamp – a beautiful and quiet place. Well.. until the humans arrived and ruined everything. Tomorrow, on November 30, Angry Alligator will finally be launching on PlayStation 4 and be backwards compatible with PlayStation 5. So are you ready to become an alligator – and hungry for some adventure? It's time for gator greatness.
In Angry Alligator we wanted players to do something they probably have never done: experience life from the perspective of an alligator. To make the player feel what it's like to be both an adorable – vulnerable – baby gator and a vicious big reptile, we've spent a lot of time making it behave as realistic as possible, within its stylized world. Players will be able to choose one of four different kinds of gators to experience their swamp adventure and go on a path of revenge.
1: Early concept art of the alligator, 2: Renders of the different final alligator versions
However, it will be too early to go after some humans right off the bat. As a small baby gator, you'll first have to fill your belly with some juicy frogs, tasty squirrels and other small prey to get your grub on. Explore an open world filled with creatures to meet and eat and discover plenty of secrets. As you gain enough XP and nutrients, you'll grow into a bigger and badder version of yourself and be ready to take upon a new mission: scare the living daylights out of some humans.
Nothing is more fun than taking proper revenge. Especially when it's towards pesky humans taking over your beloved swamp. As an evolved gator, you can: lure them unknowingly with loud music, wear a wig or hat to disguise yourself and blend into their pack, pull them through toilets or surprise them with an explosion. Nobody invades your swamp and gets away with it.
That's about all we can share for now. We look forward to seeing all of you explore the swamp and grow out your gator. Of course, as you're the hero the swamp needs, we're also dying to know how you'll exact your revenge upon the humans. The fate of the swamp lies on your scaled shoulders. No pressure.
See you later alligator – on November 30!
Did you like this?
Share this story
Join the Conversation
But don't be a jerk!
Please be kind, considerate, and constructive. Report inappropriate comments to us_playstation_blog_moderation@sony.com
9 Comments
In a while Crocodile.
or maybe later, alligator =D
I make more then $12,000 a month online. It's enough to comfortably replace my old jobs income, especially considering, I only work about 11 to 12 hours a week from home. I was amazed how easy it was after I tried it…
GOOD LUCK
HERE ➤➤ 𝐖𝐰𝐰.𝐂𝐚𝐬𝐡𝐓𝐫𝐞𝐞𝟔.𝐂𝐨𝐦
It sounds like a cross between Maneater, and Untitled Goose Game! Could be fun. Might also be a December 2021 PS Plus title?!
By the way, tomorrow is 26th, not 30th! 😁
Looks great, freaking humans! Haha ! Will be start eating by crocodiles at 30 November! This gonna be fun , eating freaking teenagers:)
Looks like a childish version of Maneater
A mix of Untitled Goose Game and Maneater huh, sounds like it could be fun. Will check it out eventually.
Backwards compatible with PS5?
Hey Guys, I know you read many news comments and posts to earn money online jobs. Some people don't know how to earn money and are saying to fake it. You trust me. I just started this 4 weeks ago. I've got my FIRST check total of $850, pretty cool. I hope you tried it. You don't need to invest anything. Just click and open the page to click the first statement and check jobs .. ..www.go2bank1.com
You must be logged in to post a comment.
Chris Howe Group Manager, Content Lifecycle Marketing , SIE
Bo de Vries Community Lead, Guerrilla
Hermen Hulst Head of PlayStation Studios
Thom Yorke Part-time Driving Instructor
Stanley Donwood Flange Regulator
Felix Garczynski Marketing Manager, Sloclap
Felix Garczynski Marketing Manager, Sloclap
Justin Massongill Content Communications Manager, Sony Interactive Entertainment
Sacha Ramtohul Social Media & Community Manager, Eidos-Montréal
Website © 2021 Sony Interactive Entertainment. All content, game titles, trade names and/or trade dress, trademarks, artwork and associated imagery are trademarks and/or copyright material of their respective owners. All rights reserved.
Hitman 3 hits Game Pass and Steam, adds new mode – Rock Paper Shotgun
24
It's a big day for splendid sandbox stealth stabber Hitman 3, now entering its second year of content and support. The developers, Io Interactive are going hard out the gate by adding the new Elusive Target Arcade mode and bringing VR support to PC. It's also ending Epic exclusivity today, hitting not only Steam but Game Pass too, with the full trilogy coming to Microsoft's subscription service. Busy busy.
So. Lots going on. Let's start niche. After VR support debuted on PlayStation, Hitman now lets you jack in with cybergoggles on PC too. You too can see through a murderer's eyes and murder with a murderer's hands. It works with a variety of Valve Index, HTC Vive, and Oculus Rift and Quest goggs, as well as several sorts of VR controllers. See Io's VR page for more info on systement requirements and supported hardware, including a warning of some controllers that "may not offer the best experience".
Far more accessible is Elusive Target Arcade, a new mode based on the controversial Elusive Target mode. While those murders were fleeting, only available on certain days, these are permanent. You can't permanently flub them either, you only get locked out of a contract for 12 hours if you blow it. They're more complex too, with each contract comprising a chain of targets. Io are starting out with three Arcade Contracts that'll hit 11 targets across 10 locations, and plan to add more contracts later in the year.
Stores! Hitman 3's year of Epixclusivity is now over. It'll hit Steam today at 6pm GMT (10am Pacific), for one. That Steam page will only go live once it's actually out. And the entire trilogy is due to hit Microsoft's Store and Game Pass at 1pm GMT, so it should be there rrright nnnow (I see different availability in different Microsoft apps and storefronts, which is unhelpful). A good Game Pass get.
Releasing Hit 3 as an Epic timed exclusive after the previous two were on Steam was a big stupid mess, especially when the import servers were busted at launch. But I do understand that Io are now an independent studio (after Square Enix ditched them) and that Epic offer giant sacks of cash. Did you suck it up, reader dear, are have you been waiting for this day?
See the Year 2 patch notes for more details, including info on carrying over progression between versions, a few bug fixes, store timings, and other odds and ends.
This is only the start of Year 2. Plans for the rest of the year include a new map, raytracing support, and a new mode with roguelike elements, named Freelancer.
In our Hitman 3 review a year ago, Brendy said: "As a final act, Hitman 3 is as capable and pleasing as its trilogy-siblings. As a trilogy, it is one of the most fun-loving games of the previous decade. It is like Ian himself – reliable, dry-humoured, uniformed. The best murderer money can buy."
Alice O'Connor
News Editor
When not writing news, Alice may be found in the sea.
Subscribe and get access to supporter-only articles, an ad-free reading experience, free gifts, and game discounts. Your support helps us create more great writing about PC games.
Please enable JavaScript to see comments.
Steam Deck's game compatibility reviews have started to roll out
Deck Stranding confirmed
3
Shenmue The Animation will premiere first of 13 episodes on February 5th
But where's the forklift racing?
4
Place historical events in the correct order in WikiTrivia
A free browser game built using Wikipedia data
6
Pupperazzi is out now, combining a reviled career and beloved animal at last
Take photos of celebrity dogs
2
Steam Deck's game compatibility reviews have started to roll out
Deck Stranding confirmed
3
Shenmue The Animation will premiere first of 13 episodes on February 5th
But where's the forklift racing?
4
Place historical events in the correct order in WikiTrivia
A free browser game built using Wikipedia data
6
Pupperazzi is out now, combining a reviled career and beloved animal at last
Take photos of celebrity dogs
2
We've been talking, and we think that you should wear clothes
Total coincidence, but we sell some clothes
Copyright © 2022 Gamer Network Limited, a ReedPop company.
All rights reserved. No part of this site or its content may be reproduced without the permission of the copyright holder.
Stellaris 2 Release Date: PS4, PS5, Xbox, PC, Switch – Game Revolution
Grand strategy games are in relatively short supply, which is why Stellaris is such an important title. Even better, Paradox's 4X game is one of very few available on modern home consoles. Will the same be true of Stellaris 2? Is a sequel actually in development, and will it release for Switch in addition to Xbox and PlayStation?


Paradox Development Studio has yet to confirm Stellaris 2, so there is no release date set. In fact, there's no confirmation that Stellaris will get a numbered sequel at all. Assuming it does happen, we can expect to learn more about a launch date after the game is announced.
For now, it seems the team at Paradox is still focused on the original game. After all, it took almost three years for Stellaris to move from PC to home consoles, hitting PS4 and Xbox One early in 2019. The Series X/S version only arrived in March of last year.
That time hasn't been spent solely on porting, either. The team has released several DLC packs and expansions, including the Nemesis expansion which released last year. Development is ongoing, and fans can check out the latest details over on the official Stellaris forums.
Given that Stellaris eventually landed on consoles, a PlayStation 4, PS5, or Xbox Series X/S release would make sense. Of course, it could be a matter of timing, since it took so to release console ports before.
Admittedly, a Nintendo Switch release for Stellaris 2 is very unlikely. Stellaris isn't on the Switch, and it's doubtful that Nintendo's handheld could run it properly. And, again, Stellaris 2 hasn't been confirmed, so who knows if we'll even be playing the Switch by the time it might release.
Stellaris 2 doesn't have a release date or any known platforms, as the game itself hasn't been announced. Until we hear otherwise, the crew at Paradox Development Studio will continue its ongoing work on the Stellaris that does exist, which is available on PC, PS4, Xbox One, and the Series X/S.
Nvidia: Quantitatively Speaking Still Overvalued – Seeking Alpha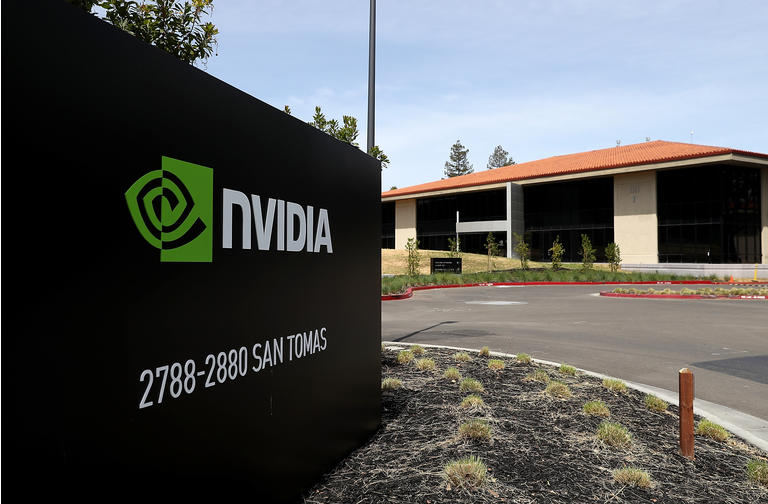 Justin Sullivan/Getty Images News
This is my first article about NVIDIA (NASDAQ:NVDA). I readily admit that I do not fully understand the specifics of the company and what investors see hidden in it. Therefore, at this stage, I offer a comprehensive, quantitative analysis of the company's fundamental value.
The easiest way to get a first idea of the adequacy of the company's current price is to look at the dynamics of its capitalization in the context of the dynamics of key results. As a rule, this allows you to identify persistent regressions.
Based on the long-term relationship between the revenue TTM absolute size and the company's capitalization, NVIDIA's current price is somewhat overvalued: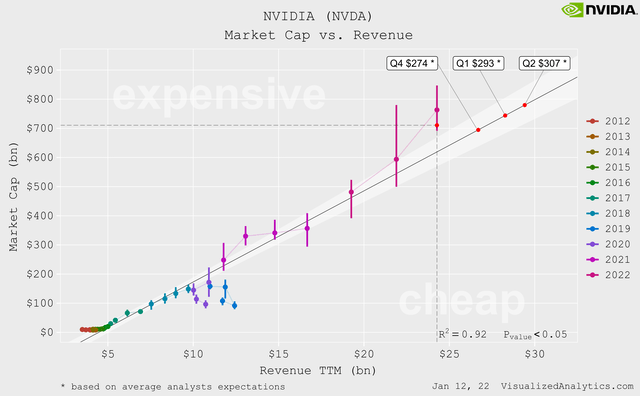 VisualizedAnalytics
The same is true for the relationship based on the EPS TTM absolute size: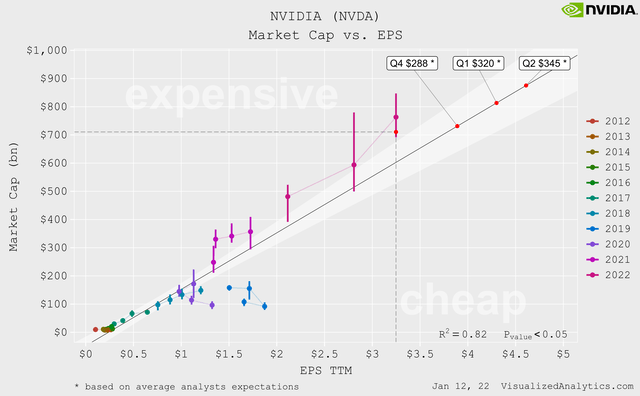 VisualizedAnalytics
On the other side, over the past seven years, NVIDIA has shown a direct relationship between the rate of revenue growth and its P/S multiple. It should be noted that there is no similar qualitative relationship between EPS and earnings growth rate. In my opinion, this means that the rate of revenue growth is now a key driver of capitalization.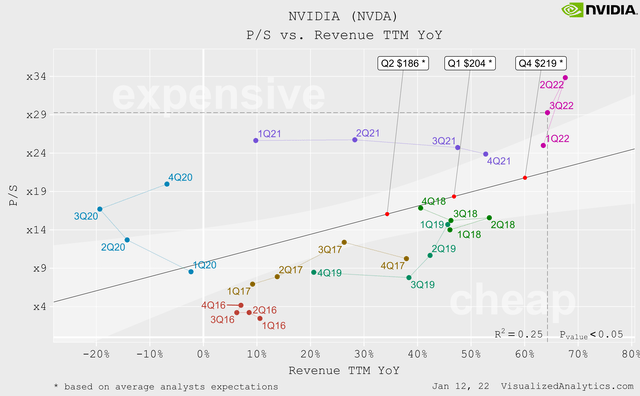 VisualizedAnalytics
In the context of the last model, the company is now also overvalued. But more importantly, the expectation of a decrease in the revenue growth rate indicates a potential decrease in the P/S multiple in the coming quarters.
So, having determined that revenue is a key driver of company capitalization, we can build a general model that determines the company's balanced price: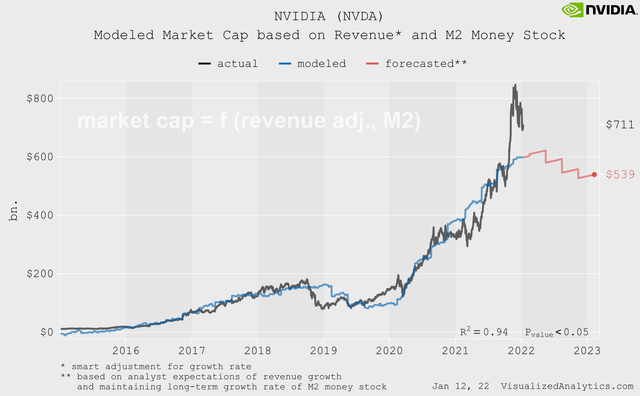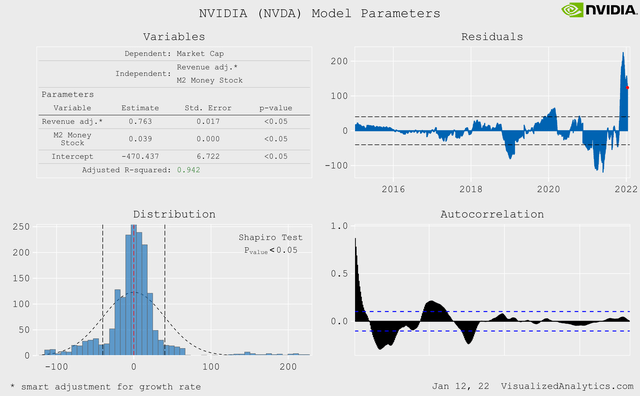 VisualizedAnalytics
VisualizedAnalytics
Under this approach, NVIDIA's modeled capitalization is lower than the actual one within about two standard deviations. And the nearest forecast also does not justify the current price of the company.
Using elements of machine learning, I analyzed many options for comparative assessment of NVIDIA through multiples. As a result, I found only three models that allow a more or less reasonable judgment of the relative value of the company. To my surprise, all of these models are based on growth-adjusted multiples. This suggests that growth is a determining factor in the level of NVIDIA multiples.
A comparative valuation of NVIDIA through the forward P/E (next FY) to growth multiple indicates that the company is undervalued by 18%. But the quality of this model is not high enough: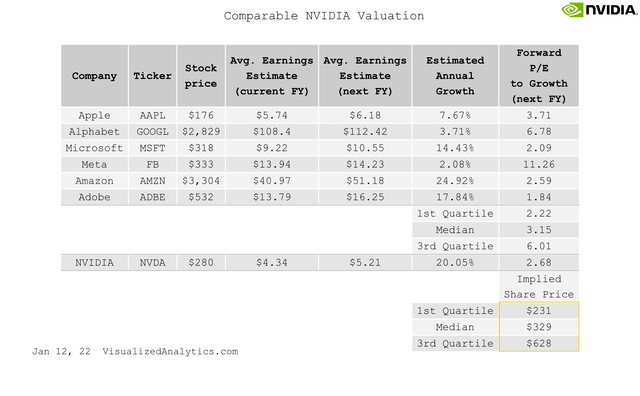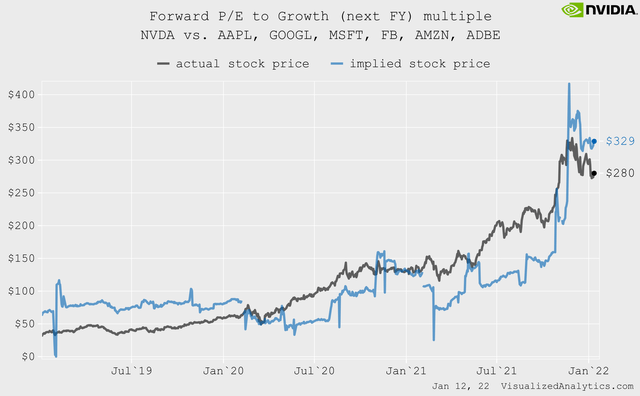 VisualizedAnalytics
VisualizedAnalytics
Considering the EV/Revenue to growth multiple, NVIDIA seems expensive: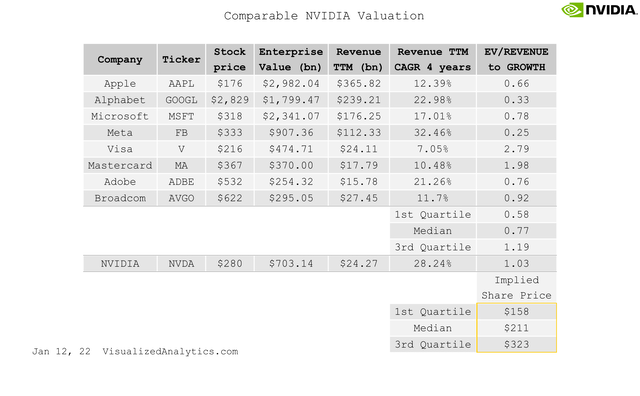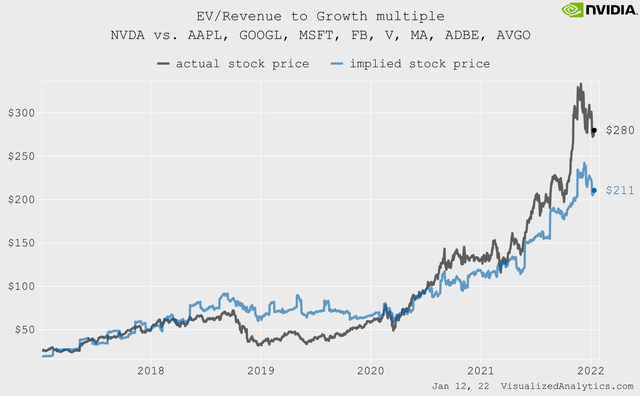 VisualizedAnalytics
VisualizedAnalytics
The same is true for the EV/EBITDA multiple: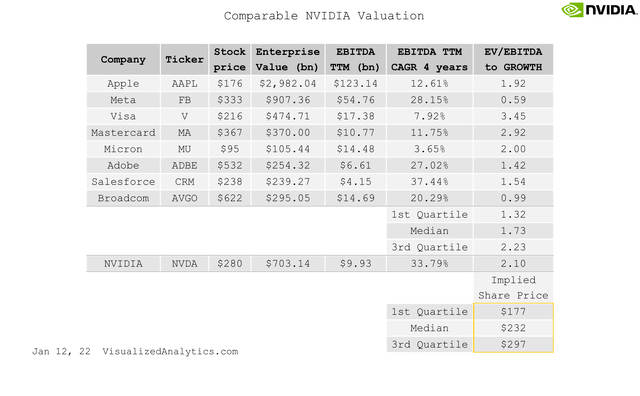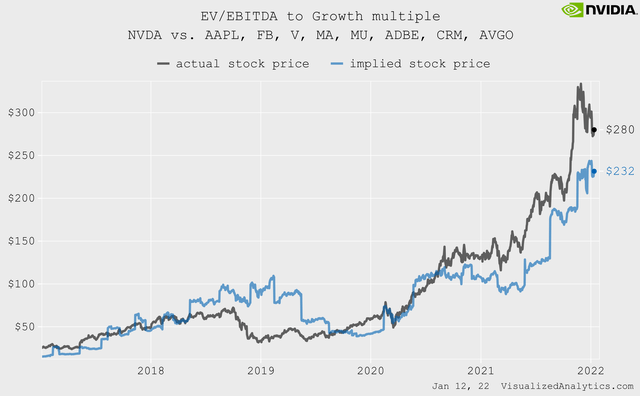 VisualizedAnalytics
VisualizedAnalytics
Judging by the proposed multiples, I cannot make an unambiguous conclusion. The only thing that can be stated is that the company's growth rate is a determining factor in the level of NVIDIA multiples. The slowdown should significantly reduce the level of its multiples.
When predicting NVIDIA's revenue for the next ten years, I proceeded from the average expectations of analysts. According to consensus forecasts, in the next decade, the company's annual revenue will exceed $160 billion.
NVIDIA's operating margin has reached 35% in the last quarter. This is close to the historical maximum of the company. But the model is based on the assumption that the operating margin over the next 10 years will gradually decline to 30% in the terminal year. This is a standard approach based on the likely increase in competition.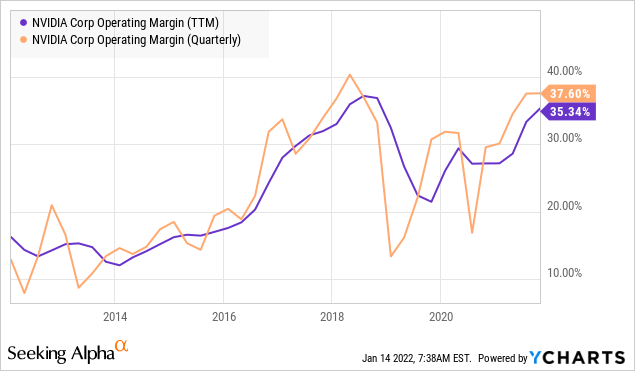 Here is the calculation of the Weighted Average Cost of Capital: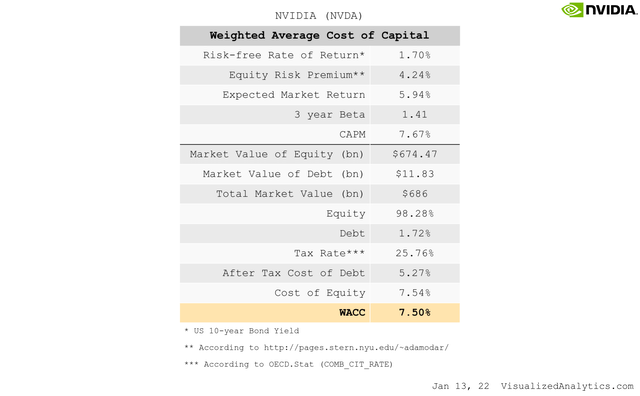 VisualizedAnalytics
Some explanations:
Here's the model itself: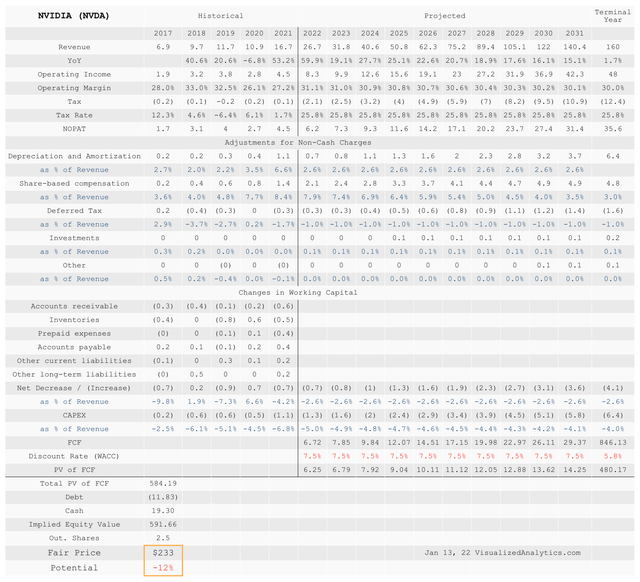 VisualizedAnalytics
(in high resolution)
The DCF-based target price of NVIDIA's shares is $233, offering 12% downside. At the same time, in my opinion, I considered a relatively positive scenario for the future development of the company.
Looking at NVIDIA in the context of free cash flow, I want to draw your attention to one important indicator – the free cash flow yield. It shows how much the company generates free cash flow per dollar of its market price.
Free Cash Flow Yield = Free Cash Flow TTM / Market Capitalization
I compared this figure of NVIDIA with other technology companies and closest competitors. Alas, the company's figure is the lowest: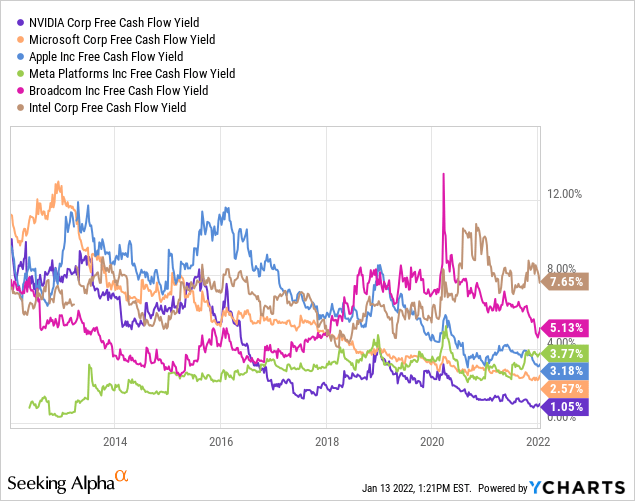 The free cash flow that NVIDIA generates for every dollar of its capitalization is about 1%. This is lower than the US 10-year treasury yield. I don't even compare with inflation. In general, this is a wake-up call for an investor.
From October to November last year, NVIDIA's share price rose nearly 80%. During this period, two gaps were recorded. These gaps have defined strong support levels. And the first of these levels seems to have already been broken. In my opinion, before the level of the second support is reached, it is premature to talk about the completion of the correction.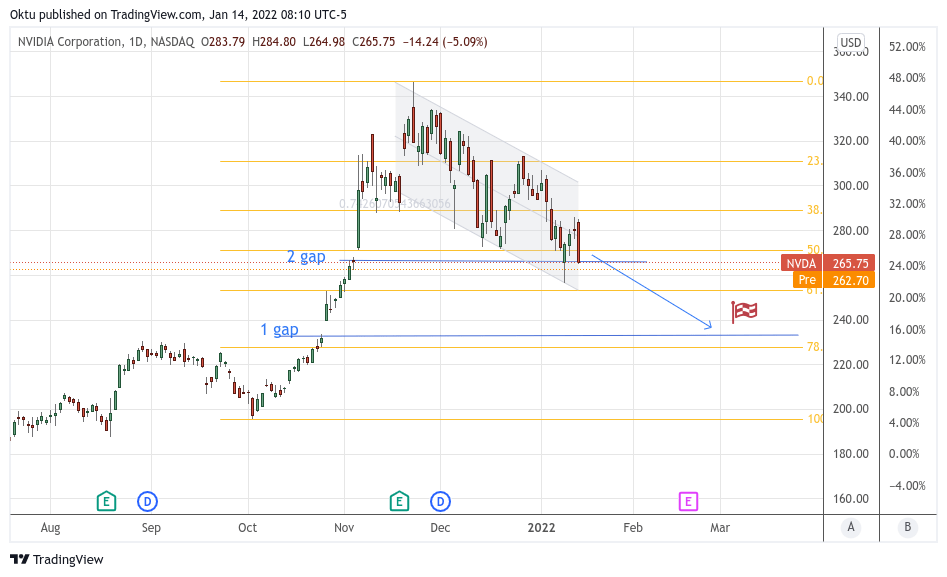 TradingView
I do not share the optimism of those who believe that NVIDIA is an extremely attractive investment at its current price. I won't jump to conclusions about the company's long-term potential just yet, but it's highly likely that the decline will continue in the short term.
This article was written by
Disclosure: I/we have no stock, option or similar derivative position in any of the companies mentioned, and no plans to initiate any such positions within the next 72 hours. I wrote this article myself, and it expresses my own opinions. I am not receiving compensation for it (other than from Seeking Alpha). I have no business relationship with any company whose stock is mentioned in this article.