'eFootball PES 2022' release date, price, demo, everything we know so far – NME.com
The game formally known as PES 2022 promises a wealth of changes to the Pro Evolution Soccer formula
If you're asking 'where is PES 2022?' we've got some bad news for you: Konami has announced that from this year onwards, its perennial sports franchise will be called eFootball. Under its new name, the series will become a free-to-play digital-only football experience arriving later this year. It's quite a departure from what fans are used to from the series to date, then.
This isn't the first time we've seen the series change its name, though: back in the day, Konami called its football franchise Winning Eleven. Then it became Pro Evolution Soccer. Now it's eFootball. And it's not just a name change: Konami has announced that eFootball is a free-to-play, "all-new football simulation platform" developed in Unreal Engine, ditching the Fox Engine it used in generations past.
The game – eventually – will target consoles, PC, and mobile, but at launch the developer and publisher admits what's on offer will basically be a demo. That shouldn't put you off, though; Konami plans to build on the platform over time, and will eventually build the whole platform up to be something unlike what we've seen in sports games before.
For everything you need to know about eFootball – once known as PES 2022 – read on below.
eFootball will be released on September 30th for PC via Steam, PS5, PS4, Xbox One, and Xbox Series X/S, and will only be available as a digital download. That is to say: there will be no boxed retail copy of the game available at launch.
The launch version of the game will launch with 9 teams: FC Barcelona, FC Bayern München, Juventus, Manchester United, Arsenal FC, SC Corinthians Paulista, CR Flamengo, CA River Plate, and São Paulo FC.
An iOS and Android launch is planned for the game, too, but all we know so far is that the mobile version of the game is coming 'later'.
Cross-platform play will arrive post-launch at an as-yet-unspecified time, but cross-generation play will be available at launch (that means you'll be able to play on PS4 if you friend has a PS5, for example).
You can see the promised roadmap of how Konami plans to support the game with new content in the roadmap embedded above.

The release date for the game that is targeting 'early autumn' (read: September 30) is not actually going to be the full game. As per the developer itself, we're going to see a particularly limited version of the game launch first, followed by a more robust experience later.
"In many ways, yes, [it will be a demo first]," says a tweet from the publisher. "We want people to get hands-on with eFootball as soon as possible, so we will launch with a limited number of teams and modes. Exact details to follow."
Everything in this initial build will as a result be completely free. Microtransactions and add-on purchases will become available once the more complete version of the game arrives some time down the line.
Q: Is "Early Autumn" launch basically a demo?
A: In many ways, yes. We want people to get hands-on with eFootball™ as soon as possible, so we will launch with a limited number of teams and modes. Exact details to follow.
— eFootball (@play_eFootball) August 2, 2021
The base package will be free to download and play.
Local matches featuring FC Barcelona, Juventus, FC Bayern, Manchester United, and others will be available, for free, at launch.
Konami will make announcements about what other clubs and modes will be added further down the line. It remains unclear how the pricing structure will work, but the company has said some of those modes released post-launch will be paid.
If you're looking for more information about how the game's free-to-play pricing is going to play out, well… you may want to sit down. it was recently revealed that eFootball has a £30 premium pre-order DLC that can't be used until two months after the game launches. An upcoming premium DLC has now appeared on both PlayStation and Xbox stores, for the princely sum of £32.98 ($39.99) – that may set a precedent for the rest of the microtransactions in the game, suggesting that premium purchases will (indeed) be premium.
At least you'll likely get a bit of bang for your buck, though; the DLC is for an item called the "eFootball 2022 Premium Player Pack," and it includes the base game, 6 "Chance Deals" (or 8 if you pre-order in advance) along with 2,800 eFootball Coins. Chance Deals and eFootball coins can't be used straight away, though, and you'll have to sit on those until around mid-November when more features for the game are launched.
One of the highlighted features that prompted Konami to move away from the PES moniker and call the series eFootball is "Motion Matching". This tech "converts the vast range of movements that players make on the pitch into a series of animations, selecting the most accurate one in real-time". The result? Four times as many animations will be present in this game compared to previous entries. It sounds fairly similar to what EA is doing with FIFA 22 and its Hypermotion.
"Starting with the strong foundations of Unreal Engine, which has allowed us to massively overhaul player expression, we've made a number of modifications to virtually create a new football game engine that will power eFootball for years to come," said series producer, Seitaro Kimura.
A new gameplay trailer (above) also arrived recently, and it unveiled quite a lot more information about specifically what we can expect from the game when it launches (and then continues to get more features) in the coming months and years. You can find a quick rundown of what you can expect from the game in the features list below:
Controlling the ball touch
eFootball players can control the strength of each kick as well as determining dribbling speed – from a knock-on all the way up to a dash. PS5 players will feel haptic feedback using the DualSense as well as by making use of its adaptive triggers. However, the feature won't be at launch and instead will be available in a later patch.
Tricking the Defender
Another post-launch update, eFootball promises the ability to get into "mind games" as you try to trick the defenders with feints and subtle body movements. Send them the wrong way and clear a path for the perfect goal.
Additionally, every pass creates opportunities – steal the ball by throwing your body in the way or cut off the pass with a deft foot. The choice is yours.
Introducing "Sharp Kicks"
Now, you can charge up a "sharp kick" to perform special kicks such as a sharp cross, fast lofted pass or rising shot. These new actions take more time to execute, so choosing the right moment is crucial.
1v1 Duels
One of the more impressive new additions are 1v1 duels – shifting the focus into a smaller moment midgame where it's just you against an opposition player. These new 1v1 duels are complete with new win/loss rules – performing real-time calculations which include the ball, movement speed, body direction, physical ability, and more. All these in combination with player movement will determine the outcome and could lead to some spectacular goals.
Additionally, these duels come with a new "duel camera" – pulling the action in to focus on the 1v1 moment. And when the moment passes, the camera pulls back to a regular wider view.
Enhanced Team Playstyles and controls
eFootball adds new AI playstyles to help your team stay co-ordinated when off the ball. Combined with new attacking and defending controls, this gives players more options to play the way they want.
As part of a Twitter thread, Konami confirmed that the game's initial launch in Autumn 2022 will be very limited in scope. The upside? The launch package will have no microtransactions and everything on offer will be available for free.
Konami has confirmed, though, that a battle pass style Match Pass will arrive in the game after launch, and that the Master League will arrive as a premium DLC post-launch.
"Previous games had a strong 'lottery element', but eFootball lets you nominate and acquire your favourite players with Match Pass, a system to receive items based on matches played. Free & Paid Match Passes will be available," says the publisher.
Option Files are also due to make a comeback, but (as is tradition for the series) only for players using the game on PC and PlayStation platforms – Xbox users will not be able to use this feature. It's unclear how Option Files will work with the mobile version of the game.
More information and gameplay details are to be revealed in late August, per Konami.
The world's defining voice in music and pop culture: breaking what's new and what's next since 1952.
© 2021 NME is part of NME Networks.
Nvidia: Quantitatively Speaking Still Overvalued – Seeking Alpha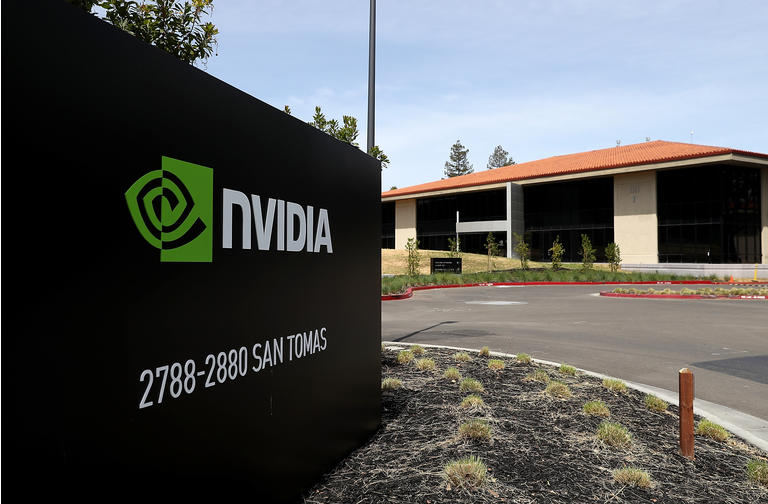 Justin Sullivan/Getty Images News
This is my first article about NVIDIA (NASDAQ:NVDA). I readily admit that I do not fully understand the specifics of the company and what investors see hidden in it. Therefore, at this stage, I offer a comprehensive, quantitative analysis of the company's fundamental value.
The easiest way to get a first idea of the adequacy of the company's current price is to look at the dynamics of its capitalization in the context of the dynamics of key results. As a rule, this allows you to identify persistent regressions.
Based on the long-term relationship between the revenue TTM absolute size and the company's capitalization, NVIDIA's current price is somewhat overvalued: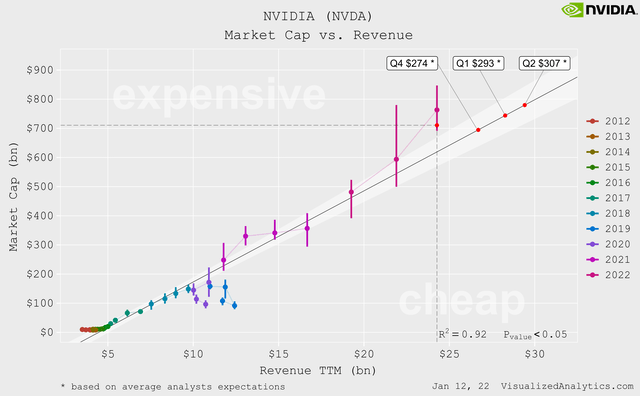 VisualizedAnalytics
The same is true for the relationship based on the EPS TTM absolute size: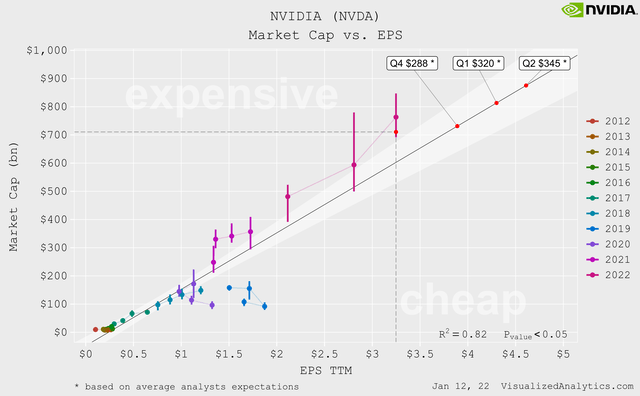 VisualizedAnalytics
On the other side, over the past seven years, NVIDIA has shown a direct relationship between the rate of revenue growth and its P/S multiple. It should be noted that there is no similar qualitative relationship between EPS and earnings growth rate. In my opinion, this means that the rate of revenue growth is now a key driver of capitalization.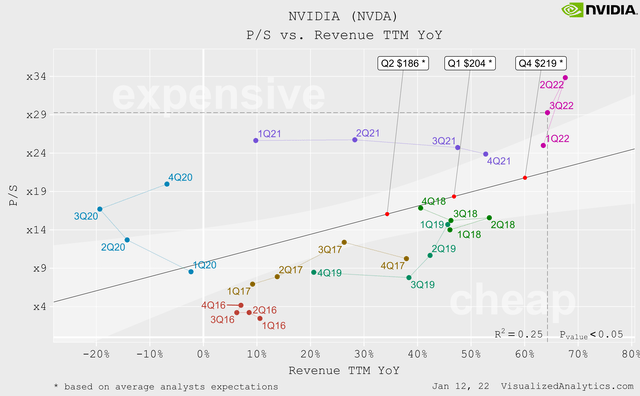 VisualizedAnalytics
In the context of the last model, the company is now also overvalued. But more importantly, the expectation of a decrease in the revenue growth rate indicates a potential decrease in the P/S multiple in the coming quarters.
So, having determined that revenue is a key driver of company capitalization, we can build a general model that determines the company's balanced price: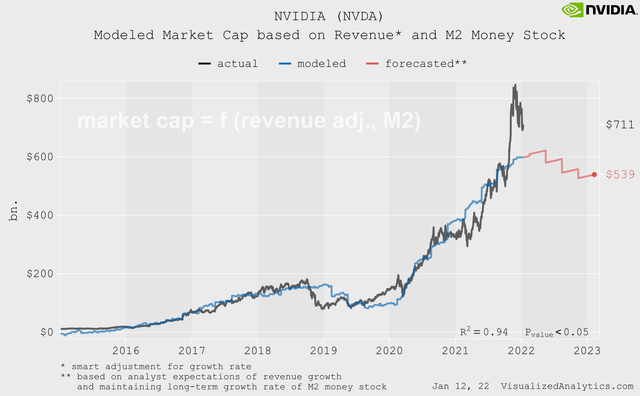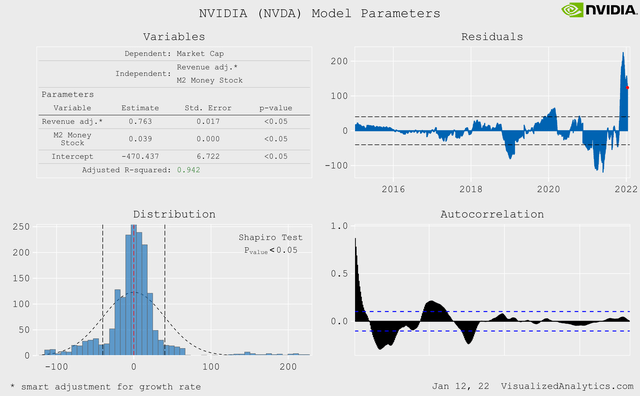 VisualizedAnalytics
VisualizedAnalytics
Under this approach, NVIDIA's modeled capitalization is lower than the actual one within about two standard deviations. And the nearest forecast also does not justify the current price of the company.
Using elements of machine learning, I analyzed many options for comparative assessment of NVIDIA through multiples. As a result, I found only three models that allow a more or less reasonable judgment of the relative value of the company. To my surprise, all of these models are based on growth-adjusted multiples. This suggests that growth is a determining factor in the level of NVIDIA multiples.
A comparative valuation of NVIDIA through the forward P/E (next FY) to growth multiple indicates that the company is undervalued by 18%. But the quality of this model is not high enough: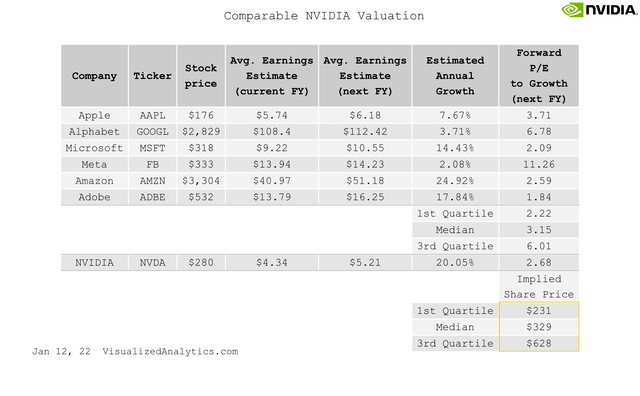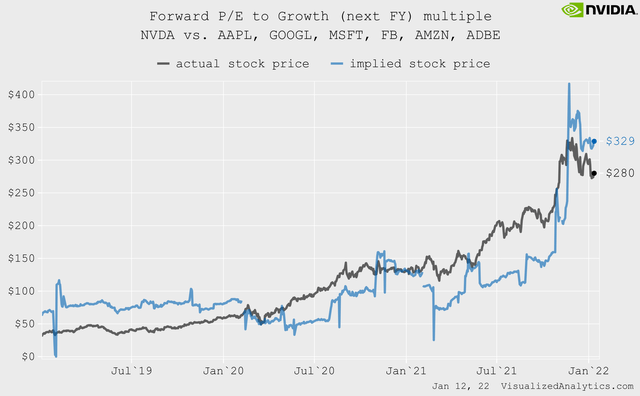 VisualizedAnalytics
VisualizedAnalytics
Considering the EV/Revenue to growth multiple, NVIDIA seems expensive: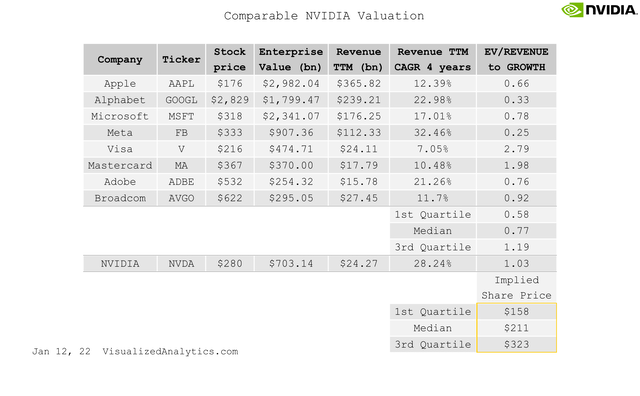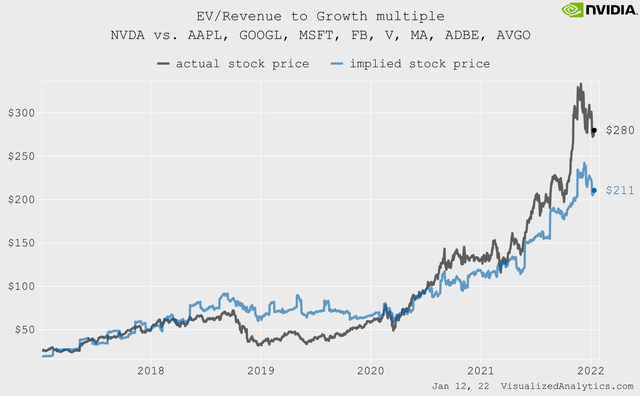 VisualizedAnalytics
VisualizedAnalytics
The same is true for the EV/EBITDA multiple: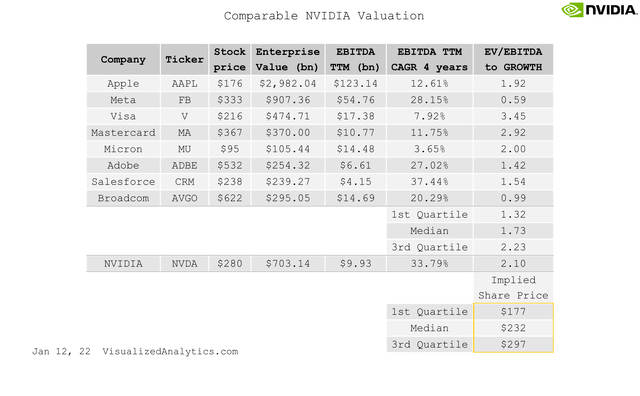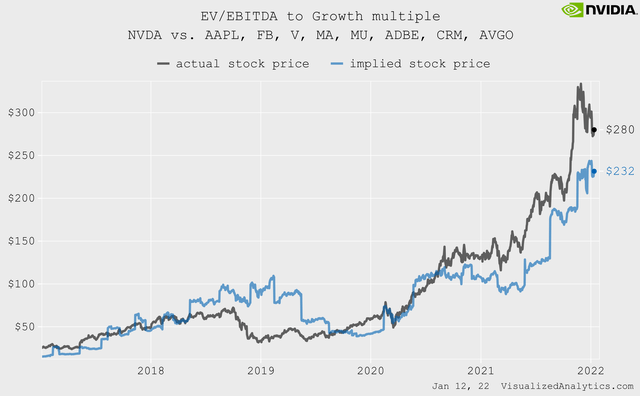 VisualizedAnalytics
VisualizedAnalytics
Judging by the proposed multiples, I cannot make an unambiguous conclusion. The only thing that can be stated is that the company's growth rate is a determining factor in the level of NVIDIA multiples. The slowdown should significantly reduce the level of its multiples.
When predicting NVIDIA's revenue for the next ten years, I proceeded from the average expectations of analysts. According to consensus forecasts, in the next decade, the company's annual revenue will exceed $160 billion.
NVIDIA's operating margin has reached 35% in the last quarter. This is close to the historical maximum of the company. But the model is based on the assumption that the operating margin over the next 10 years will gradually decline to 30% in the terminal year. This is a standard approach based on the likely increase in competition.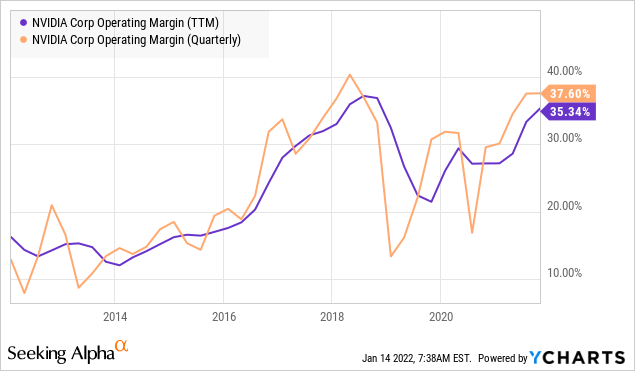 Here is the calculation of the Weighted Average Cost of Capital: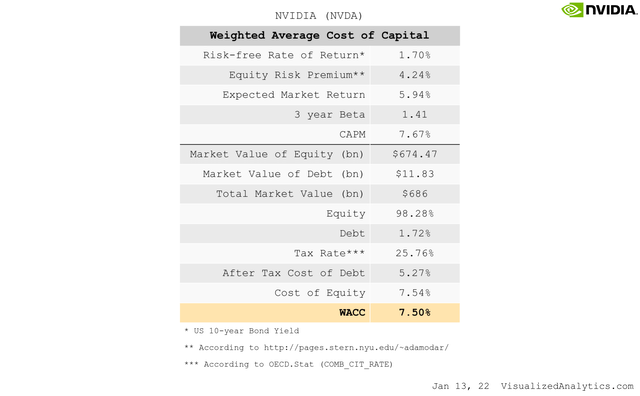 VisualizedAnalytics
Some explanations:
Here's the model itself: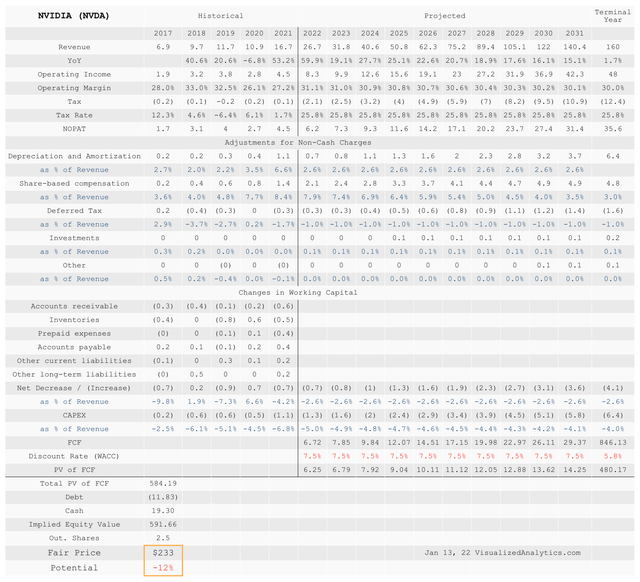 VisualizedAnalytics
(in high resolution)
The DCF-based target price of NVIDIA's shares is $233, offering 12% downside. At the same time, in my opinion, I considered a relatively positive scenario for the future development of the company.
Looking at NVIDIA in the context of free cash flow, I want to draw your attention to one important indicator – the free cash flow yield. It shows how much the company generates free cash flow per dollar of its market price.
Free Cash Flow Yield = Free Cash Flow TTM / Market Capitalization
I compared this figure of NVIDIA with other technology companies and closest competitors. Alas, the company's figure is the lowest: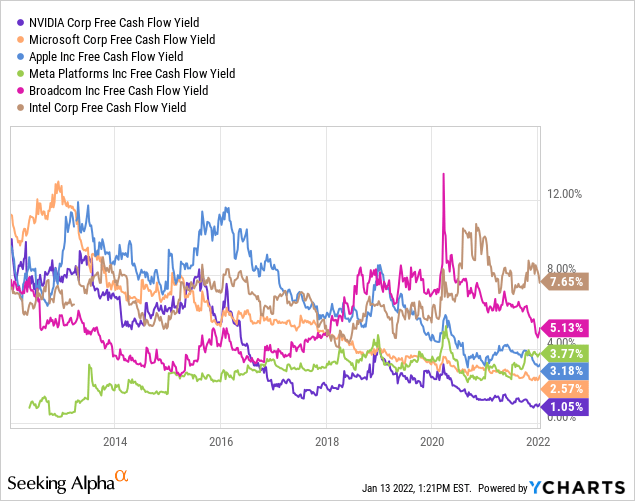 The free cash flow that NVIDIA generates for every dollar of its capitalization is about 1%. This is lower than the US 10-year treasury yield. I don't even compare with inflation. In general, this is a wake-up call for an investor.
From October to November last year, NVIDIA's share price rose nearly 80%. During this period, two gaps were recorded. These gaps have defined strong support levels. And the first of these levels seems to have already been broken. In my opinion, before the level of the second support is reached, it is premature to talk about the completion of the correction.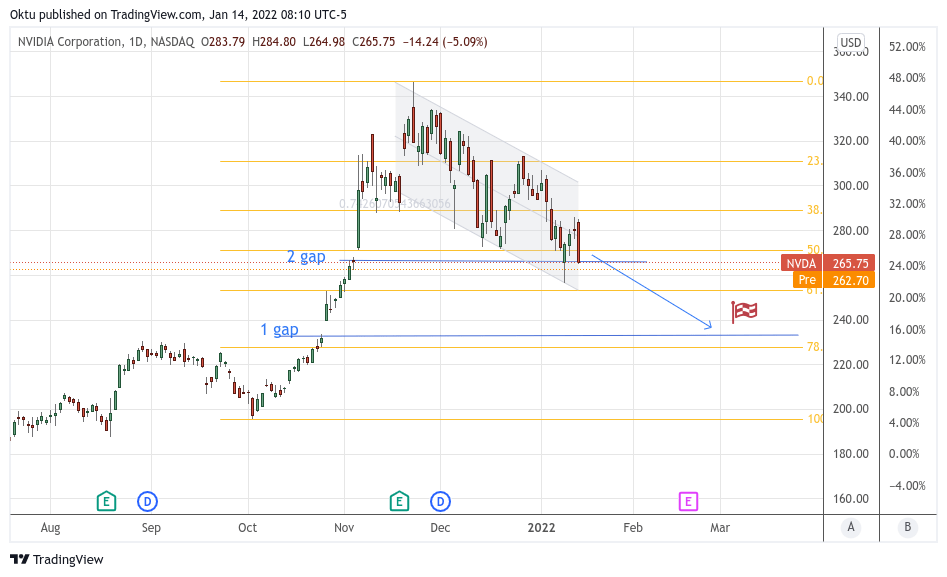 TradingView
I do not share the optimism of those who believe that NVIDIA is an extremely attractive investment at its current price. I won't jump to conclusions about the company's long-term potential just yet, but it's highly likely that the decline will continue in the short term.
This article was written by
Disclosure: I/we have no stock, option or similar derivative position in any of the companies mentioned, and no plans to initiate any such positions within the next 72 hours. I wrote this article myself, and it expresses my own opinions. I am not receiving compensation for it (other than from Seeking Alpha). I have no business relationship with any company whose stock is mentioned in this article.
Sony's PlayStation Direct initiative will let lucky users buy 'limited' PS5 stock – TechRadar
How to Watch UCLA vs. Utah in Men's College Basketball: Live Stream, TV Channel, Start Time – CalBearsMaven
UCLA is 4-0 on the road this season and won four of its last five game against Utah. The Utes will need to play their best game of the season to have a chance at beating the Bruins. 
How to Watch UCLA vs. Utah in College Basketball Today:
Game Date: Jan. 20, 2022
Game Time: 11:00 p.m. ET
TV: FOX Sports 1
Live stream the UCLA vs. Utah game on fuboTV: Start with a 7-day free trial!
Utah (8-10, 1-7) lost in heartbreaking fashion against Arizona State in its last game. The Sun Devils hit a shot with 4.6 seconds remaining in the game to win 64-62. 
Three players scored in double figures, but the Utes have struggled on the offensive end the entire season. They have failed to score more than 70 points in five straight games. However, Utah will get a boost when leading scorer Branden Carlson, who is sidelined with an ankle injury, returns to the lineup.
Meanwhile, UCLA (11-2, 3-1) has been nearly impossible to beat since its loss to No. 1 Gonzaga in November. The only loss the Bruins have suffered came last Thursday in overtime against Oregon. They bounced back with an 81-65 win over Oregon State last Saturday, trailing for less than a minute in the game. 
Johnny Juzang leads UCLA with 17.2 points and 5.1 rebounds per game. The Bruins have been without Jaime Jaquez Jr., who is questionable for this contest.
Regional restrictions may apply.