Farming Simulator 22 Review (PS5) – The Definitive Farming Sim For PlayStation 5 – PlayStation Universe
John-Paul Jones / November 23, 2021


Farming Simulator 22 PS5 review. Well it's about time, isn't it? Since the release of Sony's current-gen console back in 2020 it's certainly fair to say that PlayStation gamers have been starved of Farming Simulator goodness but now, thankfully, things have changed and we now have Farming Simulator 22 in our grubby hands.
First things first though – if you're a newcomer to the Farming Simulator series than the opening tutorial really won't do you too many favours. Seemingly the symptom of a bug rather than a necessarily nefarious design decision, Farming Simulator 22's tutorial tells you what to do and how to do it, but very often that crucial guidance prompt that you'll need to learn what to do will just disappear if you happen to stumble into another fiddly menu by accident – which sadly, can be quite easy to do.
However, perseverance as they say is a virtue and marching though the seemingly accidental hostility of Farming Simulator 22's tutorial and the opening hour or two beyond will see the latest entry in the Farming Simulator series open up its charms in earnest.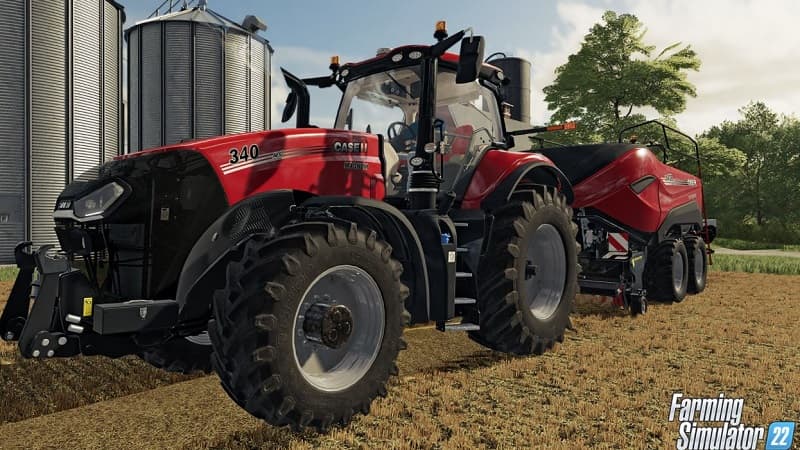 Like previous games in the series, Farming Simulator 22 doesn't necessarily drive players with set of explicit directives and tasks but rather leaves it up to them to understand and through the use of common sense, the sorts of things you need to do in order to run a thriving farm that is wallowing in the red. Naturally, if you've even watched just a minute of actual farming footage from real-life, you'll know (or at least gain a gradual appreciation for) just how multi-layered and micro-managed the whole farming process has to be.
Without giving a painful and banal blow by blow account of the sort of tasks that you need to do in order to keep your farm afloat, much of it is common sense from a theoretical standpoint while the rest of it is accomplished by good old lengthy bouts of manual labour and it's really here, amongst the seeming doldrums of harvesting wheat, seeding fields and tilling the soil with the array of impressive machines that are up to the task that Farming Simulator 22 approaches something resembling zen.
You see there's an almost existentially chill joy in just slowly chewing up wheat in your Deere combine harvester while relaxing country anthems happily twang away in the background. It's super relaxing stuff for sure and the attention to detail on these hulking machines is also hugely impressive too, being deeply evocative of their real-life counterparts with over 100 real agricultural brands represented in Farming Simulator 22 to boot. Each of these machines feels appropriately weighty too, with the sort of heft and wide turning circles that really convince you that you're driving some big-ass hunk of industrial machinery that ain't built for racing but rather is engineered for something a little more meaningful.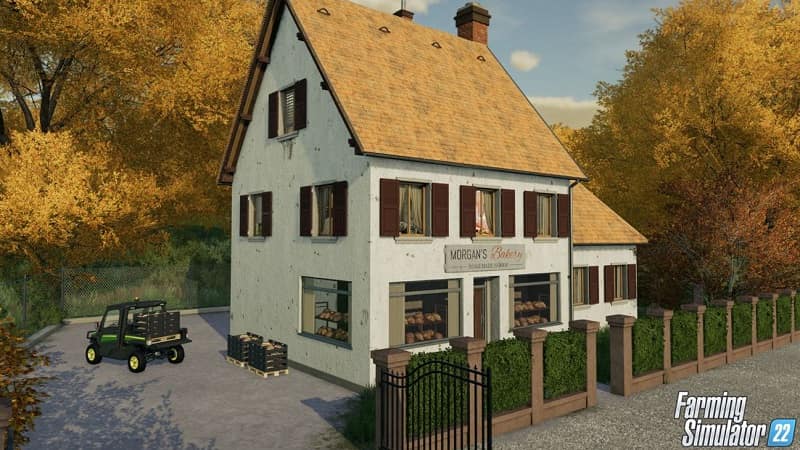 Beyond the actual physical interactions that you'll have with your world (there are trio of different farms to choose from that inhabit three very distinct environments – each with their own challenges), there's the overarching economic management of your farm which arguably acts as the backbone for Farming Simulator 22's more strategic considerations.
While selling produce from your farm is the ultimate goal, there's a huge number of different factors to consider. For example, sowing seeds might seem fine and all, but some seeds can only be sown at particular times of the year. Equally, if you want to rear livestock and make some fat stacks from that, you'll need to make sure that the animals on your farm are cared for and their environments maintained properly – all of which costs money and time. You also need to be shrewd with your cash too and one such example of this is in the various machines that you'll use to aid in your farming escapades.
Massive feats of precision engineering, these machines obviously don't come cheap and because not every fledgling farm will be able to afford to buy them out entirely (especially on the more challenging levels of difficulty where the economy is in the toilet and money is scarce), leasing becomes an necessity but also brings with it the sobering fact that you don't own the machinery, meaning should you default on your payment you won't have any farming equipment to help you along.


Then there are other factors that you will have to contend with that are outside of your sphere influence too. Crop disease and other such maladies can wreck a carefully sown field, while brand new seasonal cycles can result in extreme weather that can also wreak havoc on your farm, but which also conversely provide additional opportunities for you to take advantage of with a range of crops and other activities that can be leveraged to get ahead – if you know how.
Luckily, you can hire a range of creepy looking AI helpers to help you do the more long winded tasks, such as harvesting and the transportation of goods, thus freeing you up to do something else potentially more preferable. Elsewhere, Contracts are also often available and basically have you completing a bunch of manual jobs on the side for other farmers and represent not only a neat and fairly effortless way for you top up your coffers (and soon prove invaluable on the higher difficulty levels), but also provide newer players with some much needed experience as well.
Furthermore, you can actually split the running of your farm with up to six players all working in tandem to manage things in a way that, on the surface of it at least, doesn't seem a million miles away from how you'd want to maybe manage a farm in real-life and proves to be wonderfully compelling in the process.


The fact remains however that Farming Simulator 22 very much needs players to be patient with it in order to get the most from it – and for those who are willing to put the time in, potentially hundreds of hours of satisfying farming shenanigans await. Though not perfect and let down by a glitchy tutorial, an oddly stunted visual presentation (the machines are modelled beautifully but the surrounding buildings sort of look like they're made from cardboard) and an odd lack of PS5 focused features (the adaptive triggers would add much to the sensation of the various vehicles), Farming Simulator 22 nonetheless makes a compelling case for itself as a relaxing and entertaining curio that warrants further inspection.
And quite honestly, in a year stuffed to the brim with games where you're destroying stuff (when is it not, curiously?), it actually feels good to nurture and grow things for a change and that's a rare sort of evergreen, largely wholesome thrill not usually found in other titles, let alone one that blends strategy and micro-management quite so deftly.
Since the series started, the Farming Simulator franchise has ultimately been a largely chill blend of strategy and economics simulation that you can scale up (or down) depending on your comfort with its myriad of mechanics – and that hasn't changed in Farming Simulator 22. What has changed however, is that developer GIANTS Software has padded out that compelling base formula with a range of new and meaningful additions that all serve to not only make the series more compelling, but also ensure that it becomes a staple of my gaming diet whenever I fancy something that relaxes and taxes the old grey matter in equal measure.
Farming Simulator 22 is out now on PS4 and PS5.
Review code kindly provided by PR.
Easily the best entry in the long-running series to date, though Farming Simulator 22 might not have a picture perfect PS5 debut, it does augment the series already robust strategic and micro-management fundamentals with a number of new additions and features that make it an erstwhile choice for series veterans. Though newcomers will likely struggle with the tutorial and learning curve, Farming Simulator 22 soon becomes an engaging time sink that not only taxes the brain duly, but helps to provide a modicum of insight into the sheer amount of hard graft that goes into one of the most challenging occupations in the world.
David Carcasole / November 24, 2021
Sledgehammer Games is currently investigating a bug within the Secrets Of The Pacific event causing Call Of Duty: Vanguard to crash.
David Carcasole / November 24, 2021
Hideo Kojima has just teased his next project, and though the image is blurry, a person in the photo looks a lot like a certain actor, Norman Reedus.
John-Paul Jones / November 24, 2021
All PS5 Enhanced Games that perform best on PS5 – Take a look at all the games that are enhanced by PlayStation 5 with 4K/8K resolution, 60 FPS/120 FPS and ray tracing!
Solar Ash (PC / PS4 / PS5)
Twelve Minutes (Nintendo Switch / PC / PS4 / PS5 / Xbox One / Xbox Series X/S)
Among Us (Android / iOS / Nintendo Switch / PC / PS4 / PS5 / Xbox One / Xbox Series S/X)
Aeterna Noctis (PC / PS4 / PS5)
Tiny Troopers: Global Ops (Nintendo Switch / PC / PS4 / PS5 / Xbox One / Xbox Series S/X)
Fast & Furious Spy Racers: Rise Of SH1FT3R (Nintendo Switch / PC / PS4 / PS5 / Xbox One / Xbox Series S/X)
BloodRayne Betrayal: Fresh Bites (Nintendo Switch / PC / PS4 / PS5 / Xbox One / Xbox Series S/X)
Faith Of Danschant: Hereafter (Consoles / PC)
© 2006-2021 PlayStation Universe, All Rights Reserved.
About PSU
PSU's YouTube
PSU's Facebook
PSU's Twitter
Privacy Policy & Terms and Conditions
Advertise on PlayStation Universe
Contact
About
Staff
News
Reviews
Nvidia: Quantitatively Speaking Still Overvalued – Seeking Alpha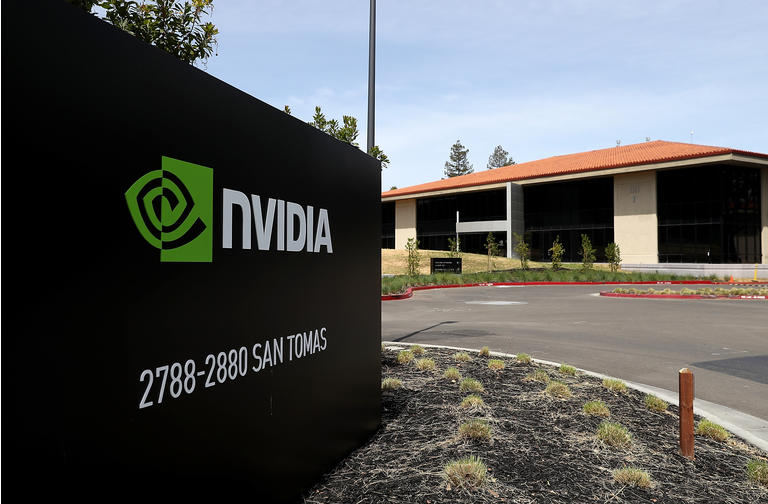 Justin Sullivan/Getty Images News
This is my first article about NVIDIA (NASDAQ:NVDA). I readily admit that I do not fully understand the specifics of the company and what investors see hidden in it. Therefore, at this stage, I offer a comprehensive, quantitative analysis of the company's fundamental value.
The easiest way to get a first idea of the adequacy of the company's current price is to look at the dynamics of its capitalization in the context of the dynamics of key results. As a rule, this allows you to identify persistent regressions.
Based on the long-term relationship between the revenue TTM absolute size and the company's capitalization, NVIDIA's current price is somewhat overvalued: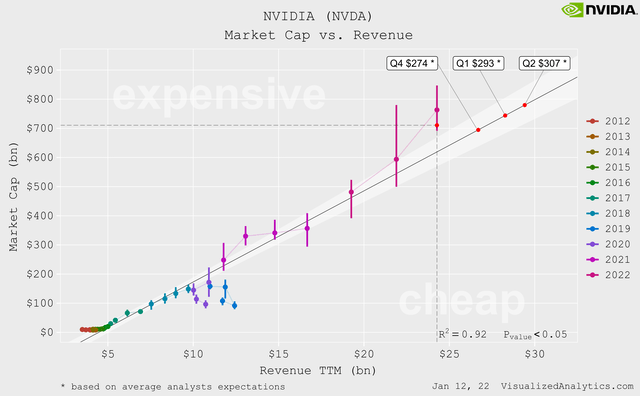 VisualizedAnalytics
The same is true for the relationship based on the EPS TTM absolute size: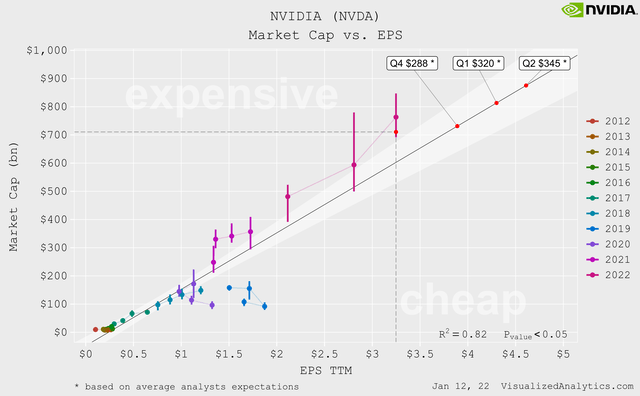 VisualizedAnalytics
On the other side, over the past seven years, NVIDIA has shown a direct relationship between the rate of revenue growth and its P/S multiple. It should be noted that there is no similar qualitative relationship between EPS and earnings growth rate. In my opinion, this means that the rate of revenue growth is now a key driver of capitalization.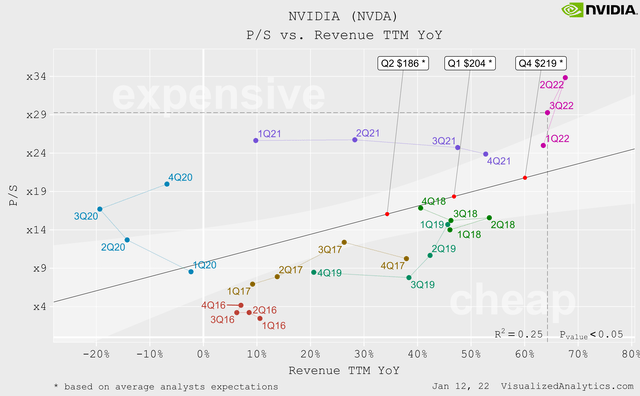 VisualizedAnalytics
In the context of the last model, the company is now also overvalued. But more importantly, the expectation of a decrease in the revenue growth rate indicates a potential decrease in the P/S multiple in the coming quarters.
So, having determined that revenue is a key driver of company capitalization, we can build a general model that determines the company's balanced price: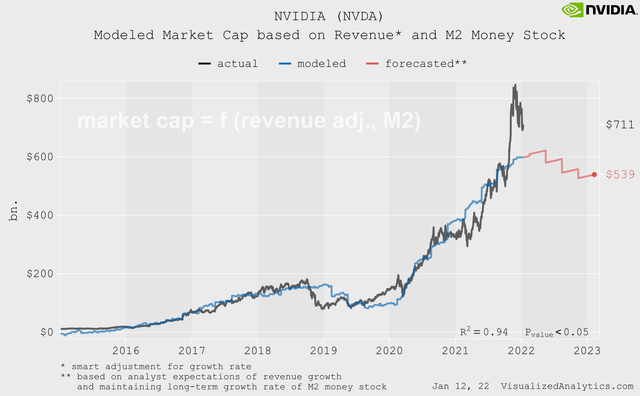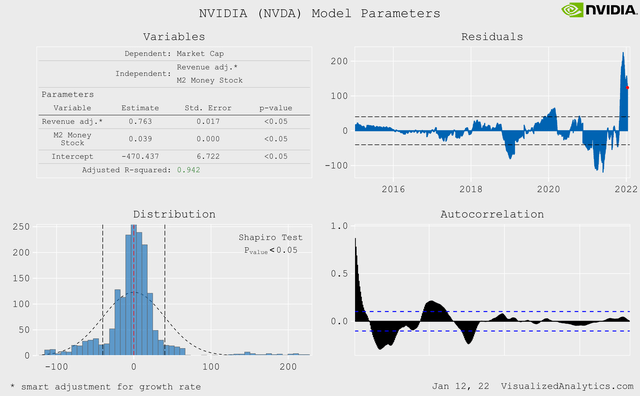 VisualizedAnalytics
VisualizedAnalytics
Under this approach, NVIDIA's modeled capitalization is lower than the actual one within about two standard deviations. And the nearest forecast also does not justify the current price of the company.
Using elements of machine learning, I analyzed many options for comparative assessment of NVIDIA through multiples. As a result, I found only three models that allow a more or less reasonable judgment of the relative value of the company. To my surprise, all of these models are based on growth-adjusted multiples. This suggests that growth is a determining factor in the level of NVIDIA multiples.
A comparative valuation of NVIDIA through the forward P/E (next FY) to growth multiple indicates that the company is undervalued by 18%. But the quality of this model is not high enough: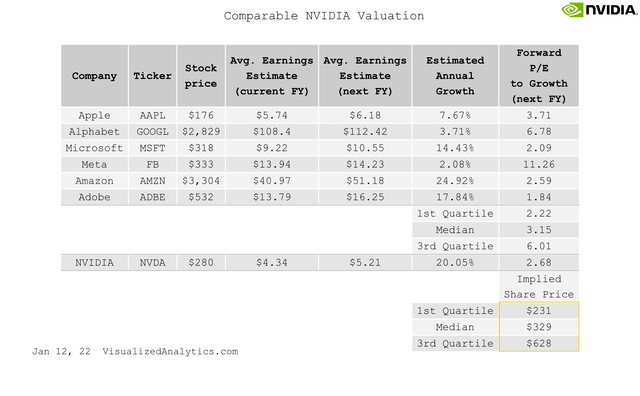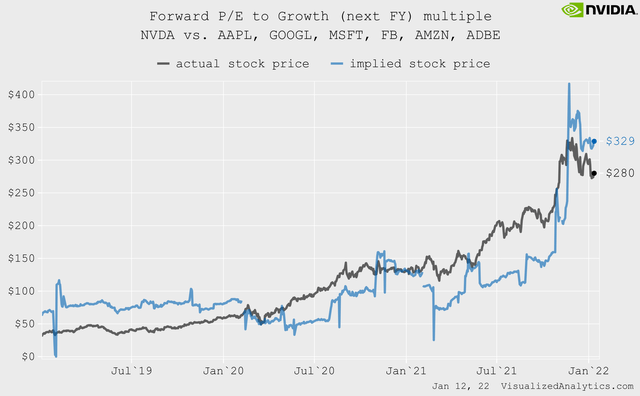 VisualizedAnalytics
VisualizedAnalytics
Considering the EV/Revenue to growth multiple, NVIDIA seems expensive: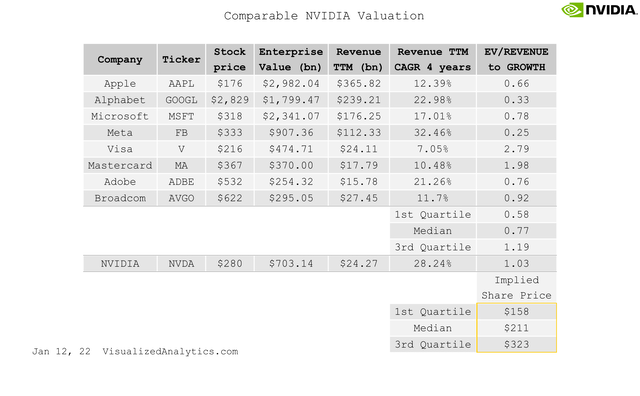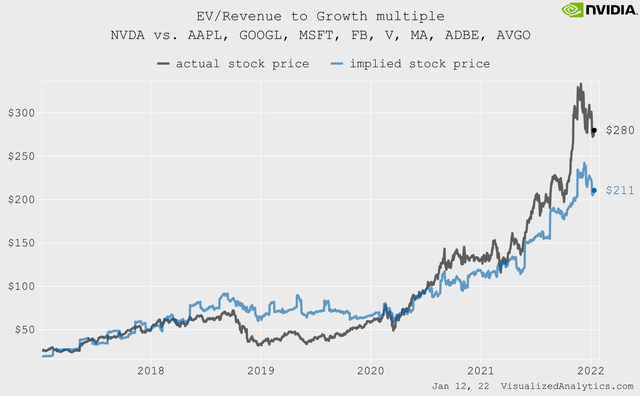 VisualizedAnalytics
VisualizedAnalytics
The same is true for the EV/EBITDA multiple: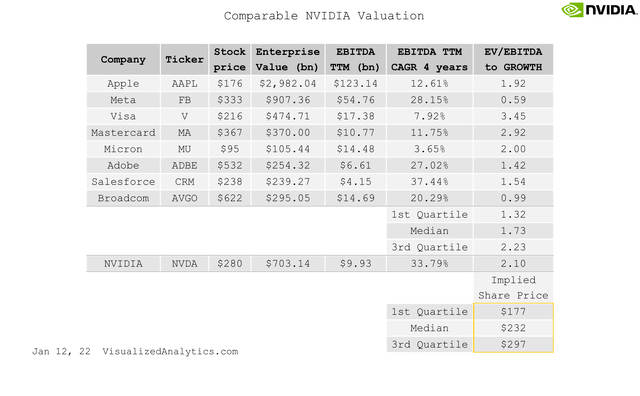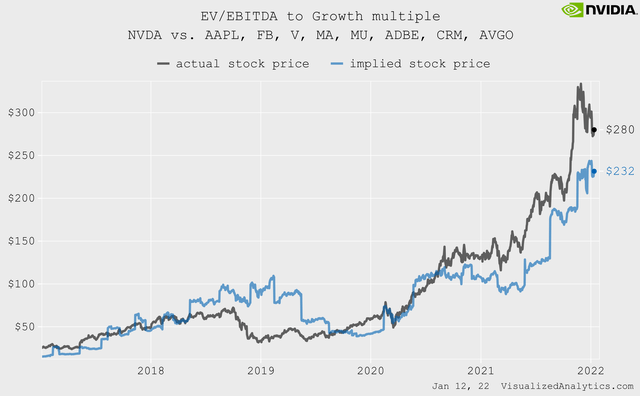 VisualizedAnalytics
VisualizedAnalytics
Judging by the proposed multiples, I cannot make an unambiguous conclusion. The only thing that can be stated is that the company's growth rate is a determining factor in the level of NVIDIA multiples. The slowdown should significantly reduce the level of its multiples.
When predicting NVIDIA's revenue for the next ten years, I proceeded from the average expectations of analysts. According to consensus forecasts, in the next decade, the company's annual revenue will exceed $160 billion.
NVIDIA's operating margin has reached 35% in the last quarter. This is close to the historical maximum of the company. But the model is based on the assumption that the operating margin over the next 10 years will gradually decline to 30% in the terminal year. This is a standard approach based on the likely increase in competition.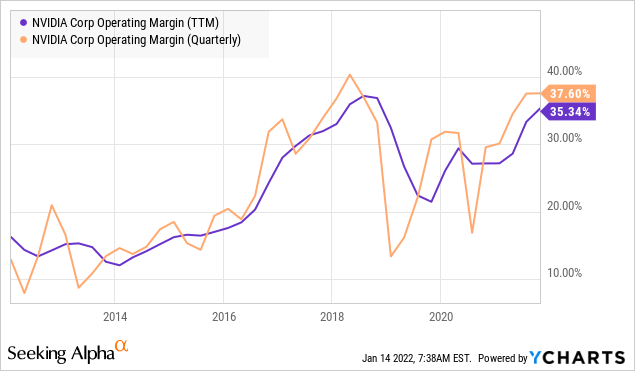 Here is the calculation of the Weighted Average Cost of Capital: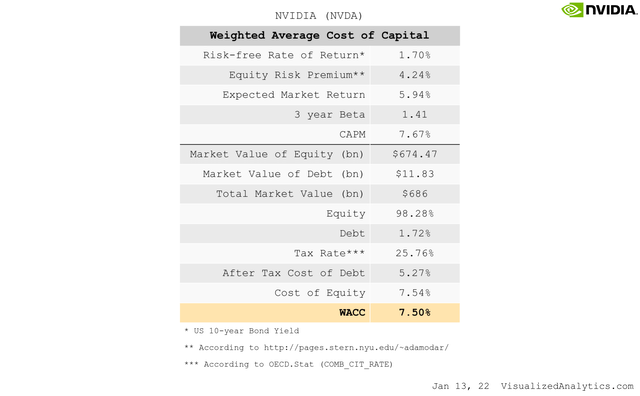 VisualizedAnalytics
Some explanations:
Here's the model itself: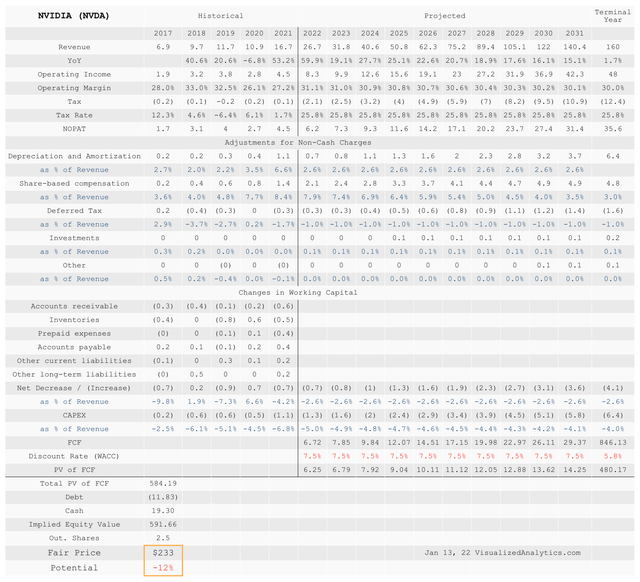 VisualizedAnalytics
(in high resolution)
The DCF-based target price of NVIDIA's shares is $233, offering 12% downside. At the same time, in my opinion, I considered a relatively positive scenario for the future development of the company.
Looking at NVIDIA in the context of free cash flow, I want to draw your attention to one important indicator – the free cash flow yield. It shows how much the company generates free cash flow per dollar of its market price.
Free Cash Flow Yield = Free Cash Flow TTM / Market Capitalization
I compared this figure of NVIDIA with other technology companies and closest competitors. Alas, the company's figure is the lowest: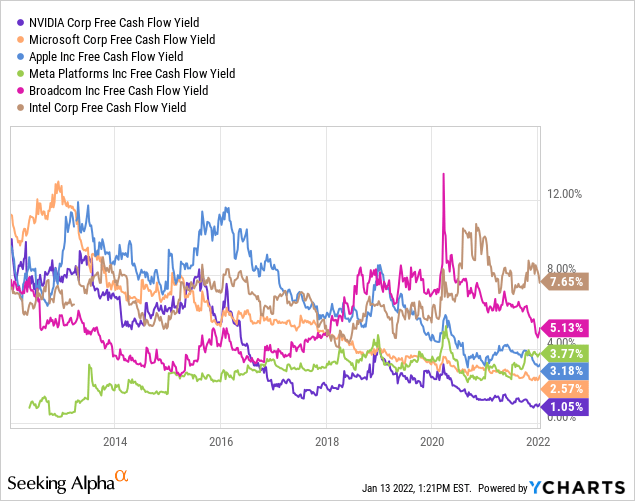 The free cash flow that NVIDIA generates for every dollar of its capitalization is about 1%. This is lower than the US 10-year treasury yield. I don't even compare with inflation. In general, this is a wake-up call for an investor.
From October to November last year, NVIDIA's share price rose nearly 80%. During this period, two gaps were recorded. These gaps have defined strong support levels. And the first of these levels seems to have already been broken. In my opinion, before the level of the second support is reached, it is premature to talk about the completion of the correction.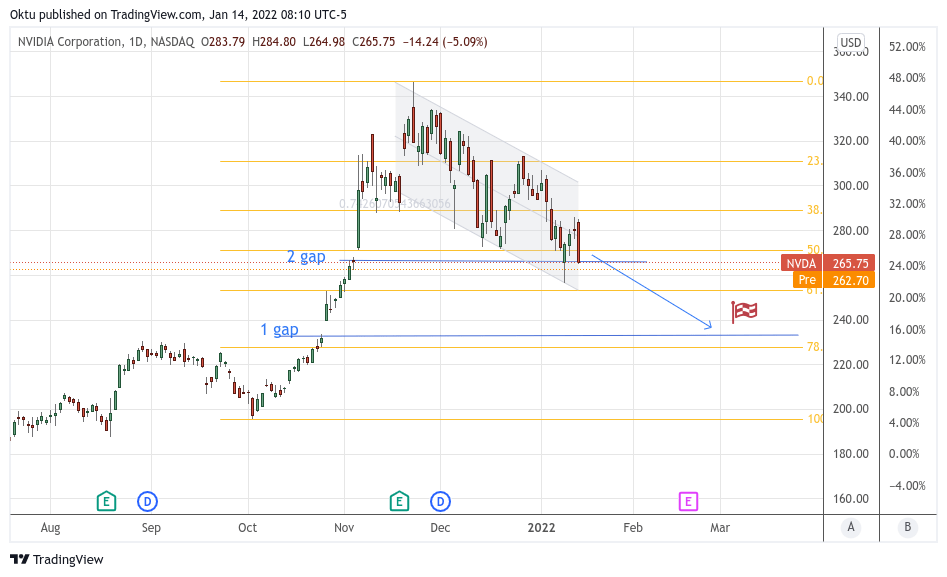 TradingView
I do not share the optimism of those who believe that NVIDIA is an extremely attractive investment at its current price. I won't jump to conclusions about the company's long-term potential just yet, but it's highly likely that the decline will continue in the short term.
This article was written by
Disclosure: I/we have no stock, option or similar derivative position in any of the companies mentioned, and no plans to initiate any such positions within the next 72 hours. I wrote this article myself, and it expresses my own opinions. I am not receiving compensation for it (other than from Seeking Alpha). I have no business relationship with any company whose stock is mentioned in this article.
Sony's PlayStation Direct initiative will let lucky users buy 'limited' PS5 stock – TechRadar
How to Watch UCLA vs. Utah in Men's College Basketball: Live Stream, TV Channel, Start Time – CalBearsMaven
UCLA is 4-0 on the road this season and won four of its last five game against Utah. The Utes will need to play their best game of the season to have a chance at beating the Bruins. 
How to Watch UCLA vs. Utah in College Basketball Today:
Game Date: Jan. 20, 2022
Game Time: 11:00 p.m. ET
TV: FOX Sports 1
Live stream the UCLA vs. Utah game on fuboTV: Start with a 7-day free trial!
Utah (8-10, 1-7) lost in heartbreaking fashion against Arizona State in its last game. The Sun Devils hit a shot with 4.6 seconds remaining in the game to win 64-62. 
Three players scored in double figures, but the Utes have struggled on the offensive end the entire season. They have failed to score more than 70 points in five straight games. However, Utah will get a boost when leading scorer Branden Carlson, who is sidelined with an ankle injury, returns to the lineup.
Meanwhile, UCLA (11-2, 3-1) has been nearly impossible to beat since its loss to No. 1 Gonzaga in November. The only loss the Bruins have suffered came last Thursday in overtime against Oregon. They bounced back with an 81-65 win over Oregon State last Saturday, trailing for less than a minute in the game. 
Johnny Juzang leads UCLA with 17.2 points and 5.1 rebounds per game. The Bruins have been without Jaime Jaquez Jr., who is questionable for this contest.
Regional restrictions may apply.