Best T-Mobile iPhone trade-in deals in November – BGR
We all want to have the phone that suits us the best. Whether you're streaming from it constantly, texting nonstop, struggling to kick your social media addiction, or just want to be able to stay in touch with your family, there's a phone out there for you. Phones these days can do so much. I mean, there are plenty of movies that have been filmed on only cell phones. If you're in the market for a new phone, the iPhone 13 just came out. But what if you still have more to pay off on your current phone? If you're a T-Mobile user, the T-Mobile iPhone trade-in deals this month are awesome.
Trading in your current phone will help you land a great deal on the next phone that you get. There are certain places that allow you to trade in your phone for a new one. If you're looking to switch or stay with T-Mobile, the T-Mobile iPhone trade-in deals for November are sure to please. There are so many versions of the iPhone that you can snag. Here we show you some of the best.

If we're looking at the newest iPhones, the iPhone 13, iPhone 13 Pro, iPhone 13 mini, and iPhone 13 Pro Max, we have to start at the Mint Mobile deals that are being offered right now. You'll be able to get the iPhone 13 mini for only $729 for a 128GB option when you buy the phone, six months of service, and bring your number to Mint. Mint Mobile uses T-Mobile's towers, so you'll get similar signal strength and coverage. This deal also includes six months free of service on top of the six months you paid for.
For those who want a bigger phone that has a refresh rate of up to 120Hz, the iPhone 13 Pro is a smart choice. Mint Mobile again has a great deal. You can get the 128GB for only $999. This includes six months of free service with a payment of six months, just like the previous option. Doubling the GB only adds $100 to your deal. The wireless plans are all discounted heavily, as 4GB of data only costs $90.
Going even bigger, the iPhone 13 Pro Max also has great deals from Mint Mobile. A 128GB is only $1,099. You can go all the way up to a 1TB phone for just $1,599. The 6.7″ screen size gives you even more area to work with. The same deal throws in six free months with six months paid of service. You can get $90 off an unlimited data plan at Mint Mobile with this deal, paying only $270/mo.
For T-Mobile iPhone trade-in deals on older iPhones, you can look at the iPhone 12 and its other versions. There are multiple T-Mobile iPhone trade-in deals to take a look at. Here are some of the best you can get right now.
If the iPhone 12 mini is what you're interested in, Mint Mobile is the place to get it. The 64GB phone is only $629 and it is offered in six different colors. The same deal as the iPhone 13s is available. You can bring your number, pay for the phone, six months of service, and you'll get six months of service for free. You can also add AppleCare for $149.
For iPhone 12 users, you'll get to enjoy the MagSafe branding of this phone. With Mint Mobile, you'll snag a 64GB phone for just $729. A 128GB is $779 and a 256GB is $879. The prices of the wireless plans are discounted just like the previous deals and you'll get six months free with six months paid.
US Mobile is powered by Verizon and T-Mobile. The company has great coverage and terrific plans. You'll find great options for certain iPhone 12s from US Mobile.
iPhone 12 Pro trade-in deals are the best with US Mobile. Also, the iPhone 12 Pro gives you a third camera lens, if you're a big photographer. You can get the 128GB for $999 and the 256GB for just $100 more. The color options are Pacific Blue, Gold, Graphite, and also Silver. This is a 5G compatible phone.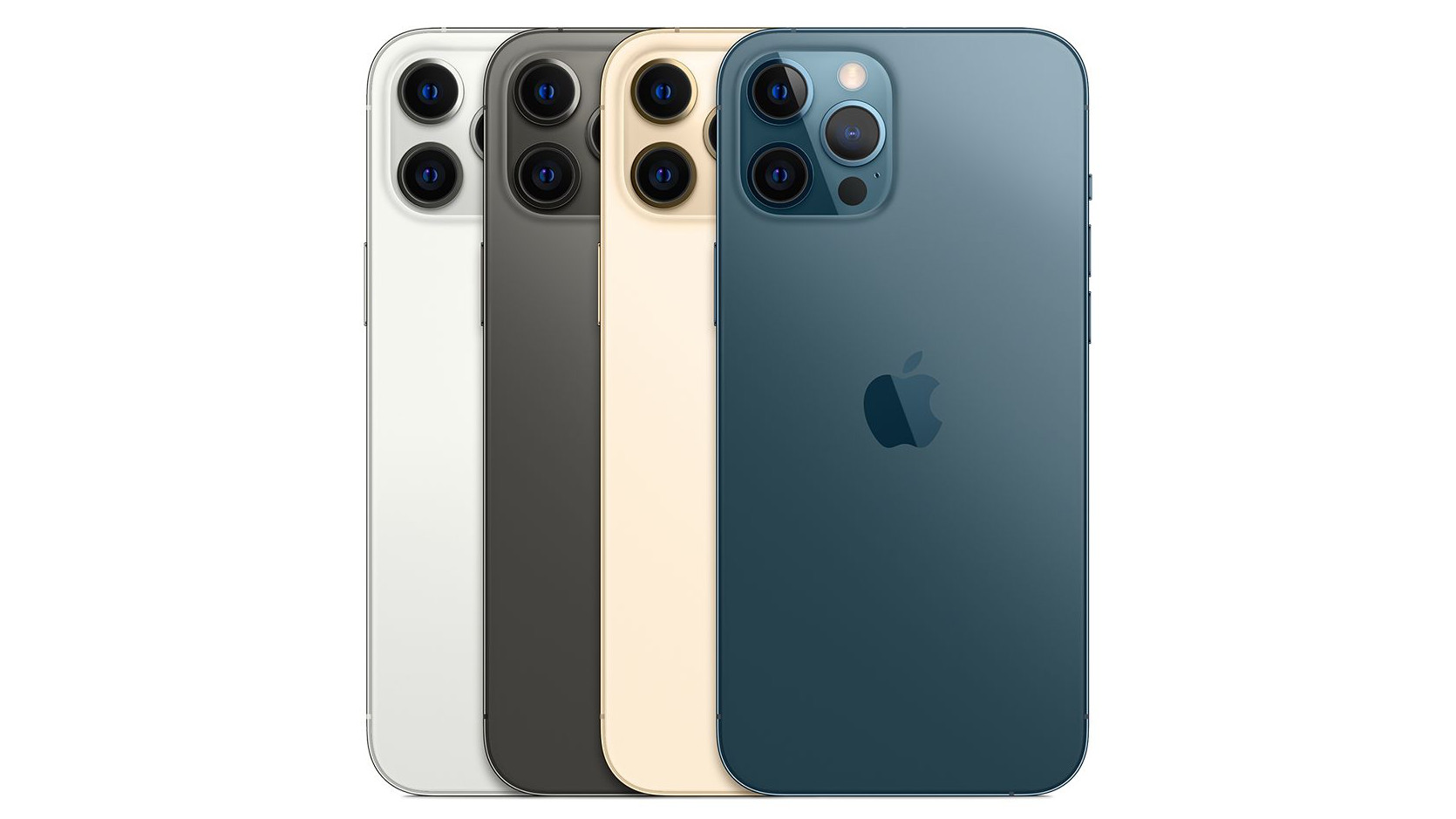 If you're going bigger, the iPhone 12 Pro Max could be your best option. From US Mobile, you can get this for just $1,099 for a 128GB phone. It is offered with 256GB of storage for $1,199 and with 512GB for just $1,399. The same four colors as the iPhone 12 Pro are also available. The phone is durable and water-resistant.
The iPhone SE is also available in a deal from Mint Mobile. A 64GB iPhone SE is only $399. That's incredibly low. A 128GB is $499 and a 256GB is $549. Only $50 between double the storage makes you really think about getting the 256GB. The pricing for plans and the free six months with six months purchased when bringing your phone number to Mint is still offered for this.
Chris Hachey handles e-commerce and sponsored content for BGR. He has worked as an editor and writer for over a decade for various publications and distribution services. He focuses on consumer products to help you find the best of what's on the market. When he's not searching for the top deals, he's likely watching his favorite sports teams or walking around his hometown with his fiancée and his dog.
Mercantile is now offering genuine iPhone 13, iPhone 13 mini, iPhone 13 Pro and iPhone 13 Pro Max in Pakistan – DAWN.com
Purchasing genuine Apple products is quite a challenge in Pakistan, all thanks to the brand not having an official store in the country.
However for the past three years, Mercantile has been actively serving the Pakistani market after being appointed as Apple's authorised distributor for Pakistan in 2019.
Headquartered out of Singapore, Mercantile Pacific has formed valuable relationships over the last 2 decades with manufacturers, mobile network operators, distributors, wholesalers and retailers in over 100 countries.
The company has been amongst the leading players in device management and distribution services globally.
Today, Mercantile operates over 500+ retail stores nationwide.
The company is committed to revolutionising the distribution landscape by bringing global expertise and the latest technology to Pakistan.
Recently they have launched the iPhone 13 lineup comprising of iPhone 13 mini, iPhone 13, iPhone 13 Pro and iPhone 13 Pro Max in Pakistan.
The iPhone 13 Pro and iPhone 13 Pro Max introduce the most advanced pro camera system ever on iPhone, Super Retina XDR display with ProMotion, improved battery life, and the Apple-designed A15 Bionic chip with 5-core GPU.
The new iPhone 13 Pro and iPhone 13 Pro Max come in four stunning finishes — graphite, gold, silver and the all-new sierra blue which are all available at Mercantile.
The iPhone 13 and iPhone 13 mini come in five gorgeous colours — pink, blue, midnight, starlight and red.
Mercantile is also offering the latest iPad mini featuring a unique, larger edge-to-edge screen, along with narrow borders and elegantly rounded corners which comes with Apple-designed A15 Bionic chip.
The company is also introducing the all-new iPad having Apple-designed A13 Bionic, 20% faster GPU and a battery that lasts the entire day.
To shop from Mercantile, visit their website.
This content is a paid advertisement by Mercantile Pakistan and is not associated with or necessarily reflective of the views of Dawn.com or its editorial staff.
Copyright © 2021
Scribe Publishing Platform
Samsung Malaysia offering Galaxy Z Series Bundle Promotion until the end of 2021 – TechNave

It seems that Samsung Malaysia is never out of promotions. In conjunction with the year-end sales, the company is offering a bundle promotion sale for the Samsung Galaxy Z series starting from today onwards until 31 December 2021.
In this short news, if you're planning to get the Galaxy Z Fold 3 5G, you will be entitled to bring home a Galaxy Z Fold 3 Flip Cover with an S-Pen. As for the Galaxy Z Flip 3 5G, you can get a free pair of Galaxy Buds 2 wireless earbuds just like that. It's that simple, folks.


The bundle promotion is only eligible at participating outlets so do check your local listings. To redeem your gifts of the Galaxy Z Fold 3 Flip Cover with Pen or the Galaxy Buds 2, you can do so immediately upon purchasing either one of the Galaxy Z Series models.
To learn more about the campaign page, you can visit the official website here. Stay tuned for more local tech gadget deals news at TechNave.com.
Rate & Review now via the TechNave APP and win yourself a branded new smartphone weekly.
Download the TechNave App Now: http://onelink.to/technave
Follow the latest Tech News and Gadget Reviews
Compare Gadget Specs
Get the best Prices from Nearby Retail stores
Win FREE smartphones from the weekly Giveaway.
Donwload now from:




By now, most of you should know about the Samsung Galaxy Z Fold3 5G. If you are here reading this, chances are you are wondering how to use the Multi-Window feature. You have come to the right place so let's get you started right away.
As of 22 September 2021, the Samsung Galaxy Z Fold3 5G and Galaxy Z Flip3 5G are now officially launched in Malaysia! At the starting price of RM6699 and RM3999, the foldable phones have ushered in a new era of becoming accessible and mainstream to the market. But if you haven't got yourself one yet, here are some reasons why you totally should.
Home | Mobile Phone | iPad & Tablets | Cameras & Camcorders | News | Reviews
copyright © 2021 TechNave.com, a part of Media Prima Group. | About Us | Contact Us | Advertise Here | Privacy Policy | Mobile Site
iPhone 13 Pro Black Friday Deals (2021): Apple iPhone 13 Pro Max & 13 Pro Deals Compared by The Consumer Post – Business Wire