Best thin cases for iPhone 13 Pro 2021 – iMore
Shop Holiday deals at:Amazon | Walmart | Best Buy | Apple | Dell
We may earn a commission for purchases using our links. Learn more.
Best thin cases for iPhone 13 Pro iMore 2021
You've got a gorgeous iPhone 13 Pro, and you want to keep it looking that way. You know you need one of the best iPhone 13 Pro cases, but you don't want to bulk up your iPhone or obscure its sleek lines. What you need is a thin case for your iPhone 13 Pro, and we've rounded up some of the best you can buy.
You can never go wrong with Apple's own case because you know it will always fit and complement the iPhone perfectly. It is MagSafe compatible, so you can use a MagSafe charger and other accessories. Plus, it's the way to show off an Apple logo while using a solid, opaque case. Choose from several color options.
This thin case from Spigen is a TPU (thermoplastic polyurethane) and PC (polycarbonate) hybrid with Air Cushion Technology at the corners for four-foot drop protection. It sports a matte finish and comes in a few color options.
This TPU and PC hybrid case is on the thinner side while still offering some decent protection. Plus, it looks charming with its floral design. Choose from two designs: Flower Garden and White Daisy.
You can't get much thinner than totallee cases and still have a case on your iPhone. The case is just 0.02 inches thick, which is thinner than my fingernail. Note that the "Clear (Soft)" option will be slightly thicker than the Frosted choices but still an extremely thin case.
Another absolute minimalist option measuring again at 0.02 inches, the PEEL case is like having no case at all. It does come in several color options, and even the darker colors are semi-transparent enough to see the Apple logo through the case. There is no "PEEL" branding on the case, so the focus is only on the iPhone.
ESR offers a thinner, inexpensive MagSafe case option in case you'd like to be able to securely use a MagSafe charger and other MagSafe accessories such as wallets, grips, and stands. It's clear, so the beauty of your iPhone shines through.
This pretty, colorful case is quite thin, yet it has a raised lip around the screen and camera module for protection when you set it down. Choose from several colorful marble designs for a unique look.
This collaboration between fashion-forward case maker Case-Mate and popular stationer Rifle Paper Co has resulted in this gorgeous design on a case that's pretty lightweight and yet protective. This one is MagSafe-compatible, so you can use all of your MagSafe accessories with it.
This slim, microfiber-lined silicone case comes in dozens of color options, so you are sure to find one that suits your taste. It looks similar to Apple's silicone case, but it's a fraction of the price.
When only leather will do, consider Apple's own slim leather case with MagSafe. With this case, you can use MagSafe accessories such as the matching leather MagSafe wallet. Choose from several colors that flatter the iPhone 13 Pro so beautifully.
Velvet Caviar makes some really fun, colorful, and trendy cases. This lineup is certainly on the thinner side, but the TPU and PC FirmFlex case is protective as well. It's drop-tested for falls up to eight feet. Choose from a variety of patterns.
It may sound like an oxymoron, but this case is lightweight and protective. It's not as thin as the others on this list, but it does offer 14 feet of drop protection tested to military standards (MIL-STD-810G). And it's MagSafe-compatible to boot.
Apple's iPhone Case with MagSafe, either the clear, silicone, or leather, is always worth checking out. It strikes a great balance between thinness and protection. This case always comes in some great colors to set off the colors of the latest iPhone lineup. New colors are often released seasonally, which means some are rotated out. So, if you see a color you like, don't wait too long to buy it.
The absolute thinnest cases are going to be the PEEL and the totallee iPhone cases. Actually, they are quite similar in being the absolute minimalist cases you can buy. Don't expect much in the way of drop protection, but they will certainly keep scuffs and scratches from marring your iPhone 13 Pro's perfection. Each of these brands offers a handful of color options.
If you want some pretty serious protection but don't want to add too much bulk to your iPhone, check out the Survivor – Endurance MagSafe Case for iPhone 13 Pro. The case edges are definitely on the thicker side, but that is the most vulnerable part of your iPhone. The case's back is super thin but still manages to squeeze in the MagSafe compatibility. It comes in three different colorways.
We may earn a commission for purchases using our links. Learn more.
Are you getting ready to buy the iPhone 13 Pro Max? Here are some of the best cases we've found so far to protect your investment.
Whether you want to keep it clear to show off the color of your iPhone 11, love the feel of leather, or need a rugged case to protect you in the field, here are some of the best cases.
The iPhone 8 Plus deserves an ultra cool case to keep it safe; here are our favorite cases for the iPhone 8 Plus.
I'm a travel enthusiast, teacher, writer, and an early adopter who has stood in more release-day lines than I can count. I'm a former Apple retail store Specialist and I've been writing Apple-focused product reviews and how-tos since 2010. You can find me on Twitter as @KarenSFreeman and Instagram as @Karefree2.
iPhone 13 rumors grow more certain ahead of September launch – The Verge
Filed under:
Apple is reportedly upping its order numbers this year
Apple's flagship 2021 iPhones will come in the same sizes as last year's models, but with a smaller display notch, according to a new report from Bloomberg. This mirrors previous predictions from analyst Ming-Chi Kuo. According to Bloomberg, this year's phones will be an iterative upgrade over the iPhone 12 series, and will include incremental improvements to their processors, cameras, and displays when they're announced in September.
Bloomberg reports that "at least one" of the four new devices will include an LTPO (low-temperature polycrystalline oxide) display. It's a technology Apple has previously used with its smartwatches to dynamically adjust their screen refresh rates to conserve battery. That lines up with a previous prediction from Ming-Chi Kuo, who said that both Pro iPhones coming this year would include LTPO displays and 120Hz refresh rates.
The report also casts doubt on the possibility of seeing an iPhone with an in-display fingerprint sensor this year. Although Bloomberg says Apple has tested the technology, it says it's unlikely to appear in 2021. Way back in 2019, Kuo predicted that Apple's 2021 iPhone models could be its first to feature in-display fingerprint sensors. The phones are also unlikely to include a fingerprint scanner in their power buttons, Kuo said in March.
Camera upgrades will reportedly include an improved optical zoom for video recording, according to the latest Bloomberg report. Kuo previously said the ultrawide cameras on both Pro models could also receive a boost this year.
One area Bloomberg's report doesn't touch on is charging. There have been rumors that Apple might release an iPhone without any ports in 2021, and rely on MagSafe rather than a typical Lightning port for power. But recently Kuo said Apple doesn't think the MagSafe ecosystem is mature enough to act as the sole way of charging the iPhone, suggesting that the Lightning port is here to stay for now.
Apple is reportedly gearing up for a big iPhone sales cycle. Bloomberg says it's ordered up to 90 million units for the initial launch period that extends to the end of 2021, up from a typical order of 75 million seen in recent years. The company appears to be banking on increased demand brought on by more people upgrading to 5G devices, but it may also be set to benefit from sanctions placed on rival Huawei, which was recently forced to delay the launch of its latest flagship. Production of the new iPhones is unlikely to be hit by the global chip shortage because Apple's size makes it one of chip manufacturer TSMC's biggest and most important customers.
Subscribe to get the best Verge-approved tech deals of the week.
Please confirm your subscription to Verge Deals via the verification email we just sent you.
Apple Sold Over 40 Million iPhone 13 Models During the Holiday Season, Says Wedbush Analyst – MacRumors
Apple sold north of 40 million iPhone 13 models over the holiday period in a record number for the company, despite industry-wide chip shortages, according to Wedbush analyst Daniel Ives.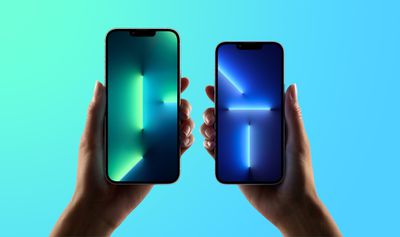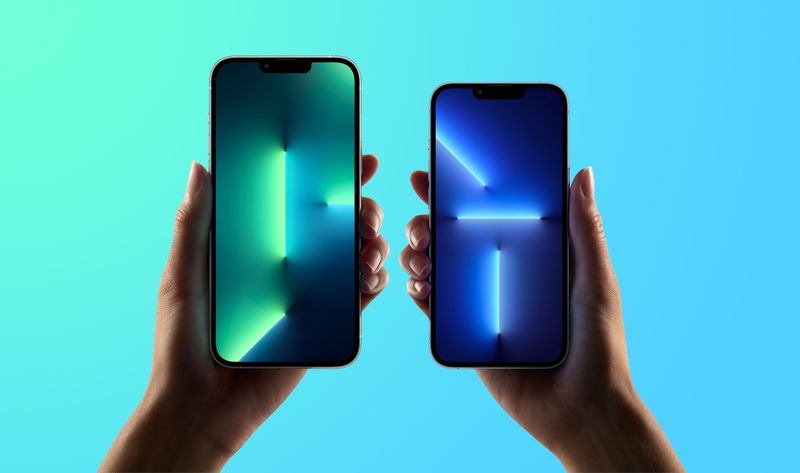 Last year, reports began emerging that demand for ‌iPhone 13‌ models was slowing ahead of the holidays as delivery estimates for ‌‌iPhone 13‌‌ models started to improve.
However in a new note to investors, seen by MacRumors, Ives said demand remained strong for the current iPhone cycle going into 2022, with demand outstripping supply be several million units in the December quarter, a positive sign for Apple as supply chain issues begin to resolve themselves in the first half of this year.
Based on our supply chain checks over the last few weeks, we believe demand is outstripping supply for Apple by roughly 12 million units in the December quarter which now will add to the tailwinds for Cupertino in the March and June quarters as the supply chain issues ease in 1H22.
According to Ives, China has been a major source of strength for Apple over the last 12 months and a key region for ‌iPhone‌ sales, particularly in relation to increased market share due to the "multi-year supercycle" afforded by the iPhone 12 and ‌iPhone 13‌.
According to Ives, roughly 230 million of 975 million ‌iPhone‌ users worldwide haven't upgraded in the last three and a half years, and the analyst believes Apple's continuing smartphone sales will provide highly influential tailwinds as excitement builds for Apple's much-anticipated mixed reality headset, which is expected to be announced in the summer.
Ives says the "linchpin" to Apple's valuation re-rating remains its services business, taking in the likes of Apple Music, iCloud, Apple TV+, and Apple Fitness+, which Wedbush believes is now worth $1.5 trillion. On that basis, Wedbush predicts that despite reports of supply constraints, Apple's chip shortages are a "transitory issue" and "nothing more than a speed bump" on the way to Apple becoming the first $3 trillion market cap company in 2022.

Read about the differences between these two new processors from Apple.
Figure out if the 14″ or 16″ MacBook Pro is the one for you.
Apple Watch SE or Apple Watch 7 – which one to get?
App Privacy Report, Legacy Contact, Apple Music Voice Plan, and many more changes!
New high-end model will move from Intel to Apple silicon.
Updated AirPods Pro could see some design changes like elimination of the stem.
The next-generation MacBook Air refresh coming in 2022 will see Apple introduce the biggest design update to the MacBook Air since 2010
Apple is working on a redesigned version of the larger-screened iMac that could bring back the "iMac Pro" name.
 
MacRumors attracts a broad audience of both consumers and professionals interested in the latest technologies and products. We also boast an active community focused on purchasing decisions and technical aspects of the iPhone, iPod, iPad, and Mac platforms.
Google Pixel 7 news and rumors: What Google's next big phone could bring – BGR
The Google Pixel 6 represented a shift in direction for Google. The phone is the first to offer a Google-designed chip, in the new Tensor chip, plus it offers some incredible camera features, and more. But while Google has been building phones for a long time, the Pixel 6 is still a first-gen product in Google's big new smartphone push. The Pixel 7, on the other hand, could be a truly amazing phone.
The Pixel 6 is still a relatively new phone, and as such, it will probably be a while before we see the Pixel 7. That said, we have already started hearing rumors about the upcoming device, and we're pretty excited to see exactly how it turns out.
Want to learn more? Here's everything we know about the upcoming Google Pixel 7 so far. Alternatively, if you're more interested in the current-generation phones, check out our full Pixel 6 and Pixel 6 Pro reviews.
The Google Pixel 6 boasts a radical new design, with a camera bar across the back of it, and that classic Pixel two-tone design in a number of stunning colors. We don't necessarily expect the Pixel 7 to completely do away with that look, but it will still likely look a little different from the Pixel 6.
There aren't any current rumors about the overall design of the Pixel 7 series, so it's hard to tell exactly what it'll look like. The Pixel 6 and Pixel 6 Pro offer a few design differences — like the fact that the Pixel 6 Pro has a curved display. That was a controversial design choice, and it's possible Google will return to a flat display for the pro model of the Pixel 7.
One of the biggest changes to the Pixel series with the Pixel 6 came in the form of the new Tensor chip. The new chip focuses on artificial intelligence, and helps give the Pixel 6 a super smooth feel, despite not being quite as fast as the latest Apple or Qualcomm chips in benchmarks. The Pixel 7 may take Tensor performance to the next level though. The new chip is said to have the model number GS201, and there's no word yet on exactly what kind of improvements it will offer over the original Tensor chip.
The camera has been arguably the most important feature of the Pixel series for a long time now, and that's only likely to continue with the Pixel 7. The Pixel 6 added some great smart features like Magic Eraser and Face Unblur. We have no idea what kinds of cool features could arrive with the Pixel 7, so we'll have to wait and see.
When it comes to camera hardware, we're also not sure what to expect on the back — but there are some rumors about what we'll get on the front. The rumors suggest that Google will do away with a hole-punch cutout, in favor of an under-display camera. This technology would use a new reflector system to rotate being in display mode and camera mode, according to a patent filed by Google.
Pixel phones have long been released around the October time frame, and that's unlikely to change for the Pixel 7. That said, given how far away from the release we are, it could still change.
When it comes to pricing, we expect the overall price to remain similar to the Pixel 6. As with the Pixel 6, Google will likely release two phones — a Pixel 7 and a Pixel 7 Pro. That means that the Pixel 7 could come at $599, and the Pixel 7 Pro at $899.
Christian de Looper has been passionate about consumer technology since childhood, but didn't know writing about it could be a career until he started looking for online work during college. He was born in Canberra, Australia, and has lived in France, Minnesota, and now sunny Santa Cruz, California, where he test drives cars and puts every gadget he can get his hands on to the test.