Google Pixel 6 — can Google justify the 'expensive' price? – Tom's Guide
Tom's Guide is supported by its audience. When you purchase through links on our site, we may earn an affiliate commission. Learn more
By Jordan Palmer
Google is serious about making a premium flagship, but it faces a tough battle
Google dominated the news this week with the teaser announcement about the upcoming Pixel 6 and Pixel 6 Pro smartphones. A lot of the hype centered around the new, Google-designed chip called Tensor (previously known as Whitechapel).
But Google is intent on making a true flagship device, versus the high mid-range Pixel 5 from last year. That means a wholly new design, high-quality displays, bigger batteries, and everything else that makes a high-end Android phone… well, high-end.
However, all of that adds up in cost. Google's SVP of Devices and Services Rick Osterloh flat-out said in an interview with German outlet Der Spiegel that the Pixel 6 Pro "will be expensive." Ouch. I expect that'll mean upwards of $1,000 or more, right in line with the iPhone 12 Pro or perhaps higher to match the iPhone 12 Pro Max and Galaxy S21 Ultra.
People holding out for the regular Pixel 6 to be cheaper might also be disappointed, with Osterloh saying that the smaller phone "belongs in the upper segment and can keep up with competing products." He further said that it will be a "mainstream premium product."
While the Pixel 5 was a nice reduction in price over the admittedly over-priced Pixel 4 and Pixel 4 XL, I can understand why the idea of an expensive Pixel 6 or Pixel 6 Pro might sting. After all, Pixels (and the Nexus phones before them) have always come with a caveat — whether that was the Pixel 2 XL's display issues, the Pixel 4's disappointing battery life, or the Pixel 5's middling performance compared to the similarly-priced and more powerful Galaxy S20 FE.


To be completely honest, I'm worried about the Pixel 6 and Pixel 6 Pro being "expensive." While I have high hopes for Tensor and the phones in general, I can't shake my misgivings about Google's phone track record. We can't totally blame it for every fault with the Nexus phones, but we can hold the company accountable for its Pixel problems.
Having used most of the Pixels (excluding the 3/3XL), I'm not left with much confidence. Excellent phones like the iPhone 12 Pro Max and Galaxy S21 Ultra justify their price points — depending on your perspective — so the Pixel 6 and Pixel 6 Pro have a steep hill to climb to prove themselves worth a premium price tag.
I must stress that Google has not revealed official pricing yet, so the $1,000 mark is mere conjecture. However, we know that Google plans to ramp up its marketing efforts for the Pixel 6 family. The company's smartphone market share is a pittance compared to the Samsung-Apple duopoly (in the US, at least), but it seems serious about making inroads. We'll just have to see if this attempt proves fruitful.
I'm very excited about the Pixel 6 and Pixel 6 Pro, mostly because I can't wait to see what Tensor is all about. If Google can successfully go its own way from Qualcomm, that would be a huge success in my book. It might even push Samsung to up its Exynos efforts (if it hasn't already), potentially further breaking Qualcomm's stranglehold on the US Android chip market.
Even so, I doubt Google will make a dent in Samsung's or Apple's market share, at least this go around. But if Pixels could become the de facto recommendation for the best camera phones again, I'd be satisfied. Regardless, Fall 2021 is shaping up to be quite a time to be a smartphone fan, that's for sure.
Jordan is the Phones Editor for Tom's Guide, covering all things phone-related. He's written about phones for over five years and plans to continue for a long while to come. He loves nothing more than relaxing in his home with a book, game, or his latest personal writing project. Jordan likes finding new things to dive into, from books and games to new mechanical keyboard switches and fun keycap sets. Jordan tends to lurk on social media, but you can best reach him on Twitter.
Get instant access to breaking news, the hottest reviews, great deals and helpful tips.
Thank you for signing up to Tom's Guide. You will receive a verification email shortly.
There was a problem. Please refresh the page and try again.
Tom's Guide is part of Future US Inc, an international media group and leading digital publisher. Visit our corporate site.
© Future US, Inc. 11 West 42nd Street, 15th Floor, New York, NY 10036.

Google Pixel 6 vs Samsung Galaxy S21: Which affordable flagship should you buy? – XDA Developers
Set up a new account on the XDA Developers Forums
Sign in to the XDA Developers Forums
Add swipe gestures to any Android, no root
Make your phone easier to use with one hand, no root
The best way to access XDA on your phone
A sweet, feature-filled launcher with a beautiful UX.
XDA's official marketplace for buying and selling tech
Premium videos
Samsung has established itself as one of the leaders of the Android smartphone space. Barring an occasional misfire, the company has consistently produced some fantastic flagship smartphones. So whenever another Android manufacturer produces a flagship, it gets compared to the Samsung flagship. As a part of the same tradition, now it's the turn of Pixel 6 to get this treatment with the Galaxy S21.
This article will pit the Google Pixel 6 vs Samsung Galaxy S21 to see how the two flagships stack up against each other.
Navigate this guide:
Google Pixel 6
There is nothing extraordinary about the design of either Pixel 6 or Galaxy S21. But both smartphones look great and have a premium look. While the Pixel 6 is a glass sandwich, Samsung has opted for a plastic back on the S21, unlike other S21 series phones.
The plastic back of the S21 has a matte finish and doesn't look cheap. While glass certainly looks better, plastic has an advantage in terms of durability. And as most people use a case with their phone, the back is anyway going to be hidden. While we are on the topic of cases, make sure to check out our handpicked best Pixel 6 cases and Galaxy S21 cases if you end up buying one of these phones.
Although the Pixel 6 is the smaller phone in the Pixel 6 series, it's still a massive phone with a 6.4-inch screen. On the other hand, the S21 feels reasonably smaller with its 6.2-inch screen and better screen-to-body ratio. Thanks to its plastic back and smaller overall footprint, the Samsung phone is also over 35 grams lighter than the Pixel.
While both the Pixel 6 and the Galaxy S21 use AMOLED panels, Samsung has gone with a 120Hz screen, whereas the Pixel 6 has a 90Hz display. In addition, the S21 screen gets slightly brighter than the Pixel 6.
Overall, the Galaxy S21 has a slight advantage on the display front with its higher refresh rate screen and brightness. That said, most people won't be able to tell the difference between a 90Hz panel and a 120Hz panel.
Samsung Galaxy S21
Instead of relying on Qualcomm for a smartphone chip, Google developed its own chip this year based on Samsung Exynos 2100. This Tensor chip powers the Pixel 6, and it's a pretty good first attempt. Like all flagship-grade chips, it can handle everything with ease, and you won't have to worry about lag or stuttering. The chip also helps Google offer several machine learning and artificial intelligence-backed features right on the device, which won't be possible on other smartphone chips.
Samsung has gone with the Qualcomm Snapdragon 888 SoC in the US, and other markets get the Exynos 2100 SoC. Snapdragon 888 is a top-notch processor, and we have already seen its excellent performance in several phones this year.
In addition, both phones have 8GB of RAM and 128GB or 256GB of onboard storage.
Google Pixel 6
The Pixel phones are known for their prowess, but Samsung flagships aren't slackers either in this department. As a result, both the Pixel 6 and Galaxy S21 take amazing photos, and picking between them depends on which aesthetic you prefer. For example, the Pixel 6 photos have high contrast and a cooler white balance, whereas the Galaxy S21 photos have an oversaturated look and high brightness.
In terms of raw camera specifications, you get a 50MP primary shooter (takes 12.5MP photos), a 12MP wide-angle camera, and an 8MP selfie shooter. The Galaxy S21 has a 12MP primary camera, a 12MP wide-angle shooter, a 64MP telephoto shooter, and a 10MP selfie camera.
All in all, S21's telephoto shooter gives the phone one advantage over the Pixel 6, which, unlike the Pixel 6 Pro, doesn't have a telephoto camera. So if you like to take a lot of photos with the telephoto camera, you are better off with the Samsung phone.
Samsung Galaxy S21
The Pixel 6 houses a 4,614mAh battery, whereas you get a 4,000mAh battery with the S21. This difference in the battery size impacts how long the two phones last. While both phones will easily power through an entire day on a single charge, the moderate user will be able to steal another half day on the Pixel 6, which is harder on the S21.
The Galaxy S21 has a slight edge in fast charging capabilities as the phone supports 25W fast charging. While the Pixel 6 comes with an advertised fast charging speed of 30W, the phone can only charge up to at 21W. Meaning the S21 will charge quicker than the Pixel 6 with a compatible fast charger.
In terms of connectivity, the S21 supports both mmWave and sub-6GHz 5G on all three major operators—AT&T, T-Mobile, and Verizon—in the US. On the other hand, Pixel 6 supports mmWave 5G only on AT&T and Verizon, T-Mobile users get stuck with sub-6GHz 5G support.
On the software front, the Pixel 6 runs stock Android 12 out of the box. The Galaxy S21 comes with Android 11 with One UI. But it is already receiving the Android 12 and One UI 4.0 update.
In addition, the Pixel 6 and the S21 will both get three years of Android updates. But the Galaxy S21 will only get four years of security patches, compared to five years for the Pixel 6.
Google Pixel 6
Google has priced the Pixel 6 quite aggressively. It starts at $599 for the 128GB version. On the other hand, the S21 retails beginning at $799. This difference in pricing gives Pixel a significant edge over the Samsung phone.
There are three color options for the Pixel 6—Stormy Black, Kinda Coral, and Sorta Seafoam—whereas the S21 comes in four colors—Phantom Violet, Phantom Gray, Phantom White, and Phantom Pink.
Given the price difference between the Galaxy S21 and Pixel 6, the Google phone certainly seems like a better purchase. But if you prefer a 120Hz display or telephoto shooter and can snag the Samsung phone for cheap during a sale, it's also an excellent buy. On the other hand, if you don't care for these two things, the Pixel 6 is a pretty well-rounded package at a great price.
Which of the two phones are you planning to buy? Let us know in the comments section. Meanwhile, don't forget to check the best deals on the Pixel 6 and the Galaxy S21 to save some money. We've also picked the best screen protectors for the Pixel 6 and the Galaxy S21, which can help you safeguard those AMOLED displays from scratches.

XDA » Buying Guides » Google Pixel 6 vs Samsung Galaxy S21: Which affordable flagship should you buy?
Gaurav has been covering technology for over a decade now. He has done everything from blogging about Android to reporting the latest from the world of Internet giants. When he is not writing about the tech companies, he can be found binge-watching new TV series on the web. You can reach Gaurav at [email protected]
Receive the freshest Android & development news right in your inbox!

XDA Developers was founded by developers, for developers. It is now a valuable resource for people who want to make the most of their mobile devices, from customizing the look and feel to adding new functionality.
Are you a developer? | Terms of Service
This site is protected by reCAPTCHA and the Google Privacy Policy and Terms of Service apply.
Copyright © XDA
Exclusive: Google Pixel 6 Pro renders with triple camera setup and curved display – Digit
Screen Size
6.7" (1080 x 2400)
Camera
50 + 48 + 12 | 12 MP
Memory
128 GB/12 GB
Battery
5000 mAh
Enter your email & we will notify you the instant price drops
Send latest launches, News, Best Deals once a week
Allow notifications to get our latest updates


While you wait for our next updates, Please see
Other Devices In This Price Range
Build and Design (4)
Videos (1)
Disclaimer – Unofficial rumoured specifications.
Disclaimer – We cannot guarantee that the information on this page is 100% correct, these are unofficial rumoured specifications.
Gaming Laptop Deals on Dell Laptops
Extra ₹1,500 discounts on paying through UPI Extra ₹1,500 discounts on paying through NetBanking and much more.
Click here to know more
The Google Pixel 6 Pro is expected to launch sometime later this year alongside the Pixel 6. The Pixel 6 Pro has been leaked with some of its key information out in the open including some high resolution renders that we have obtained from popular tipster OnLeaks. With the Pixel 6 lineup, Google is looking to double down its efforts in the smartphone market and could launch a completely redesigned Pixel smartphone for 2021. While the information on the Pixel 6 Pro is scarce at the moment, we do get a first look at how the phone might end up looking like. Here's everything we know about the Pixel 6 Pro.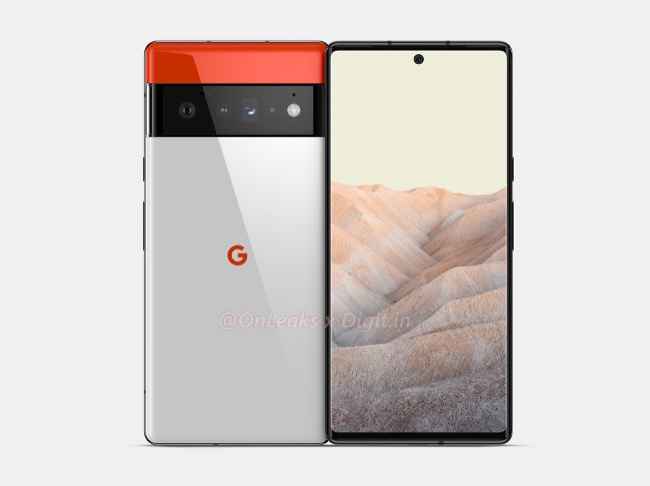 The Google Pixel 6 Pro features a 6.67-inch curved display that also has a punch-hole cutout in the centre for the selfie camera. The screen has minimal bezels on the sides and also features an in-display fingerprint sensor. The display could be a top-of-the-line AMOLED panel that may or may not support a high refresh rate.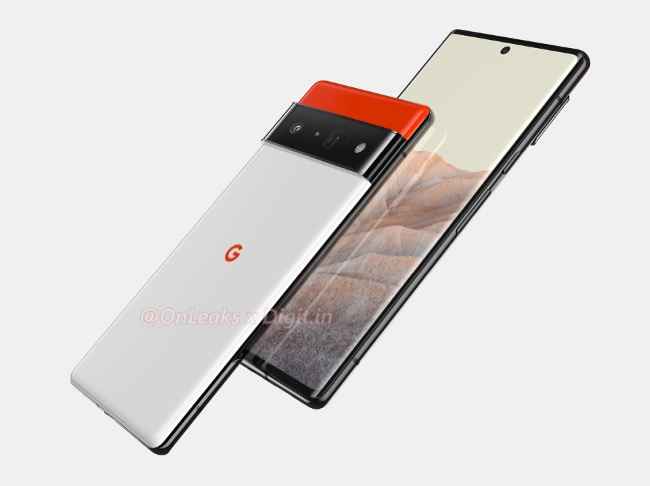 Google Pixel 6 Pro has a horizontal camera island on the back that extends from the left edge to the right edge. It is also slightly protruded and houses triple cameras. The phone measures roughly 163.9 x 75.8 x 8.9 millimetres and has an overall thickness of 11.5 millimetres including the camera bump.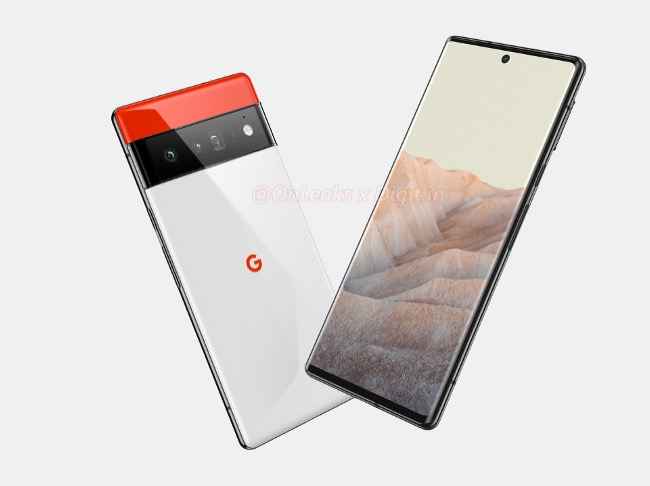 The Pixel 6 Pro has dual stereo speakers that consist of a top and bottom speaker unit. The phone also supports wireless charging and will likely support fast wired charging as well.
We currently have no word on which chipset will be powering the Pixel 6 lineup but we expect to know more about the phone in the second half of 2021.

Email Digit Desk
Follow Us

About Me: Digit Desk authored articles are a collaborative effort of multiple authors contributing to the page. A combination of category experts and product database analysts together adding content to the page. Read More
Exclusive: Google Pixel 6 Pro renders with triple camera setup and curved display
OnePlus recently released the OxygenOS 12 update based on Android 12 for users of the OnePlus 9 and 9 Pro. However, it seems like OnePlus has yet again seeded a build that is littered with…
OnePlus has started rolling out an OxygenOS 12 update based on Android 12 for the users of the OnePlus 9 and OnePlus 9 Pro globally. Like all its past updates, the OxygenOS 12 update is…
Tech enthusiasts have been waiting with bated breath to hear about Qualcomm's newly launched Snapdragon 8 Gen 1 SoC. Now, it's confirmed that the Xiaomi 12, RealMe GT 2 Pro and Moto Edge X30 will…
OnePlus 10 Pro will be one of the first phones to be powered by the Qualcomm Snapdragon 8 Gen1 chip. Qualcomm is all set to introduce the Snapdragon 8 Gen1 chip as the successor to…
Digit caters to the largest community of tech buyers, users and enthusiasts in India. The all new Digit.in continues the legacy of Thinkdigit.com as one of the largest portals in India committed to technology users and buyers. Digit is also one of the most trusted names when it comes to technology reviews and buying advice and is home to the Digit Test Lab, India's most proficient center for testing and reviewing technology products.
We are about leadership – the 9.9 kind Building a leading media company out of India. And, grooming new leaders for this promising industry.
Malaysia Stock Market May Regain Wednesday's Losses – Nasdaq