Google Pixel 6 vs Pixel 6 Pro: These are the biggest differences – Tom's Guide
Tom's Guide is supported by its audience. When you purchase through links on our site, we may earn an affiliate commission. Learn more
By Richard Priday
See how the Google Pixel 6 and Pixel 6 Pro compare
A Google Pixel 6 vs. Google Pixel 6 Pro comparison will help you decide which of Google's new flagship phones could be right for you. While we were impressed by both of these flagships in our Google Pixel 6 review and Google Pixel 6 Pro review, there are some important differences you need to know.
The Pixel 6 series as a whole is a huge step up from what came before, with Google's new Tensor chipset under the hood, a fresh new design, better cameras plus lots of other little but welcome hardware and software touches. The Pixel 6 Pro, as its name suggests, offers even more, including a larger display, a bigger battery and a telephoto camera.
If you need a hand comparing the two flavors of Pixel 6, we've broken down the features, prices and specs below to show you where the two phones differ, and where they're the same. And we've also got a Google Pixel 6 vs Pixel 5 comparison if you want to see what's new since the last generation.
The Pixel 6 and Pixel 6 Pro are arguably a bargain compared to phones like the iPhone 13 or the Samsung Galaxy S21, but there's still a $300 price gap between the two Pixel phones.
The base 128GB Google Pixel 6 starts at $599, with the option to pay more for 256GB of storage. The Pixel 6 Pro costs $899, with the option to pay for extra storage; only the Pixel 6 Pro goes up to 512GB.
Pre-orders for the Pixel 6 are now live if you've already made up your mind about the phone. The release date was October 28. See our Pixel 6 deals page for the biggest savings.
The two Pixel 6 models look fairly similar with Gorilla Glass Victus on the front and back and a prominent camera bar on the back that separates two color blocks.
You have different color options for the two phones. The Pixel 6 comes in Stormy Black, Sorta Seafoam and Kinda Coral, while the Pro model has Stormy Black, Cloudy White and Sorta Sunny.
The two models diverge in a couple of areas. The most obvious would be size, with the Pixel 6 sporting a 6.4-inch OLED display and the Pixel 6 Pro offering a 6.7-inch panel. The other big difference is the camera total — the Pixel 6 has two cameras on the back, while the Pixel 6 Pro gets three.
Aside from the sizes, the displays on both phones also differ. The Pixel 6 sports a 90Hz refresh rate, while the Pixel 6 Pro goes to 120Hz. You get an FHD+ resolution panel on the base Pixel 6, whereas you get a shaper QHD screen on the Pixel 6 Pro.
In our lab tests, the Pixel 6 turned in an average brightness reading of 497 nits with adaptive brightness turned off and 843 nits with the setting turned on. The Pixel 6 Pro turned in a similar 495.3 nits and 842 nits, respectively.
The Pixel 6 panel registered 100.9% and 70.1% of the sRGB and DCI-P3 color spaces, while the Pixel 6 Pro hit 104.2% and 73.8% on the same tests. And the two phones were equally matched in terms of color accuracy with scored of 0.28 and 0.3 on the Delta-E test (where 0 is perfect).
The basic Pixel 6 features two cameras on its back: a 50MP main camera and a 12MP ultrawide camera. The Pixel 6 Pro adds a third camera to this: a 48MP telephoto with 4x optical zoom and 20x digital zoom. The standard Pixel 6 has up 7x digital zoom.
Both phones use single 12MP cameras on the front, but with different fields-of-view. The Pixel 6's camera has an 84-degree FOV, while the Pixel 6 Pro gets a 94-degree FOV to fit more in frame.


There are new software abilities for these new cameras, too. Google has introduced a new Magic Eraser to help eliminate unwanted parts of photos, a Motion mode for long exposures and action shots, and Face Unblur to help bring definition to people's faces that the camera didn't quite capture.
There's lots to dig into with the Pixel 6 range's cameras, so check out our in-depth guide to all of the Google Pixel 6 camera upgrades. And be sure to check out our Pixel 6 review and Pixel 6 Pro review for photo comparisons with the iPhone 13.
Google has equipped the Pixel 6 with a new chip called Tensor, a reference to the company's machine learning hardware in its data centers. At the heart of Tensor is the Tensor Processor Unit (TPU), which will handle any and all AI tasks that the Pixel 6 and Pixel 6 Pro perform. That means that other resources could be freed for other tasks, potentially leading to better performance and battery life.
The two Pixel models are differentiated in terms of their memory capacities. The Pixel 6 has 8GB RAM and 128GB or 256GB of storage. The Pixel 6 Pro instead uses 12GB RAM, and either 128GB, 256GB or 512GB storage.
Google launches its phones with the latest version of Android each year. Therefore we see the Pixel 6 series come with Android 12 out of the box. Both will benefit from Google Assistant's latest tricks too, such as Live Translation for messages, media and voice, Quick Phrases for easier voice controls, and enhanced calling assistance.
The Pixel 6 and Pixel 6 Pro both fared well in benchmark testing, even if they're a step behind the iPhone 13 and Galaxy S21 series on some tests. On Geekbench 5, the Pixel 6 scored 1,029 and 2,696 on the single-core and multi-core tests; the Pixel 6 Pro reached a comparable 1,027 and 2,720.
On 3DMark Wild Life, which measures graphics performance, the Pixel 6 netted an average of 34 frames per second, and the Pixel 6 Pro got a higher 40 fps. The two handsets finished our video editing test in Adobe Premiere Rush in about the same amount of time: 48 seconds. That's good but not as fast as the iPhone 13's 26 seconds but it beats every other Android phone.
The Google Pixel 6 packs a 4,614 mAh battery, and the Pixel 6 Pro has a larger 5,003 mAh battery. Google rates both phones for "beyond 24-hour battery life" and up to 4 8 hours with Extreme Battery Saver mode turned on.
On the Tom's Guide battery test, the Pixel 6 turned in a disappointing time of 8 hours and 13 minutes and the Pixel 6 Pro's best time was 7:53. The phones our best phone battery life list last 11 hours, and we consider 10 hours or above good. However, this is just one battery test and you can get more endurance in everyday use with Google's Tensor chip optimizing things for you, such as prioritizing apps over others.
Neither the Pixel 6 nor Pixel 6 Pro come with a charger, but both phones support faster charging for 50% capacity in 30 minutes when you use a 30W USB-C charger. Both phones also support fast wireless charging, with the Pixel 6 rated for 21W and Pixel 6 Pro 23W with Google's optional Pixel Stand (2nd gen).
The $899 Pixel 6 Pro earns its name compared to the basic Pixel 6. With an extra rear camera, a larger and faster 120Hz display, and more memory, it's got plenty of hardware that will allow it to go toe-to-toe with Samsung's and Apple's latest phones.
However, the regular Pixel 6 is the phone to get if you want the best value. For $599, you get a 6.4-inch 90Hz display and great cameras. Plus, you'll enjoy the same powerful Tensor processor, helpful software and photo features like Magic Erase.
It basically comes down to how much you're willing to pay for a larger screen and telephoto zoom.
After you've made your purchase, be sure to check out the best Google Pixel 6 cases and the best Google Pixel 6 Pro cases to protect your investment.
Richard is a Tom's Guide staff writer based in London, covering news, reviews and how-tos for phones, gaming, audio and whatever else people need advice on. He's also written for WIRED U.K., The Register and Creative Bloq. When not at work, he's likely thinking about how to brew the perfect cup of specialty coffee.
Get instant access to breaking news, the hottest reviews, great deals and helpful tips.
Thank you for signing up to Tom's Guide. You will receive a verification email shortly.
There was a problem. Please refresh the page and try again.
Tom's Guide is part of Future US Inc, an international media group and leading digital publisher. Visit our corporate site.
© Future US, Inc. 11 West 42nd Street, 15th Floor, New York, NY 10036.

iPhone 13 rumors grow more certain ahead of September launch – The Verge
Filed under:
Apple is reportedly upping its order numbers this year
Apple's flagship 2021 iPhones will come in the same sizes as last year's models, but with a smaller display notch, according to a new report from Bloomberg. This mirrors previous predictions from analyst Ming-Chi Kuo. According to Bloomberg, this year's phones will be an iterative upgrade over the iPhone 12 series, and will include incremental improvements to their processors, cameras, and displays when they're announced in September.
Bloomberg reports that "at least one" of the four new devices will include an LTPO (low-temperature polycrystalline oxide) display. It's a technology Apple has previously used with its smartwatches to dynamically adjust their screen refresh rates to conserve battery. That lines up with a previous prediction from Ming-Chi Kuo, who said that both Pro iPhones coming this year would include LTPO displays and 120Hz refresh rates.
The report also casts doubt on the possibility of seeing an iPhone with an in-display fingerprint sensor this year. Although Bloomberg says Apple has tested the technology, it says it's unlikely to appear in 2021. Way back in 2019, Kuo predicted that Apple's 2021 iPhone models could be its first to feature in-display fingerprint sensors. The phones are also unlikely to include a fingerprint scanner in their power buttons, Kuo said in March.
Camera upgrades will reportedly include an improved optical zoom for video recording, according to the latest Bloomberg report. Kuo previously said the ultrawide cameras on both Pro models could also receive a boost this year.
One area Bloomberg's report doesn't touch on is charging. There have been rumors that Apple might release an iPhone without any ports in 2021, and rely on MagSafe rather than a typical Lightning port for power. But recently Kuo said Apple doesn't think the MagSafe ecosystem is mature enough to act as the sole way of charging the iPhone, suggesting that the Lightning port is here to stay for now.
Apple is reportedly gearing up for a big iPhone sales cycle. Bloomberg says it's ordered up to 90 million units for the initial launch period that extends to the end of 2021, up from a typical order of 75 million seen in recent years. The company appears to be banking on increased demand brought on by more people upgrading to 5G devices, but it may also be set to benefit from sanctions placed on rival Huawei, which was recently forced to delay the launch of its latest flagship. Production of the new iPhones is unlikely to be hit by the global chip shortage because Apple's size makes it one of chip manufacturer TSMC's biggest and most important customers.
Subscribe to get the best Verge-approved tech deals of the week.
Please confirm your subscription to Verge Deals via the verification email we just sent you.
Apple Sold Over 40 Million iPhone 13 Models During the Holiday Season, Says Wedbush Analyst – MacRumors
Apple sold north of 40 million iPhone 13 models over the holiday period in a record number for the company, despite industry-wide chip shortages, according to Wedbush analyst Daniel Ives.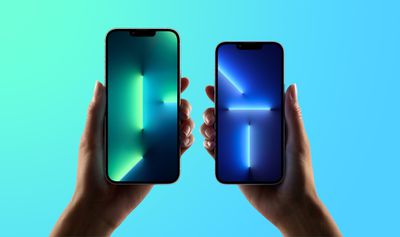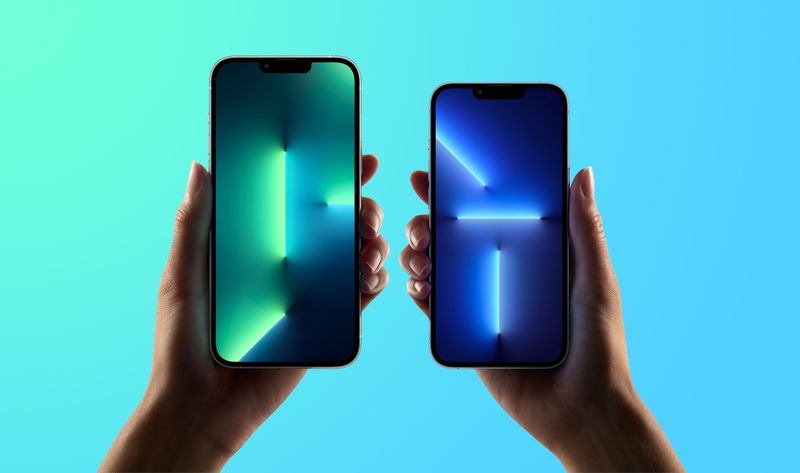 Last year, reports began emerging that demand for ‌iPhone 13‌ models was slowing ahead of the holidays as delivery estimates for ‌‌iPhone 13‌‌ models started to improve.
However in a new note to investors, seen by MacRumors, Ives said demand remained strong for the current iPhone cycle going into 2022, with demand outstripping supply be several million units in the December quarter, a positive sign for Apple as supply chain issues begin to resolve themselves in the first half of this year.
Based on our supply chain checks over the last few weeks, we believe demand is outstripping supply for Apple by roughly 12 million units in the December quarter which now will add to the tailwinds for Cupertino in the March and June quarters as the supply chain issues ease in 1H22.
According to Ives, China has been a major source of strength for Apple over the last 12 months and a key region for ‌iPhone‌ sales, particularly in relation to increased market share due to the "multi-year supercycle" afforded by the iPhone 12 and ‌iPhone 13‌.
According to Ives, roughly 230 million of 975 million ‌iPhone‌ users worldwide haven't upgraded in the last three and a half years, and the analyst believes Apple's continuing smartphone sales will provide highly influential tailwinds as excitement builds for Apple's much-anticipated mixed reality headset, which is expected to be announced in the summer.
Ives says the "linchpin" to Apple's valuation re-rating remains its services business, taking in the likes of Apple Music, iCloud, Apple TV+, and Apple Fitness+, which Wedbush believes is now worth $1.5 trillion. On that basis, Wedbush predicts that despite reports of supply constraints, Apple's chip shortages are a "transitory issue" and "nothing more than a speed bump" on the way to Apple becoming the first $3 trillion market cap company in 2022.

Read about the differences between these two new processors from Apple.
Figure out if the 14″ or 16″ MacBook Pro is the one for you.
Apple Watch SE or Apple Watch 7 – which one to get?
App Privacy Report, Legacy Contact, Apple Music Voice Plan, and many more changes!
New high-end model will move from Intel to Apple silicon.
Updated AirPods Pro could see some design changes like elimination of the stem.
The next-generation MacBook Air refresh coming in 2022 will see Apple introduce the biggest design update to the MacBook Air since 2010
Apple is working on a redesigned version of the larger-screened iMac that could bring back the "iMac Pro" name.
 
MacRumors attracts a broad audience of both consumers and professionals interested in the latest technologies and products. We also boast an active community focused on purchasing decisions and technical aspects of the iPhone, iPod, iPad, and Mac platforms.
Google Pixel 7 news and rumors: What Google's next big phone could bring – BGR
The Google Pixel 6 represented a shift in direction for Google. The phone is the first to offer a Google-designed chip, in the new Tensor chip, plus it offers some incredible camera features, and more. But while Google has been building phones for a long time, the Pixel 6 is still a first-gen product in Google's big new smartphone push. The Pixel 7, on the other hand, could be a truly amazing phone.
The Pixel 6 is still a relatively new phone, and as such, it will probably be a while before we see the Pixel 7. That said, we have already started hearing rumors about the upcoming device, and we're pretty excited to see exactly how it turns out.
Want to learn more? Here's everything we know about the upcoming Google Pixel 7 so far. Alternatively, if you're more interested in the current-generation phones, check out our full Pixel 6 and Pixel 6 Pro reviews.
The Google Pixel 6 boasts a radical new design, with a camera bar across the back of it, and that classic Pixel two-tone design in a number of stunning colors. We don't necessarily expect the Pixel 7 to completely do away with that look, but it will still likely look a little different from the Pixel 6.
There aren't any current rumors about the overall design of the Pixel 7 series, so it's hard to tell exactly what it'll look like. The Pixel 6 and Pixel 6 Pro offer a few design differences — like the fact that the Pixel 6 Pro has a curved display. That was a controversial design choice, and it's possible Google will return to a flat display for the pro model of the Pixel 7.
One of the biggest changes to the Pixel series with the Pixel 6 came in the form of the new Tensor chip. The new chip focuses on artificial intelligence, and helps give the Pixel 6 a super smooth feel, despite not being quite as fast as the latest Apple or Qualcomm chips in benchmarks. The Pixel 7 may take Tensor performance to the next level though. The new chip is said to have the model number GS201, and there's no word yet on exactly what kind of improvements it will offer over the original Tensor chip.
The camera has been arguably the most important feature of the Pixel series for a long time now, and that's only likely to continue with the Pixel 7. The Pixel 6 added some great smart features like Magic Eraser and Face Unblur. We have no idea what kinds of cool features could arrive with the Pixel 7, so we'll have to wait and see.
When it comes to camera hardware, we're also not sure what to expect on the back — but there are some rumors about what we'll get on the front. The rumors suggest that Google will do away with a hole-punch cutout, in favor of an under-display camera. This technology would use a new reflector system to rotate being in display mode and camera mode, according to a patent filed by Google.
Pixel phones have long been released around the October time frame, and that's unlikely to change for the Pixel 7. That said, given how far away from the release we are, it could still change.
When it comes to pricing, we expect the overall price to remain similar to the Pixel 6. As with the Pixel 6, Google will likely release two phones — a Pixel 7 and a Pixel 7 Pro. That means that the Pixel 7 could come at $599, and the Pixel 7 Pro at $899.
Christian de Looper has been passionate about consumer technology since childhood, but didn't know writing about it could be a career until he started looking for online work during college. He was born in Canberra, Australia, and has lived in France, Minnesota, and now sunny Santa Cruz, California, where he test drives cars and puts every gadget he can get his hands on to the test.