Google Pixel 7: early rumors and what we want to see – Tom's Guide
Tom's Guide is supported by its audience. When you purchase through links on our site, we may earn an affiliate commission. Learn more
By Richard Priday
Where might Google go with its next flagship phone?
We've likely got a year before the Google Pixel 7 appears, but our interest in Google 2022 flagship has already been piqued.
With the Google Pixel 6 and Google Pixel 6 Pro proving to be the company's best phones yet by some margin, we're keen to see how Google could build on its new Tensor chipset and improved camera systems. Equally, we'd be keen to know what Google intends to do about the Pixel 6 series' weaknesses, such as poor battery life or limited specs on the basic model.
There aren't many rumors to go off of right now, since the Pixel 6 release happened so recently. But we know exactly what we'd want to see on the Pixel 7.
Read on for the Google Pixel 7 rumors as they currently stand, and a breakdown of everything we'd like to see Google do for its next flagship phone.
Google's phone release schedule has proven fairly reliable over the past few years. Therefore without any more specific rumors to go off of, we'd bet on Google unveiling the Pixel 7 in October 2022.
As for cost, we really hope Google keeps the pricing low like it has for the Pixel 6 series. With the Pixel 6 at $699/£599 and the Pixel 6 Pro at $899/£849, these two phones undercut their flagship rivals by hundreds of dollars or pounds. Google will tempt a lot of users away from other Android brands if it can offer the next generation of Pixels at a similar level.
You'd think it was too soon to start hearing things about next year's Pixel, but the rumor mill is already in motion. There's only a couple of details to take a look at right now, but it still counts, right?
First off, one you may have already expected. Google is apparently working on a second-generation Tensor chipset; a follow-up to the first-gen Tensor found within the Pixel 6 and Pixel 6 Pro. Updating the chip in the Pixel 7 is an obvious change to make from the Pixel 6, but unfortunately at the moment there's no sign of what Google would alter, apart from the usual improvements to processing power and energy efficiency that chipsets aim for every year.
The other potential rumor is that Google could add an under-display selfie camera to the next-gen Pixel. That's based on a patent filed by Google which takes the basic under-display selfie camera technology, currently found on select phones like the Samsung Galaxy Z Fold 3 or the ZTE Axon 30, and improves it by using a mirror system to show either the camera or a portion of display as required. This is only a patent, and so it could still be some years away from being ready to use, if it materializes at all. However it would make for a great centerpiece feature for a future Pixel.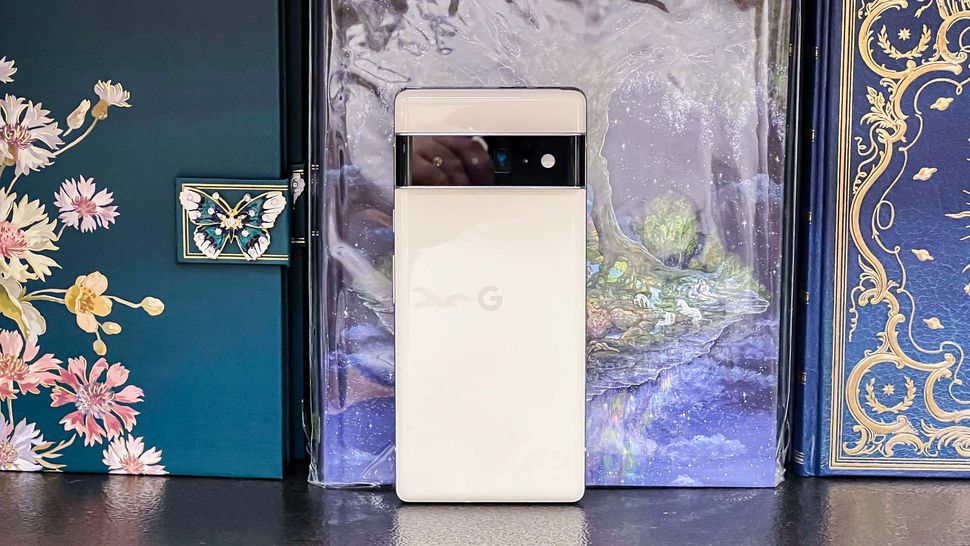 The lack of Pixel 7 rumors isn't stopping us from coming up with our own wish list. If anything, we hope that Google is taking suggestions for its next phone.
A more reliable fingerprint reader
The under-display fingerprint scanner on the Pixel 6 and Pixel 6 Pro is something we complained about in our reviews. This is Google's first attempt at putting the fingerprint scanner beneath the screen, as the company previously mounted a fingerprint reader on the back of its phones. However that doesn't excuse how unreliably the scanner works.
We'd be quite happy if Google just figured out the kinks in its current optical fingerprint reader. Equally, if it decided to borrow Qualcomm's ultrasonic fingerprint reader system (found in the Samsung Galaxy S21), which uses soundwaves to recognize your prints and therefore is less affected by scratches on the screen, that would be a good approach, too.
Another possibility would be for Google to ditch the fingerprint scanner altogether and use facial recognition unlocking, like it did with the Google Pixel 4. However that system didn't work great either, and would require a fair bit of work before it was as smooth and reliable as Apple's Face ID system. It might also require Google to return to a larger top bezel to accommodate the necessary sensors.
Better and brighter displays for all models
There are a couple of ways Google could improve the displays of the Pixel 7 series. First off: brightness. Google has fitted the Pixel 6 and Pixel 6 Pro with surprisingly dim displays, even when set at maximum brightness in direct light. Being unable to see your smartphone's display properly is inarguably a bad thing, so if Google could crank up the brightness of the Pixel 7's display a few hundred more nits, that would be one of the Pixel 6 series' worst areas fixed.
The other potential area of improvement would be the specs of the standard Pixel 7 model's screen. While the Pixel 6 Pro offers 120Hz, the standard Pixel 6 only offers 90Hz. That's better than the 60Hz that used to be all you'd get from a smartphone, but given that phones cheaper than the Pixel 6 can offer 120Hz — look at the Samsung Galaxy A52 5G or the Redmi Note 10 Pro — we'd like to see Google do it too. Upping the Pixel 6's FHD resolution to QHD like the Pro would also be beneficial but isn't as big a deal.
One of our TG writers who just bought a Pixel 6 Pro also said he'd like to see Google ditch the curved display for a flat one on the Pixel 7 Pro. Google didn't use a curved display prior to the Pixel 6 Pro, so there's a chance this design choice will not be returning if enough Pixel 6 Pro users complain. The only issue then would be ergonomics, as curved edges help users interact with the display of the large 6.8-inch handset.
Another camera on the base Pixel 6
Google has arguably short-changed the Pixel 6 by only giving it two rear cameras. It's the same amount that the Pixel 5 and the Pixel 4 had, and also what the base iPhone 13 and iPhone 13 mini offer, but it's still disappointing given some premium phones are now offering up to four cameras plus a depth sensor (such as the Samsung Galaxy S21 Ultra).
The obvious choice for a third camera on the base Pixel 7 would be a telephoto lens, even if its magnification wouldn't match the 4x optical zoom of the Pro model. A depth camera for more accurate portrait shots and improved AR performance, or a dedicated macro camera for super close-up shots, could also make for a good addition.
Longer battery life
This is something we'd always like to see with every new generation of a given phone series, but it's more important for the Pixel 7 series than most.
Despite having the largest batteries ever in a Pixel phone, the Google Pixel 6 and Pixel 6 Pro proved to have disappointing longevity when connecting to the internet over 5G. That's going to become an increasingly big deal as 5G networks roll out nationwide in the U.S., U.K. and beyond, unless you can rely on regular and speedy Wi-Fi connections wherever you go.
Given the capacity of the Pixel 6 and Pixel 6 Pro's' batteries (4,614 mAh and 5,000 mAh respectively), it doesn't seem like the batteries are too small. Instead Google probably needs to focus on using the power it has available within the cells efficiently.
Faster charging
Speedier charging is again something every phone should aim to improve on, and while Google did improve this with the Pixel 6, more work is needed to make it a proper competitor.
After years of using 18W charging, the Pixel 6 and Pixel 6 Pro can charge at up to 30W wired and 23W wireless. But despite having a fairly high charging wattage, in our testing the Pixel 6 only reached 29% full after half an hour of charging on a third-party 30W charger. (The Pixel 6 doesn't ship with one in the box). That's not that fast, especially factoring in phones like the OnePlus 9 series which charges to almost full in half an hour.
It's possible that the Pixel 6 charges much faster if you use a plug from Google itself, but as it stands, this is disappointingly slow. Google could do with increasing the wattage of its charger for the Pixel 7, or perhaps using a twin-cell battery like the OnePlus 9 to allow faster filling at the same wattage.
An alert slider
For iPhone users (and to a lesser extent OnePlus owners), the alert slider is a critical feature of the phone. It is an effective way to quickly enable or disable notification sounds without needing to unlock the phone or even turn on the screen.
We've never seen an alert slider on a Pixel phone before, and given it's only really used by Apple and OnePlus phones, it seems unlikely Google's going to change its mind. However we stand by the idea that this would make a great addition to the Pixel 7.
Richard is a Tom's Guide staff writer based in London, covering news, reviews and how-tos for phones, gaming, audio and whatever else people need advice on. He's also written for WIRED U.K., The Register and Creative Bloq. When not at work, he's likely thinking about how to brew the perfect cup of specialty coffee.
Get instant access to breaking news, the hottest reviews, great deals and helpful tips.
Thank you for signing up to Tom's Guide. You will receive a verification email shortly.
There was a problem. Please refresh the page and try again.
Tom's Guide is part of Future US Inc, an international media group and leading digital publisher. Visit our corporate site.
© Future US, Inc. 11 West 42nd Street, 15th Floor, New York, NY 10036.

GeForce Now upgraded to support 120fps gaming on Pixel 6 Pro – The Verge
Filed under:
A feature previously limited to Samsung handsets on Android
Pixel 6 Pro owners just got another reason to give Nvidia's GeForce Now cloud game streaming service a shot. The service can now stream games at 120fps on Google's latest flagship smartphone, according to a recently updated support page spotted by XDA Developers. It's unclear when the update rolled out exactly, but it means games should feel smoother and more responsive to play compared to when they were capped at 60fps.
That makes Google's phone the first non-Samsung smartphone to support 120fps. According to Nvidia's help page, the feature has previously been available for Samsung's S21 lineup, as well as its S20 FE and Note 20 phones. You'll need to pay for GeForce Now's top-of-the-line RTX 3080 tier to stream games at this higher framerate, which costs $99.99 for six months of service. That's not exactly cheap, but it's still more affordable than actually tracking down one of the graphics cards for yourself, and as of last week, there's no waitlist to sign up.
On Android, GeForce Now is limited to 1080p streaming, which is, unfortunately, lower than the native resolution of the Pixel 6 Pro's 1440p screen. If you want 1440p streaming at 120fps, then you'll need to stream to a PC or Mac, while jumping up to 4K 60fps HDR streaming requires an Nvidia Shield TV. 1080p streaming also requires 25mbps of bandwidth, and Nvidia recommends connecting to a 5GHz wireless router.
It's a neat little upgrade for Nvidia's game streaming service, which allows you to play some (but not all) of your existing games bought on Steam, the Epic Games Store, and Ubisoft Connect / Uplay. We've already been impressed with what it's capable of, and updates like these hardly hurt. Hopefully, 4K support on non-Nvidia hardware isn't far behind.
If you have a GeForce Now RTX 3080 subscription and you're using a Pixel 6 Pro, you can manually enable the higher framerate from the Stream quality menu in the GeForce Now app.
Subscribe to get the best Verge-approved tech deals of the week.
Please confirm your subscription to Verge Deals via the verification email we just sent you.
New Apple Exclusive Reveals Major iPhone 13 Featured Cancelled – Forbes
The iPhone 13 launch week has leaked and Apple fans have some very good reasons to upgrade. But now there is a major reason why you might not.
Renders of Apple's iPhone 13 range based on multiple leaks
In the latest addition of his Power On newsletter, Bloomberg's respected Apple insider Mark Gurman has now confirmed his earlier tip-off that Apple has scrapped its plans to reintroduce Touch ID on the iPhone 13 range. But he does also reveal Apple's exciting long term plans.
"While Apple had tested in-screen Touch ID for the next flagship iPhones, it won't make the cut this year," Gurman explains. This follows rampant speculation for the last year that the tech would return alongside Face ID, given the latter's problems with masks during the pandemic.
That said, Apple is unlikely to give up on Touch ID with the first iPhone 14 leaks claiming an in-display Touch ID will make it into next year's model (along with several other major upgrades).
Moreover, Gurman also reveals Apple has radical plans for Face ID moving forward: "I believe Apple is all-in on Face ID for its higher-end iPhones and its long-term goal is to implement Face ID in the display itself," he explains. This is part of Apple's long term goal to eliminate the notch, which the company has at least managed to shrink in time for this year's new iPhones.
Apple iPhone concept showing in-display Touch ID
And this is where things get exciting. The combination of Face ID and, ultimately, in-display Touch ID will give iPhone users dual biometric verification. Used in tandem (look at your iPhone while placing a finger on the display) this can provide military grade levels of security and it fits in with Apple's plans to make your iPhone your primary form of ID. While iOS 15 will hold your driving licence, the company has revealed patents enabling an iPhone to replace your passport. Dual biometrics would be essential for this level of security and could fundamentally change how we see our smartphones.
More immediately, however, for those stung by the loss of Touch ID on the iPhone 13 there is still plenty to be excited about. Multiple sources have now revealed Apple's new iPhones will have massive new cameras, larger batteries, faster charging, smaller notches, next gen WiFi and — on Pro models — globally upgraded 5G and ProMotion displays. They may also double their storage.
And the deal maker in all this could be pricing. Apple is understood to be freezing iPhone 13 prices, something that is tipped to deliver another sales supercycle following the runaway success of the iPhone 12. Just watch out because Apple has already warned that the biggest challenge is likely to be getting your hands on one.
___
Follow Gordon on Facebook
More On Forbes
Apple Analyst Teases iPhone 13 Release Date
'No Service' iPhone Cellular Problem Reported By iOS 14.7.1 Upgraders
Save up 75% on Samsung smartphones, peripherals, appliances and more in the Samsung Week sales starting October 25 – My Everyday Tech
Samsung Malaysia will be launching a new sales event starting next week as a celebration of its 52nd anniversary by thanking fans and loyal customer's continuous support of the brand.


Samsung Malaysia will be offering a wide variety of items from lifestyle companions of smartphones and monitors down to the household musts such as washing machines, TV, and soundbar. The campaign will start from October 25 and lasts until November 7 exclusively on Samsung Online Store.
Product
Promo Price
Galaxy S21 5G (128GB)
RM2,999
Galaxy S21 5G (256GB)
RM3,199
Galaxy S21+ (128GB)
RM3.499
Galaxy S21 5G (256GB)
RM3,799
Galaxy S21 Ultra (128GB)
RM4,499
Galaxy S21 Ultra (256GB)
RM4,799
Galaxy S21 Ultra (512GB)
RM5,399
Buds Cases
1 for RM40, 2 for RM50
2 x UV Sterilizer with Wireless Charging
RM 199
15W Wireless Battery Pack 10,000mAh
RM 139
27" M5 Smart Monitor
RM1,288
* Free Samsung Smart Keyboard Trio 500
65" QN800A NEO QLED 8K Smart TV (2021)
RM16,099
* RM200 Trade-In Rebate + Free Installation
Front Load Washer with AI EcobubbleTM, 8.5KG
RM1,899
Lifestyle Soundbar (2021)
RM999

Additionally, the Samsung Galaxy Z Flip3 5G promotion is still available where all orders will be honored with an extra RM350 Samsung e-voucher and 1-Year plan of Samsung Care+ while the Samsung Galaxy Z Fold3 5G gets the same treatment but with a raised figure of  Samsung e-voucher at RM500.
See author's posts