iPhone 13 Colors: Deciding on the Right Color – Mac Rumors
The iPhone 13 and iPhone 13 Pro arrived in 2021 in a range of color options, with entirely new hues available on both devices, as well as some popular classics. The ‌iPhone 13‌ and ‌iPhone 13 Pro‌ have different color choices, so if you have your heart set on a particular shade, you may not be able to get your preferred model in that color.
The ‌iPhone 13‌ mini and ‌iPhone 13‌ are available in five colors, four of which are new shades. Although previous standard iPhone lineup color options have tended to be bolder and brighter, this year Apple selected a more muted color palette.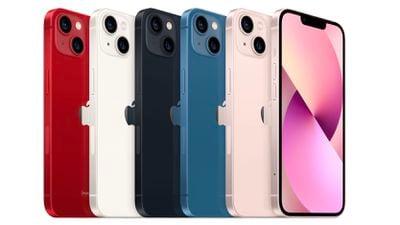 The ‌iPhone 13‌ mini and ‌iPhone 13‌'s five available colors are:
The only color carried over from last year's iPhone 12 lineup is the bright (PRODUCT)RED color, but all four of the other colors are new shades, even if some are similar to last year. Apple partners with (PRODUCT)RED to offer a striking red ‌iPhone 13‌, of which a portion of the proceeds to go the Global Fund COVID-19 Response, which provides support to healthcare systems and preserves HIV and AIDS programs in sub-Saharan Africa.
Starlight replaces last year's White option, which featured silver aluminum edges. Starlight is similar to the White option from last year, but is now a distinctively warmer shade that is almost pearl or cream-colored. The silver edges now contain a hint of gold to match the new, warmer look. Starlight is effectively analogous to the ‌iPhone 13 Pro‌'s cool Silver color, except with less prominent matte aluminum edges and a warmer, almost champagne tone.




The Midnight ‌iPhone 13‌ should not be confused with previous Black, Space Gray, or Graphite devices and is a new color. Midnight replaces Black as the lineup's darkest color option, but differs from Black since it has a slight hint of navy blue.
Although there was previously a Blue shade in the ‌iPhone 12‌ lineup, the ‌iPhone 13‌'s Blue is lighter and warmer with a hint of turquoise.
Finally, a pale, candyfloss-like Pink color replaces Purple. There is also no longer a Green option or an equivalent to it available.
The ‌iPhone 13 Pro‌ and ‌iPhone 13 Pro‌ Max are available in four colors, each of which are different from those available with the ‌iPhone 13‌ models.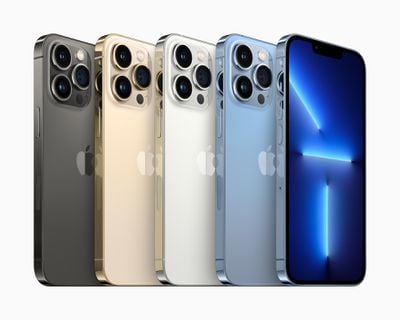 The ‌iPhone 13 Pro‌ and ‌iPhone 13 Pro‌ Max's four available colors are:
Graphite, Gold, and Silver were all available with last year's ‌iPhone 12‌ Pro and iPhone 12 Pro Max, with Sierra Blue being the only new option. Sierra Blue replaces last year's Pacific Blue, being much lighter and brighter, more akin to a baby blue shade.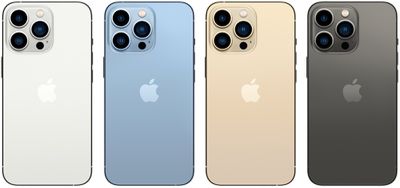 It is worth noting that the ‌iPhone 13 Pro‌'s Silver color only refers to the edges of the device. The Silver ‌iPhone 13 Pro‌'s rear is in fact white. Moreover, the Graphite color, in reality, appears to be similar to Space Gray from previous generations.
If you use your ‌iPhone‌ with a case, you may wish to consider which device color will best complement your case. It may be that you prefer more neutral tones such as Midnight or Starlight on the ‌iPhone 13‌, or Graphite or Silver on the ‌iPhone 13 Pro‌, and then use a more colorful case.




Similarly, Starlight, Midnight, Silver, and Graphite may age better over time as new devices are released since they are more neutral, almost monochrome shades. If you do not use a case, you may wish to take advantage of a more eye-catching color option such as Blue or Gold.
If you want an ‌iPhone‌ in a new color, Starlight, Midnight, Blue, Pink, or Sierra Blue will be the best options. Pink and Sierra Blue, in particular, are likely to be the colors that are most noticeably new and the ones that are most likely to indicate that you have the latest-generation device.
Your color choice may also be dependent on how often you upgrade your ‌iPhone‌. If you upgrade every year, you may be more confident in buying a striking new color, but if you keep your ‌iPhone‌ for many years, it may be wiser to consider a color that you have enjoyed previously if it is still available.
Customers with multiple Apple devices may also want to get an ‌iPhone‌ color that compliments their other devices. For example, if you already have a Space Gray MacBook Pro, it will be best accompanied by the Graphite ‌iPhone 13 Pro‌. Likewise, if you have a Silver stainless steel Apple Watch, it will match the Silver ‌iPhone 13 Pro‌, and the Red 24-inch iMac will best match the PRODUCT(RED) ‌iPhone 13‌.
If you still need help deciding between the ‌iPhone 13‌ or the ‌iPhone 13 Pro‌, see our iPhone 13 vs. 13 Pro buyer's guide.

Read about the differences between these two new processors from Apple.
Figure out if the 14″ or 16″ MacBook Pro is the one for you.
Apple Watch SE or Apple Watch 7 – which one to get?
App Privacy Report, Legacy Contact, Apple Music Voice Plan, and many more changes!
New high-end model will move from Intel to Apple silicon.
Updated AirPods Pro could see some design changes like elimination of the stem.
The next-generation MacBook Air refresh coming in 2022 will see Apple introduce the biggest design update to the MacBook Air since 2010
Apple is working on a redesigned version of the larger-screened iMac that could bring back the "iMac Pro" name.
 
MacRumors attracts a broad audience of both consumers and professionals interested in the latest technologies and products. We also boast an active community focused on purchasing decisions and technical aspects of the iPhone, iPod, iPad, and Mac platforms.
iPhone 13 Pro Max vs Pixel 6 Pro – PhoneArena
This is our new notification center. Inside, you will find updates on the most important things happening right now.
Hmm, push notifications seem to be disabled in your browser. You can enable them from the 'Settings' icon in the URL bar of your browser.
Samsung Galaxy S21 Ultra from Mint Mobile!
This is our new notification center. Inside, you will find updates on the most important things happening right now.
Hmm, push notifications seem to be disabled in your browser. You can enable them from the 'Settings' icon in the URL bar of your browser.
Samsung Galaxy S21 Ultra from Mint Mobile!
6.33 x 3.07 x 0.3 inches
160.8 x 78.1 x 7.65 mm
8.47 oz (240 g)
6.45 x 2.99 x 0.35 inches
163.9 x 75.9 x 8.9 mm
7.41 oz (210 g)
6.33 x 3.07 x 0.3 inches
160.8 x 78.1 x 7.65 mm
8.47 oz (240 g)
6.45 x 2.99 x 0.35 inches
163.9 x 75.9 x 8.9 mm
7.41 oz (210 g)
Get the most important news, reviews and deals in mobile tech delivered straight to your inbox
More content with (iPhone 13 Pro Max and Pixel 6 Pro)
Featured stories
Popular stories
Hot phones
Google Pixel 6 Pro
Apple iPhone 13
Apple iPhone 13 Pro
Samsung Galaxy Z Fold 3
Sony Xperia 1 III
Apple iPhone 13 Pro Max
Samsung Galaxy S21 FE
OnePlus 9
Samsung Galaxy Z Flip 3
Samsung Galaxy S21 Ultra
OnePlus 9 Pro
ZTE Axon 30 Ultra
Indian Gadget Awards winners: Apple iPhone 13 Pro Max ranked the Best Premium Camera Phone of 2021 – 91mobiles
A smartphone's camera details are usually plastered front and centre in the promos, and for good reason. Our phones have become the de facto tool to click photos and store our fond memories digitally. Understandably, the quality of the photos goes up a notch if the user spends top bucks on a brand new phone. To that note, 2021 saw the launch of a slew of camera-centric flagships with incredible features, but which one is the best? Enter, the Best Camera Phone of 2021 – Premium award. In this category, we've ignored the price tags and have picked all the smartphones that we thought offered the finest overall camera experience in 2021. But the award will only go to one phone, so to ensure absolute objectivity, our nominees were thoroughly inspected by the Indian Gadget Awards jury of over 40 experts from the Indian tech media community, and the results are in. Check out the winner of the Best Premium Camera Phone of 2021 award.

Check out the full list of nominees for the Best Premium Camera Phone of 2021 award.

The iQOO 7 Legend is a fantastic gaming phone and one that really pushed the boundaries with its long list of features. While the smartphone's headlining feature is undoubtedly its SD888 SoC, the device's 48MP main sensor deserves some credit too. To that note, the shooter excels at delivering great photographs in all lighting conditions. Plus, its Ultra Stable Mode combines OIS and EIS to give the gimbal-esque stabilisation when recording videos. The smartphone's assisting shooters are no slouch either and the unit's 13MP ultra-wide camera (that doubles up as a macro lens) and its 13MP telephoto shooter click quality stills as well. There's even an Extreme Night Mode on this device that offers amazing low-light shots, and a Video Pro Mode that gives users granular control over their video settings.

The Xiaomi Mi 11 Ultra is truly an 'ultra' in all regards. The device's main sensor is a 50MP 1/1.12″ unit which is the biggest sensor on any phone to date, offering a pixel size of 1.4 micrometres. As capable as the main camera is, the snapper is accompanied by a 48MP periscope telephoto camera that offers up to 120x digital zoom, and a 48MP ultra-wide camera with a 128-degree FoV. Pictures clicked from the Xiaomi Mi 11 Ultra have a remarkable amount of detail in them and the shots also have great dynamic range. What's more, the phone also supports 8K video recording, aside from offering a host of other photography and videography focused features.

No surprises here. Apple's latest top-end flagship, the iPhone 13 Pro Max is also a nominee for the Best Camera Phone of 2021 – Premium category. The larger sensors on this year's iPhones have enhanced their photography performance even further. The iPhone 13 Pro Max gets a trio of 12MP sensors, with one of them grabbing a wide lens that makes use of the company's sensor-shift technology, another utilising a telephoto lens 3x optical zoom shots and an ultra-wide angle sensor, which allows users to paint on a larger canvas. What's more, the company's upgraded Smart HDR 4 leads to stunning photos no matter what kind of scenario they are clicked in. This device also comes with the Cinematic Mode, which offers professional-grade video effects and there's even support for capturing RAW video.

The Vivo X70 Pro+ is among the most impressive phones of 2021 and the smartphone offers a ZEISS-backed camera setup with ZEISS T* coating to avoid lens flare. The phone comes with two main cameras – a 48MP gimbal-stabilised snapper and a 50MP Ultra Sensing GN1 sensor that has regular OIS. While these are able to dish out spectacular photos and videos, the phone also offers two telephoto cameras of 8MP and 12MP resolutions, which together provide up to 60x digital zoom. Suffice it to say, the photography and videography experience of the Vivo X70 Pro Plus is as diverse, as it is fulfilling.

As is customary with any Samsung flagship, the Galaxy S21 Ultra also snaps gorgeous stills with plenty of vibrancy and details in the frame. The device ships with a 108MP f/1.8 wide camera which works alongside a pair of 10MP telephoto cameras. The assisting sensors allow users to snap photos at up to 100x digital zoom, a feature aptly dubbed 'Space Zoom' by the company. And, then there's the 12MP ultra-wide camera that also returns stunning images. All said and done, the phone offers a complete camera setup with plenty of incredible features like support for 8K video recording, a Super Steady mode to mimic gimbal-like shots, and much more.

OnePlus is the go-to brand for performance-fiends, however, the company's OnePlus 9 Pro managed to sway a lot of budding photographers to the company's doorsteps too. To that note, the brand partnered with photography-giant Hasselblad in an attempt to finetune the phone's colour science. The partnership worked brilliantly as the OnePlus 9 Pro delivers natural-looking photos with realistic colours under all kinds of light. The phone's camera setup includes a 48MP main camera, a 50MP ultra-wide snapper, an 8MP telephoto sensor, and a 2MP monochrome sensor which, when put together, offer a complete camera setup.
Kodak Magnetic Wireless Chargers for Car, Home, and Office Launched for iPhone 12, iPhone 13 Series in In… – Gadgets 360
Photo Credit: Amazon
Kodak Magnetic Wireless Chargers feature neodymium magnets
Kodak has launched magnetic wireless chargers in India that are compatible with Apple iPhone 12 and Apple iPhone 13 series. While one is for use in the car, the other one is for juicing up an iPhone 12 or iPhone 13 series handset at home or office. Both of the chargers offer 15W maximum charging power. Kodak announced a licensing agreement with Bengaluru-based Georgian Enterprises to sell such consumer electronics in the Indian market. The US-based photography company also said that it will launch more exciting products in future.
As per the company, the Kodak Magnetic Wireless Charger for car (15W) and for home (15W) is available for an introductory price of Rs. 2,499 on Amazon. As per Kodak, the charger will be soon be available on Flipkart as well.
Kodak Magnetic Wireless Charger for car (WCM101C) can be fitted onto a standard Car AC vent with easy to detach vent hook and grip-locking ring. It features a square body with neodymium magnets around its edges. As per the company, the charger keeps the iPhone safe from scratches, and prevents it from slipping while the user is driving. It sports a 360-degree rotating ball mount allowing users to stick the phone in any orientation.
Kodak Magnetic Wireless Charger for car is equipped with an intelligent charging chip and offers a maximum power of 15W. It is certified with high protection features such as over-voltage, over-current, over-temperature and over-charging, Kodak says.
Meanwhile, the Kodak Magnetic Wireless Charger for home or office (WCM201) also offers a high-speed 15W desk chargercum-stand. It comes with the similar neodymium magnets for a secure hold as the one in the car charger, however, it has a compact kickstand allowing users to position the phone in upright position.
The Kodak Magnetic Wireless Chargers for car and home are compatible with Apple iPhone 13, iPhone 13 Pro and iPhone 13 Pro Max, iPhone 13 mini, iPhone 12, iPhone 12 Pro, iPhone 12 Pro Max and iPhone 12 mini. Kodak is offering a bundled wire, and a compatible USB car or wall charger with up to 20W power is needed to get the chargers running.
For the latest tech news and reviews, follow Gadgets 360 on Twitter, Facebook, and Google News. For the latest videos on gadgets and tech, subscribe to our YouTube channel.
Advertisement
04:15
04:28
04:54
03:08
03:22
Advertisement