iPhone 13 Pro Pre-Orders Off to Promising Start With Strong Early Demand, Says Analyst – MacRumors
While it has been many years since Apple stopped providing first weekend sales numbers for new iPhones, Morgan Stanley analyst Katy Huberty today said that iPhone 13 Pro pre-orders are "off to a promising start" with "strong early demand."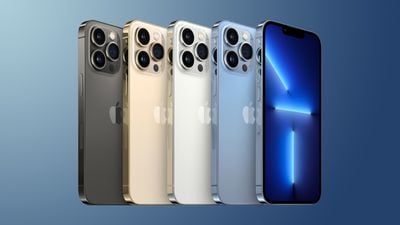 Huberty based her opinion off of Apple's delivery estimates for iPhones, which she has been tracking for many years. Shortly after pre-orders began last Friday, delivery estimates for the iPhone 13 Pro and iPhone 13 Pro Max began slipping into October, with Huberty having calculated the average lead time at around 27 days. She said this is the second longest lead time on the first day of pre-orders amongst all iPhone models launched over the past five years, surpassed only by the iPhone X in 2017.
As of last Friday, Huberty said the iPhone 13 mini was faring better with a lead time of 3.1 days, while the standard iPhone 13 faced no delays.
As with every iPhone launch, it is possible that lengthy delivery estimates are a function of low supply rather than high demand, but Huberty said Morgan Stanley's supply chain checks indicate minimal near-term component headwinds for iPhones and concluded that these long lead times "are at least partly a function of strong early demand."
All four iPhone 13 models will begin arriving to customers and launch in stores on Friday, September 24. Key features across the iPhone 13 lineup include a faster A15 Bionic chip, camera improvements, longer battery life, and a smaller notch. The two Pro models also feature a ProMotion display with a variable refresh rate up to 120Hz.

Gift ideas for Apple fans.
Read about the differences between these two new processors from Apple.
Figure out if the 14″ or 16″ MacBook Pro is the one for you.
New iPhones are out. Which one should you buy?
New high-end model will move from Intel to Apple silicon.
Updated AirPods Pro could see some design changes like elimination of the stem.
The next-generation MacBook Air refresh coming in 2022 will see Apple introduce the biggest design update to the MacBook Air since 2010
Apple is working on a redesigned version of the larger-screened iMac that could bring back the "iMac Pro" name.
 
MacRumors attracts a broad audience of both consumers and professionals interested in the latest technologies and products. We also boast an active community focused on purchasing decisions and technical aspects of the iPhone, iPod, iPad, and Mac platforms.
Google Play lists games 'optimized for Pixel 6' with Android 12's Game Dashboard/Modes – 9to5Google
November 14, 2021
Abner Li
– Nov. 14th 2021 12:22 pm PT
@technacity
Android 12 introduces a Game Dashboard that's currently exclusive to the Pixel 6 and 6 Pro. Besides providing useful tools, Google is encouraging developers to take advantage of Game Mode API. Google Play is now listing games that are "optimized for Pixel 6."

At the top of the Play Store's Games tab, some users are seeing an "Optimized for Pixel 6" carousel with a "Boost performance or save power" section. This is in reference to the Game Mode API that developers can support to let users set whether they want a title to prioritize gameplay for longer battery life or peak frame rates.
Update: As people in our comments have observed, Game Mode support is the only optimization needed to be listed in the Play Store list. In our testing, we spotted the Modes on Scrabble Go (casual game) and FIFA Soccer (more intensive title).
End-users can enable the "Game Dashboard" from system Settings > Apps > (under General) Game settings. When opening a compatible title, you'll get a floating bubble that opens the overlay. In compatible games, the "Optimization" tile – which is underneath the row of screen capture, record, FPS counter, and DND shortcuts and next to YouTube Live streaming – presents three modes:
At the moment, the Game Dashboard is only live on the Pixel 6 and 6 Pro. It does not appear on other Pixel phones running Android 12. Back in July, Google said that the Game Mode API would be available on "select" Android 12 devices later this year and that Samsung is already a partner for the effort, "with more OEMs on the way."
The full Google Play list of Game Mode-optimized titles for the Pixel 6 is below:
Updated with clarified headline
FTC: We use income earning auto affiliate links. More.
Check out 9to5Google on YouTube for more news:
@technacity
Editor-in-chief. Interested in the minutiae of Google and Alphabet. Tips/talk: abner@9to5g.com
Rumor: Google's foldable might be the 'Pixel Notepad'
Google is working to bring Material You to Chrome OS
YouTube Premium & Music get annual plans
Repainter hands-on: Master Material You [Video]
OnePlus 10 Pro vs iPhone 13 Pro Max: Which one has an edge when it comes to specs? – Economic Times
Hands-on: PHNX's Google Pixel 6 and 6 Pro ultra-thin case lineup – 9to5Google
January 9
Sponsored Post
– Jan. 9th 2022 3:47 pm PT
Below we go hands-on with the super-sleek and ultra-thin PHNX case lineup for the Google Pixel 6 and Pixel 6 Pro. 9to5Google readers can grab a PHNX case now for 20% OFF with our code 9TO5GOOGLE for a limited time.
Check out our hands-on with the PHNX Pixel 6 series case lineup from PHNX below:

The company has made smartphone cases that have been designed specifically with minimalists in mind or just those that hate adding yet more bulk to their pocket. Every single case from PHNX is ideally suited to those that want to not only protect their prized possession but don't want to lose functionality and — most importantly — form. That's an important differentiator given the large footprints of the Pixel 6 and 6 Pro, which come in at 6.4-inches and 6.67-inches respectively.
There are a ton of cases out there that claim total device coverage but not very many can offer protection without increasing device bulk quite substantially. PHNX Pixel 6 cases have always taken a different approach for the unique contours of the latest Made by Google smartphone series. Rather than being heavy and bulky, these cases let you enjoy the unique look and feel of your brand new smartphone but without any sort of over-the-top branding or logos — meaning you're not inadvertently advertising a brand simply by protecting your phone.
At just 0.35mm or 0.01-inches thin, you'll benefit from an extra layer of protection without needing to make more room in your pocket or sacrifice the curves and contours of either of the massive late-2021 flagship Pixel handsets. If you want to protect your display, all PHNX cases play nicely with screen protectors and other common accessories such as smartphone grips.
Not wanting to hinder access to important buttons and controls, PHNX has paid close attention to access to things such as charge port, volume and power buttons on each of their ultra-thin cases. Every single case for Pixel 6 (or any other device) is lazer cut for precise access to all of the most important portions of your smartphone — including the speakers. There is also a raised lip around the precious rear camera bar/visor to ensure it's protected when placed on flat surfaces — especially across the curved glass corners.
With the Pixel 6 weighing in at 207g and the Pixel 6 Pro at 210g, neither option would be considered "lightweight" by modern smartphone standards. Luckily each and every PHNX case is for the Pixel 6 and 6 Pro adds no noticeable extra mass without sacrificing protection. The color options are simple and refined with Frosted White, Frosted Black and, Matte Black available:
All PHNX cases ship within just one business day and are backed by a 100% money-back guarantee if you are not completely satisfied. 9to5Google readers can hit the links below to grab a PHNX case now with 20% OFF with our code 9TO5GOOGLE for a limited time:
FTC: We use income earning auto affiliate links. More.
https://youtu.be/5UYR5_WoZLU
Past sponsors:
-Microsoft
-LG Display
-Samsung
-Speck
More info: https://9to5mac.com/partners/
Rumor: Google's foldable might be the 'Pixel Notepad'
Google is working to bring Material You to Chrome OS
YouTube Premium & Music get annual plans
Repainter hands-on: Master Material You [Video]