Pixel 6 series gets neat 'Energy Ring' battery monitor that wraps the hole-punch – 9to5Google
November 4
Ben Schoon
– Nov. 4th 2021 7:34 am PT
@NexusBen
While battery life on the Pixel 6 series isn't anxiety-inducing, keeping an eye on your levels is generally a pretty good idea. Android, of course, has a built-in battery level monitor displayed in the top right corner, but "Energy Ring" offers a fun way to see your remaining battery life by wrapping it around the hole-punch, and now it supports Google's Pixel 6 series.

"Energy Ring" has been around just about as long as hole-punch cameras have been, but it requires an update to support new devices with the design feature properly. In its last update, the app adds official support for both the Pixel 6 and the Pixel 6 Pro. Notably, in the previous update, the app also added support for Galaxy Z Fold 3 and Pixel 5a.
The app itself is free and ad-supported, but you can remove ads with an in-app purchase. It's available for download now on the Play Store.
The "battery ring" provided to Pixel 6 and Pixel 6 Pro by this app simply shows your remaining battery percentage in real-time, but does it in a slightly better looking way than the typical monitor. It even changes color when the battery level drops. However, you do need to make some tweaks to avoid redundancy.
First, download the app and turn on the functionality; you'll need to give the app accessibility permissions, which it will prompt you to do. From there, you can turn off the normal battery indicator by going to Settings > Battery > Percentage. You can toggle off the battery percentage readout on this screen, and to take the visual makeover a step further, you can go to Android's built-in "System UI Tuner." This is most easily accessed using this app and, once launched, you can simply turn off the battery icon.
FTC: We use income earning auto affiliate links. More.
Check out 9to5Google on YouTube for more news:
@NexusBen
Ben is a writer and video producer for 9to5Google.
Find him on Twitter @NexusBen. Send tips to schoon@9to5g.com or encrypted to benschoon@protonmail.com.
Pixel 6 official case lineup: Are they worth it?
Gmail adds revamped Material You widget
Samsung is bringing Android 12 to these devices
Google Store Black Friday 2021 preview
These Amazing Night Sky Photos Were Taken on an iPhone 13 Pro Max – Mac Rumors
The iPhone 13 Pro Max received a number of major camera improvements this year, such as larger sensors and apertures, as well as software features like Photographic Styles. With the first iPhone 13 models being in users' hands for over two weeks now, the real-world camera capabilities of Apple's flagship smartphones have started to emerge.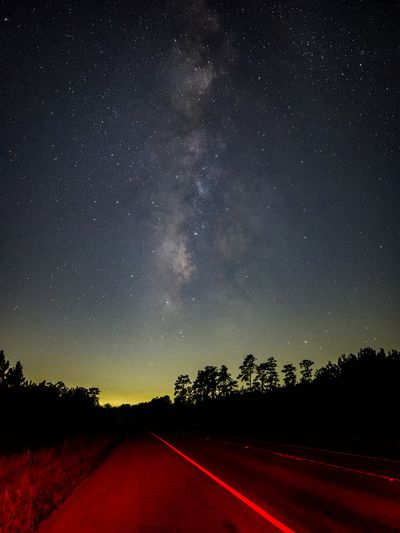 The ‌iPhone 13 Pro‌ Max's impressive astrophotography abilities have been showcased by the user "ToddH" on the MacRumors forums. ToddH used the standard 12MP Wide lens to take the photos, noting that the Ultra Wide lens did not produce such good results.
So I drove to a dark site last night and set up my iPhone and Skywatcher Star adventurer to see if tracking the night sky for 30″ during a night mode capture would look better. It does… The stars are pinpoint as compared to a tripod only mounted iPhone. You don't need to track the sky, I did to see the difference. The images are better since the iPhone takes three 10″ exposures and combines them therefore the stars are slightly elongated without tracking.
The images were shot using Apple's ProRAW format and then edited using the mobile version of Lightroom on the iPhone itself.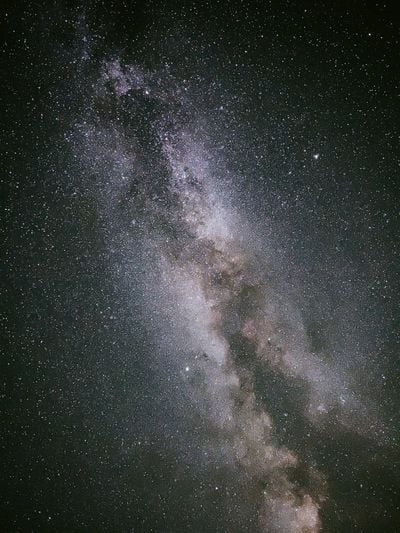 It was rumored prior to the announcement of the ‌iPhone 13‌ lineup that the new devices could offer specific astrophotography features, but when the devices were unveiled no such features were mentioned. Despite this, early adopters of the ‌iPhone 13 Pro‌ appear to be reporting good very results when shooting the night sky.
Other users were sharing their own photos in the discussion thread.

Read about the differences between these two new processors from Apple.
Figure out if the 14″ or 16″ MacBook Pro is the one for you.
Apple Watch SE or Apple Watch 7 – which one to get?
App Privacy Report, Legacy Contact, Apple Music Voice Plan, and many more changes!
New high-end model will move from Intel to Apple silicon.
Updated AirPods Pro could see some design changes like elimination of the stem.
Apple is working on a redesigned version of the larger-screened iMac that could bring back the "iMac Pro" name.
The next-generation MacBook Air refresh coming in 2022 will see Apple introduce the biggest design update to the MacBook Air since 2010
 
MacRumors attracts a broad audience of both consumers and professionals interested in the latest technologies and products. We also boast an active community focused on purchasing decisions and technical aspects of the iPhone, iPod, iPad, and Mac platforms.
Don't Miss Samsung's CES 2022 Pre-Show Keynote: 'Together for Tomorrow' – Samsung Newsroom Malaysia
Google Pixel 6 Black Friday Deals (2021): Early Unlocked & Carrier-Locked Pixel 6 & 6 Pro Deals Reported by The Consumer Post – Business Wire