Steam Deck: Five big things we learned from Valve's developer summit – The Verge
Filed under:
Don't wait up for the white Portal-themed one
On Friday, PC gaming giant Valve invited the developer community to learn more about its Steam Deck, a $400 handheld gaming PC with a comparatively powerful AMD chip. It's akin to the Nintendo Switch of gaming PCs, and there's a lot we already knew about the delayed handheld from its announcement, our trip to Valve's headquarters, and an official teardown. But today, we learned even more.
Here are the highlights — unless, of course, you'd like to watch Valve's entire livestream or breakout sessions for yourself. That's fine too!
The AMD chip inside the Steam Deck has a name: it's the Aerith SOC, a clear reference to the famous Aerith from Final Fantasy VII. It's an APU with a power envelope of between 4 and 15 watts, and it contains both an 4-core, 8-thread AMD Zen 2 CPU that runs between 2.4-3.5GHz, and 8 AMD RDNA 2 compute units worth of graphics clocked between 1 and 1.6GHz, for a total of 1.6 teraflops of raw graphical compute.
Here's the Steam Deck's entire block diagram, so you can see how the whole system comes together around that chip:
It interfaces with 16GB of unified LPDDR5 memory, with a total of 88GB/s of bandwidth. While there's only 1GB of dedicated video memory, Valve says the GPU can access up to 8GB of that shared memory as needed.
Valve says the chip's designed to run continually and consistently at its quoted clockspeeds: "The performance your game gets in the first ten seconds is likely to be the same performance you get two hours from now, or even indefinitely if you're plugged into the wall," says Valve's Yazan Aldehayyat, adding that the system's designed to perform the same docked, undocked, charging or not, even while downloading games or at an elevated temperature. "If you're in Florida in July, you may run out of thermal headroom," he says, but even then Valve says it'll try to throttle downloads and transfer speeds before it throttles your game performance.
Valve does warn that developers may need to avoid pushing the GPU too hard if they want longer battery life. "We didn't place any artificial limits on how much power the APU can consume." As one specific tactic, Valve's suggesting that games cap their framerate to save battery. That could make a big difference: "You can play Portal 2 for four hours on this thing. If you limit it to 30 FPS, you're going to be playing for 5-6 hours," Valve told IGN in August.
Another optimization: Valve revealed today that developers can upload versions of their games with lower-fidelity texture packages to Steam's Depot to improve performance and reduce the amount of storage and time it takes a user to download a game. That's similar to Microsoft's Smart Delivery system for the Xbox One, Xbox One X and Xbox Series X/S, which routes the proper version of a game to each console. (But where Xbox developers are likely targeting 1080p, 1440p and near-4K respectively, the portable Steam Deck runs at 720p and 800p resolution.)
With a 45-watt power supply, Valve says the Steam Deck can charge and play at the same time, and power 7.5-watt worth of external peripherals. The USB-C port also offers external display support for up to two 4K monitors at 60Hz (using Display Stream Compression), and Valve says it'll offer USB 3 Gen 2 "if you opt for half the display bandwidth." The optional dock (which has yet to be pictured or go on preorder) will also offer Gigabit Ethernet.
And if you opt to play on a TV or monitor, you'll probably be happy to hear the first full confirmation that Valve is supporting AMD's FidelityFX Super Resolution (FSR) upscaling with the Steam Deck. In fact, AMD representatives on the stream confirmed that not only does the Steam Deck work with FSR in games that support it — potentially making them look a bit better on the big screen — but that the Steam Deck will natively support FSR at an operating system level with a future update. AMD says it's working on drivers that will enable the recently announced Vulkan Dynamic Rendering, too.
There's no USB 4 or Intel-proprietary Thunderbolt here, obviously, and you're only getting 802.11ac (Wi-Fi 5) instead of Wi-Fi 6 or 6E, but Valve says the Deck is optimized for "reliability and robustness even in congested environments." That way, Valve can offer a "first-class Remote Play experience" to beam games from their desktop PC to the Deck inside their own homes, while using less battery than games natively running on the Deck's hardware itself.
Valve did an great job with Wi-Fi engineering when it built the Steam Link HDMI puck, so I'm excited to test that.
The entry level $400 Steam Deck only comes with 64GB of comparatively slow eMMC storage and a microSD card slot for expansion — you'll have to pay notably more for the faster models with NVMe SSDs, and even then they'll be fairly easy to fill with a decent-sized Steam library of games so SD cards may come into play there too.
But today, Valve assured developers that eMMC and SD aren't that much slower: roughly 12 percent and 18 percent slower respectively when it comes to loading games. (Yes, the Y-axes are either mislabeled or don't line up with the bar graphs.)
Valve says games 64GB eMMC Steam Deck might be 12 percent slower at loading a game and 25 percent slower booting, compared to the NVMe model.
18 percent slower loading a game from SD card. pic.twitter.com/X6HfKusY2X
Boot times are 25 percent slower, but I suppose we'll have to see how long they are in reality — Valve didn't specify an actual number of minutes or seconds it takes for the Steam Deck to boot.
But Valve is also thinking of the Steam Deck as an always-on device, one where you won't always need to boot and launch games from scratch: there's a suspend and resume feature built into the Steam Deck that should let you quickly pause games like you do on a Nintendo Switch.
Valve's changing how Steam's cloud save system works as a result: Where today's Steam generally syncs your cloud saves after you've quit out of a game, the company's offering new cloud APIs so developers can get their games to sync in the background at the time you suspend the title.
Theoretically, that could also mean you could pause a game you're playing on the Steam Deck and quickly pick it up on your desktop PC, or vice versa.
During the entire Steam Deck presentation, the backgrounds were filled with intriguing hints at Valve's prototyping process, and many onlookers noticed a white Steam Deck among them — one straight out of Valve's hit game Portal right down to the Aperture logo around back.
Unfortunately, it's not for sale: "This is a prototype only. We love it too, but we're not able to bring it to market at the same time we're shipping the Steam Deck," said Valve's Greg Coomer, adding that the company intends to "look at other color options in the future, but that's really down the road."
Here are some other random things we learned:
In fact, we'll leave you with whole bunch of Steam Deck user interface screenshots — we haven't seen much of this before now.
Related
Subscribe to get the best Verge-approved tech deals of the week.
Please confirm your subscription to Verge Deals via the verification email we just sent you.
Stellaris 2 Release Date: PS4, PS5, Xbox, PC, Switch – Game Revolution
Grand strategy games are in relatively short supply, which is why Stellaris is such an important title. Even better, Paradox's 4X game is one of very few available on modern home consoles. Will the same be true of Stellaris 2? Is a sequel actually in development, and will it release for Switch in addition to Xbox and PlayStation?


Paradox Development Studio has yet to confirm Stellaris 2, so there is no release date set. In fact, there's no confirmation that Stellaris will get a numbered sequel at all. Assuming it does happen, we can expect to learn more about a launch date after the game is announced.
For now, it seems the team at Paradox is still focused on the original game. After all, it took almost three years for Stellaris to move from PC to home consoles, hitting PS4 and Xbox One early in 2019. The Series X/S version only arrived in March of last year.
That time hasn't been spent solely on porting, either. The team has released several DLC packs and expansions, including the Nemesis expansion which released last year. Development is ongoing, and fans can check out the latest details over on the official Stellaris forums.
Given that Stellaris eventually landed on consoles, a PlayStation 4, PS5, or Xbox Series X/S release would make sense. Of course, it could be a matter of timing, since it took so to release console ports before.
Admittedly, a Nintendo Switch release for Stellaris 2 is very unlikely. Stellaris isn't on the Switch, and it's doubtful that Nintendo's handheld could run it properly. And, again, Stellaris 2 hasn't been confirmed, so who knows if we'll even be playing the Switch by the time it might release.
Stellaris 2 doesn't have a release date or any known platforms, as the game itself hasn't been announced. Until we hear otherwise, the crew at Paradox Development Studio will continue its ongoing work on the Stellaris that does exist, which is available on PC, PS4, Xbox One, and the Series X/S.
Nvidia: Quantitatively Speaking Still Overvalued – Seeking Alpha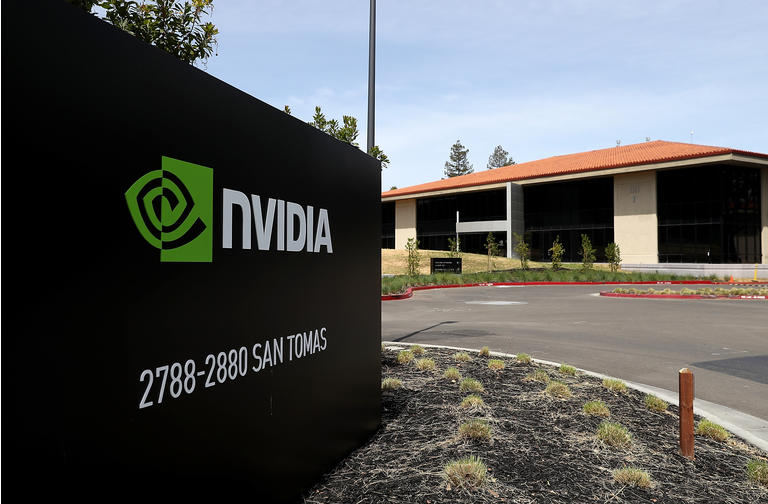 Justin Sullivan/Getty Images News
This is my first article about NVIDIA (NASDAQ:NVDA). I readily admit that I do not fully understand the specifics of the company and what investors see hidden in it. Therefore, at this stage, I offer a comprehensive, quantitative analysis of the company's fundamental value.
The easiest way to get a first idea of the adequacy of the company's current price is to look at the dynamics of its capitalization in the context of the dynamics of key results. As a rule, this allows you to identify persistent regressions.
Based on the long-term relationship between the revenue TTM absolute size and the company's capitalization, NVIDIA's current price is somewhat overvalued: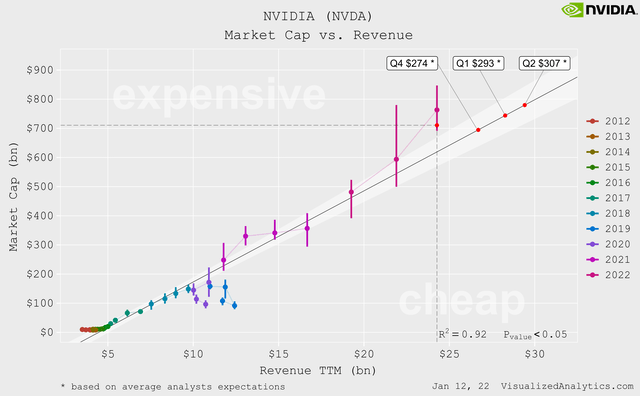 VisualizedAnalytics
The same is true for the relationship based on the EPS TTM absolute size: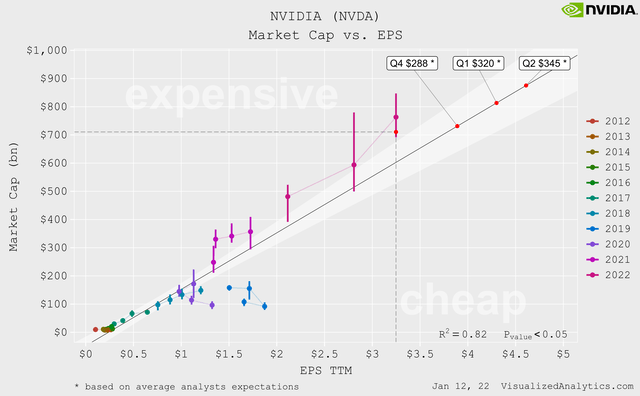 VisualizedAnalytics
On the other side, over the past seven years, NVIDIA has shown a direct relationship between the rate of revenue growth and its P/S multiple. It should be noted that there is no similar qualitative relationship between EPS and earnings growth rate. In my opinion, this means that the rate of revenue growth is now a key driver of capitalization.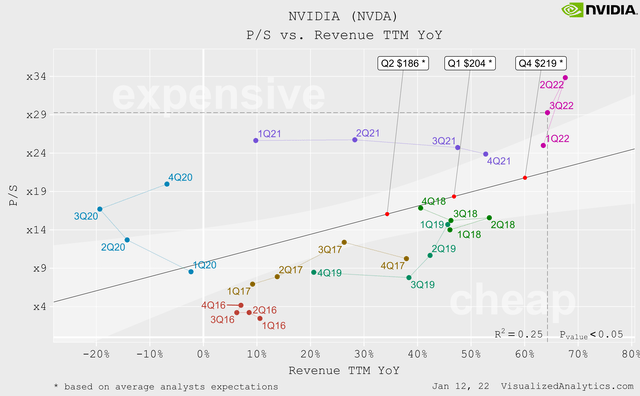 VisualizedAnalytics
In the context of the last model, the company is now also overvalued. But more importantly, the expectation of a decrease in the revenue growth rate indicates a potential decrease in the P/S multiple in the coming quarters.
So, having determined that revenue is a key driver of company capitalization, we can build a general model that determines the company's balanced price: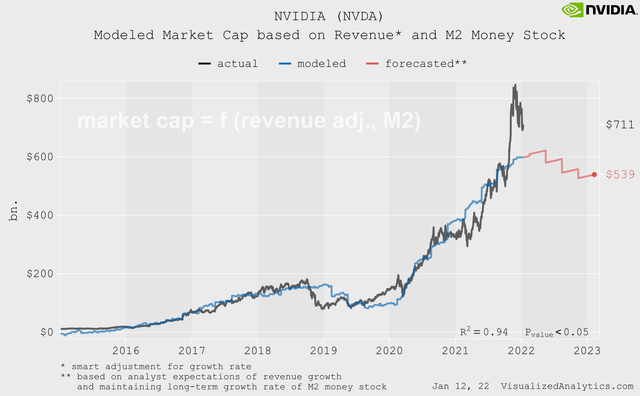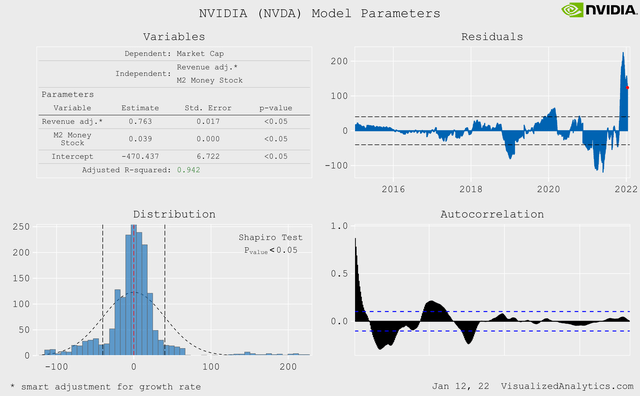 VisualizedAnalytics
VisualizedAnalytics
Under this approach, NVIDIA's modeled capitalization is lower than the actual one within about two standard deviations. And the nearest forecast also does not justify the current price of the company.
Using elements of machine learning, I analyzed many options for comparative assessment of NVIDIA through multiples. As a result, I found only three models that allow a more or less reasonable judgment of the relative value of the company. To my surprise, all of these models are based on growth-adjusted multiples. This suggests that growth is a determining factor in the level of NVIDIA multiples.
A comparative valuation of NVIDIA through the forward P/E (next FY) to growth multiple indicates that the company is undervalued by 18%. But the quality of this model is not high enough: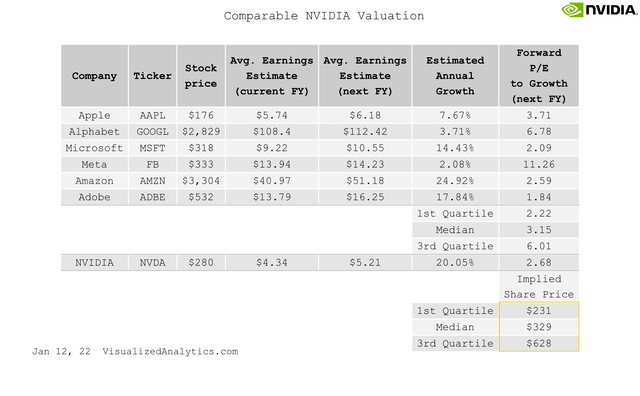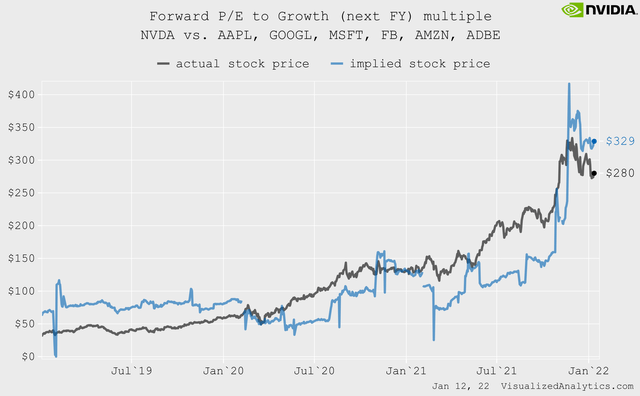 VisualizedAnalytics
VisualizedAnalytics
Considering the EV/Revenue to growth multiple, NVIDIA seems expensive: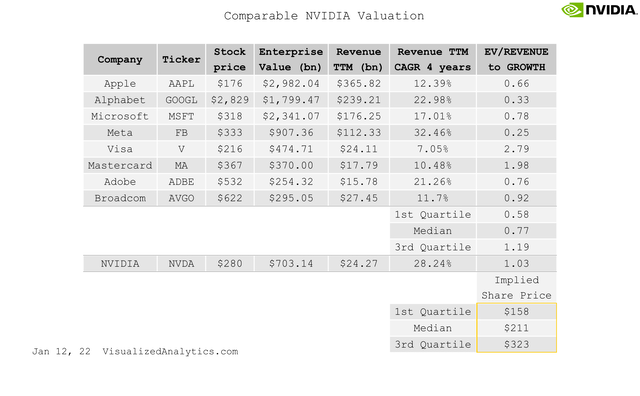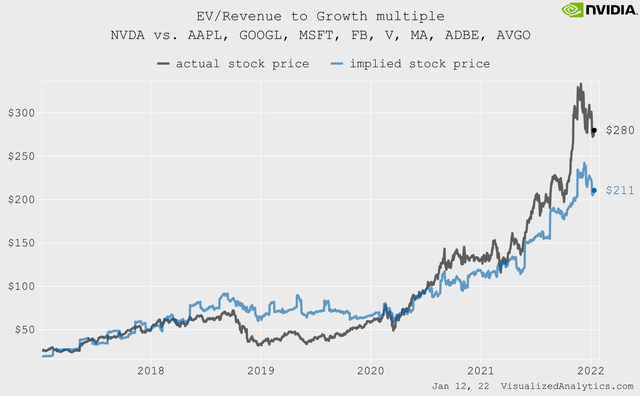 VisualizedAnalytics
VisualizedAnalytics
The same is true for the EV/EBITDA multiple: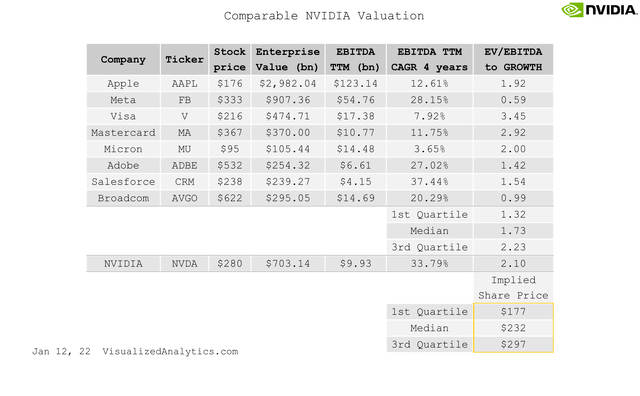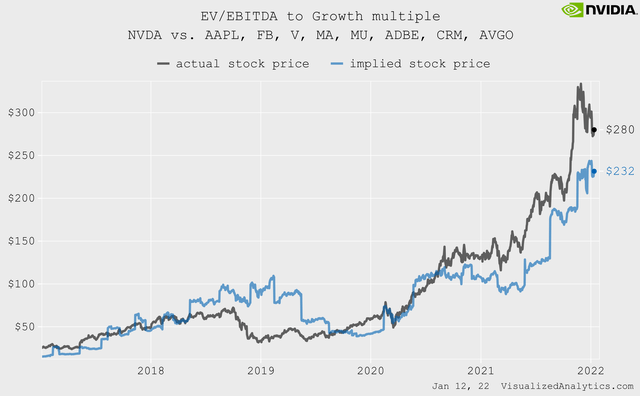 VisualizedAnalytics
VisualizedAnalytics
Judging by the proposed multiples, I cannot make an unambiguous conclusion. The only thing that can be stated is that the company's growth rate is a determining factor in the level of NVIDIA multiples. The slowdown should significantly reduce the level of its multiples.
When predicting NVIDIA's revenue for the next ten years, I proceeded from the average expectations of analysts. According to consensus forecasts, in the next decade, the company's annual revenue will exceed $160 billion.
NVIDIA's operating margin has reached 35% in the last quarter. This is close to the historical maximum of the company. But the model is based on the assumption that the operating margin over the next 10 years will gradually decline to 30% in the terminal year. This is a standard approach based on the likely increase in competition.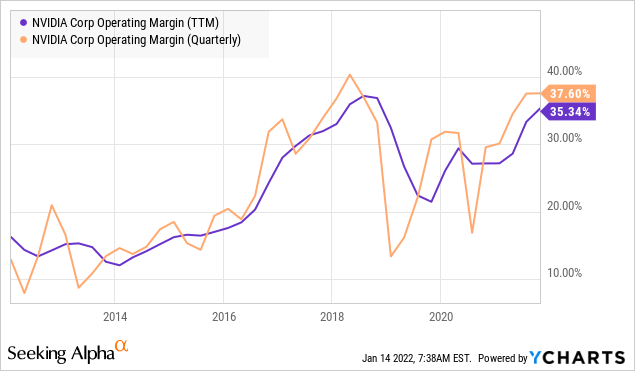 Here is the calculation of the Weighted Average Cost of Capital: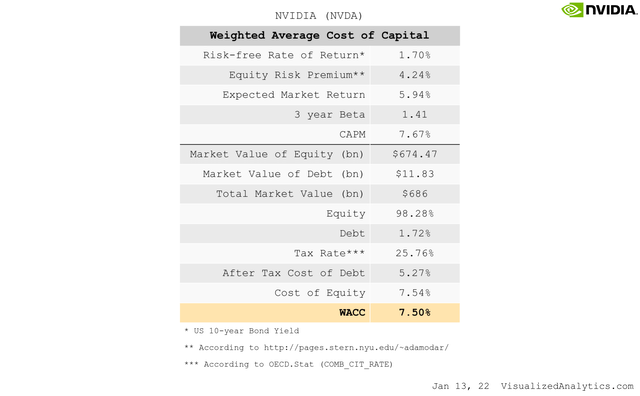 VisualizedAnalytics
Some explanations:
Here's the model itself: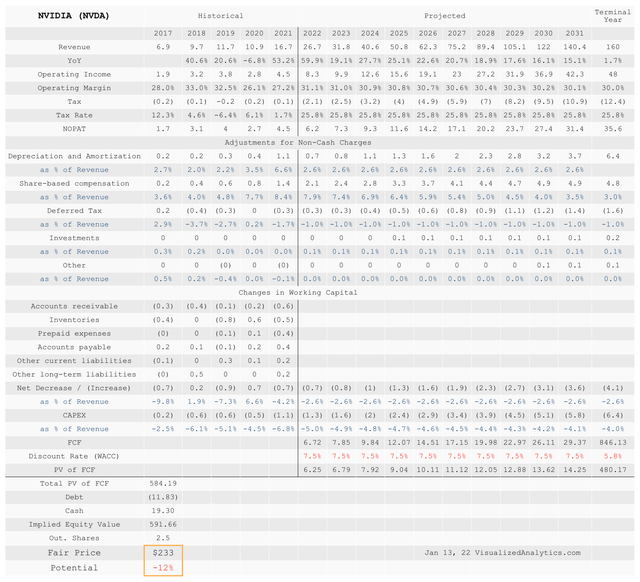 VisualizedAnalytics
(in high resolution)
The DCF-based target price of NVIDIA's shares is $233, offering 12% downside. At the same time, in my opinion, I considered a relatively positive scenario for the future development of the company.
Looking at NVIDIA in the context of free cash flow, I want to draw your attention to one important indicator – the free cash flow yield. It shows how much the company generates free cash flow per dollar of its market price.
Free Cash Flow Yield = Free Cash Flow TTM / Market Capitalization
I compared this figure of NVIDIA with other technology companies and closest competitors. Alas, the company's figure is the lowest: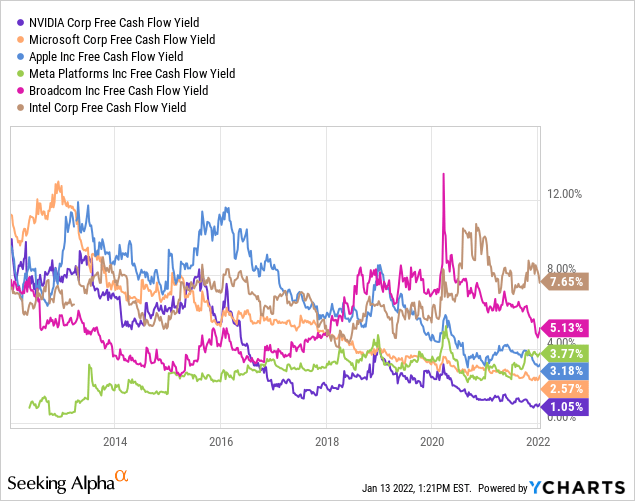 The free cash flow that NVIDIA generates for every dollar of its capitalization is about 1%. This is lower than the US 10-year treasury yield. I don't even compare with inflation. In general, this is a wake-up call for an investor.
From October to November last year, NVIDIA's share price rose nearly 80%. During this period, two gaps were recorded. These gaps have defined strong support levels. And the first of these levels seems to have already been broken. In my opinion, before the level of the second support is reached, it is premature to talk about the completion of the correction.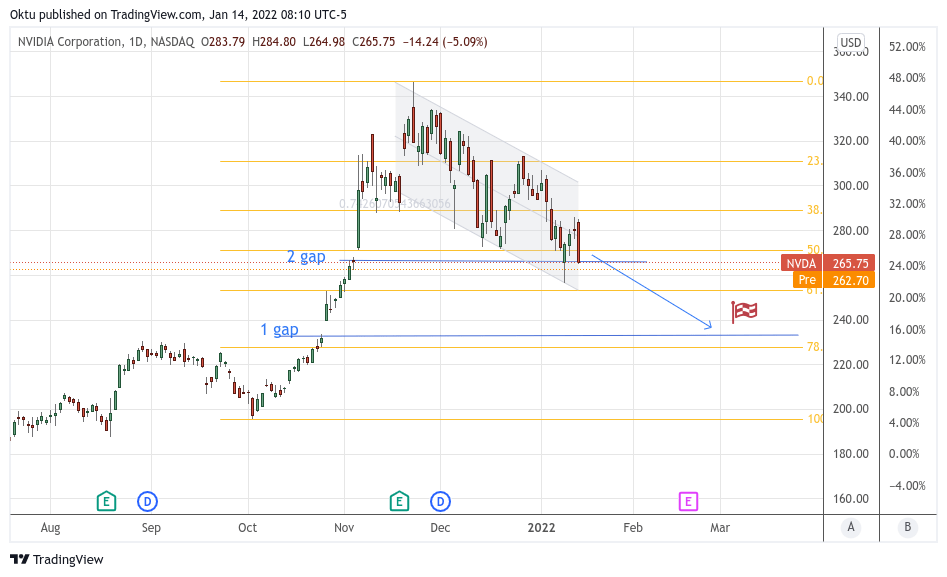 TradingView
I do not share the optimism of those who believe that NVIDIA is an extremely attractive investment at its current price. I won't jump to conclusions about the company's long-term potential just yet, but it's highly likely that the decline will continue in the short term.
This article was written by
Disclosure: I/we have no stock, option or similar derivative position in any of the companies mentioned, and no plans to initiate any such positions within the next 72 hours. I wrote this article myself, and it expresses my own opinions. I am not receiving compensation for it (other than from Seeking Alpha). I have no business relationship with any company whose stock is mentioned in this article.
Sony's PlayStation Direct initiative will let lucky users buy 'limited' PS5 stock – TechRadar