Viral TikTok Video Claims Walmart is 'Hoarding' PS5 Consoles – Game Rant
A viral TikTok showing a Walmart distribution center's stock of PlayStation 5 consoles has prospective console buyers commiserating.
The holiday season has arrived and with it rising anxiety for families and gamers hoping to acquire a PlayStation 5 or Xbox Series X/S. Component shortages continue to drive shortages for next-gen consoles, however, leading the PS5 and Xbox Series X/S consoles to remain sold out across the United States. Now imagine a situation, then, where a major retailer is implied to have stockpiled a massive collection of PS5s via a TikTok recording from a distribution center. Needless to say, there's a lot of frustration going around on social media.
The viral TikTok in question was posted by user hishamhasan3. Their TikTok shows a recording from inside what appears to be a Walmart distribution center showing warehouse racks full of PS5 consoles. The TikTok's voiceover half-sarcastically says, "This is why y'all don't have the ps5 because Walmarts hoarding all of them," with a joy emoji. An exact count of the number of PS5s on the racks isn't clear, but it's likely in the hundreds if not a couple thousand.
RELATED: Scalped PS5s Are Being Resold on Walmart's Site For Ridiculous Prices
TikTok users have watched the post from hishamhasan3 in staggering numbers. At the moment, the viral TikTok has well over 3 million views, over 350 thousand likes, and is nearing 5 thousand comments. A majority of the posts are surprisingly in good humor. One user said no one's raiding Area 51 anymore, it's time to raid Walmart. Others mention not having $500 for a PS5 in the first place. There's no shortage of console warring and teasing about already having a PS5 in the comments, too.
#fyp #walmart
One common line of thought is that Walmart must be stockpiling PS5s in preparation for the upcoming holiday sales surge. In other words, having PS5s on sale for Black Friday ensures that customers will be in-store shopping throughout Thanksgiving weekend. However, other posters, including at least one claiming to work at Walmart, says this is normal and that this is typical for Walmart and that the store only releases small batches of its stockpile at a time.
Without an official statement from Walmart on the subject, it's difficult to speculate on the issue. Walmart is the largest retailer in the United States, with nearly 5,000 locations across all 50 states. A few thousand PS5s in a distribution center seems like a small number with that in mind. That said, it would make sense to stockpile for Black Friday, or for other holiday sales events, too.
Sadly, even if Walmart unleashed its full PS5 inventory today there would almost certainly still be a massive shortage of consoles in the US. Sony even confirmed in May that it expects the PS5 shortage to continue into 2022. That's despite the PS5 selling over 10 million consoles faster than the PS4 did. Still, the viral TikTok, its comments, and similar posts across social media are a valued form of catharsis. There are still several months to pick up a PS5 before Horizon Forbidden West launches next February, after all.
MORE: New PS5 Console Model May Actually Be Better Than the Original
MulstiVersus will have several costumes for each of its different fighters, including at least three alternate costumes for Shaggy.
Veteran reporter and editor with over ten years of experience. Probably reading comic books.
Stellaris 2 Release Date: PS4, PS5, Xbox, PC, Switch – Game Revolution
Grand strategy games are in relatively short supply, which is why Stellaris is such an important title. Even better, Paradox's 4X game is one of very few available on modern home consoles. Will the same be true of Stellaris 2? Is a sequel actually in development, and will it release for Switch in addition to Xbox and PlayStation?


Paradox Development Studio has yet to confirm Stellaris 2, so there is no release date set. In fact, there's no confirmation that Stellaris will get a numbered sequel at all. Assuming it does happen, we can expect to learn more about a launch date after the game is announced.
For now, it seems the team at Paradox is still focused on the original game. After all, it took almost three years for Stellaris to move from PC to home consoles, hitting PS4 and Xbox One early in 2019. The Series X/S version only arrived in March of last year.
That time hasn't been spent solely on porting, either. The team has released several DLC packs and expansions, including the Nemesis expansion which released last year. Development is ongoing, and fans can check out the latest details over on the official Stellaris forums.
Given that Stellaris eventually landed on consoles, a PlayStation 4, PS5, or Xbox Series X/S release would make sense. Of course, it could be a matter of timing, since it took so to release console ports before.
Admittedly, a Nintendo Switch release for Stellaris 2 is very unlikely. Stellaris isn't on the Switch, and it's doubtful that Nintendo's handheld could run it properly. And, again, Stellaris 2 hasn't been confirmed, so who knows if we'll even be playing the Switch by the time it might release.
Stellaris 2 doesn't have a release date or any known platforms, as the game itself hasn't been announced. Until we hear otherwise, the crew at Paradox Development Studio will continue its ongoing work on the Stellaris that does exist, which is available on PC, PS4, Xbox One, and the Series X/S.
Nvidia: Quantitatively Speaking Still Overvalued – Seeking Alpha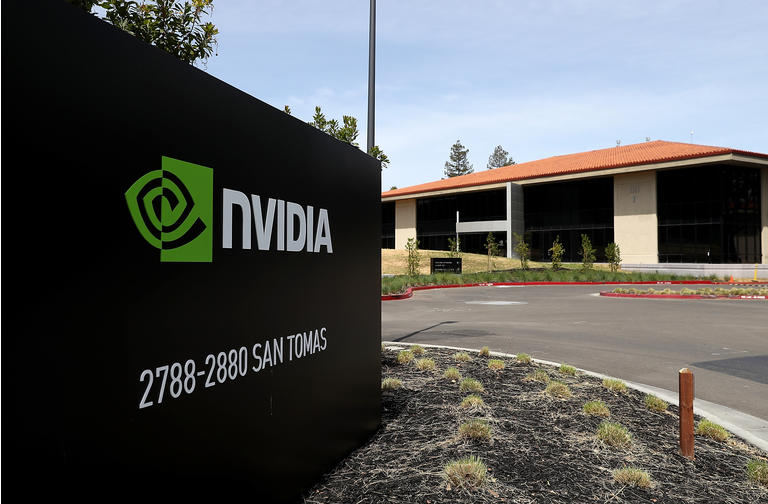 Justin Sullivan/Getty Images News
This is my first article about NVIDIA (NASDAQ:NVDA). I readily admit that I do not fully understand the specifics of the company and what investors see hidden in it. Therefore, at this stage, I offer a comprehensive, quantitative analysis of the company's fundamental value.
The easiest way to get a first idea of the adequacy of the company's current price is to look at the dynamics of its capitalization in the context of the dynamics of key results. As a rule, this allows you to identify persistent regressions.
Based on the long-term relationship between the revenue TTM absolute size and the company's capitalization, NVIDIA's current price is somewhat overvalued: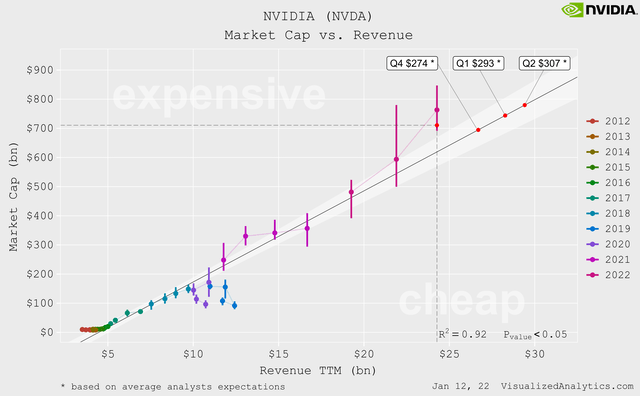 VisualizedAnalytics
The same is true for the relationship based on the EPS TTM absolute size: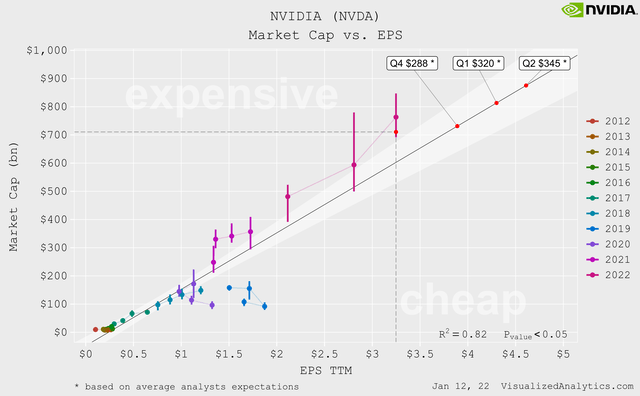 VisualizedAnalytics
On the other side, over the past seven years, NVIDIA has shown a direct relationship between the rate of revenue growth and its P/S multiple. It should be noted that there is no similar qualitative relationship between EPS and earnings growth rate. In my opinion, this means that the rate of revenue growth is now a key driver of capitalization.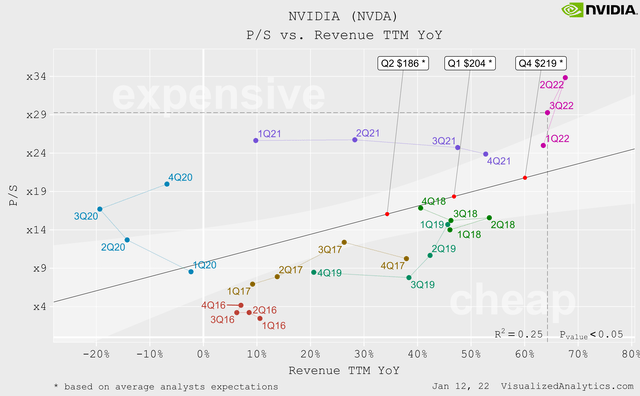 VisualizedAnalytics
In the context of the last model, the company is now also overvalued. But more importantly, the expectation of a decrease in the revenue growth rate indicates a potential decrease in the P/S multiple in the coming quarters.
So, having determined that revenue is a key driver of company capitalization, we can build a general model that determines the company's balanced price: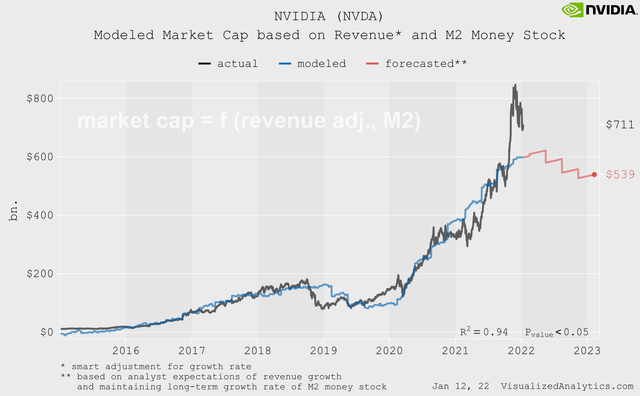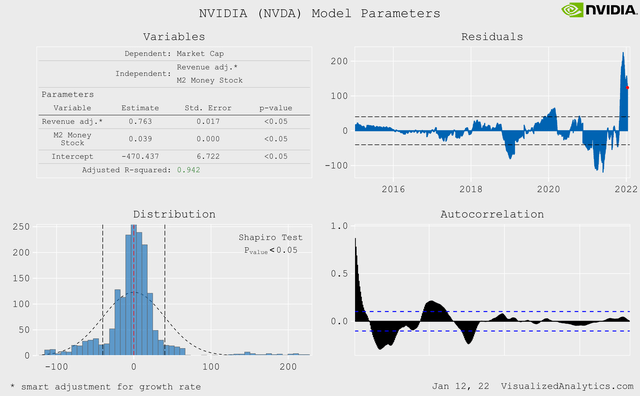 VisualizedAnalytics
VisualizedAnalytics
Under this approach, NVIDIA's modeled capitalization is lower than the actual one within about two standard deviations. And the nearest forecast also does not justify the current price of the company.
Using elements of machine learning, I analyzed many options for comparative assessment of NVIDIA through multiples. As a result, I found only three models that allow a more or less reasonable judgment of the relative value of the company. To my surprise, all of these models are based on growth-adjusted multiples. This suggests that growth is a determining factor in the level of NVIDIA multiples.
A comparative valuation of NVIDIA through the forward P/E (next FY) to growth multiple indicates that the company is undervalued by 18%. But the quality of this model is not high enough: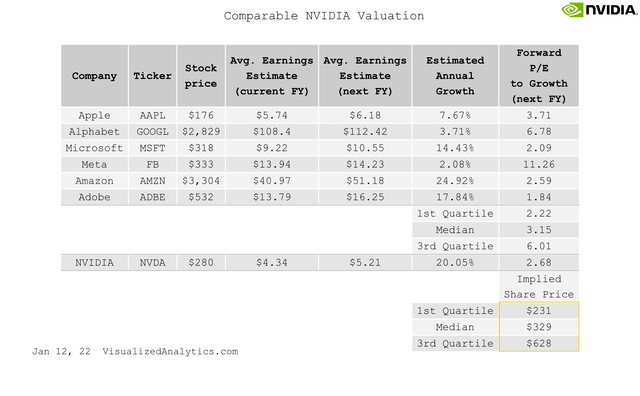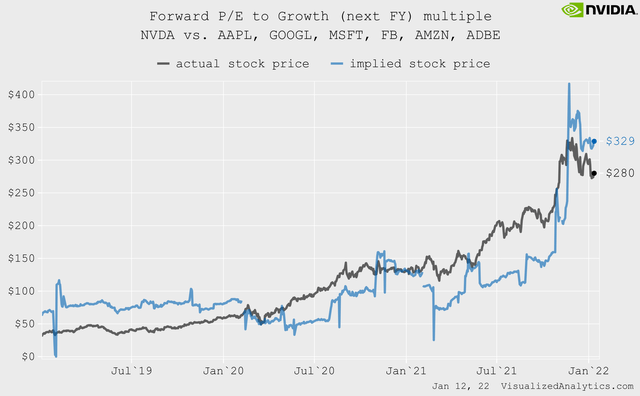 VisualizedAnalytics
VisualizedAnalytics
Considering the EV/Revenue to growth multiple, NVIDIA seems expensive: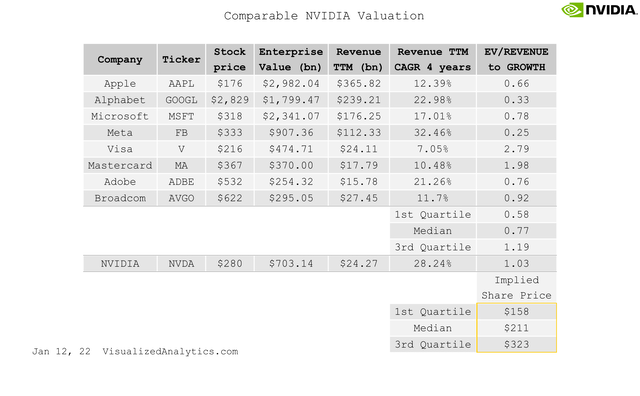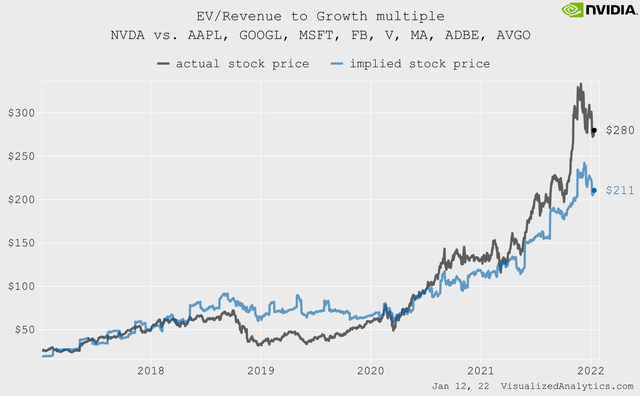 VisualizedAnalytics
VisualizedAnalytics
The same is true for the EV/EBITDA multiple: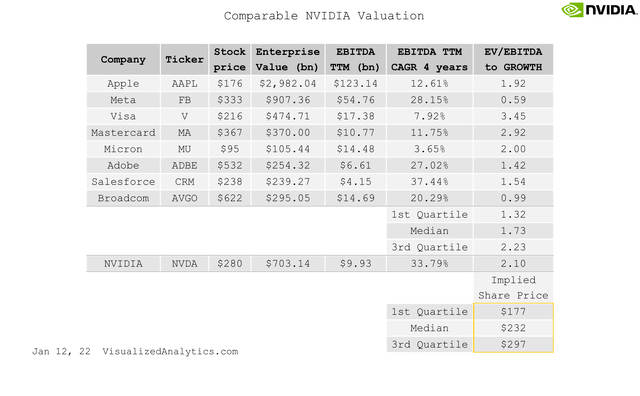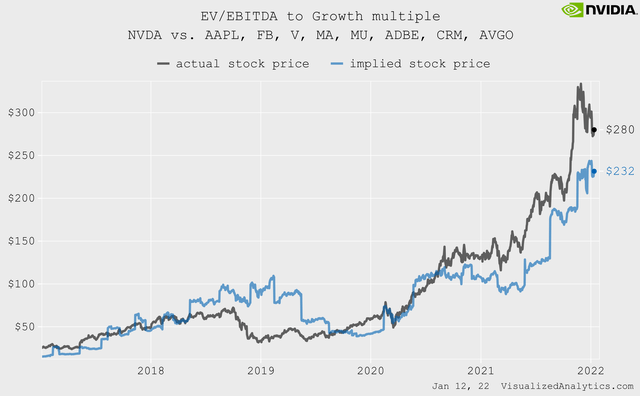 VisualizedAnalytics
VisualizedAnalytics
Judging by the proposed multiples, I cannot make an unambiguous conclusion. The only thing that can be stated is that the company's growth rate is a determining factor in the level of NVIDIA multiples. The slowdown should significantly reduce the level of its multiples.
When predicting NVIDIA's revenue for the next ten years, I proceeded from the average expectations of analysts. According to consensus forecasts, in the next decade, the company's annual revenue will exceed $160 billion.
NVIDIA's operating margin has reached 35% in the last quarter. This is close to the historical maximum of the company. But the model is based on the assumption that the operating margin over the next 10 years will gradually decline to 30% in the terminal year. This is a standard approach based on the likely increase in competition.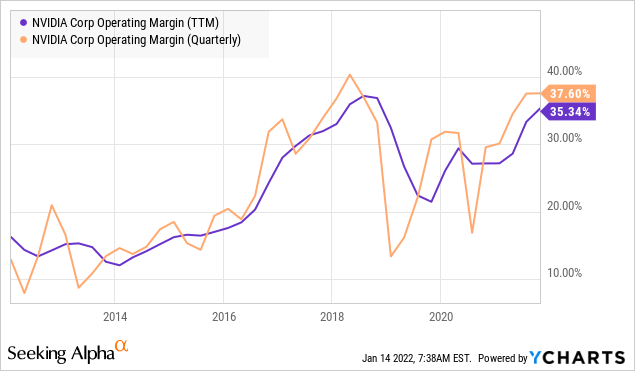 Here is the calculation of the Weighted Average Cost of Capital: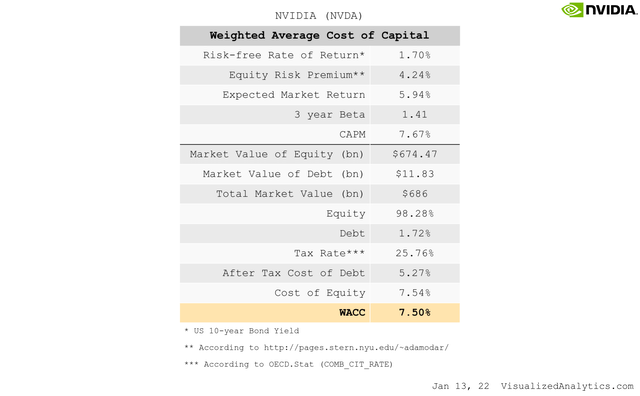 VisualizedAnalytics
Some explanations:
Here's the model itself: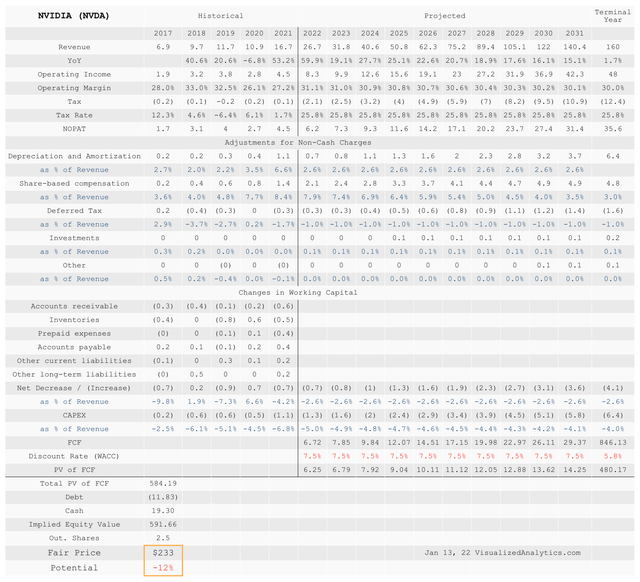 VisualizedAnalytics
(in high resolution)
The DCF-based target price of NVIDIA's shares is $233, offering 12% downside. At the same time, in my opinion, I considered a relatively positive scenario for the future development of the company.
Looking at NVIDIA in the context of free cash flow, I want to draw your attention to one important indicator – the free cash flow yield. It shows how much the company generates free cash flow per dollar of its market price.
Free Cash Flow Yield = Free Cash Flow TTM / Market Capitalization
I compared this figure of NVIDIA with other technology companies and closest competitors. Alas, the company's figure is the lowest: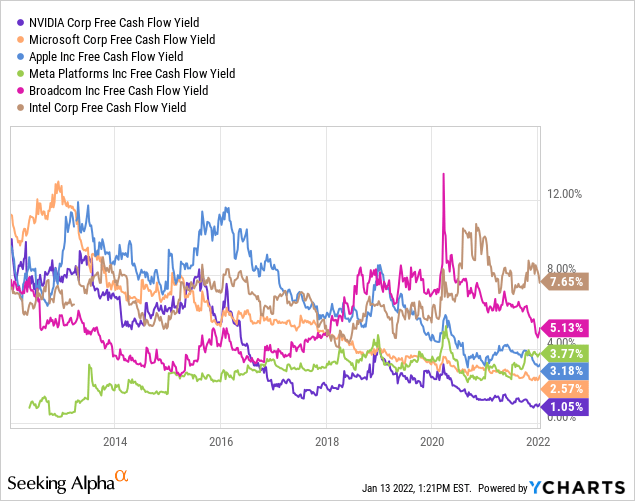 The free cash flow that NVIDIA generates for every dollar of its capitalization is about 1%. This is lower than the US 10-year treasury yield. I don't even compare with inflation. In general, this is a wake-up call for an investor.
From October to November last year, NVIDIA's share price rose nearly 80%. During this period, two gaps were recorded. These gaps have defined strong support levels. And the first of these levels seems to have already been broken. In my opinion, before the level of the second support is reached, it is premature to talk about the completion of the correction.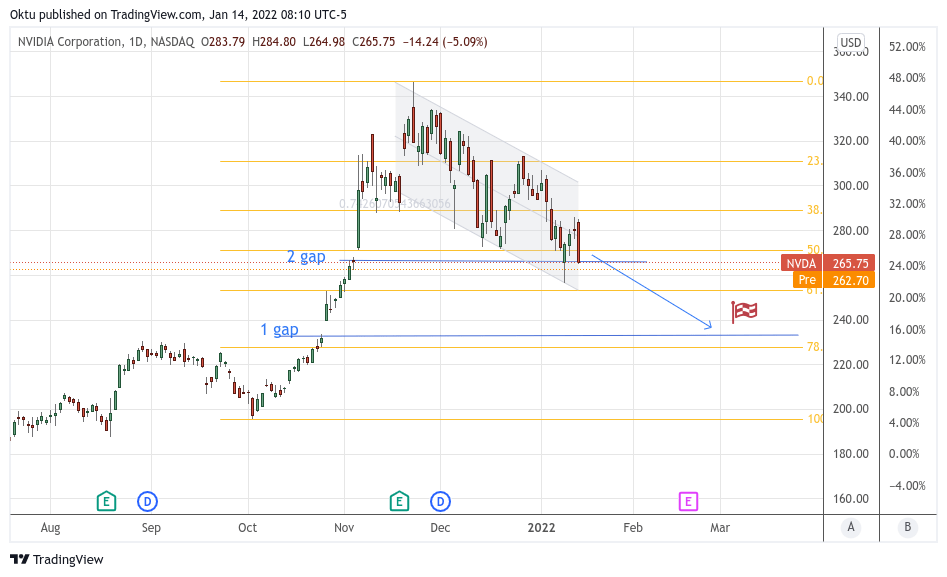 TradingView
I do not share the optimism of those who believe that NVIDIA is an extremely attractive investment at its current price. I won't jump to conclusions about the company's long-term potential just yet, but it's highly likely that the decline will continue in the short term.
This article was written by
Disclosure: I/we have no stock, option or similar derivative position in any of the companies mentioned, and no plans to initiate any such positions within the next 72 hours. I wrote this article myself, and it expresses my own opinions. I am not receiving compensation for it (other than from Seeking Alpha). I have no business relationship with any company whose stock is mentioned in this article.
Sony's PlayStation Direct initiative will let lucky users buy 'limited' PS5 stock – TechRadar