You need to play Sega's most sinister nature game on Nintendo Switch Online – Inverse
Game Recs
This mammal is ready to protect the ocean!
In the early 1990s, America found itself in the middle of a raucous console war. Nintendo, the video game industry's 600-pound gorilla, found itself in the unusual position of being outflanked by Sega. Originally founded in 1940 by Americans selling slot machines to the military ("Sega" comes from "service gaming"), Sega had gone through a number of iterations before being sold to the Japanese CSK in 1984, a move which barely made a ripple in the American press. It experimented a lot — and still does — and one of its weirdest and most ambitious games takes on the perspective of a dolphin.
Sega had been in the business of arcade games, but once those had declined in the 1980s, it began making its own at-home hardware. But, in a pattern that would prove typical for anyone attempting to challenge Nintendo, its sales were paltry … at first.
Societal patterns outside of gaming had changed by the '90s, though. Outsiders from grunge to hip-hop were gaining cultural cache, and Sega of America decided to embrace their underdog status for the Genesis with a slogan that is still remembered decades later: Sega does what Nintendon't.
The strategy worked, in large part because Nintendo backed up its claim. The games on the Genesis tended to be either more violent or cerebral than those on the Super Nintendo, clearly aiming for an older audience.
In the latter category were games like the cult classic Ecco the Dolphin, which was as gorgeous as it was difficult. If you've subscribed to Nintendo Switch Online + Expansion Pack, you can play Ecco the Dolphin right now.
Ecco the Dolphin, perhaps best known as the game where you play as a dolphin, leaped forth from the mind of Ed Annunziata, a developer who had gotten his start making educational sea-faring games like The Voyage of the Mimi. But for Annunziata (as he discusses in an interview with Electric Playground) the real inspiration came from the 1982 novel The Sounding. Written by Hank Searls, the story is partially told from the perspective of a sperm whale. Searls writes:
The book goes on to explore ancient aquatic mammalian lore and showcases the animals as majestic creatures who have forgotten more than humans can remember. It's easy to see what intrigued Annunziata. It is less easy to see why he made the game so tremendously difficult.
When the player meets Ecco, the dolphins is playing happily with their pod in the ocean. Ecco has two abilities: A forward rush increases speed and lets Ecco hit a target with its snout, and echolocation uses sound to locate objects. And since echolocation is (sadly) unnatural to humans, messages are conveyed in poetic mystery, often lacking context. This dialogue can be intriguing and feel worthwhile after one of the game's many gorgeous reveals.
But it can also be frustrating.
When asked in a 2013 interview commemorating the game's 20th anniversary if he would like to say anything to current and new players, Annunziata responded, presumably over email, "Sorry the game is so hard! :)"
He's not really sorry, of course. But he is right: Ecco the Dolphin is incredibly hard. A new player on the Switch will find themselves at a disadvantage immediately. There are no tutorials or explanations of the game's controls or mechanics. It's worth looking, at the very least, at the game's official instruction manual, which is not available via the Switch. For example, it takes some time to realize there are two bars of health: one for physical health and one for oxygen levels.
The game also doesn't provide many clues about what to do or where to go. Some aspects, like mapping through echolocation, can help, but there's a lot of trial and error. This could be a positive or a negative, depending on how much hand-holding a player enjoys.
Even beyond the struggle for comprehension, merely using all these tools correctly is a challenge. Ecco's health meter can get quickly shredded by jellyfish and blowfish (much like real life, we guess?). You might find your poor dolphin with only one or two bars of oxygen left after nimbly dodging around such dangerous creatures. Both of these are replenishable, but finding the means to do so is another challenge.
There's a reason that Ecco walkthroughs are riddled with phrases like, "Okay, I'm not going to lie. This is going to be very frustrating to a new time player of Ecco." Expect to die and die some more. Ecco will prove a challenge to the modern gamer just as it did all those years ago.
With that disclaimer, however, Ecco is still worth playing. The side-scrolling world of Ecco is unlike any other game from that era. It truly captures what it looks and feels like to view the world from a dolphin's perspective. From its gorgeous sea creatures and backgrounds to its Pink Floyd-inspired soundtrack, the vibes are absolutely sublime, even compared to today's standards. There's a reason the game's aesthetics inspired the mid-2010s extremely niche Tumblr trend seapunk.
Just remember the old sea captain's saying: If the vibes be fair, player beware!
Meet Vivian Lien, The Woman Leading Alienware & PC Gaming To A More Inclusive Future – India Times
When you think gaming, you invariably think Alienware, for such is the legacy of this pioneering PC gaming brand. 
From its unforgettable alien logo to its programmable RGB LED lights appeal, from pushing the boundaries of industrial design to exceeding over $3 billion in value back in 2018, the iconic PC gaming brand – now part of Dell Technologies – has come a long way since its founders (including Frank Azor) started the journey back in 1996.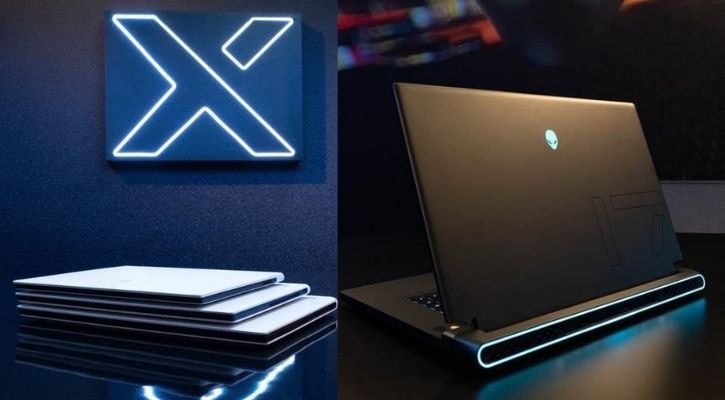 Alienware
Also Read: My Wife & Kid Gift Me A Weekend With Alienware, And Now I Love Gaming More Than I Love Them
On the backdrop of Alienware's 25th anniversary late in 2021, I spoke with Vivian Lien, VP, Alienware & Dell Gaming at Dell Technologies, to understand how the gaming brand's trying to make gaming more inclusive while also setting new benchmarks for competition to follow. Edited excerpts from the interview follow:
Q) What's a typical day in your life, juggling work from home in the pandemic?
What won't be surprising to your readers is that all of us play different roles in our lives. While I'm the leader of Alienware, I also play the role of a mom, wife and a friend. Typically, my day starts fairly early, so I get a chance to connect with our friends and colleagues in Europe as well as Asia. In between my meetings, I try to get my family ready through the door to school and to their busy lives.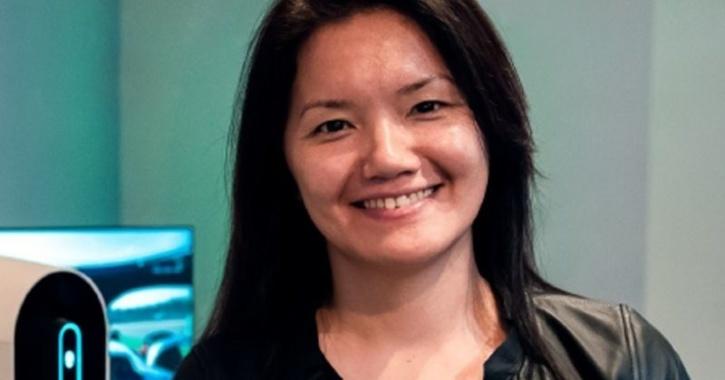 Vivian Lien, VP, Alienware And Dell Gaming, Dell Technologies
Throughout the day, we have a lot of team discussions, whether it's a brainstorming session for things that are much further into the future, whether it's something that's a little bit more immediate. Even before the pandemic started, we tried finding ways to get different members from around different time zones to work more seamlessly together in virtual environments. Not just a lot of Zoom calls, but a lot of ways to find collaboration that increases productivity.
One of the things that I enjoy about my work at Alienware, probably one of my guilty pleasures, is we get samples. And then we get to play with those samples! You know, there's something very satisfying about seeing our entire team's work coming together over time into a tangible product. Something that we know will be in the hands of our customers. You can't beat that feeling. It's also something we take very seriously, pride in our work and our ability to put out world-class products in the market.
Q) How do you define the Alienware DNA?
We don't just think about the Alienware brand's DNA from the traditional sense – its logo, motto, etc – but more about everything Alienware stands for. People want quality products and they find that in Alienware. The brand itself is not only iconic in terms of visual design but in everything that we do.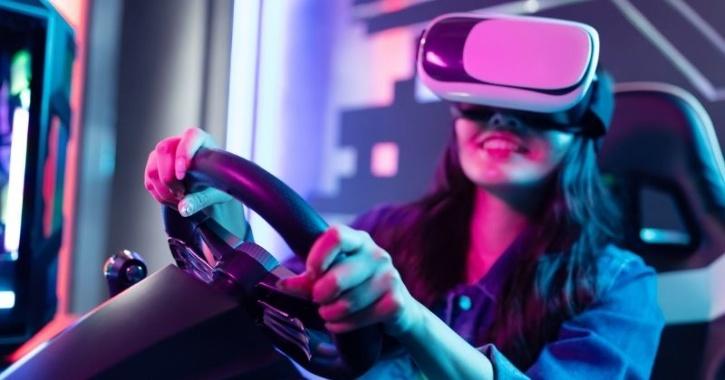 Unsplash
When you spoke to Frank Azor at CES 2019, we had just announced the new industrial design language for Alienware to maintain its cutting-edge appeal. We spend a lot of resources and our time to think about the right way to portray this futuristic brand, but at the same time, very confident and something that any consumer can own today. And most importantly community is what makes Alienware very unique. 
We not only support them and support our community, we engage with them. From loop lighting in the Legend ID to mechanical keys, our community helps define Alienware's destiny in some sense, since we get a lot of insights from our customers that we incorporate into designing Alienware's high quality product portfolio. When we think about innovation, we always keep in mind on how to make it uniquely Alienware.
How's the pandemic impacting gaming globally and here in India?
We certainly saw a big increase in the number of gamers all over the world, over the last couple of years, with everybody hunkering down, staying home. Gamers who gravitated towards PC gaming aren't only in it for the entertainment value, they use their gaming rigs for staying connected with one another.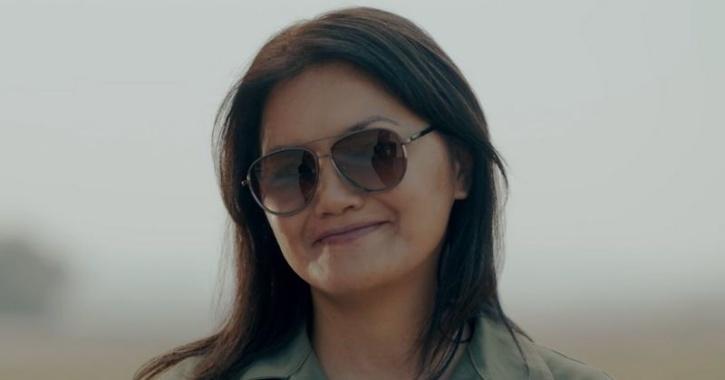 Dell / Alienware
Also Read: A Day With The Alienware Aurora R9 Reminded Me How Much I Missed Gaming
If you look at the cultural impact of gaming as an activity, it's not just about passing time it's much more than that. For an increasing number of people, gaming's becoming a part of their lifestyle, of who they are. Apart from marking the 25th anniversary of Alienware, this past year we had a number of products that we were able to introduce to gamers around the world, especially also in India to take advantage of this growing trend.
Whether it's just gaming as a hobby or e-sports activities, gaming has gotten a lot of momentum in India. There are a lot of players that get into the gaming space through mobile and smartphones. In my opinion, mobile gaming complements PC gaming in the long run. With over 500 million internet users in India, and over 50% of the Indian population now below the age of 25 and spending more time online, Indian gaming's only going to shine going forward. This makes all of us at Alienware extremely excited about the future of gaming.
How can gaming be made more inclusive for all?
It's something that's very close to our hearts here at Dell with our Progress Made Real initiative, which is our commitment as a company to be more inclusive, which encapsulates what I'm doing here at Alienware.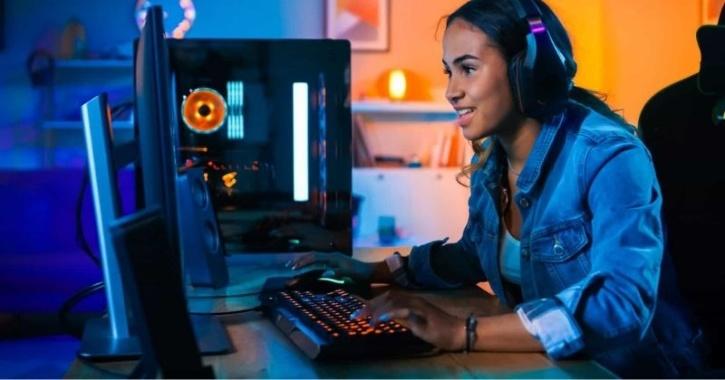 Unsplash
I'm not only a female leading the Alienware business globally, but we have a lot of female leaders and female team members internally who're committed to make sure that we have these conversations, making sure that we bring different perspectives into our conversations – not just about female ones. With our Good in Games initiative with Team Liquid, we offer talented young gamers mentorships, scholarships and internships. 
Our Alienware Arena Community is obviously a global community, which is completely managed by an all-women team. Among other things, they really focus on making sure the online gaming environment is not toxic, that it doesn't make anybody feel uncomfortable regardless of their skill level. It's an effort to make gaming feel more welcoming for all kinds of gamers.
Specifically in India, we partnered with Ankit Panth from Team Brutality to host virtual gaming masterclasses. We put together these masterclasses to allow college students to see the potential, the possibilities for those who want to develop a career in the field of gaming – not necessarily as gamers themselves, but they can be part of the infrastructure that supports gaming. So the opportunities are out there and we take this responsibility very seriously – to not only move the conversation forward, but to offer an inclusive platform for anybody who wants to join the journey.
Q) How are you and Alienware helping move the gaming industry forward?
We need to continue to move forward. In many ways gaming hardware defies some of the laws of physics through our patented designs in order to push the boundaries of what's possible, and those kinds of things as an industry we need to continue to hold ourselves to the highest standards.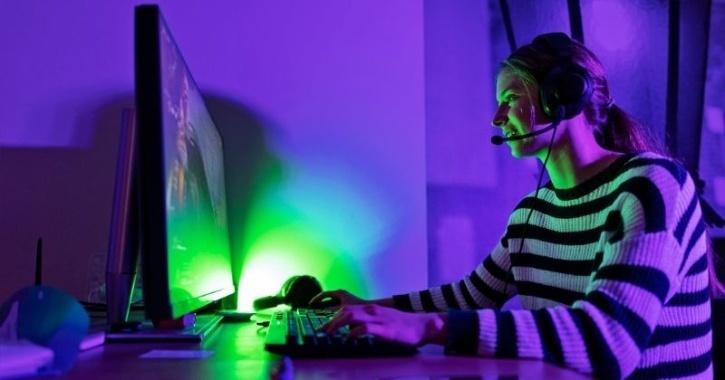 Unsplash
I have no doubt in my mind that gaming needs to be more inclusive. Females account for more than 40% of the gaming population, and we need to continue to find ways to increase that number. Not just limited to women gamers, but more females need to play different roles in the industry to move gaming forward. 
In order for gaming to thrive and not become a place where you try a couple of times and lose interest, get harassed due to your skill levels or suffer from a poor experience, gaming needs to become a much more connected social experience.
Keep reading Indiatimes.com for more science and technology news.
Start a conversation, not a fire. Post with kindness.
Get the NEWS that fits your groove.
Subscribe to Indiatimes and get handpicked updates based on your interests!
Connect With Us On
Sony gives first details on next-gen PSVR2 headset for PS5 – TechCrunch
Sony has announced some basic information about its much-anticipated next-generation VR hardware for the PS5, which it calls — predictably — PSVR2. Little was revealed about the device beyond its basic specs but it did confirm some features gamers will care about.
The original PSVR was a competent, relatively affordable, easy to use device but fairly limited in terms of hardware: resolution, field of view and such. So Sony's announcement that the new one will be considerably more advanced will be very welcome.
The PSVR2 was confirmed by Sony to have 4K HDR imagery, 2000×2040 per eye, and the field of view will also be wider than the original hardware at 110 degrees. A blog post that appeared after the live announcement confirmed rumors that it uses OLED and will have a 90-120 Hz refresh rate. (This paragraph has been updated with details from that post.)
It will however feature eye-tracking and foveated rendering, must-haves these days. Eye-tracking for obvious gameplay and other reasons, and foveated rendering so that the notoriously resource-hungry VR rendering process can focus its cycles on the area where the player is looking.
One last and rather unexpected feature is force feedback in the headset. Whether people really want their heads vibrated is an open question, but you never know unless you try. A lot of people thought the Wii was a stupid idea.
Image Credits: Sony
A new set of controllers will also come with the set, which will include their own improvements over the PSVR's original two, which though perfectly fine at the time have been superseded by the competition's capabilities. Sony actually spilled the beans on these a while back.
The company announced that a VR-only game in the Horizon series (started by Zero Dawn and to be continued soon with Forbidden West) will be among the many Sony first-party studios exclusives for the platform.
More information is surely forthcoming, though this seems to be all we can expect from today's event. We'll update if we hear more.

Mobile Online Racing Games Market to Witness Revolutionary Growth by 2027 | Ubisoft, Codemasters, Tencent – Digital Journal
Hi, what are you looking for?
By
Published
Advance Market Analytics published a new research publication on "Global Mobile Online Racing Games Market Insights, to 2027" with 232 pages and enriched with self-explained Tables and charts in presentable format. In the Study you will find new evolving Trends, Drivers, Restraints, Opportunities generated by targeting market associated stakeholders. The growth of the Mobile Online Racing Games market was mainly driven by the increasing R&D spending across the world.
Some of the key players profiled in the study are:
Tencent (China),Codemasters (United Kingdom),Electronic Arts Inc. (United States),Ubisoft (France),THQ Nordic (Austria),Gameloft (France),Criterion (United States),NaturalMotion (United States),Slightly Mad Studios (United Kingdom),Creative Mobile (Estonia),Microprose (United States)
Get Free Exclusive PDF Sample Copy of This Research @ https://www.advancemarketanalytics.com/sample-report/183866-global-mobile-online-racing-games-market
Scope of the Report of Mobile Online Racing Games
One of the most popular gaming genres is racing. A sense of pleasure, adrenaline, and enjoyment can be felt when playing. These games are entertaining and can help relax, concentrate, and enhance your hand-eye coordination. They are also in charge of improving our decision-making abilities. Because of their ease of play, fantastic visuals, high-speed adventure, and excellent virtual driving experience, racing games are the most popular games. These Racing games offer new life to the gaming ecosystem in a world when everyone loves battle royal games like PUBG and Fortnite.
The titled segments and sub-section of the market are illuminated below:
by Type (Synthetic, Bio-based), Application (Dyeing, Plastics, Pharmaceuticals, Rubber Industry, Agrochemicals, Others), Sales Channel (Online, Offline), Grade (Technical Grade, Reagent Grade)
Market Trend:
Increasing Investment In R&D Activities To Develop Engaging Online Video Games
Integration Of Advance Technology Such AI And Block Chain In Gaming
Market Drivers:
Growing The Penetration Of Internet
Emerging Virtual Reality And Cloud Gaming
Market Opportunities:
Rising Number Of Smartphone User
Growing The Online Gaming Awareness Among Childrenâ€

s
Region Included are: North America, Europe, Asia Pacific, Oceania, South America, Middle East & Africa
Country Level Break-Up: United States, Canada, Mexico, Brazil, Argentina, Colombia, Chile, South Africa, Nigeria, Tunisia, Morocco, Germany, United Kingdom (UK), the Netherlands, Spain, Italy, Belgium, Austria, Turkey, Russia, France, Poland, Israel, United Arab Emirates, Qatar, Saudi Arabia, China, Japan, Taiwan, South Korea, Singapore, India, Australia and New Zealand etc.
Have Any Questions Regarding Global Mobile Online Racing Games Market Report, Ask Our Experts@ https://www.advancemarketanalytics.com/enquiry-before-buy/183866-global-mobile-online-racing-games-market
Strategic Points Covered in Table of Content of Global Mobile Online Racing Games Market:
Chapter 1: Introduction, market driving force product Objective of Study and Research Scope the Mobile Online Racing Games market
Chapter 2: Exclusive Summary – the basic information of the Mobile Online Racing Games Market.
Chapter 3: Displaying the Market Dynamics- Drivers, Trends and Challenges & Opportunities of the Mobile Online Racing Games
Chapter 4: Presenting the Mobile Online Racing Games Market Factor Analysis, Porters Five Forces, Supply/Value Chain, PESTEL analysis, Market Entropy, Patent/Trademark Analysis.
Chapter 5: Displaying the by Type, End User and Region/Country 2016-2021
Chapter 6: Evaluating the leading manufacturers of the Mobile Online Racing Games market which consists of its Competitive Landscape, Peer Group Analysis, BCG Matrix & Company Profile
Chapter 7: To evaluate the market by segments, by countries and by Manufacturers/Company with revenue share and sales by key countries in these various regions (2022-2027)
Chapter 8 & 9: Displaying the Appendix, Methodology and Data Source
finally, Mobile Online Racing Games Market is a valuable source of guidance for individuals and companies.
Read Detailed Index of full Research Study at @ https://www.advancemarketanalytics.com/buy-now?format=1&report=183866
Contact Us:
Craig Francis (PR & Marketing Manager)
AMA Research & Media LLP
Unit No. 429, Parsonage Road Edison, NJ
New Jersey USA – 08837
Phone: +1 (206) 317 1218
sales@advancemarketanalytics.com

From New York to Los Angeles, and from Miami to Chicago, thefts of the prized breed have been on the rise.
People could afford to be people, not just paranoid bill-paying machines.
Planetary-scale engineering schemes designed to cool Earth's surface and lessen the impact of global heating are potentially dangerous.
Ukrainian prosecutors requested $35 million in bail for former leader Petro Poroshenko, who had returned to Ukraine.
COPYRIGHT © 1998 – 2021 DIGITAL JOURNAL INC. Digital Journal is not responsible for the content of external sites. Read more about our external linking.